Fresh Perspectives on Sustainable Office Space
Without a doubt, including sustainable values in corporate identity and branding can increase demand, but embracing and executing these values is a whole other game. We talked with Sara Rothholz Weiner of the Minneapolis architectural firm Cuningham Group, which is responsible for leading the design team for Nilan Johnson Lewis, P.A. This Minneapolis law firm sought to discover how sustainability practices can be implemented by professional office space in a way that is effective and entirely comprehensive. Weiner provided us with insight on how sustainable integrity can be both genuine and positively beautiful.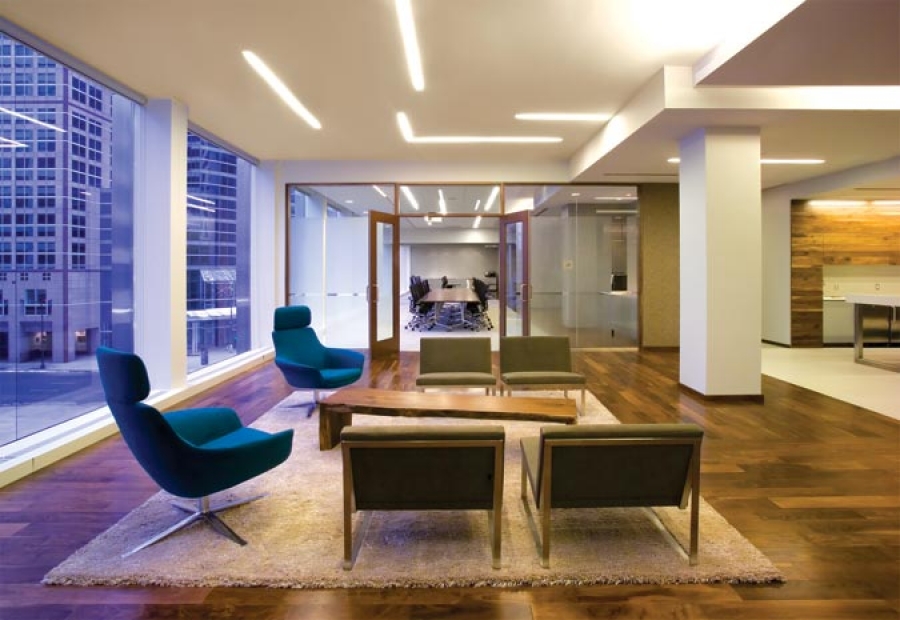 The First Law of Thermodynamics
The law of conservation tells us that energy can be neither created nor destroyed. Because your office does not exist within a vacuum, it is important to understand how these materials move in and out and what their impact is on the environment. Weiner tells us, "The first thing to evaluate is which existing elements can be reused or repurposed. The less you toss out and the more you incorporate into a new design, without compromising the culture or the business strategies of a company, becomes a win-win."
"It was a project goal to express the integrity of the materials, which is analogous to this law firm's people, legacy,  and practice – we wanted that to come through in the messaging of the design of the place." Sara Rothholz Weiner, Cuningham Group
Too many make the mistake of overlooking the assets in front of them in lieu of purchasing "green" products. The sustainability of a product, however, encompasses more than how renewable it is within its ecosystem (though this, of course, is incredibly important as well). Weiner reminds us, "One can source a beautifully certified, sustainable product, but if it is coming from a different continent it's not going to be very sustainable by the time it gets to your project. So we look carefully at where products are originally sourced and try to specify products and work with fabricators that are local and regional to our project sites." Looking at Nilan Johnson Lewis, Weiner explained that the gorgeous walnut woods used throughout the design were predominantly locally manufactured and certified as renewable through the Forest Stewardship Council.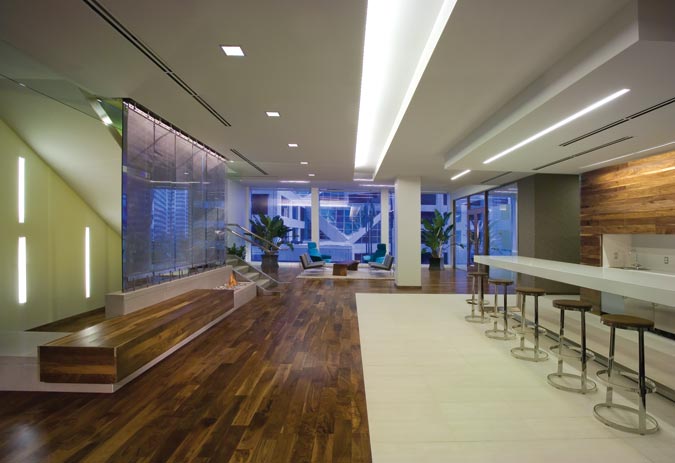 Weiner understands that not all can be reused within a space, but she emphasizes the importance of dealing with waste materials in a way that lessens their impact. "In the demolition process we attempted to divert at least 80% of the materials from the landfills for repurposing or recycling," Weiner says. "We achieved this through close coordination with our general contractor and the building's management." Sustainability is a team effort -- the players consisting of a wide network of individuals and agencies. This not only applies to initial development, but operational waste. The ability to lessen environmental impact, then, comes from understanding, and being tightly intertwined in, this network of transition.
Designing for Efficiency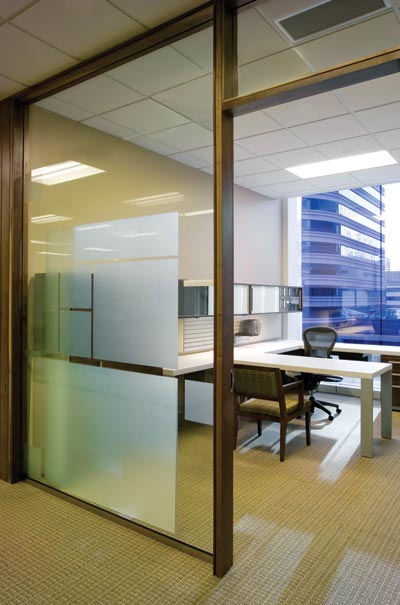 Efficiency seems to be a byword when it comes to corporate and professional sustainability practices – and why not? Incorporating high-efficiency systems is an investment that will lead to future savings and is a passive move to make. With the wide array of technology available, electrical and mechanical systems are becoming increasingly sophisticated. Low-flow faucets, energy-efficient bulbs and appliances, occupancy sensors for different rooms in the office, as well as other smart technology all can easily be applied in any corporate office, as it was in the design of the law firm Nilan Johnson Lewis.
The firm, however, had nature on its side. "We were fortunate," says Weiner, "in that the space had floor-to-ceiling perimeter windows 11'-6" tall – which is quite unique to Minneapolis. The building was built in the 1950s and has a unique modernist style and large open floor plates. The design and planning maximizes and harvests natural daylight throughout the office space." Light permeates throughout the office of Nilan Johnson Lewis through the perimeter walls, as well as interior glass wall fronts that grace every area. Occupancy sensors, energy-efficient lights, and exterior perforated shades increase the lighting and energy efficiency of the space while the windows offer a striking view of the city to all employees of and visitors to the office.
Putting Sustainability into Context
Green initiatives often end up confined to structure -- ignoring the very world that we're trying to protect. The truly sustainable space extends beyond the walls and makes meaning of its context. Weiner explains the strategic placement of Nilan Johnson Lewis on both the light rail line and skyway system that run throughout the city: "This translates into people using their vehicles less, using public transportation more often, and walking throughout the downtown area. Light rail is a wonderful easily accessible amenity. We can get to the airport in about 20 minutes, which is phenomenal. Our entire downtown is also connected by skyway. This is very handy when, like today, it is three degrees below zero. People are more likely to jump in the skyway and walk across town for a meeting than get into a vehicle or grab a cab."
"The first thing to evaluate is which existing elements can be reused or repurposed. The less you toss out and the more you incorporate into a new design, without compromising the culture or the business strategies of a company, becomes a win-win." Sara Rothholz Weiner, Cuningham Group
Not every major city has been so fortunate in the development of a skyway system. The take-home point, however, is to understand how your building fits into the fabric of its surroundings. Positioning near public transportation opens opportunities for the use of these established systems – decreasing carbon emissions and air pollution both on the way to work, as well as during meetings, lunches, and after-work activities. Understand what resources are at your disposal. Understand your place in the urban network and how you can best use it to better and support the whole. Embrace this position and work with development councils to enhance the network to everyone's advantage.
Designing for People
When one initially hears the term sustainability, thoughts generally flow to carbon emissions and recycled materials. These things are all important, of course, but people tend to get overlooked in these situations. Triple Bottom Line sustainability, however, emphasizes the need to not only make a profit, but to address the needs of the planet and of people as well. This could be incorporated in terms of a fair-labor supply chain or even more directly in the office. Designing for people means understanding and addressing the needs of those who will be in and out of the space. Nilan Johnson Lewis may be seeking LEED silver certification, but its implementation of sustainable practices was just as elegantly sought through fostering a communicative atmosphere as it was in using the right materials. "The firm's practice groups focus on collaboration and support of one another, so it was very important for there to be both formal and informal spaces for gathering. We needed to provide environments for a variety of interactions -- there are spaces that respond to the need for traditional meetings, and also for exchanges during the collision of everyday office life. Spaces include coffee nooks, the café, casual seating areas, and spaces for team meetings. When you standardize the actual office, you need to provide choices and adequate space for people to gather," says Weiner.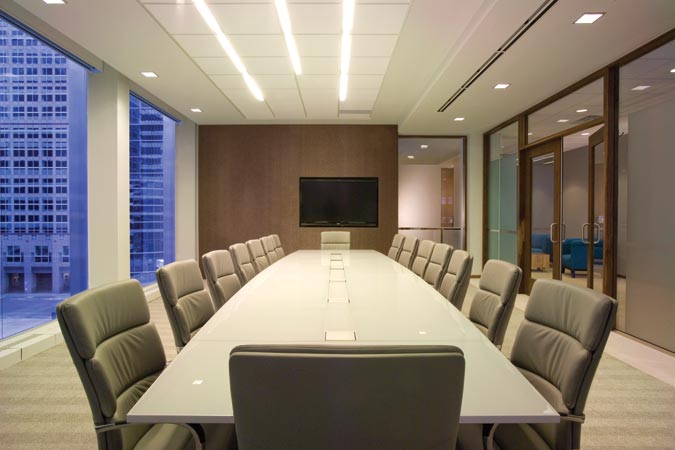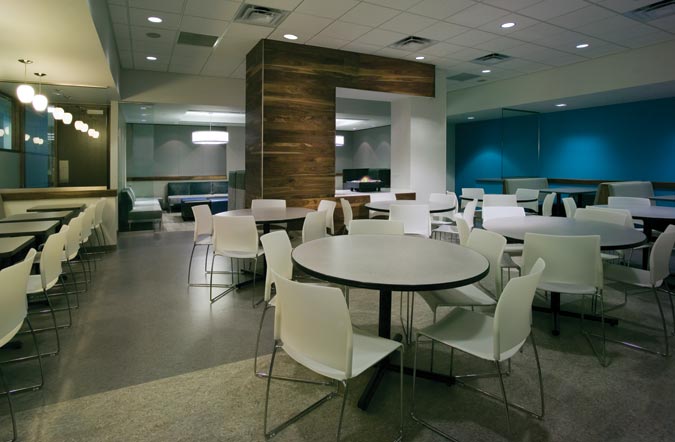 This communal space is essential in any professional setting, fostering community, cooperation, and support. Other design factors positively influence the experience of an employee as well. One example demonstrated in the Nilan Johnson Lewis design is the use of paints and finishes with low amounts of or no volatile organic compounds (VOCs) in order to improve indoor air quality. "There are claims that this increases individuals' effectiveness because they just feel better because their environment is less toxic," says Weiner. "There have also been reports that demonstrate that access to daylight and clear-view vistas allowing people to connect more effectively with the outdoors impacts effectiveness at work and general well-being." These factors could all lead to an increase in worker productivity, as well as lower turnover.
In people, too, we have culture and values. Weiner explained that there was a strategy in place that addressed how people live in their workplace, as well as the values that the law firm wanted to radiate and share with its employees through its design. "It was a project goal to express the integrity of the materials, which is analogous to this law firm's people, legacy, and practice. We wanted that to come through in the messaging of the design of the place," Weiner says. She continued to note, too, that employees and customers feel more committed to a company when values are shared. "It's similar to the way that more people are thinking about the food they eat and where it is sourced. It's certainly popular in Minneapolis to go with more local and organic produce and products. It strikes a positive chord when the company you work with is both concerned about your well-being and the well-being of the planet," Weiner says.
Clearly, sustainability requires more than a simple change. Sustainability requires eyes open to the world of networks and transition, the transport of things, people, and ideas. It requires collaboration, commitment, culture, and true concern for the state of the world and the people who live in it.
Examples of Sustainable Office Space


Tara is a freelance writer currently pursuing a Master of Urban Planning, Development, and Design at Cleveland State University. Her writing has covered a wide breadth of topics, but she particularly enjoys meaningful work concerning community development, sustainability, and design. Her articles, blogs, and musings have been featured in various online and print publications, and she hopes her words will inspire creativity and innovation as we work toward social and structural change.
Website: tarasturm.com/
Latest from Tara D Sturm