Patrick Blanc's Vertical Garden in Madrid
There are two common sayings about Madrid -- "Madrid me mata" ("Madrid kills me") and "De Madrid al cielo" ("From Madrid to Heaven"). Both adages are appropriate ways to describe Madrid's polarization between the calm and the chaotic. From the city's breakneck traffic to its streets filled with animated Madrileños, rosemary-laden gypsies, and gawking tourists, the city of Madrid moves at a nauseating rhythm. Somewhere, deep within this traditional chaos, it's possible to find hidden corners of both modernization and tranquility. Strolling along the Paseo de Prado's tree-lined avenue, you will come across Patrick Blanc's vertical garden lurking in one of these corners.
Blanc's work is instantly recognizable to anyone familiar with the Musée du Quai Branly in Paris. However, the vertical garden in Madrid is a little different than its French counterpart. It doesn't act as a substitute wall as the one in Paris, and there are no windows or doorways. Instead, it's a blunt slab of amazing greenery attached to the side of an otherwise nondescript building in the area known as Madrid's Golden Triangle, the cultural district of world-renowned art museums.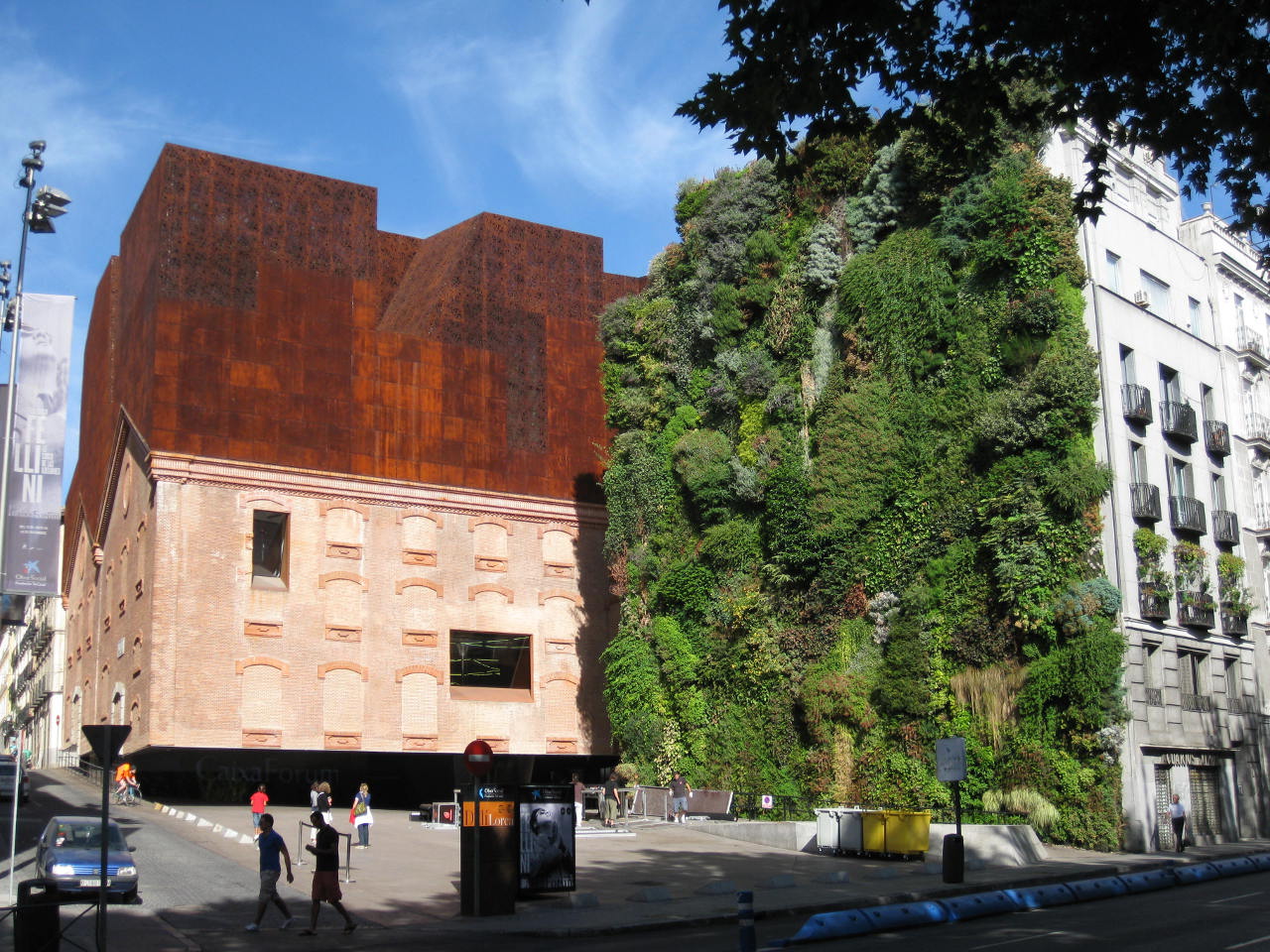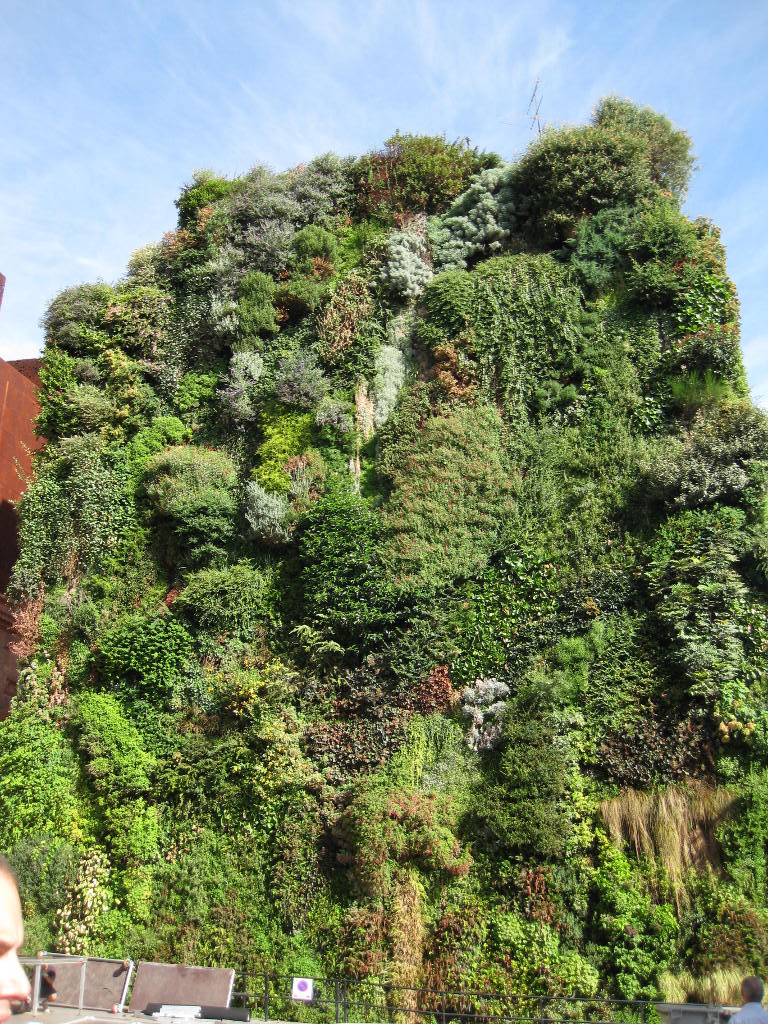 Undoubtedly, the vertical garden is an incredible botanical sculpture, and a piece of unique artwork gaining more and more prominence in the world of design. But what makes this particular project even more striking is the fact that it stands juxtaposed with its neighbor, the Herzog & de Meuron Caixa Forum. The two distinctive buildings contrast and compete with as much as they complement each other. The Caixa Forum is a unique restoration of an 1899 power station that still retains a gruff exterior. The seemingly floating building, with its rusted iron top and sharp edges, appears to directly confront the natural beauty of its lush neighbor.
Often described as "living graffiti," the 78' high wall moves when the wind blows, as if the plants were actually pulsating. Blanc's designs are inspired by the moss and ferns that commonly grow on cliffs and rocks in forests. Although the majority of vertical gardens almost always consist of moss and vines, a variety of plants are chosen specifically for each location, based on their ability to grow in distinct climates and conditions. Madrid's vertical garden is made up of more than 15,000 plants, from 250 different species.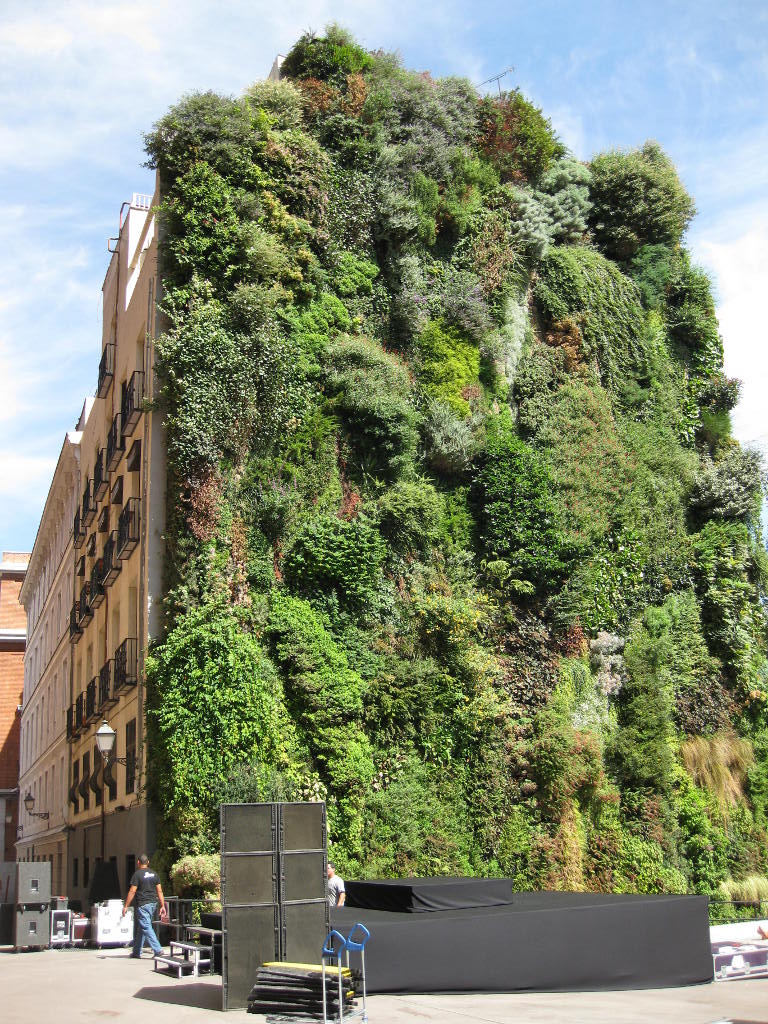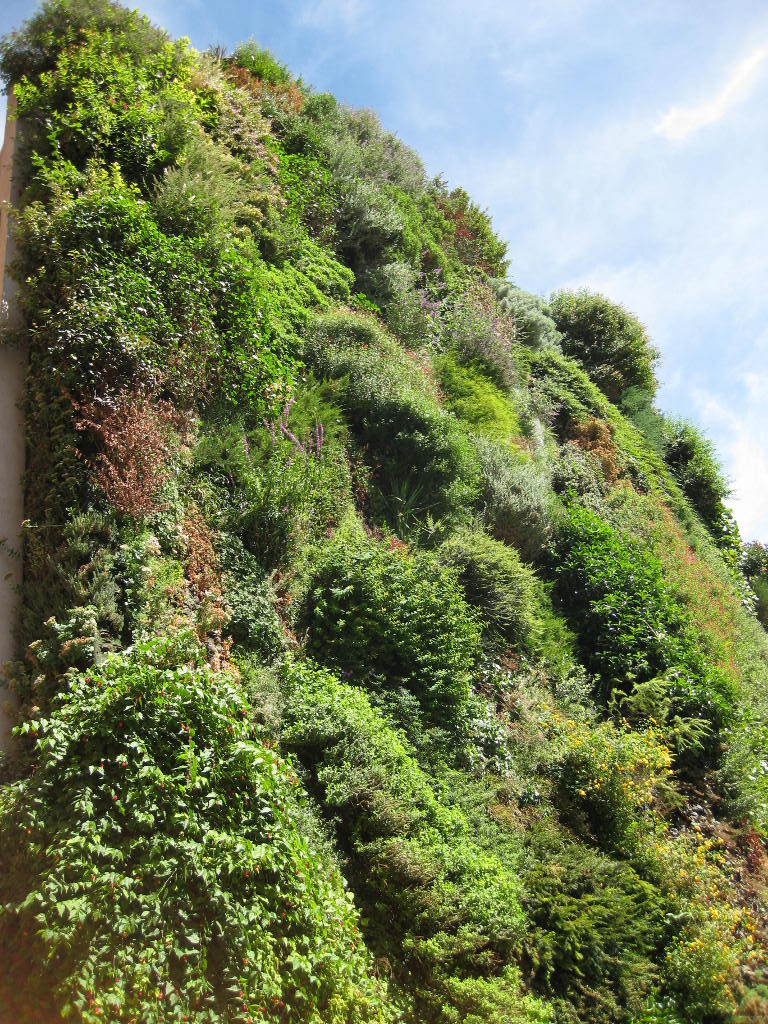 Vertical gardens are usually very lightweight, which makes it possible to build on almost any indoor or outdoor wall. Each project uses PVC plates and a metal frame covered with a polyamide felt, which acts as a support for the root system. Seeds and cuttings are then attached to the felt with a density of approximately 30 plants per square meter. Rather than growing in horizontal rows in soil, the plants grow vertically along the felt material. The irrigation system is actually an automatic drip system that starts at the top of the wall. As water trickles down the wall, it is absorbed by the felt and the root system.
According to Blanc's own words, vertical gardens can be created anywhere, even in "those difficult spaces where you don't expect to see greenery." Blanc's vertical garden gives rise to an urban oasis in the otherwise concrete capital of Madrid.

Nicole graduated from Georgia State University with a Post Graduate degree in Spanish to English Translation and a B.A. in Spanish and International Business. Presently living in Madrid, Nicole works as a freelance writer and translator and enjoys traveling around the Iberian peninsula taking photos of Spain's rich blend of historic and modern architecture. Her articles and photos have been published in various trade publications and websites.
Website: www.passtheham.com/
Latest from Nicole Jewell