Case Study: Cuyahoga Metro Housing Authority Utilizes BAS
Michael Hughes is Chief of the Construction Department for the Cuyahoga Metropolitan Housing Authority (CMHA) in Cleveland, Ohio. He's also one of the people most familiar with CMHA's Building Automation System (BAS). In this lead article initiating a case study with CMHA, we'll provide a summary overview of their BAS, which was installed by Siemens Building Technologies. In future articles, we'll take some more in-depth journeys with Mr. Hughes into the BAS, including the daily use of the system. Throughout this series, we'll cover some detailed time and cost-savings scenarios that BASs offer to building owners.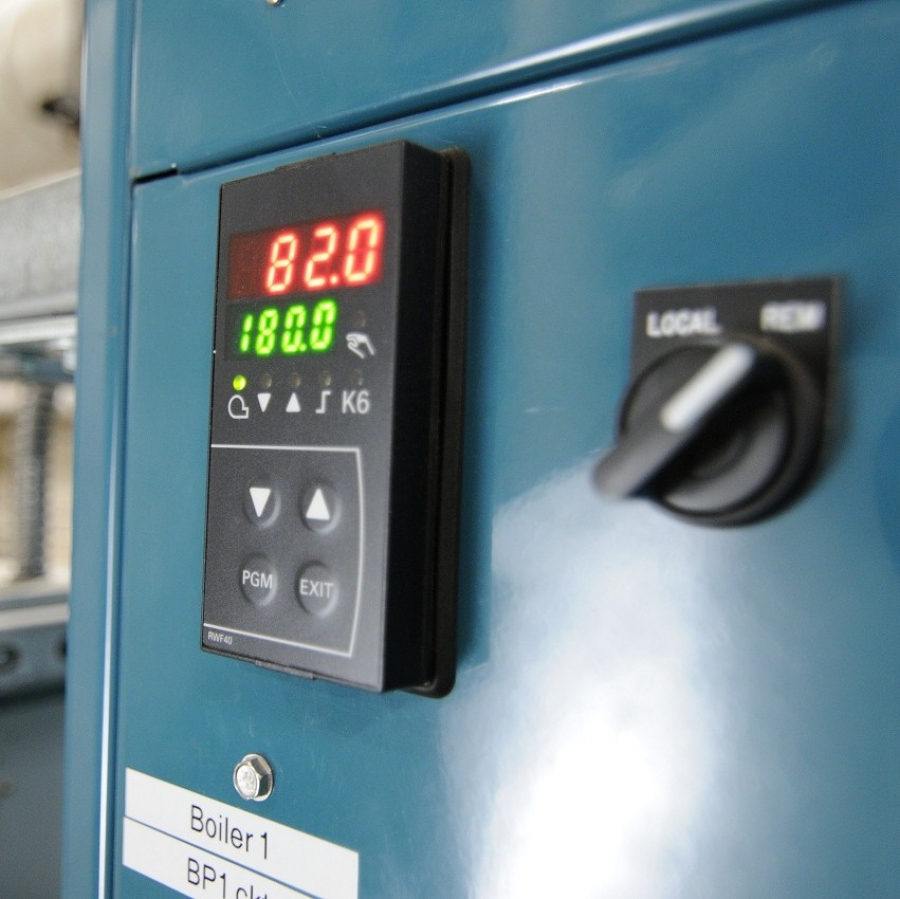 BAS Concepts
The goal of a BAS is to empower building equipment to operate more efficiently and automatically, based on external considerations. Most often, this means building equipment operations that reflect the time of day, outside temperatures, or customer needs. Heating and cooling systems, lighting, security, and fire alarm systems are common building components that usually benefit from automation. In years past, these systems might have consistently been placed in either "on" or "off" mode, and where building system efficiencies could be pursued, manual adjustments based on years of assumed best practices were considered, but not often consistently.
In today's facilities management realm, BASs are increasingly common because of the clear advantages offered by automation. In addition to energy savings, these systems reduce the amount of maintenance staff time and therefore also reduce overhead costs. An upgrade from a manually operated mechanical/electrical equipment plant to a BAS at a minimum must include new sensors, new controllable equipment devices (valves, on/off switches, etc.), and a control station (computer) with software specifically designed to monitor and automatically adjust building equipment operations.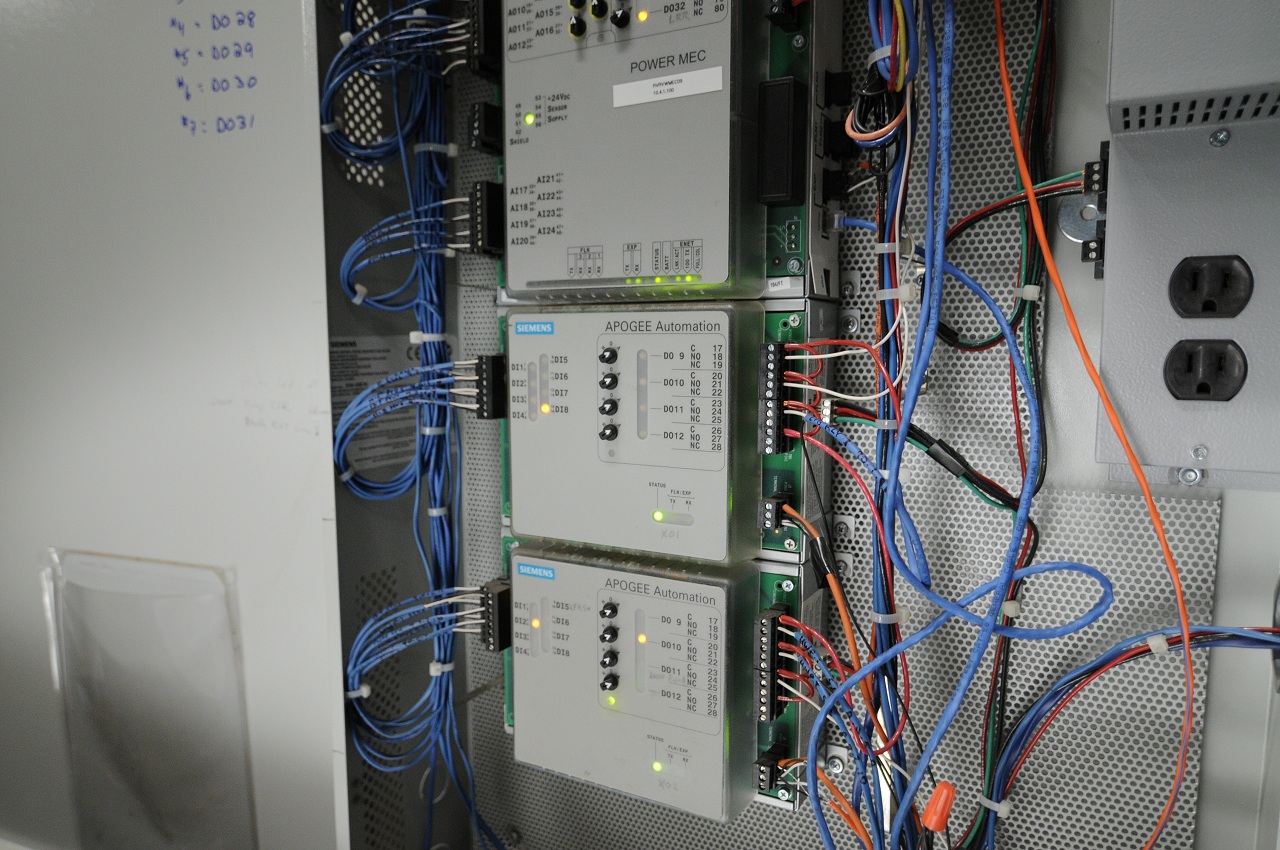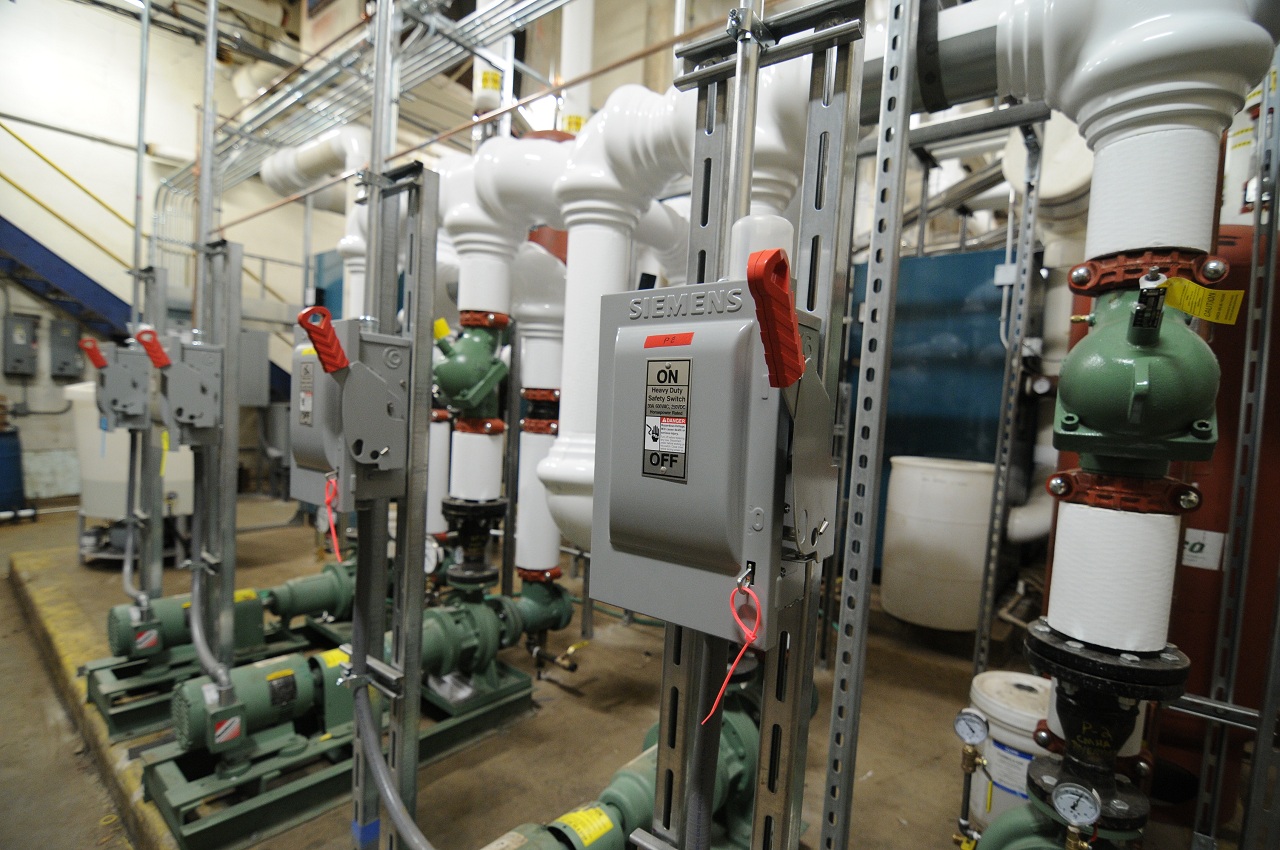 Basic Scope of the CMHA BAS
In CMHA's case, 33 building sites (download includes a listing of the CMHA building sites and the automated building equipment within each) were automated to various extents. CMHA's effort currently focuses on their building mechanical systems. They've automated their hot water generating systems for building heating and domestic use as well as the chilled water systems that provide air conditioning. One CMHA building complex, Lakeview Towers, does additionally have BAS linkages for both security and fire alarms. The CMHA system is completely expandable for even greater building equipment automation in the future, such as blower fans, ductwork dampers, more chillers, and interior lighting, just to name a few.
This BAS installation was a $1 million element of a larger $33 million energy performance contract that provided more efficient boilers and chillers and building envelope enhancements including new roofs, windows, and doors. The BAS portion of the overall project came with a utility cost-savings guarantee of over $175,000 annually. CMHA's BAS operations have substantially exceeded the predicted utility savings during the past two years.
System Operating Parameters Are Key
BAS operating parameters are changeable, but an initial round of sensor and system settings was loaded into the CMHA software during installation. These trial parameters, based on installed equipment specifications and known best practices, were later tested and adjusted to optimize building system performance. For example, outside temperatures during the winter will trigger the heating water circuits in each building to operate at optimum temperatures. A winter day with a high of 40 degrees Fahrenheit might demand a heating water circuit temperature of 145 degrees at a specific site. A 10 degree day might require a heating water circuit temperature of 175 degrees. The BAS will sense outside temperature fluctuations and efficiently command the boilers and pumps to provide the temperature and volume of heating water required to keep the residents comfortable. The BAS-controlled chilled water systems provide building air-conditioning in a similar manner during the summer months.
In CMHA's case, BAS operations are aided by the understanding that residential heating and cooling demands are relatively static, particularly in buildings where thermostat settings are established by written policy. In other venues outside CMHA, non-residential building functions such as manufacturing processes and office environments are more dynamic in terms of heating and cooling demands. However, even these more complicated building occupancies still readily accommodate BAS technologies and their operating software.
Remote Monitoring
CMHA's building systems are continuously monitored by Siemens Building Technologies' central control center in Dallas, Texas, through internet connections. CMHA's maintenance crew and their supervisors are notified by email when building system operations deviate from performance protocols. Any qualifying building equipment deviation triggers a system alert, and an email is launched to the appropriate CMHA staff. The most obvious email notification example would be in response to a piece of mechanical equipment that suddenly fails to function. Undesirable temperature deviations within otherwise operable building systems would be a less severe but likewise important example of triggering email notification.
The email notification arrangement is appropriate for CMHA because they have an in-house maintenance crew that can respond to building emergencies 24 hours a day. Other building owners may benefit from more robust BAS vendor agreements. Not only notification but also equipment operation and adjustments can be remotely performed by a control center, potentially thousands of miles from a building site.
Total System Awareness
Designated CMHA staff have the ability to remotely log on via BAS software at any time. The program's main page displays a summarized equipment status for every CMHA building in the network. Regardless of any email notifications received from Siemens' Dallas control center, appointed CMHA staff have the ability to turn building equipment on or off or adjust equipment operating parameters. The BAS software records the activity and the date and time of any equipment adjustments thus initiated and the staffer who initiated the action. Any system activity initiated by the maintenance staff at the equipment level can likewise be identified and monitored. The images to the right are actual screen shots of the CMHA system. They are building specific and show various equipment operating modes and alarms, as would be seen by a BAS-system user.
Other advantages of BAS for CMHA management staff are the oversight and reporting capabilities it offers. Technical questions about equipment histories can be readily answered. Reports describing various equipment operations over time can be printed from the system. Just about any data regarding the equipment operated by the BAS can be captured and printed out as a report.
Preview of Operational Savings
Although we'll get into greater detail in future articles, here's a brief example of the operational savings a BAS can provide. "Operational" savings are typically above and beyond the energy savings agreements often formalized in a BAS contract. Suppose that, before installation of the BAS, a boiler serving one of the domestic hot water tanks in a CMHA building shut down unexpectedly. Since one of their tanks might hold 500 gallons of hot water, customer complaints might not trigger a maintenance response for hours, after the tank were to become depleted of hot water or to cool down.
However, with the BAS in place, in this same scenario a notification would be issued immediately. This allows for a maintenance team response before any building resident realizes that there's a concern. Avoiding the need for maintenance crews to record and respond to dozens of residents' trouble calls offers significant savings. This is only one simple example of overhead savings in staff time, not to mention the improved customer service aspects, which are also important and cannot be assigned a specific dollar value. Join us next time and we'll discuss more details of CMHA's BAS.
---
Mr. Michael Hughes was a technical contributor to this feature. He is Chief of the Construction Department for the Cuyahoga Metropolitan Housing Authority (CMHA).

Mr. William Davis was a technical contributor to this feature. He is a Senior Account Executive with the Building Technologies Division of Siemens Industry, Inc.

Andrew Kimos completed the civil engineering programs at the U.S. Coast Guard Academy (B.S. 1987) and the University of Illinois (M.S. 1992) and is a registered Professional Engineer in the state of Wisconsin. He served as a design engineer, construction project manager, facilities engineer, and executive leader in the Coast Guard for over 20 years. He worked as a regional airline pilot in the western U.S. before joining the Buildipedia.com team as Operations Channel Producer.
Website: buildipedia.com/channels/operations
Latest from Andrew Kimos