Emergency Lighting Monitoring Systems
Technologies to monitor emergency lighting systems throughout buildings or campuses have increased in popularity across Australia over the last decade. During the last six years, emergency lighting monitoring systems have also become more popular in North America. The idea behind these systems is to connect all exit signs and emergency (battery-powered) lighting devices to a central computer station so that they can individually report their functional status when tested, offering significant time and cost benefits to facility managers.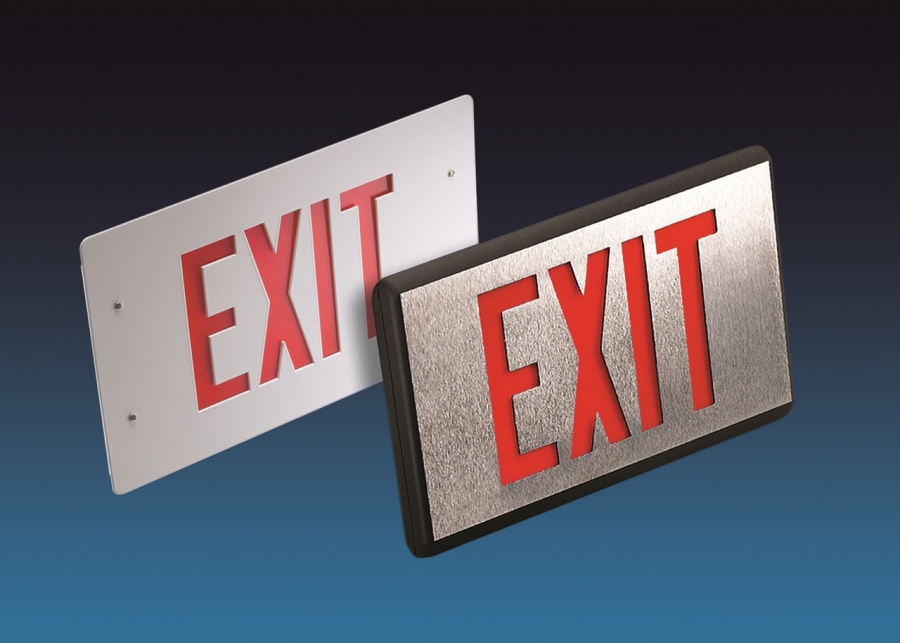 Large buildings might contain hundreds of battery-powered emergency lights and illuminated exit signs. The maintenance and repair of these emergency lighting systems is a tedious and time-consuming task that is often, unfortunately, judged to be lower in priority than it should be. This is especially true within a larger campus environment which has scores of major buildings. The man-hours required to perform the necessary system tests and replace burned out lights and dead batteries are extensive. Emergency lighting monitoring systems offer significant cost savings in the performance of these routine maintenance tasks.
Manual operation of the 'test' function on each battery-operated light is unnecessary.
Exit signs do not need to be individually visited and verified.
Status reports are automatically generated, allowing only the non-operational devices to be specifically targeted for repair or replacement by a maintenance staff.
Testing
Life Safety Code requirements dictate that all emergency light fixtures be operationally tested for 30 seconds every month, and for 90 minutes every year. An emergency lighting monitoring system will conduct exit sign tests on schedule and send out email notifications to building managers that identify each specific exit sign fixture that fails to illuminate properly. In the case of battery-powered emergency lighting, a system can be programmed to generate an email alert for each dead battery as it occurs, or on a routine basis like the 30-day protocol used for exit signs.
How Emergency Lighting Monitoring Systems Work
An emergency lighting monitoring system can be employed in conjunction with a preexisting building automation system (BAS). It can also be installed to interface with a preexisting computerized maintenance management system (CMMS), and programmed to automatically generate work-tickets for required maintenance tasks.
During installation of an emergency lighting monitoring system, all the devices (exit signs and battery-powered emergency lighting) within a building must be tethered in a series connection via a data cable or, alternatively, provided a separate radio-frequency (RF) antenna as part of an array of wireless Ethernet connections.
These two (wired and wireless) lighting fixture connection choices are similar to the options available for other automated systems we've already covered on Buildipedia.com -- "smart" bridges and the mechanical control devices essential to building automation systems (BAS).
With either wired or wireless connections, a system router is needed to connect the total array of emergency lighting devices within each separate building to a computer with Internet access. Each building is provided with a separate Internet Protocol (IP) address to facilitate system reporting. One advantage of the RF Ethernet (wireless) option is that more devices can be assigned to one router than is possible with the tethered (wired) option.
Savings
The potential man-hour savings associated with emergency lighting monitoring systems are significant; a medium-sized campus that installs an automated system will witness a payback period of only 2-3 years. As a general rule, the larger the building complex, the greater the array of emergency lighting devices it has, and therefore, the shorter the payback period will be.
---
Ms. Leila Sedighi was a technical contributor to this feature. She is an electrical engineer with Thomas & Betts and manages their Nexus product.

Andrew Kimos completed the civil engineering programs at the U.S. Coast Guard Academy (B.S. 1987) and the University of Illinois (M.S. 1992) and is a registered Professional Engineer in the state of Wisconsin. He served as a design engineer, construction project manager, facilities engineer, and executive leader in the Coast Guard for over 20 years. He worked as a regional airline pilot in the western U.S. before joining the Buildipedia.com team as Operations Channel Producer.
Website: buildipedia.com/channels/operations
Latest from Andrew Kimos