A Campus Turned on End: 41 Cooper Square by Morphosis
Morphosis Architects' new academic building for The Cooper Union for the Advancement of Science and Art in New York City consolidates the college's three schools -- art, architecture, and engineering. Known as 41 Cooper Square, the building was completed just over a year ago. And it's still turning heads. However jarring, Morphosis's design creates a vertical campus, providing opportunities for chance encounters and cross-disciplinary collaboration.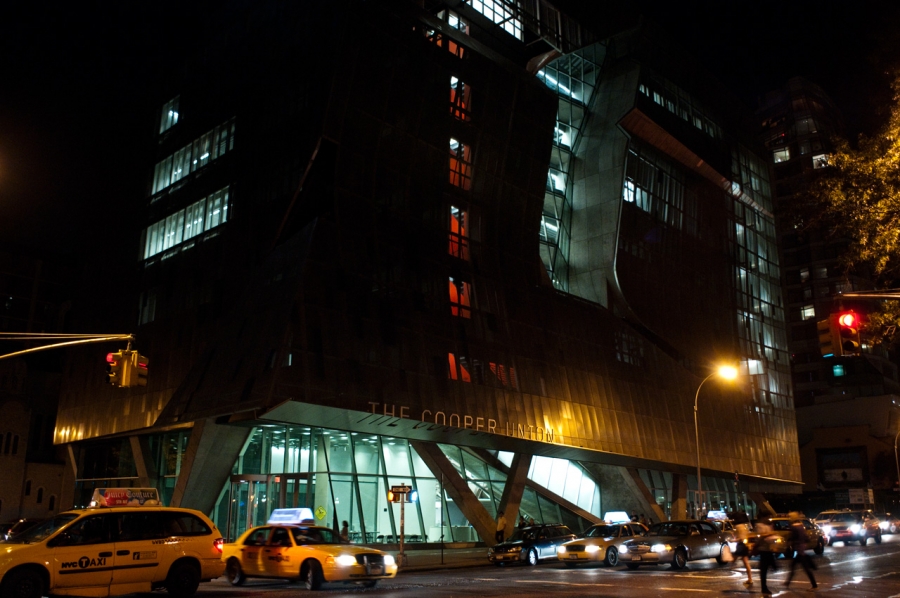 "I think the neighborhood gets 41 Cooper Square's rough exterior," Morphosis founder Thom Mayne believes. Likewise, the design reflects the area's schizophrenic aesthetic and the building already become a fixture among its eclectic neighbors, including the college's historic and stately Foundation Building, a Ukrainian church topped with a copper dome, and Carlos Zapata's new hotel, faced with milky fritted glass. Morphosis specified unpretentious, off-the-shelf components for the double-layer cladding: perforated stainless steel panels backed by a more traditional glass and aluminum curtain wall system. This screen system references previous Morphosis projects, including the Caltrans Headquarters in Los Angeles, and the visual effect is similar to that achieved by the nearby New Museum by SANAA: it appears solid at some points during the day but glows from within at night.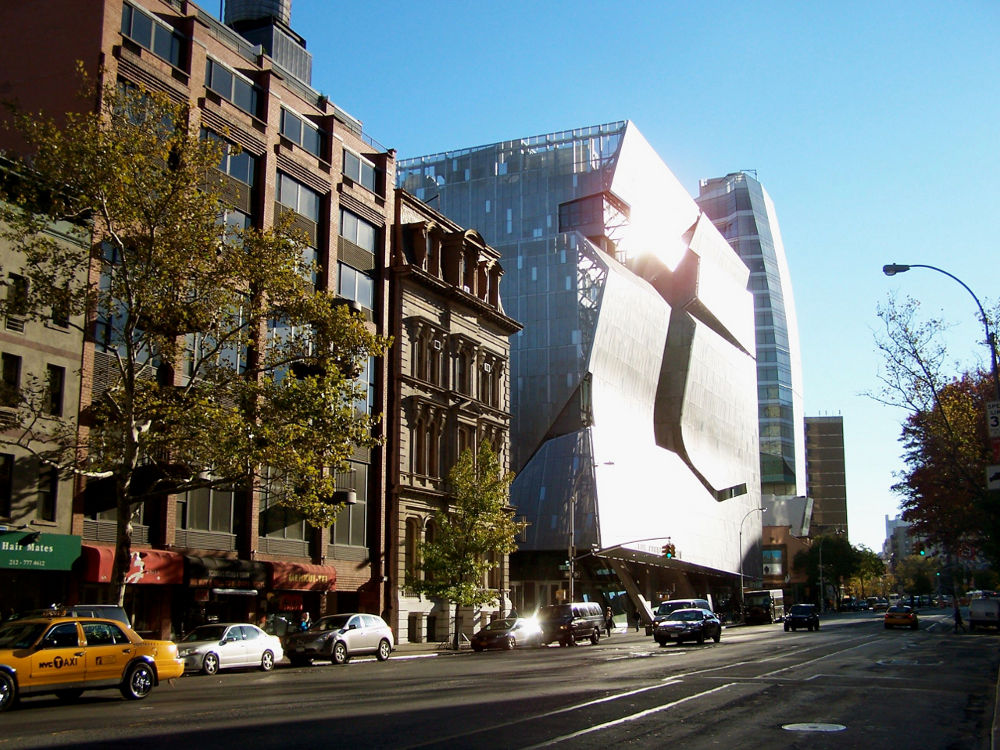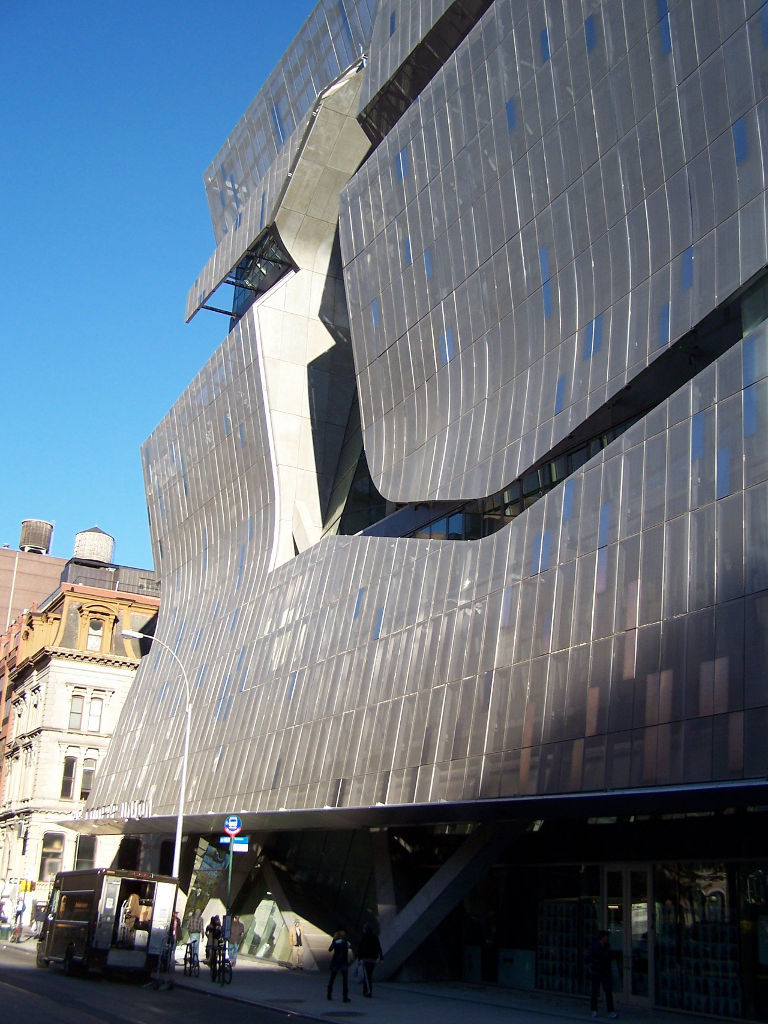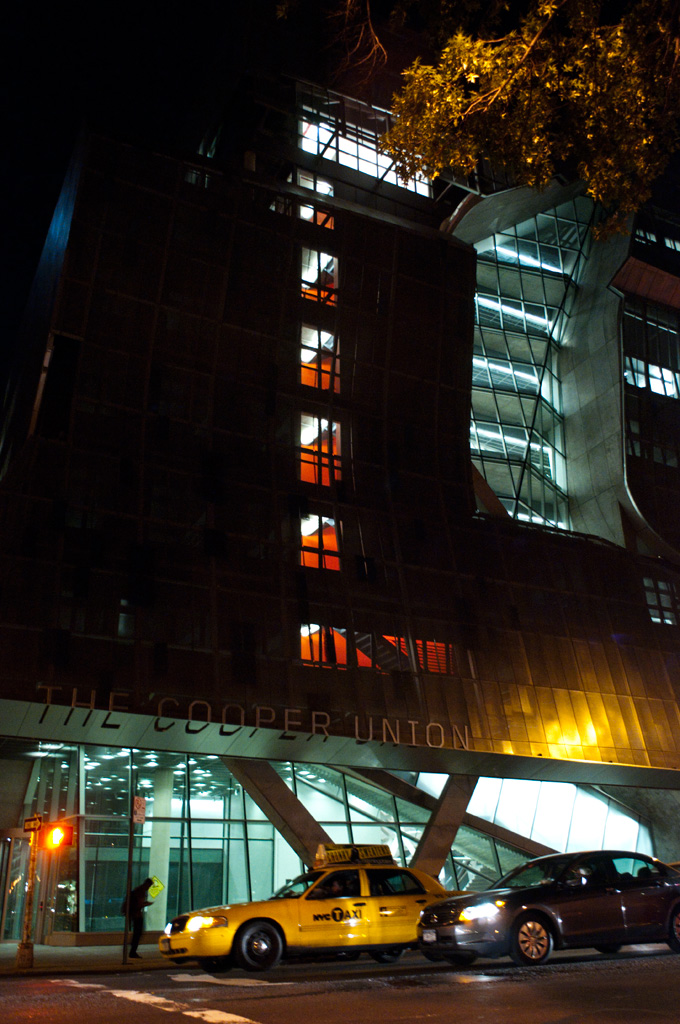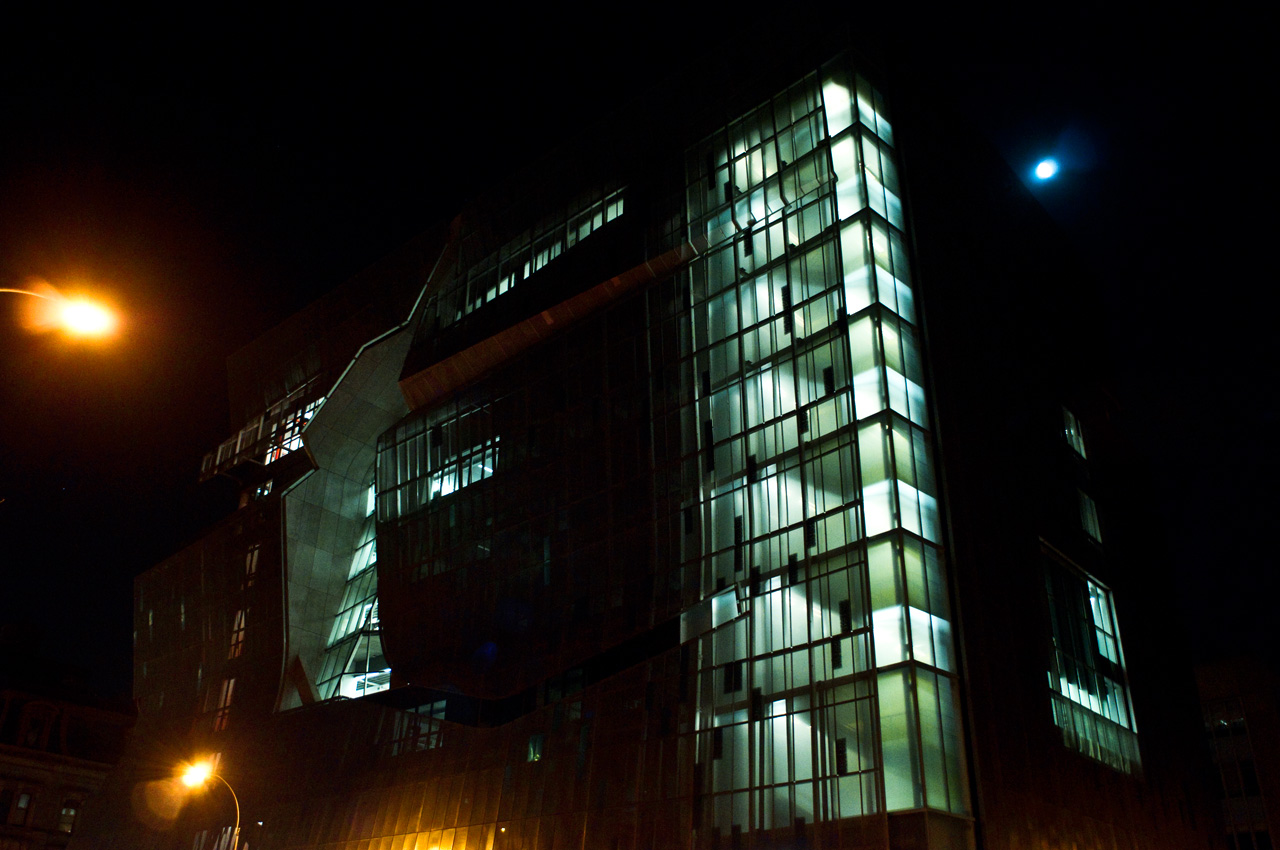 Aside from admitting light, the perforated metal panels also lend lightness, distracting from the fact that the building is so bulky. Since the form was established before Morphopsis came on board and is based on zoning and community restrictions and programmatic parameters, the designers chose to nip and tuck in deference to the historic context while creating their own modern vocabulary. The surface folds and drapes like fabric, and a dramatic gash offers a peek into the guts of the building. Like a flirty skirt, the metal screen flips up at the corner above the main entrance, acknowledging the Foundation Building situated diagonally across the street. The ground floor of 41 Cooper Square is glazed to offer passersby glimpses into the lobby and below-grade galleries, in the spirit of the school's pledge to provide education "as free as air and water," which was made by its founder, industrialist Peter Cooper. V-shaped concrete columns meet the sidewalk at odd angles, inviting leaning and lingering.
Though most colleges occupy sprawling suburban campuses, in New York the only option is to build up -- nine stories, in this case. Morphosis conceived of the building's interior as a "vertical piazza." A 20-foot-wide concrete staircase is a natural continuation of the street, and it sweeps from the ground floor through the building's central atrium, gradually narrowing and dissolving into a network of sky-walks. The stairs provide a platform for social interaction, one of Morpohsis's primary design goals. Students may sit on the stairs, stadium-style, or gather in pockets that serve as informal meeting spaces.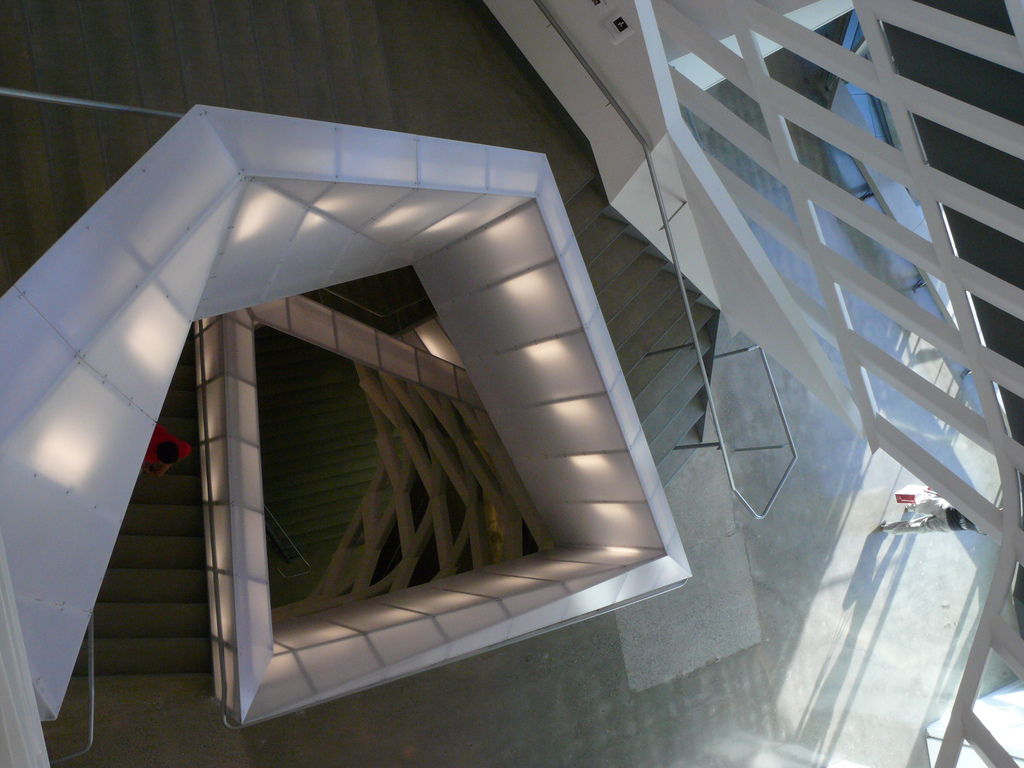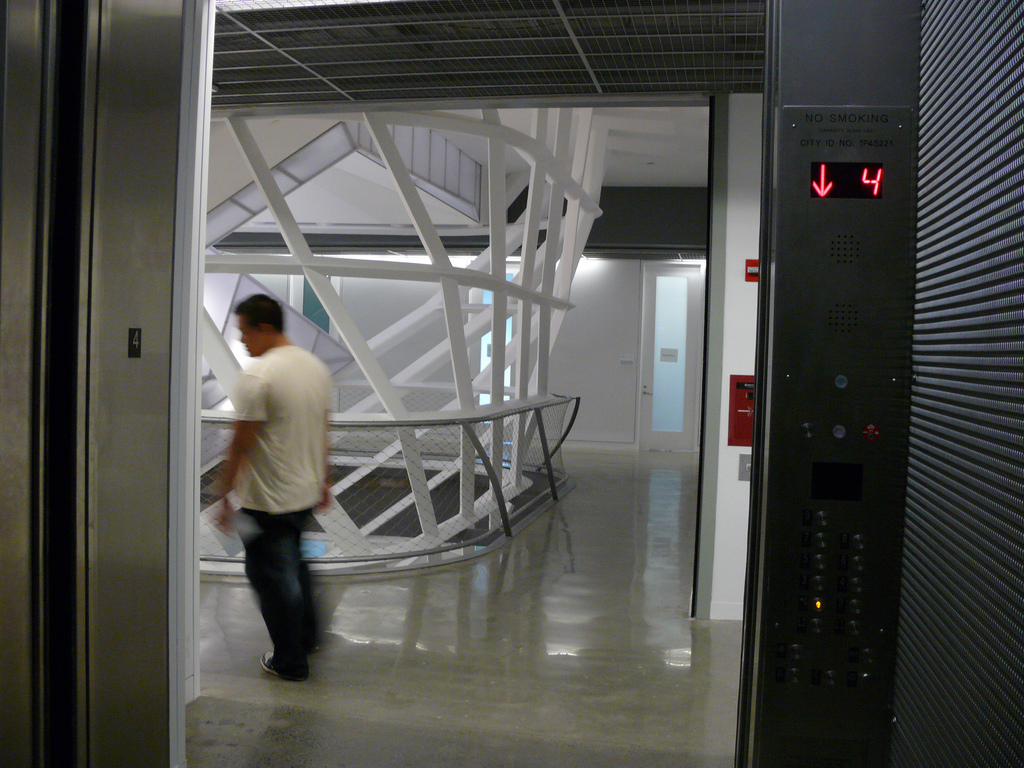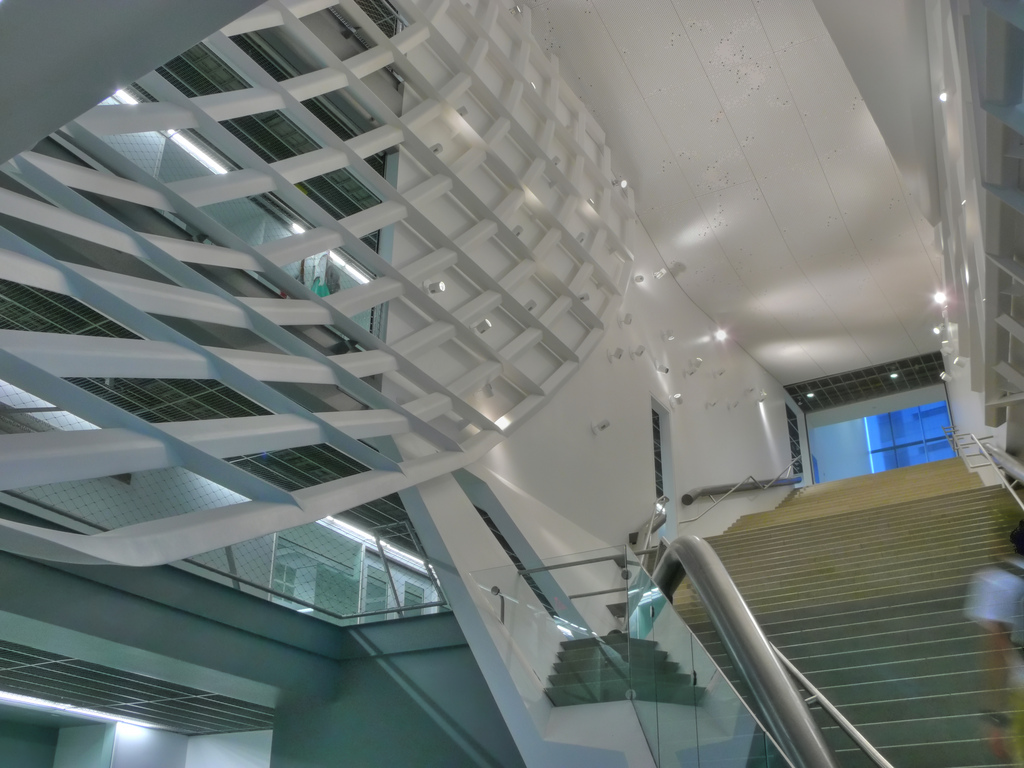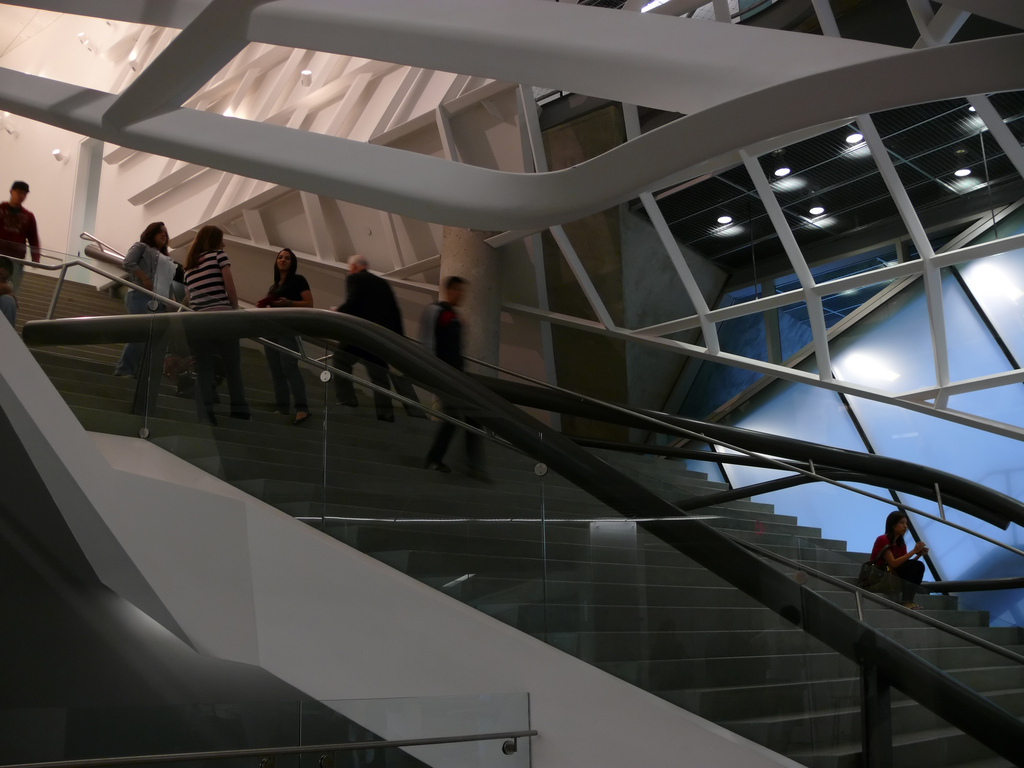 As a side effect, the stairs also promote physical activity. Morphosis designed a skip-stop elevator system -- a concept made popular by Le Corbusier -- that only serves the first, fifth and eighth floors, so students must climb to reach the floors in between. Climbing these stairs is a pleasant experience; light filters through the atrium via a giant skylight, also benefiting surrounding spaces, including student lounges, seminar rooms, and laboratories. Since city codes strictly enforce fire protection within atriums, Morphosis provided steel shutters at each floor that drop down in the event of a fire, but otherwise maintain openness.
As the massive stairs narrow towards the top of the atrium, the level of detail of the design becomes more tangible. Crystalline light boxes serve as railings for the sky-walks. Mayne, who is known for being a hands-on designer, worked closely with contractors to cleanly achieve this complicated detail. The atrium space is further defined by a sculptural latticework, which was hand-coated with glass fiber reinforced gypsum (GFRG) board. This low-tech coating is economical and very durable and often used to cover Las Vegas casino columns.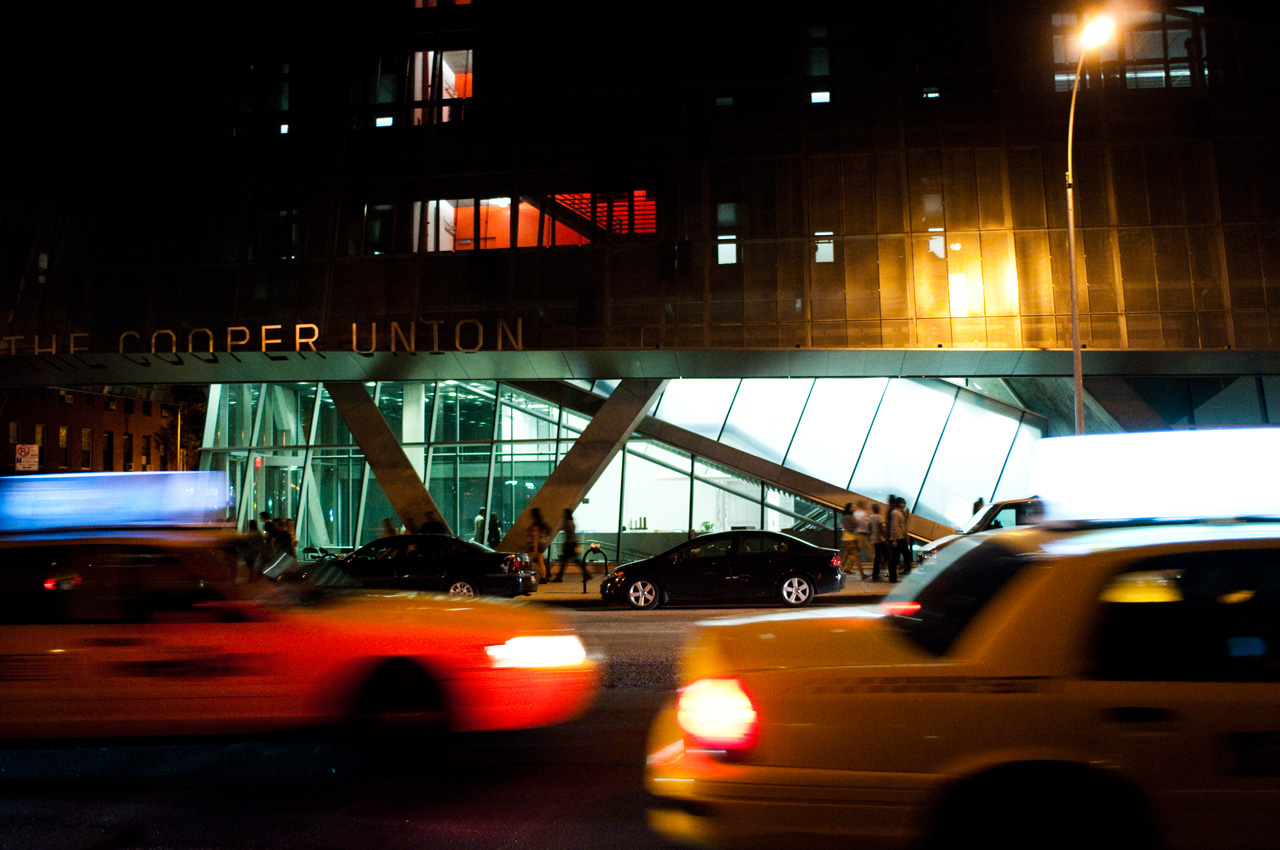 Not only is 41 Cooper Square designed to be durable, it is also environmentally responsible. The building recently received a LEED Platinum rating and became the first academic laboratory building in New York City to do so. The exterior panel system is operable, mediating heat while insulating against cold NYC winters. Other sustainable features include radiant heating technology, a green roof, a rainwater harvesting system, and a cogeneration plant that recovers waste heat. The building itself serves as an educational tool for students.
Some may find the design of 41 Cooper Square to be severe due to its sharp edges and aggressive angles, but the students appear to feel at home. The building's interior surfaces appear pristine and white in photographs, but upon closer examination, signs of activity are visible, such as scuff marks and colorful flyers plastered on the walls. Just as the designers intended, students gather on the stairs for impromptu conversations. Despite the height of the building, students remain connected with one another and the larger laboratory that is New York City.

Murrye is a freelance writer based in New York City. She holds a Bachelor's degree in Architecture from the University of Arkansas and is a LEED-accredited professional. Her work has been published in Architectural Record, Eco-Structure, and Architectural Lighting, among others. She also serves as a contributing editor for the American Institute of Architects' New York Chapter publication, eOculus.
Website: www.murrye.com
Latest from Murrye Bernard