HOK / Vanderweil Process Zero Concept Building: As Green As... Algae?
HOK / Vanderweil's retrofit of a government building takes the notion of incorporating nature into design to a whole new level. The facade uses algae-housing tubes to serve multiple functions, including using algae as a fuel source.
When building green, it's easiest to start from scratch, but the blank slate is an ideal rather than a reality: our stock of existing buildings necessitates energy-efficiency retrofits.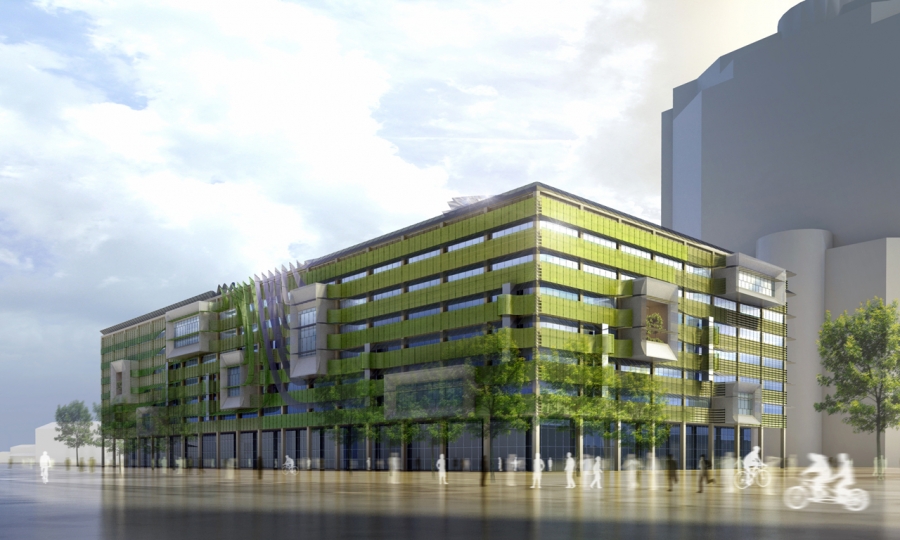 Metropolis magazine's annual Next Generation® Design Competition prompts emerging designers—those in practice for 10 years or less—to tackle this pressing issue. The 2011 teams were tasked with designing a net-zero building retrofit for a 1960s-era U.S. General Services Administration (GSA) office building located in downtown Los Angeles. This typology is timely, given that federal agencies have been mandated to lower greenhouse gas emissions by 30% before the year 2020. This particular building, 300 North Los Angeles Street, was designed by Welton Becket, Albert C. Martin, and Paul R. Williams. The eight-story steel-frame structure is clad in single-pane glass and concrete panels; its interior hallways are devoid of natural light. Read: it's not very eco-friendly or such a pleasant place in which to work.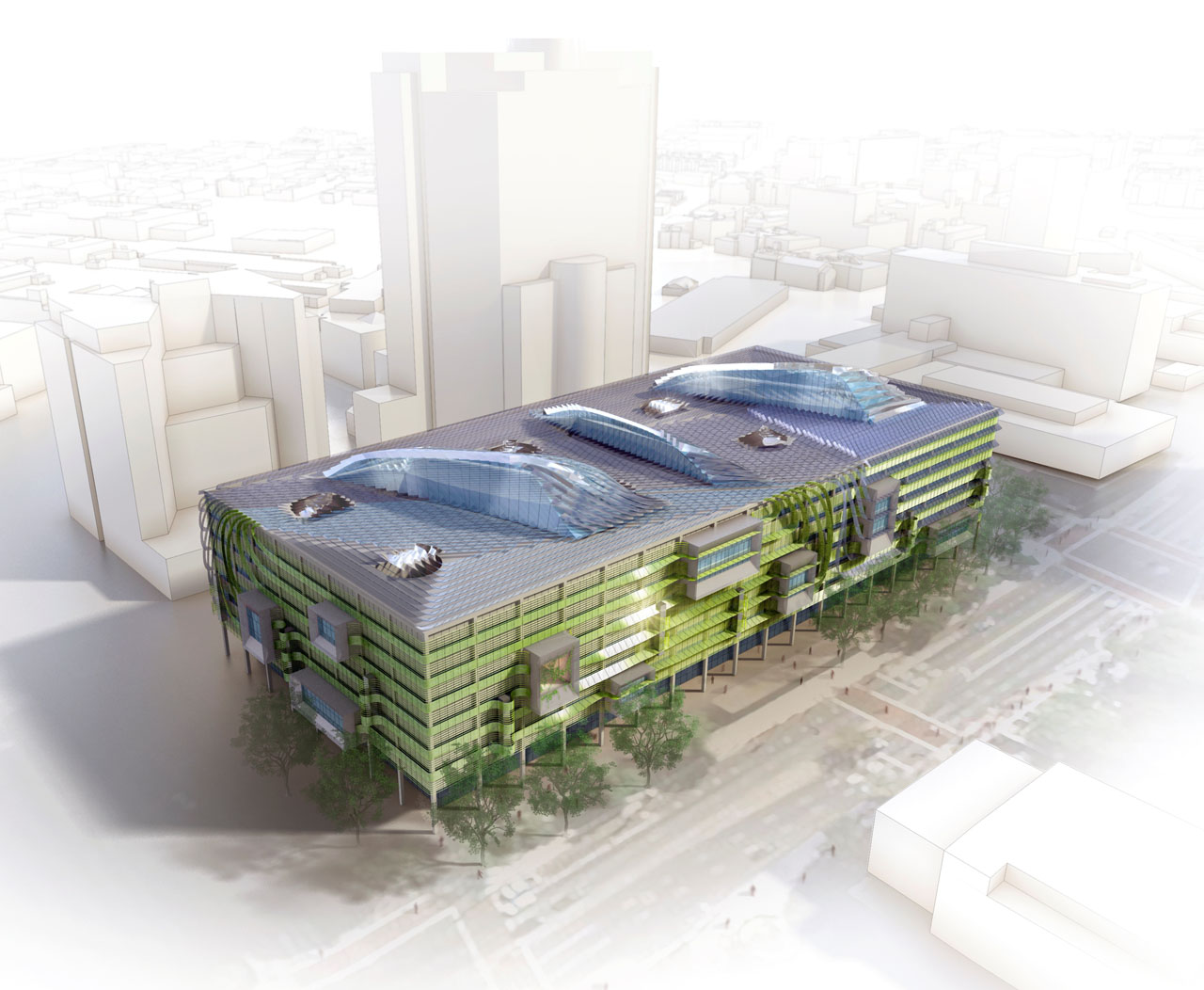 Photovoltaic panels cover 30,000 sq. ft. of the roof, while three atria cut into the building are angled to maximize daylighting.
The winning entry, titled "Process Zero: Retrofit Resolution," was designed by a 15-member team comprised of architects and engineers from HOK and Vanderweil, who managed to reduce the building's overall energy demand by a whopping 84% while generating the remaining 16% on site. The design thus achieves net-zero status and also meets the exacting standards of the socially conscious Living Building Challenge 2.0.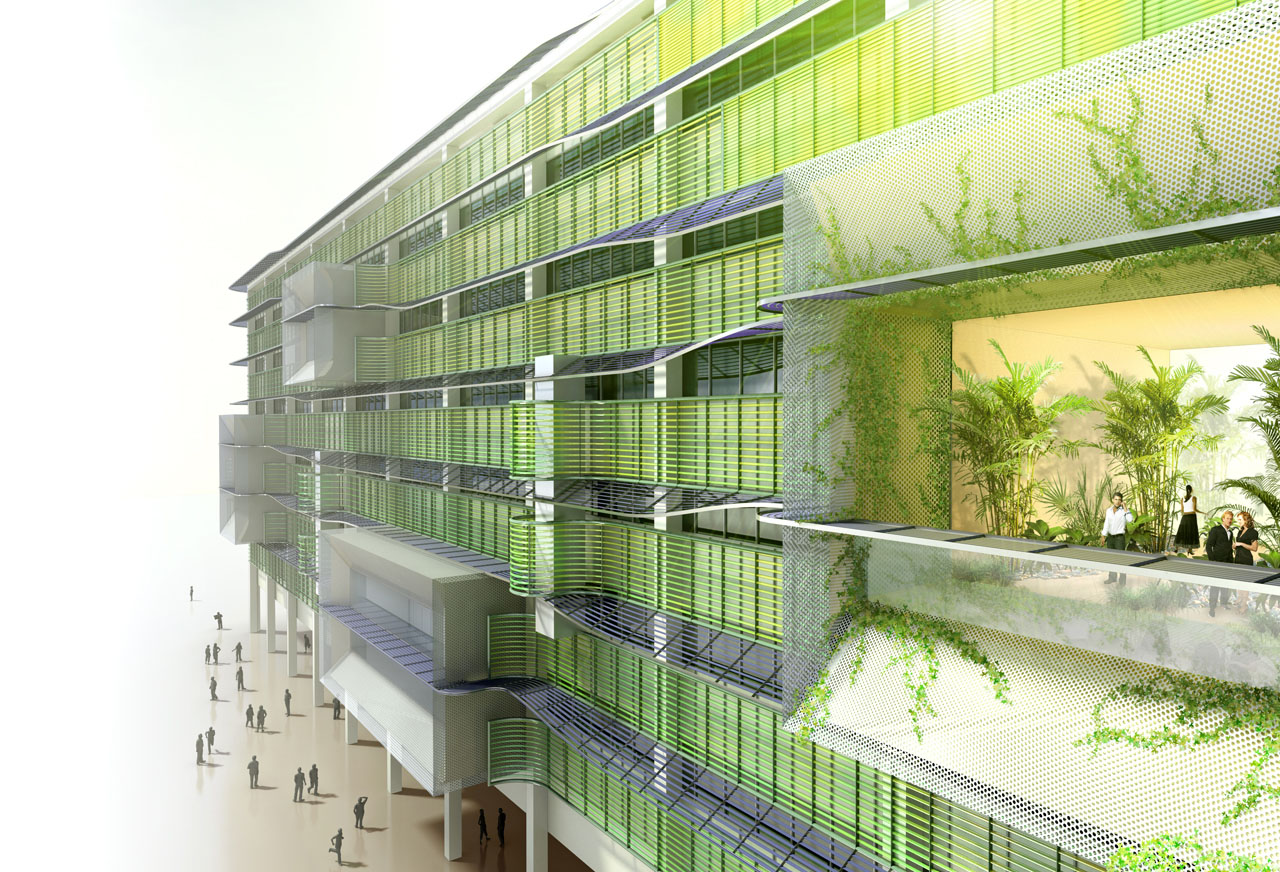 Algae housed in glass tubes covering the building's exterior filters wastewater, consumes carbon dioxide from the nearby highway, and uses photosynthesis to produce energy.
The building retrofit is literally green on the outside, thanks to a 25,000 sq. ft. grid of tubes that serve as a photobioreactor and breeding ground for microalgae—an "architectural first" according to the team. Looking to nature for inspiration is not a new approach for HOK, who have been collaborating with The Biomimicry Group, a bio-inspired innovation company, for several years. So, naturally, the algae isn't just for looks: the biomimetic design actually produces energy to power the building. The algae draws nutrients from the building's wastewater and, with the help of the sun's energy, produces lipids that can be turned into fuel on site. The algae also absorbs CO2 emissions from the nearby Santa Ana Freeway and, through the process of photosynthesis, produces fresh oxygen. A bonus? The grid of tubes provides shading for interior offices.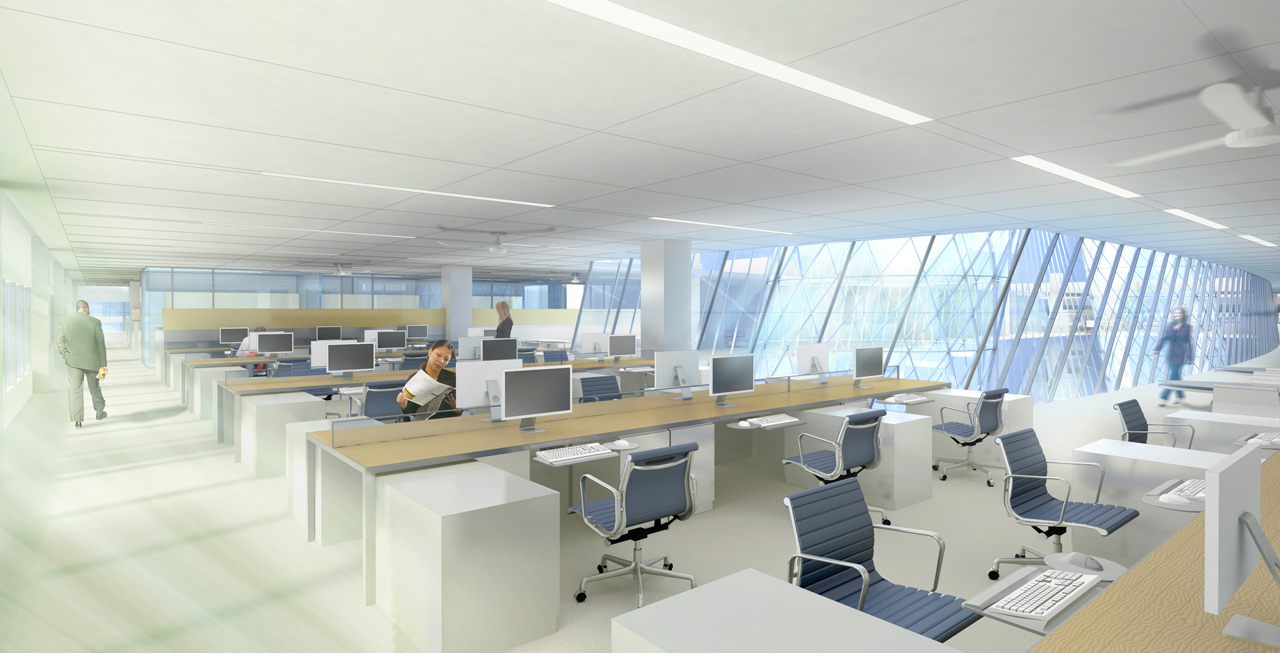 With three large atria and eight light wells cut into the windowless interior, the design brings daylight to 100% of the office. Artificial lighting currently consumes one-fourth of the building's energy load.
While the microalgae bioreactor system is no doubt innovative, it generates only 9% of the building's power needs. The team has devised a variety of other solutions to pick up the energy slack: new atria and light wells mitigate the lack of natural light in workspaces, louvers provide natural ventilation, 35,000 sq. ft. of photovoltaic film coat the new facade, 30,000 sq. ft. of solar collectors line the roof, "phase-changing materials" provide ceiling insulation, and a cloud computing system replaces heat-generating computer equipment.
Is algae the retrofit solution of the future? Only time will tell. The HOK / Vanderweil team will reinvest its $10,000 prize into further research and development, and they hope that someday the system could be applied to retrofits for federal structures and other building types.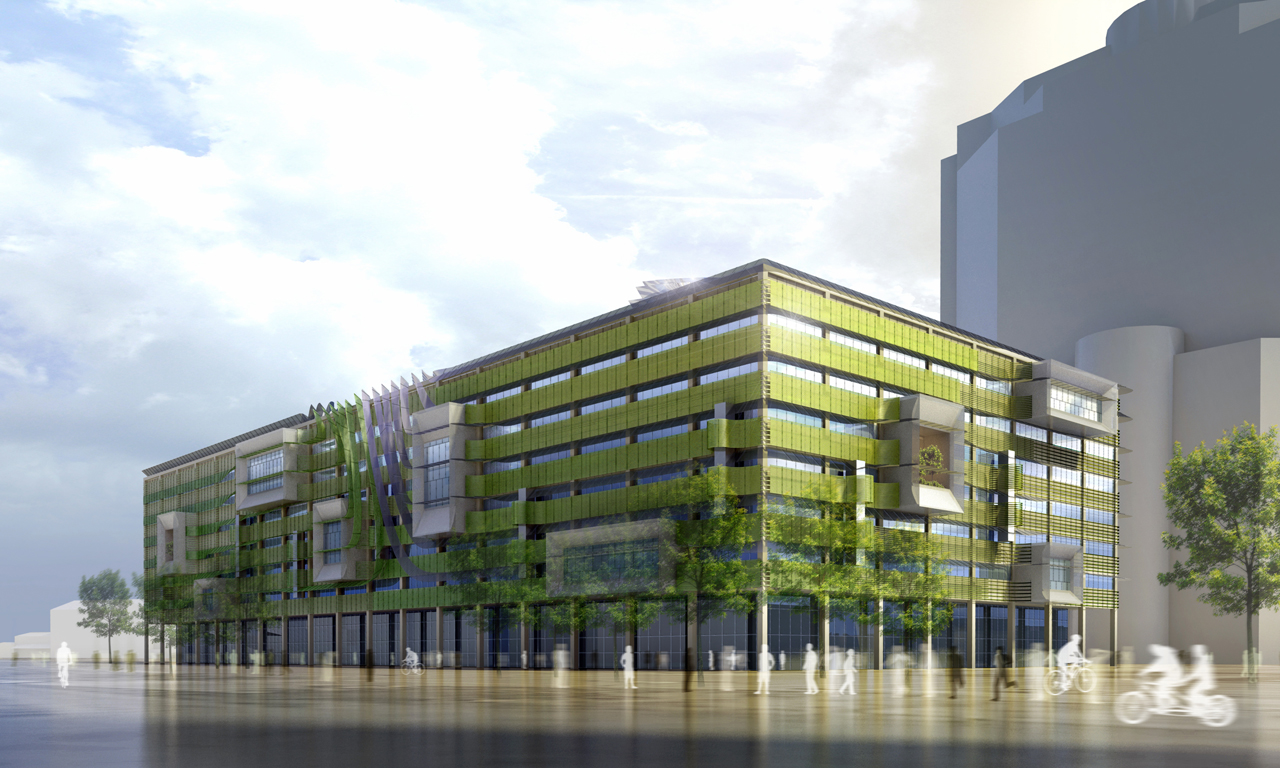 The eight-story, 1960s-era building is among the 362 million sq. ft. of office space the GSA must retrofit to reduce greenhouse gases by 30% before the 2020 deadline.

Murrye is a freelance writer based in New York City. She holds a Bachelor's degree in Architecture from the University of Arkansas and is a LEED-accredited professional. Her work has been published in Architectural Record, Eco-Structure, and Architectural Lighting, among others. She also serves as a contributing editor for the American Institute of Architects' New York Chapter publication, eOculus.
Website: www.murrye.com
Latest from Murrye Bernard