The Reina Sofia Museum: The MOMA of Madrid
This year, the Reina Sofia Museum in Madrid, Spain celebrates its 20th anniversary. Well, sort of. While the Museo Nacional Centro de Arte Reina Sofia officially opened its doors in 1990, the building has been transformed by so many architects over the years that it's difficult to date.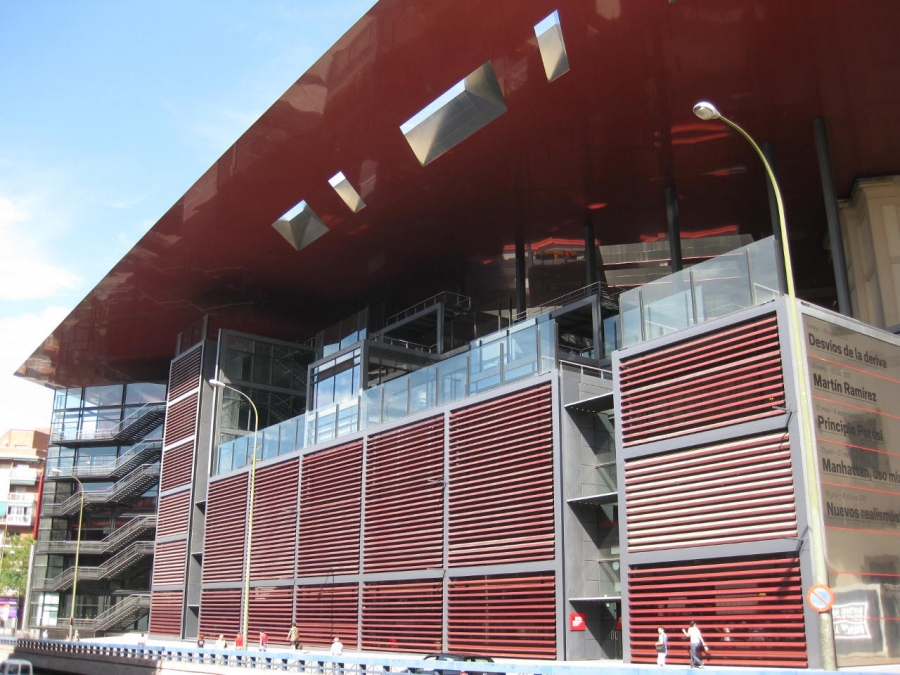 Originally founded as a hospital by King Carlos III in the 16th century, the structure was redesigned by famed architect Fernando Sabatini in the 18th century. It wasn't until 1977 that a royal decree established the 24,619 m2 (approximately 265,000 sq. ft.) building as a national historic artistic monument; shortly after, in 1980, another renovation took place, under the direction of Spanish architect Antonio Fernandez Alba. Further modifications were made to the edifice in 1990, when British architect Ian Ritchie added three 35 m (approximately 115'-0") tall steel-framed glass elevators onto the exterior.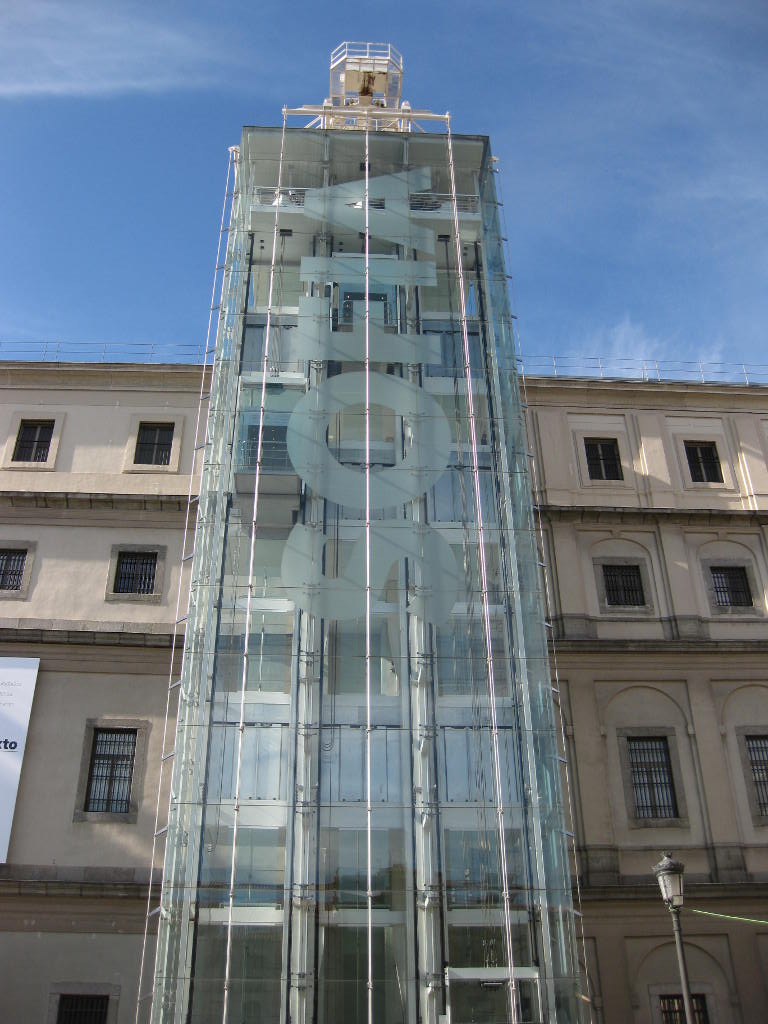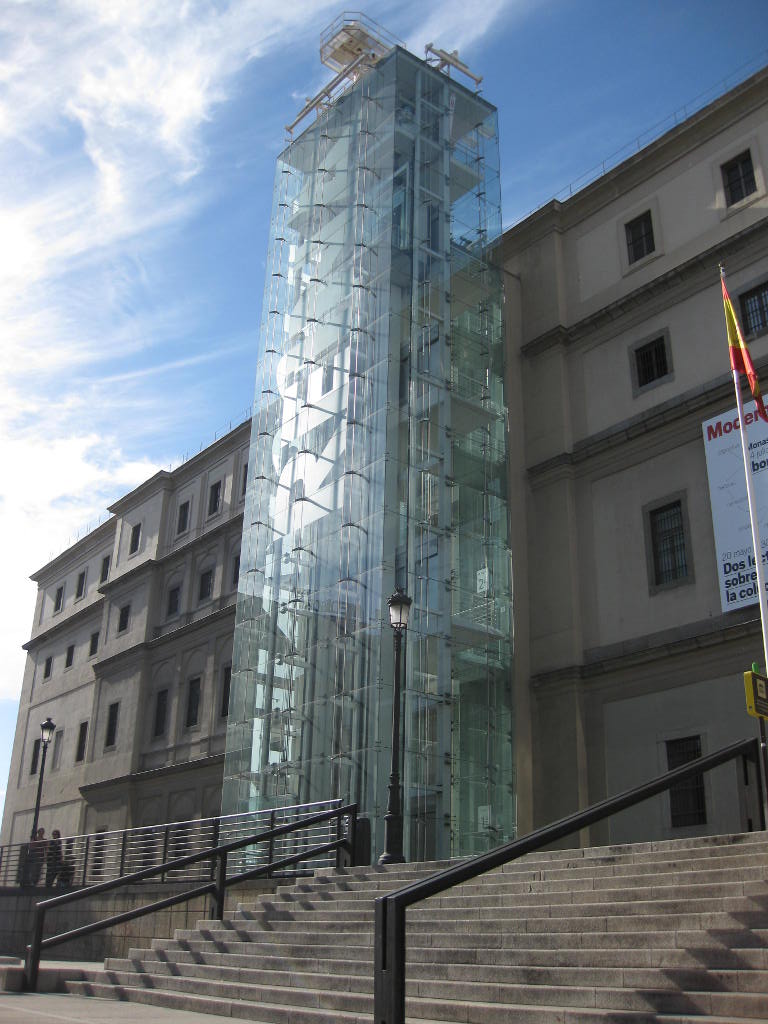 Throughout these years of constant reformation, the museum housed a number of temporary exhibits. It wasn't until yet another royal decree that the building was declared as the official location for the National Museum and named for the current Queen Sofia. (Yes: one building, two royal decrees.) This city takes its history, its art, and its architecture very seriously.
One of the largest contemporary art museums in the world, with a world-renowned permanent collection, the Reina Sofia hosts a variety of events and special exhibitions throughout the year. Walking through the museum's classical Sabatini Building, you know when you've happened upon the jewel in the museum's crown.
Picasso's Guernica is the star attraction and constantly flanked by visitors. With a history as controversial and intriguing as Picasso himself, Guernica is a representation of the Spanish Civil War. At 11'-0" tall by 25'-0" wide, this imposing canvas toured the world and became an anti-war symbol before eventually finding a home in New York's MOMA. It was Picasso's wish that the painting not be returned to Spain until the dictatorship was over and a republic had been established.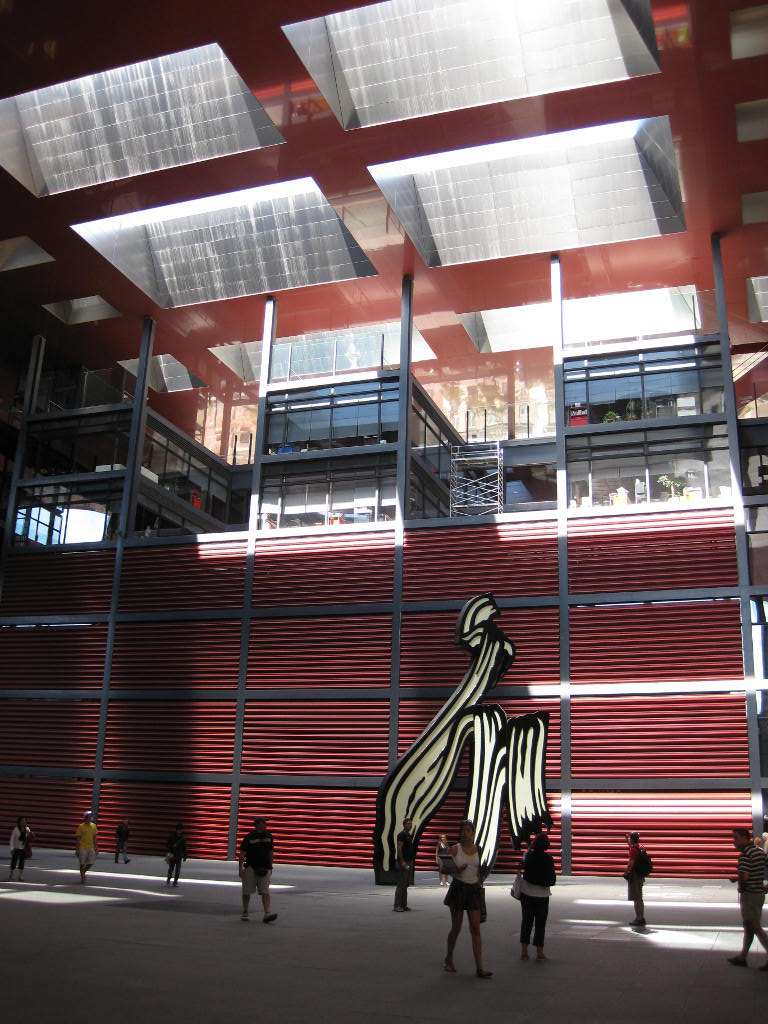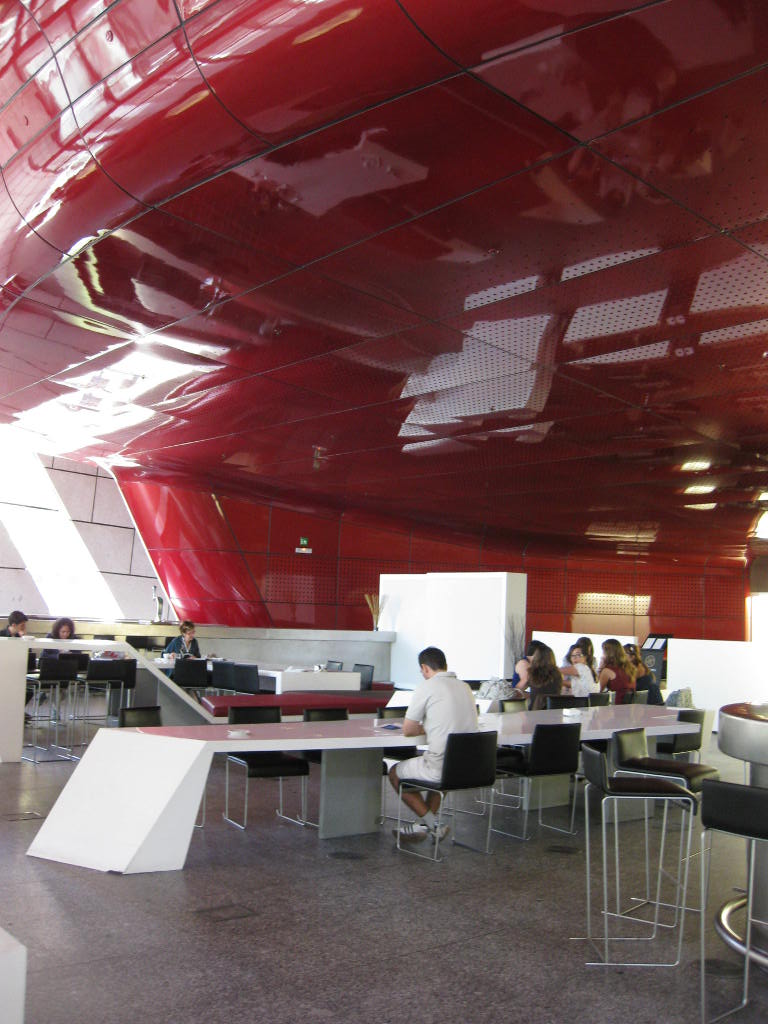 After Franco's death in 1975, Spain was declared a democratic constitutional monarchy, and the MOMA reluctantly returned the painting to its rightful home, per Picasso's wish. Not for the faint of heart, Guernica is a chaotic, monochrome, and disfigured representation of the brutality of war. It's fitting that this controversial painting sits inside a structure that's almost as schizophrenic and disconcerting as the painting itself.
One side of Sabatini's building, a concrete block, is distinct from most modern art museums. Modern art museums are often found in "quirky" buildings -- think of the Guggenheim in Bilbao or NYC. Apart from the futuristic glass and steel elevators, the Sabatini building of the Reina Sofia has no distinguishably modern aspects itself. Rest assured, however, there is certainly more to this building than meets the eye.
The southwest side of the Sabatini building is where the Reina Sofia reveals its uniquely modern identity, thanks to French architect Jean Nouvel. In 1999, Nouvel designed this addition in an attempt to open more space for the museum's permanent collection. Housing the museum's library, restaurant, and bookshop, the 7,989 m2 (approximately 86,000 sq. ft.) expansion cost 92€ million (approximately $123,114,400). Since its inauguration in October 2005, the annex has stopped people in their tracks. Nouvel's ultra-sleek creation is itself an extension of the art found inside the museum.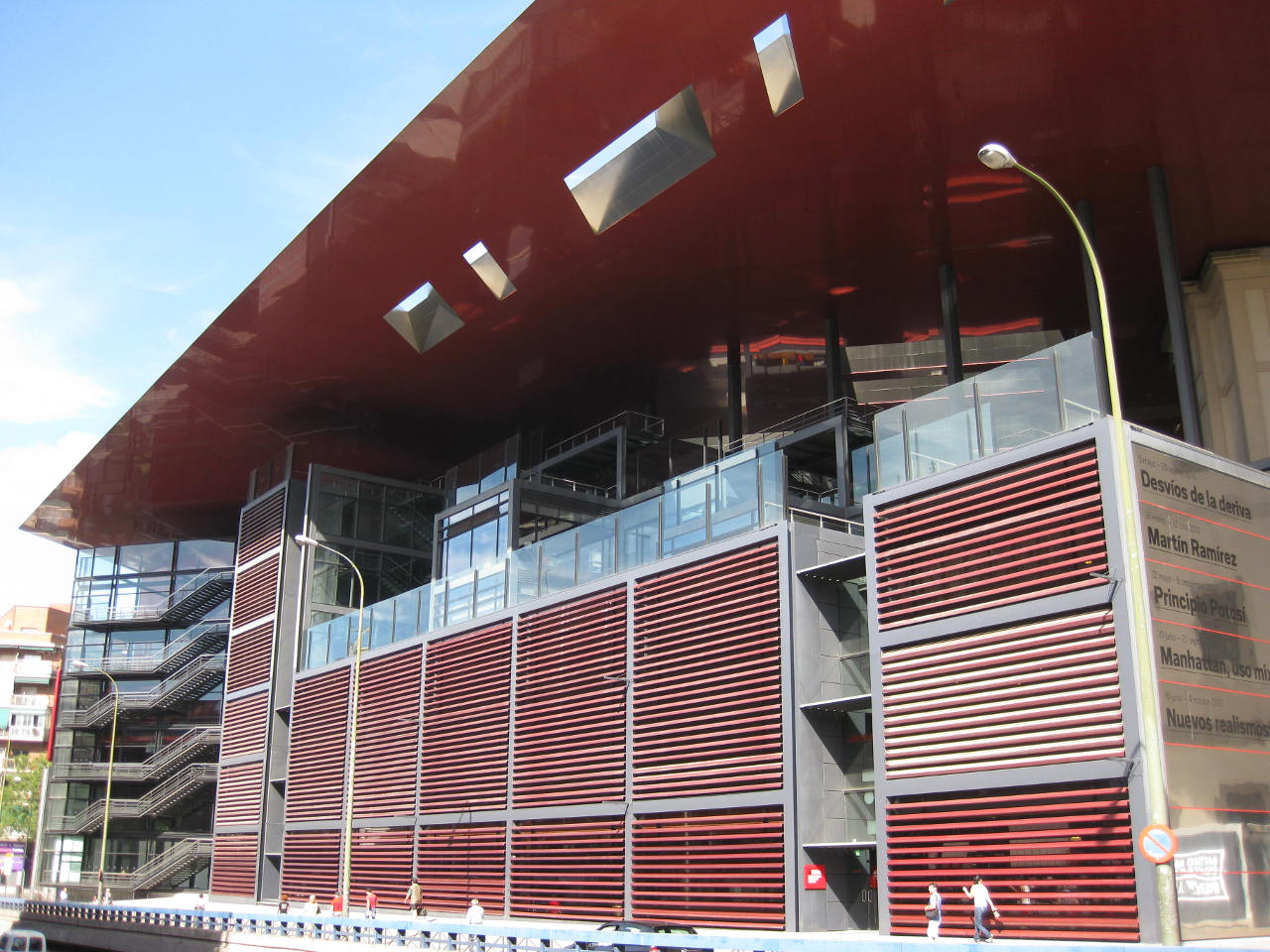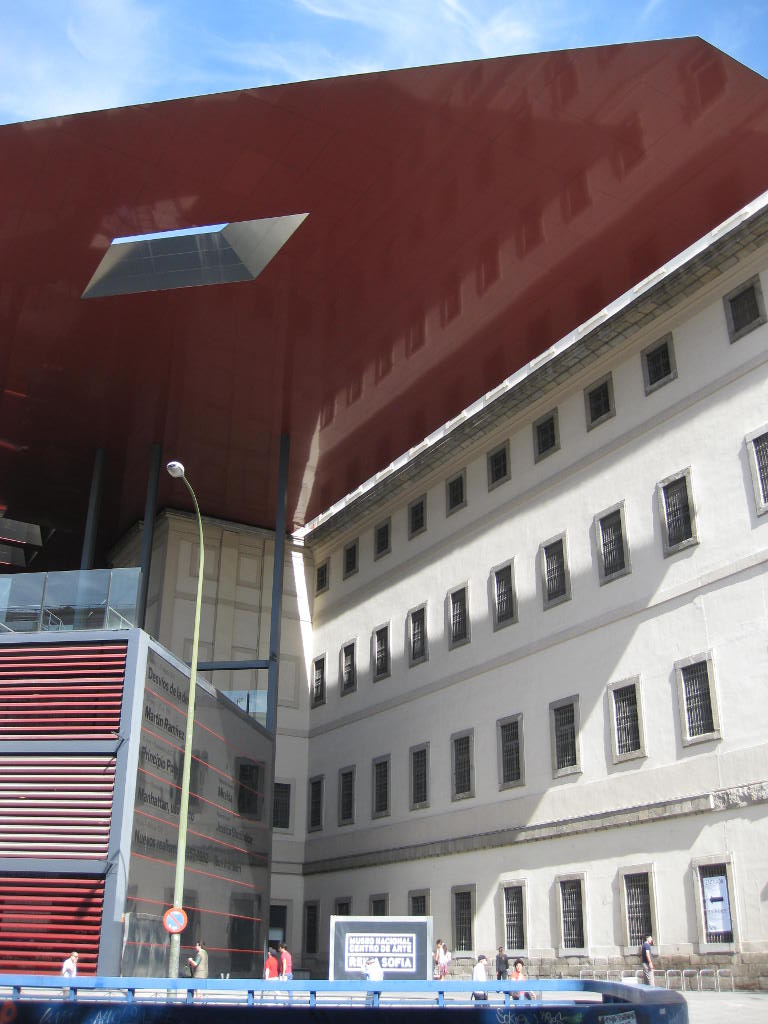 Like Picasso's Guernica, the exterior of the Reina Sofia is unexpected and awe-inspiring, even a bit unsettling. Long gone is the classic white interior of the museum. Now you find yourself in a disjointed, Alice in Wonderland-type courtyard with towering black and crimson slanted walls surrounding a central plaza, where a lone Lichtenstein sculpture, Brushstroke, holds court. A blazing red lacquered triangle canopy, illuminated by open sky panels, hovers over the entire plaza. Meant to provide a bit of a respite from the harsh Spanish sun, in winter its dark hues create a cavernous scarlet retreat, further adding to its mystique.
Atop the Nouvel building is a sweeping terraza, where visitors can catch their breath and relax, with nothing but a modest glass plane between you and the open air. Although still under the burgundy roof, the top deck boasts striking views of Atocha Train Station and Madrid's old barrios, complete with stylish balconies and romantic spires.
Madrid's "Golden Triangle" of art museums, which also includes the Prado and the Thyssen-Bornemisza, offers classical and contemporary collections and exhibitions to impress everyone, from art connoisseurs to amateurs. However, it is the Reina Sofia that best captures the Spanish style of combining traditional historic design with avant-garde architecture.

Nicole graduated from Georgia State University with a Post Graduate degree in Spanish to English Translation and a B.A. in Spanish and International Business. Presently living in Madrid, Nicole works as a freelance writer and translator and enjoys traveling around the Iberian peninsula taking photos of Spain's rich blend of historic and modern architecture. Her articles and photos have been published in various trade publications and websites.
Website: www.passtheham.com/
Latest from Nicole Jewell