Team Rhône-Alpes Wins Solar Decathlon 2012 with Canopea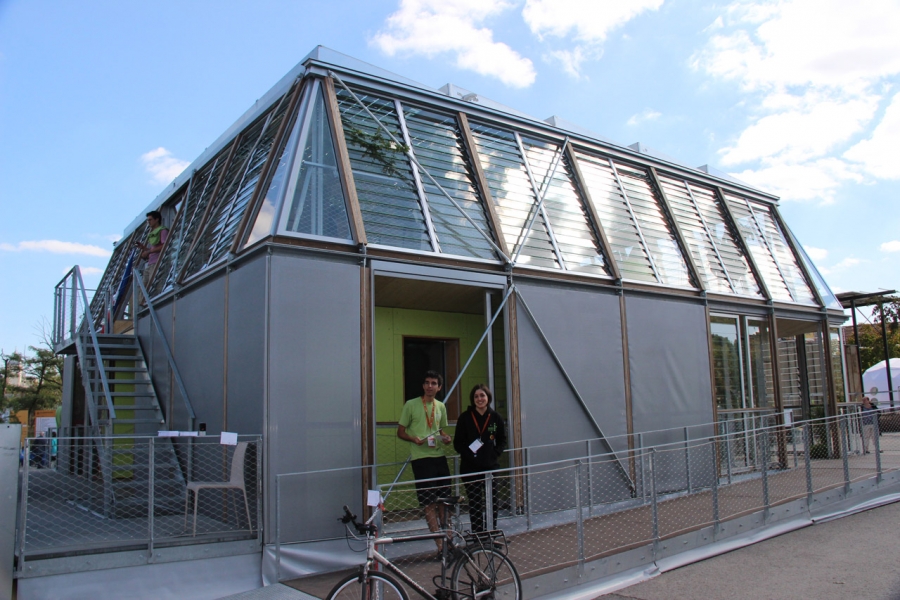 After two weeks of arduous competition at this Solar Decathlon Europe 2012, Team Rhône-Alpes took home first prize in the international solar energy competition. It seems as if the French team was virtually destined from the start as their design, Canopea, not only took home the grand prize, but also won a number of other awards including first place in the Architecture category and second place in the Communication and Social Awareness category, the Industrialization and Market Viability category, and the House Functioning category.
Even amid such highly creative designs and technologies, the Canopea house managed to stand out as one of the most innovative and forward-thinking designs at the Solar Village this year. This building is more than just an energy-efficient powerhouse: the Canopea concept may just be the next wave of the energy-efficient future.
Distinguishing itself from the other structures at Solar Decathlon 2012, the Canopea house was actually a prototype of the top two levels of a "Nanotower." So-called Nanotowers are designed to contain a vertical series of single-unit homes intermixed throughout with private and public green space and a community center on the top level.
In contrast to the futuristic tower design, the building's principal functions are primarily born out of practical necessity. Nanotowers offer realistic solutions that are needed to combat overdense population where urban sprawl is restricted by a region's landscape, such as the Rhône-Alpes area. Already in operation in two French towns, Carré de Soie in Lyon and Presqu'ile in Grenoble, these towers can offer cities a viable option for those areas with a limited amount of terrain, therefore urging growth upward instead of outward.
In addition to adding much needed space to constricted urban areas, this new vertical concept offers options to local residents looking to consolidate their desire to live in nature with their urban-set professional life. The Nanotower network serves as an affordable and liveable urban ecosystem for residents while subsequently reducing the ever-growing carbon footprint of an expanding population. The private residences are equipped with home automated services and public and private green spaces. In addition, the buildings are interconnected with public services and transportation systems as well as public and private energy systems, including thermal and electrical smart grids.
Urban Agriculture Development
As with most energy-efficient housing, Canopea's principal objective is to reduce its carbon footprint while enhancing sustainability for its community, both on the private and public levels. Each individual house is designed with enough space to grow herbs and a small vegetable garden. Additionally, the central public patios of the blocks have a vertical farm that allows for communal food production.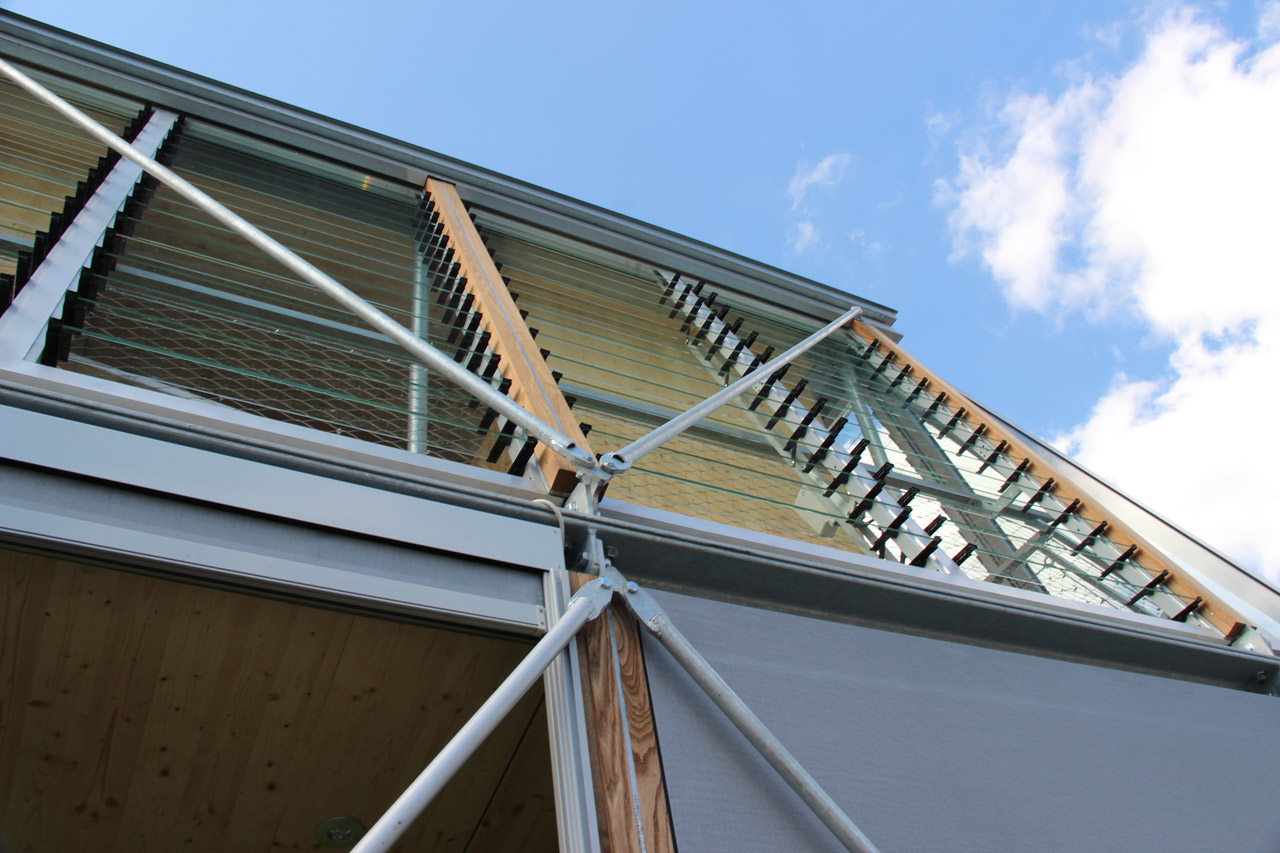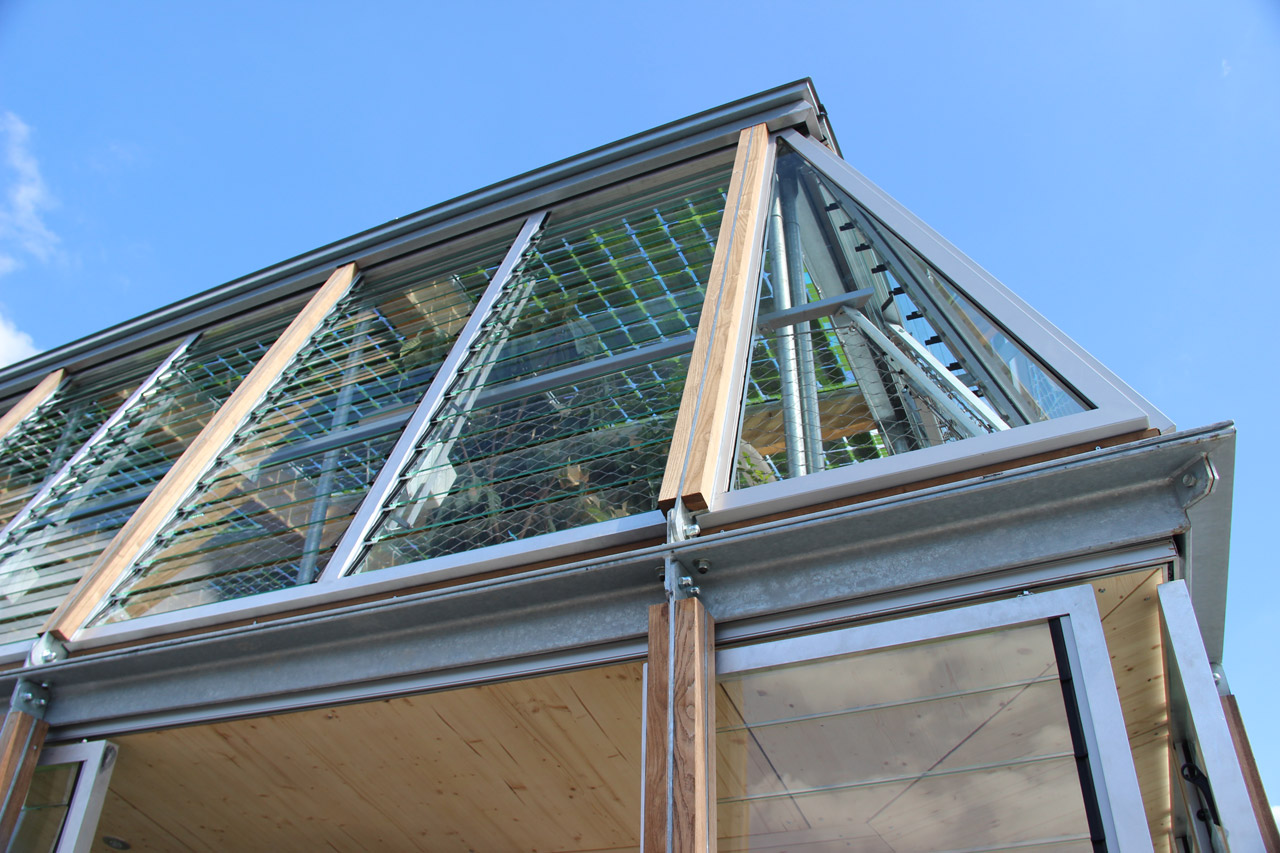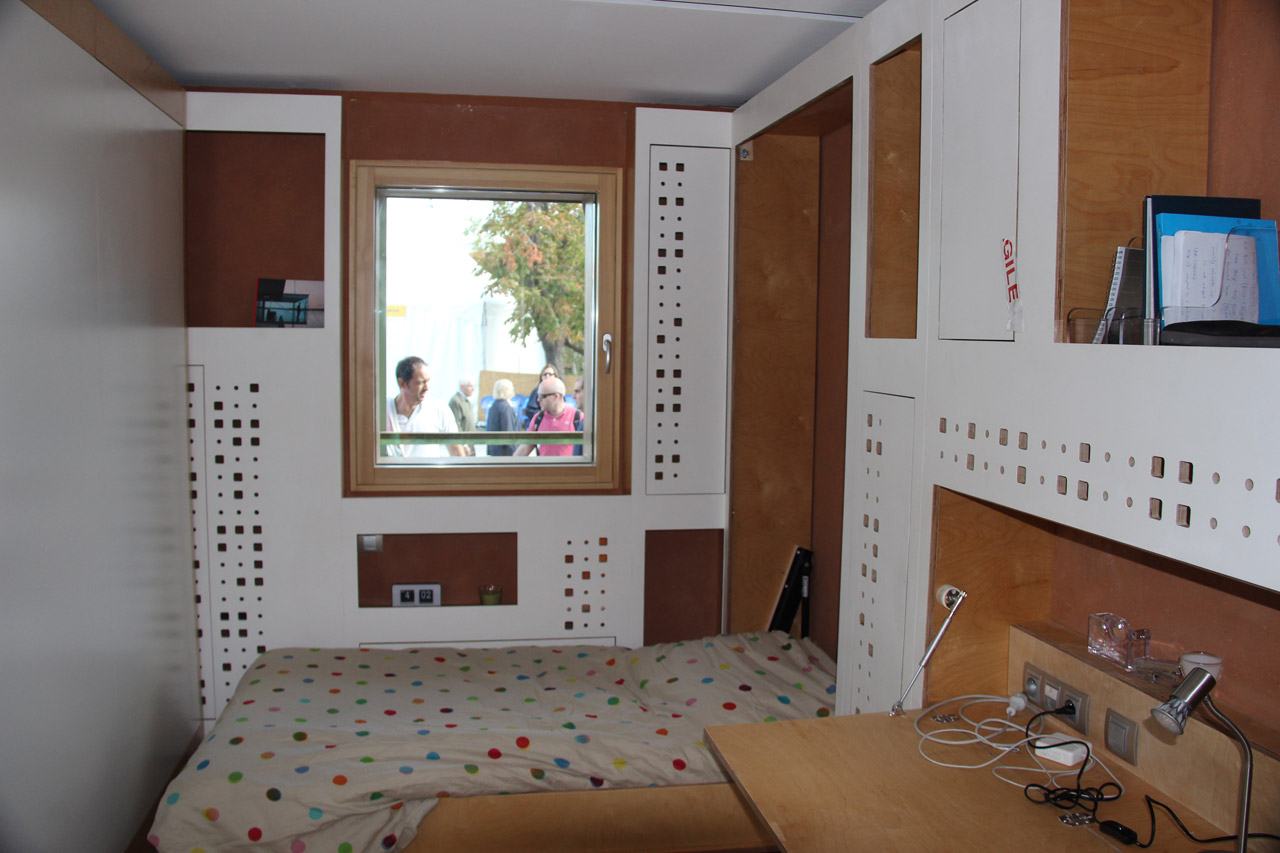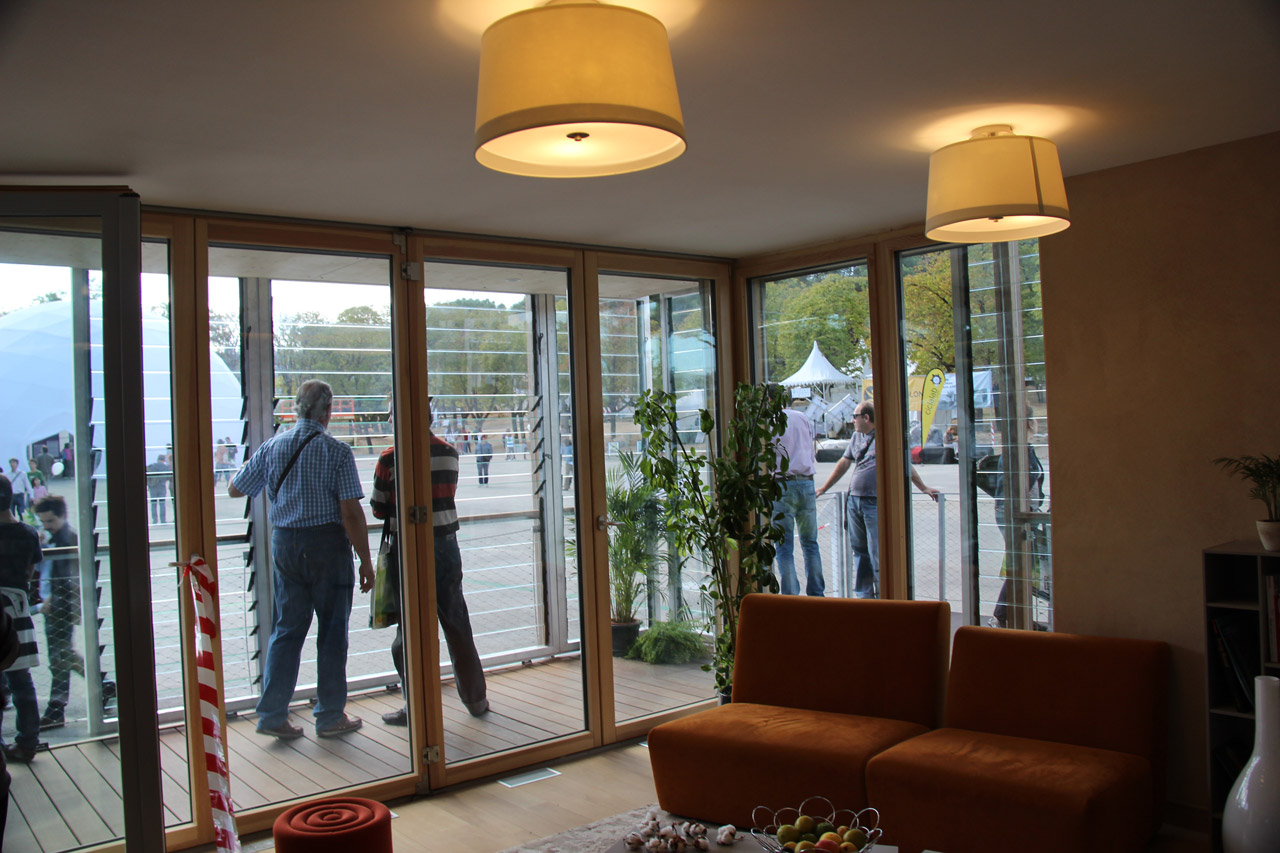 Another feature unique to the Nanotower is its shared mobility concept, a plan that gives each resident a number of transportation options. Although each Nanotower is linked to public transportation, each also provides light electric vehicles like scooters and segways for communal use, as well as an electric car that is shared by the residents. The electricity needed by these vehicles comes from the photovoltaic (PV) installations on the roof.
All of these services and many more are made available to residents through the tower's automated systems, which are controlled via tablet. This integrated system allows residents to reserve the shared vehicles, book train tickets, or even assist in social planning like movie times and restaurant reservations.
Technology Strategy and Building Materials
As the name suggests, the Canopea concept mimics a rainforest canopy, allowing the top level of the building to capture 95% of solar energy and 30% of precipitation, creating a sustainable ecosystem within the building itself.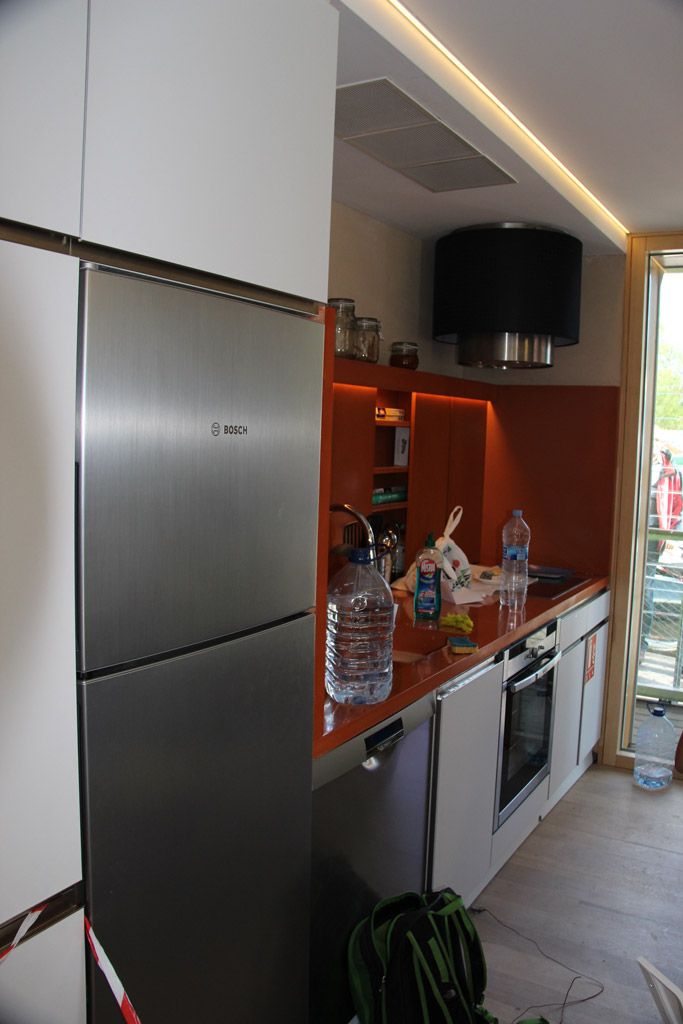 The heart of the Nanotower's energy efficiency and high-performance technology comes from its "Core Skin Shell." The core block of each wall contains a centralized industrial center with all of the technical equipment. The skin acts as a thermal envelope that supports the photovoltaic (PV) system and uses lateral blinds to filter sunlight and regulate temperature.
Each individual dwelling offers a modulated box layout with a flexible living area that can be set up in various configurations. This module system allows for a relatively easy and cost-effective fabrication and installation of both the technical equipment and building materials. Essentially all of the materials can be easily fabricated in almost any factory in any country, making this concept an accessible system world-wide.
Active Energy Strategies
Temperature control, ventilation, and hot water supply are made possible by compact machines that include a water heat pump and an air heat pump.
A thermal air phase shifter takes the oscillating warm air and "shifts" it for 12 hours, allowing warm air trapped during the daytime to cool the house at night and vice versa.
The ceilings and the walls are equipped with "radiative earth panels" that assist in controlling heat and cool air loss.
The roof is layered with photovoltaic (PV) and hybrid panels, which not only generate solar energy but also ensure water proofing of the common level.
A hydraulic system works to produce and store hot water.
Passive Energies
Thanks to its efficient bioclimatic engineering, the Nanotowers have optimal passive energy strategies that enable residents to easily control interior temperatures. The high-performance walls, strong insulation, and triple-glazed windows create a formidable envelope that insulates the interior temperature. The windows are equipped with louvers that allow for controlled ventilation throughout the house.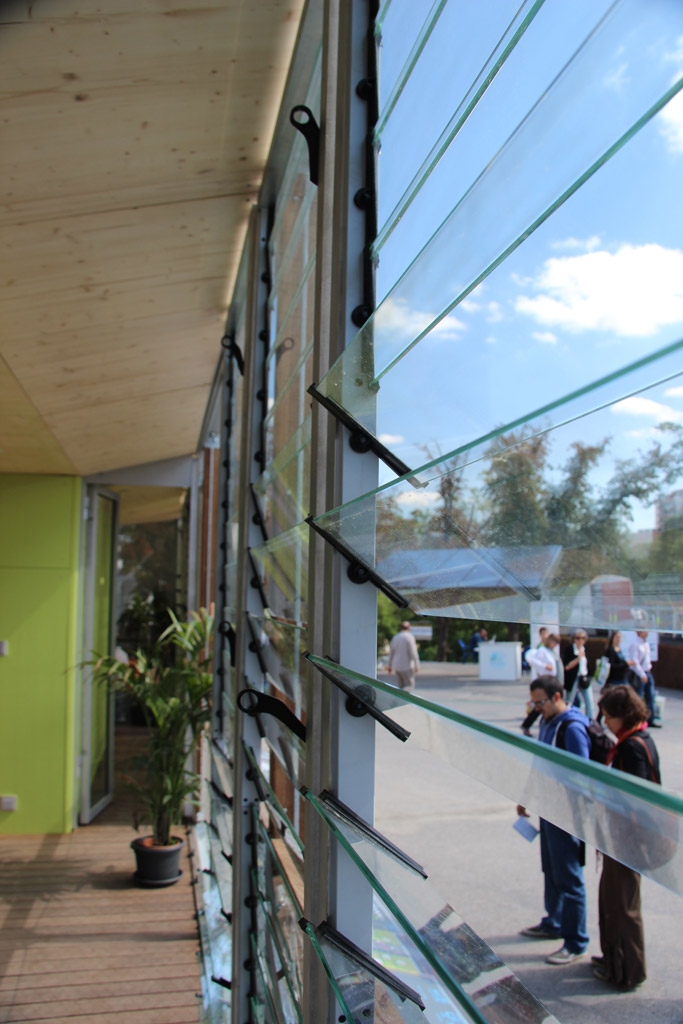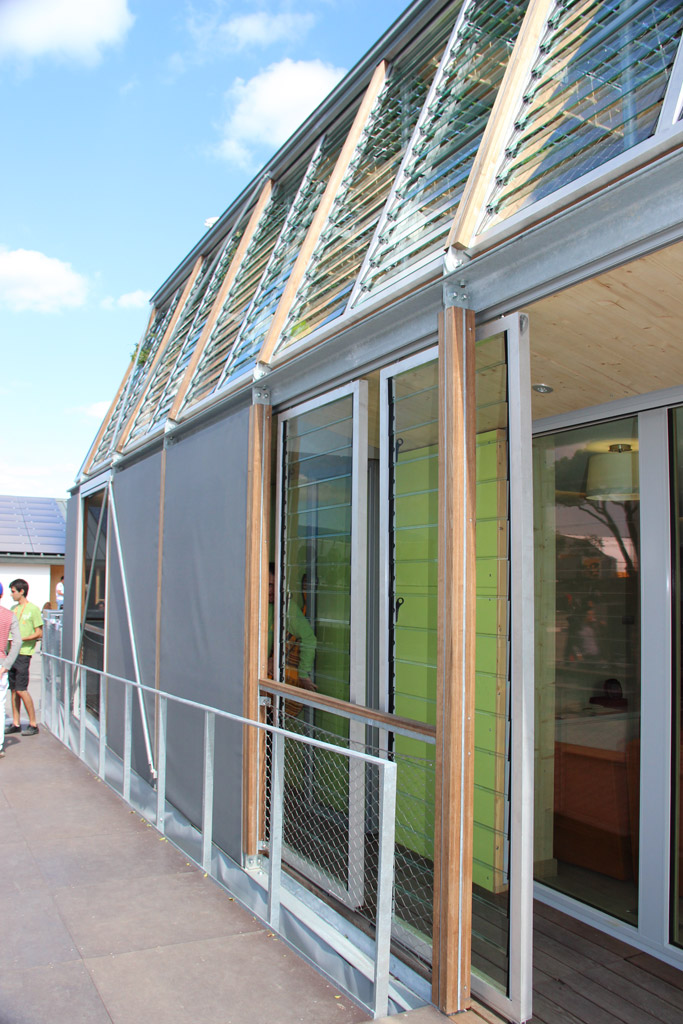 Additionally, the regulation of the interior and external temperature works in correspondence with the seasonal climate. In winter, the towers are protected from extreme temperatures by a controlled thermal envelope as well as by buffer spaces that reduce heat loss. Sliding glass walls act as a protective skin in front of the large bay windows. In summer, the towers are protected from severe heat by Venetian shutters and micro-perforated sunscreens.
According to Team Rhône-Alpes, "The Nanotowers are not just buildings; they're a support for a richer life in a dense cultural environment." With all of its technology and sustainable characteristics, the Nanotower design promotes more than a sustainable option for cities; it is actually creating a new lifestyle model for a peaceful coexistence among individuals, families, urban living, and nature.

Nicole graduated from Georgia State University with a Post Graduate degree in Spanish to English Translation and a B.A. in Spanish and International Business. Presently living in Madrid, Nicole works as a freelance writer and translator and enjoys traveling around the Iberian peninsula taking photos of Spain's rich blend of historic and modern architecture. Her articles and photos have been published in various trade publications and websites.
Website: www.passtheham.com/
Latest from Nicole Jewell