Extreme Basement Retrofit
I've good-naturedly taken to calling the Deep Energy Retrofit (DER) of my 1940s Cape Cod style kit home a "self-inflicted wound." You know those big renovation projects, right? Those are the ones that start with good intentions and then stretch out over months and years. That said, the good news at the Wilson house is that the benefits of the DER are easy to see and feel, and we're actually glimpsing the light at the end of our renovation tunnel.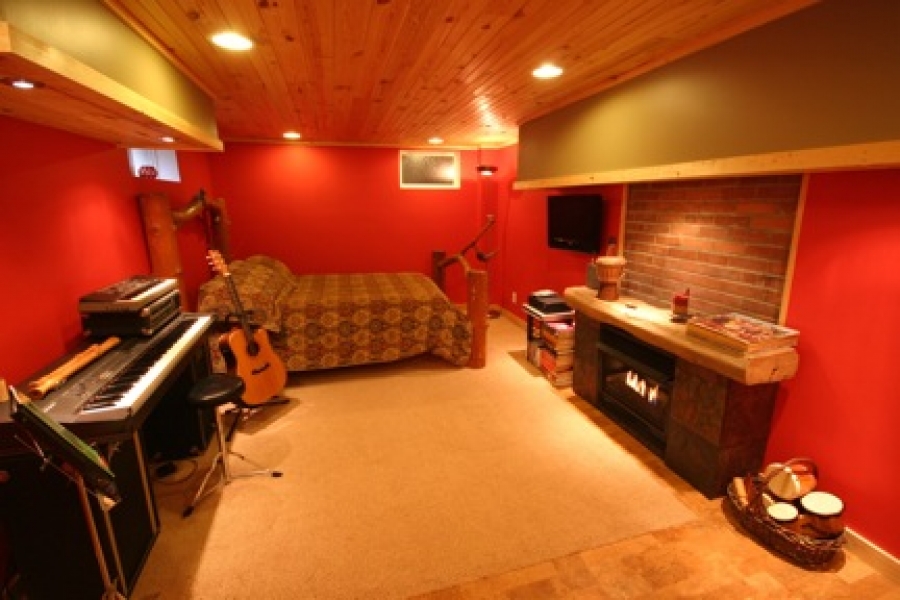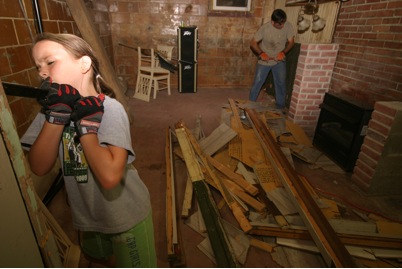 We've retrofitted the walls and roof with spray-foam insulation, new sheathing, new siding, and new roofing. We've replaced the windows with triple-pane, krypton gas-filled models, and the doors with insulated fiberglass versions. The walls sport an air-sealed R-30 insulation factor, and the roof has an R-50 to R-60 insulation factor. This has slashed our heating bill by a whopping 80%, and 85% of our electricity is now generated by a 4kW solar array, not to mention the fact that we enlarged the house from 1,000 sq. ft. to 1,350 sq. ft. without having to replace the HVAC system. Oh, and then there are the comfort and health issues – we now keep the thermostat at a cozy 70 degrees F in the winter, humidity stays at a comfortable 50% year round, and our Energy Recovery Ventilator keeps our indoor air quality fresher and cleaner than before the DER.
So we're finished, right? "Not so fast," Erik Kiilunen, the inventor and manufacturer of "EcoStud," a recycled plastic stud, told me recently. "People always think that heat rises, so they pile loads of insulation in their attics. They don't realize that they can lose as much of 30% of their heat through the uninsulated basement." Sure, I get it – hot air rises, but heat itself simply moves from hot to cold, so if I've got a cool basement wall, it's sucking out heat like a vacuum. But what's a serious retrofitter to do?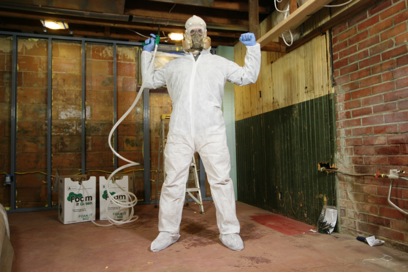 My basement stays dry, thanks in part to a well designed sump pump system. The only dampness that ever occurs down there is when hot, humid air condenses on the cool masonry walls in the summertime. I needed to not only insulate the basement walls but also block the indoor air from coming in contact with the masonry.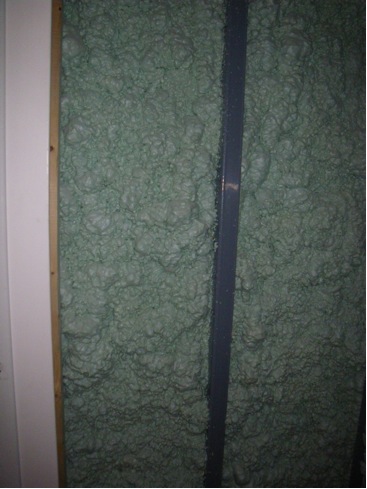 We chose to use EcoStud's recycled 2x4 plastic studs as furring strips against the inside of the basement walls. Plastic studs are inherently moisture- and rot-resistant, and they offer less thermal transfer into the masonry than metal or even wood studs. Then, we used Foam It Green's DIY spray foam insulation kits in the cavities to about 2 1/2" – 3" thick, giving us an air-sealed R-17 to R-21 insulation factor. On the floor we used EcoStud's 2" z-furring and then installed 2" polystyrene board, the edges of which we air-sealed using small cans of insulating spray foam available at home centers. We also replaced the old basement windows with double-pane, gas-filled vinyl models that seal well – a vast improvement over the old leaky, metal, single-pane windows.
One benefit of the spray foam is that it not only blocks air and moisture movement, it also stops radon from entering the basement space. Before we added the finish materials, I took the opportunity to replace the sump pump (look for that project on an upcoming blog) and install an air-tight cover, as well as check valves on the floor drains in the basement to prevent radon from leaking up through those openings. The result should be an insulated space without condensation problems with much healthier indoor air quality.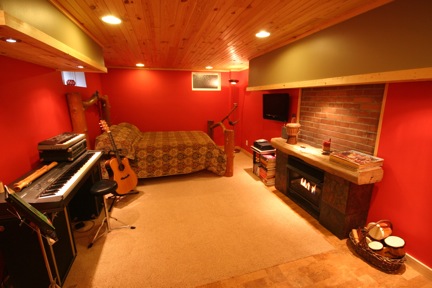 With the finish materials in place, we've got more usable square footage in our house in the form of a cozy music room, which we can convert into guest quarters when the need arises. While the project is only just finished (the paint may still be a bit wet... ), we hope to save even more on our energy bills – you'll be able to read more about that in my upcoming book, The Greened House Effect, which will be published by Chelsea Green later this year.
And my next project? Don't worry, there's no danger of me ever finishing my "perpetually half-renovated house." Self-inflicted or not, I wouldn't have it any other way.

Latest from Jeff Wilson