The more lights the better, right? Although lights are visually appealing and, personally, my favorite, the "Christmas Vacation" mentality can lead to a lot of problems if proper precautions are not taken. Christmas lights use a lot of electricity. Improperly installed, they can cause overloaded circuits and wires to overheat. Enough heat could be generated to eventually burn and ignite other items in the area.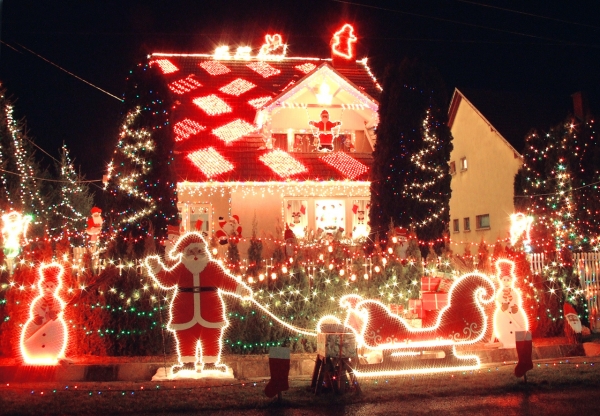 By following a few safety tips, you will not have to worry about this worst case scenario, whatever your mentality, and will be able to enjoy your decorations all season.
Below is our Christmas light safety guide, including what to look for when purchasing lights, what to check for prior to installation, and best practices to follow during installation.

Purchasing Christmas Lights
Make sure each set of lights has a fuse. Fuses, which are located in the plug, limit the amount of current that flows through the lights and will help prevent overloading of the circuit.
Verify that the lights have been tested and approved by a reputable test laboratory, preferably Underwriters Laboratories (UL). This will be identified by a mark on the package.
Are you using the lights for indoor or outdoor use? Look at the package for the approved locations.
Use newer cool burning lights in lieu of older, larger lights, which create more heat.
Prior to Installation
Replace burned out bulbs as soon as possible to reduce the risk of overheating. Be sure to replace a bulb with one that has the same wattage.
Inspect lights and cords for broken light sockets, frayed lines and/or exposed wires, and loose connections. Do not use the lights if one of the above is discovered.
Installation
Do not puncture or damage the lights' insulation. Insulation can be punctured when lights are installed with nails, sharp hooks, or tacks. Also, when hanging lights, be sure not to place individual lights in direct contact with a cord. This could lead to the light burning through the insulation, exposing the wire.
In outdoor applications, plug the lights into a ground fault circuit interrupter (GFCI). If one in not installed, you can purchase a portable unit at your local home improvement store. Another solution is to contact a qualified electrician to have one installed.
When stringing lights together, connect only the recommended amount. Connecting more than the recommended amount can lead to bulbs burning out sooner and/or to the wires overheating. If no recommendation is provided, a good rule of thumb is not to connect more than three.
Be sure that extension cords are approved for either indoor or outdoor use depending on the location of your lights.
Do not piggy back or plug more than one extension cord into an outlet opening. This will reduce the risk of overloading the circuit and will extend the life of your lights.
Stay away from overhead power lines.
Ladder safety: There are three common types of ladders: wood, aluminum, and fiberglass. Aluminum conducts electricity and is not a safe option when installing Christmas lights or when dealing with electricity. Wood and fiberglass are safe to use. Proper ladder safety should be paid attention to.
Unplug lights and other decorations when you leave and when you go to bed for the night.
We'd like to hear from you. Are there safety tips that you follow that are not listed above? Is there anything you think should be included in addition to what is listed?  If so, leave a comment below.

Since becoming Managing Editor, Justin has led the development of Buildipedia's site-wide content plan, fully integrating content across all audience channels and the Knowledgebase. Justin is responsible for the quality and accuracy of all published material, as well as the direction of the editorial department, including long-term strategy and vision. Before joining Buildipedia, Justin worked as an Architectural Project Designer, facilitating the design and construction process of multi-million dollar commercial projects. He also served as liaison to the international architectural staff and as a Construction Project Coordinator for higher education projects. Justin is a graduate of Bowling Green State University.