Structural steel framing, which includes structural stainless steel framing, describes the creation of a steel skeleton made up of vertical columns and horizontal beams. This skeleton provides the support for the roof, floors and walls of the structure. There are three main types of structural steel framing systems. They are the clear-span rigid frame structure, the modular structural frame and single slope frame style. Choosing which type of steel frame to use for a given project requires the consideration of a number of factors, including building width, height, location, roofing type, and building use.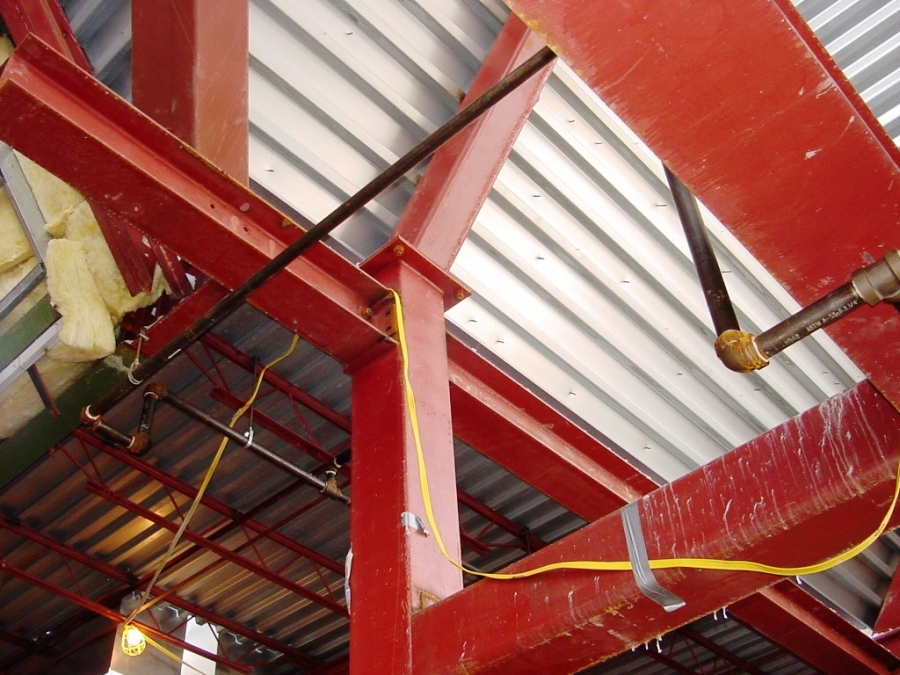 Topic Summary
Structural steel members vary in depth, height, length, thickness, profile and cross-section, with each of these characteristics affecting performance and load capacity. Welding or bolting is used to attach standard shapes of structural steel members.
Common Structural Steel Shapes

I-Beams, including Wide Flange and H sections
Tees
Z-Shapes
Angles
Channels
Plates, Bars and Rods
Hollow Steel Sections (HSS)
In the United States, structural steel is manufactured using Electric Arc Furnaces (EAF) or Basic Oxygen Furnaces (BOF). In each case, recycled steel is combined with new materials to produce structural steel members. Structural steel produced using the EAF process has a recycled content of nearly 90%, as it uses steel scrap for feedstock material. Structural steel produced using the BOF process, which melts iron ore and then combines the molten ore with scrap material, results in a much lower recycled content of approximately 25%.
In areas where seismic activity is a concern, Welded Steel Moment Frames (WSMF) perform extremely well. Braced Frame and Shear Wall Systems are commonly used framing systems. It is typical for any project to use a combination of framing systems.
The use of structural steel in construction has advantages and disadvantages when compared to other framing materials. Structural steel can be used to create complex building shapes, economically and with relative ease. It has proven to be a reliable material for bridge construction, allowing ease of inspection and repair. Innovations in coatings for steel can extend the life of members exposed to the elements. With some limitations, it is possible to cut holes in steel beams (prefabricated and field cut, with the approval of a structural engineer), allowing for ducts, pipes and conduits to pass through them. Noticeable floor deflection is greater with composite metal deck floors over steel framed buildings. Structural steel members are fire resistant but not heat resistant. If subjected to heat for an extended period of time, the members will weaken. For that reason, and depending on the local code requirements, additional steps may be necessary to meet Underwriters Laboratories (UL) fire resistance requirements for assemblies. Steel framed buildings have a high level of sound transmission. The construction of structural steel members requires heavy machinery and the special trades and skills of people known as iron workers.

The Buildipedia research and writing staff consists of dozens of experienced professionals from many sectors of the industry, including architects, designers, contractors, and engineers.
Website: buildipedia.com/
Latest from Buildipedia Staff