Churches Thankful for Roofs Overhead
From Saint Louis Catholic Church in St. Louis, Missouri, to Sacred Heart Ukrainian Catholic Church in Johnson City, New York, church members nationwide are giving thanks for the sturdy polymer roofing products over their heads. Whether replaced due to old age or storm damage, replacement roofs on churches across America are moving toward dependable, long-lasting polymer slate and shake roofing tiles.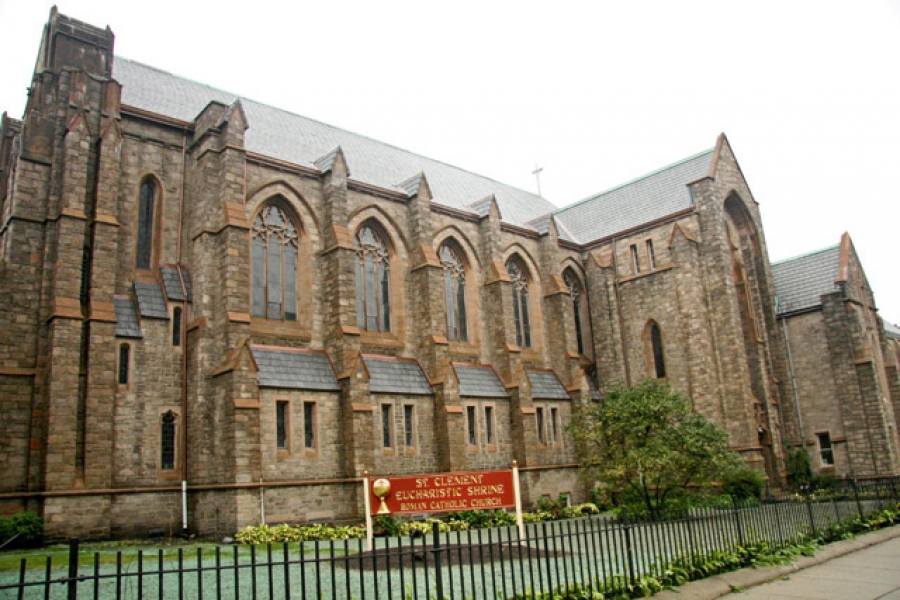 "The appeal of polymer roofing's longevity, aesthetics, and durability is greatly appreciated by many church congregations," says Ray Rosewall, president and CEO of DaVinci Roofscapes. "Within the past few years we've been blessed to see a significant increase of our roofing products used for church projects throughout the country. The biggest trend we've witnessed is for polymer roofing products to be used on historic churches to replicate the original look of a slate or shake roof."
Chapel at Dayton VA Medical Center
Originally constructed of slate, the 140-year-old chapel at the Dayton Veterans Administration Medical Center in Ohio now has a DaVinci roof. This historic building's new roof replicates the original large cross design with a star-studded border in medium tan slate polymer tiles on a background of black slate polymer tiles.
"The availability of different shades of tiles made it possible to accurately duplicate the original design from the chapel's roof," says architect Edward Groh with PEDCO, an engineering and architecture firm in Cincinnati, Ohio, responsible for designing the roof. "The result is a roof that everyone is exceptionally pleased with and a design that brings the original exterior look back to the chapel."
Construction on the Dayton VA Medical Center chapel began in 1868, and the Gothic style chapel was completed and dedicated in 1870. Used for both Protestant and Catholic worship services over the years, church services have been well attended by both veterans and area citizens. Now, with a new roof overhead, the chapel can continue serving the community for decades to come.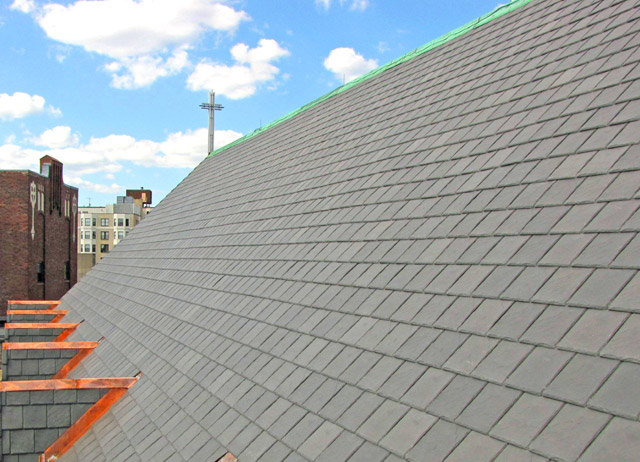 St. Patrick's Church
Another historic religious center, St. Patrick's Church in Terra Haute, Indiana, has been in existence since 1881. After putting up with leaky roofs for years, Bellaforté slate roofing tiles in a blend of greens were recently installed on three of the original four structures.
"This product perfectly replicates the structure's original roof, but it's constructed of man-made polymer that will resist all types of weather," says Brad Lough, co-owner of Lough Brothers Roofing. "Now that the copper gutters are starting to age and gain a greenish patina, we can really see how beautiful this roof will look for years to come.

DaVinci Roofscapes has manufactured award-winning polymer slate and shake roofing since 1999. The roofing tiles are virtually maintenance-free and far more cost-effective than the natural product. DaVinci leads the industry in tile thickness, tile width variety, and the greatest selection of subtle earth-toned colors. Company products have a 50-year limited warranty and are 100% recyclable. DaVinci proudly makes its products in the United States and is a member of the National Association of Home Builders, the Cool Roof Rating Council, and the U.S. Green Building Council. For additional information call 1-800-328-4624 or visit www.davinciroofscapes.com.
Website: www.davinciroofscapes.com
Latest from DaVinci Roofscapes