DaVinci Roofscapes® Offers Bellaforté Shake Roofing Tiles
In response to marketplace demand, DaVinci Roofscapes® now offers a line of multi-width Bellaforté Shake polymer roofing tiles. Available in eight different profiles that replicate real cedar shakes, the tiles feature snap-fit tabs for easy installation and self-alignment.
The 12" Bellaforté Shake tiles feature multiple profiles that enable roofing contractors to create a staggered appearance that simulates a natural rough-hewn wood shake roof. The eight profiles resemble chiseled, hand-split cedar shakes with realistic slanted sawn edges and staggered lengths.
The product's patented self-aligning features, including the leading edge tab, aligning ledge and product design, all help reduce installation time for the Bellaforté Shake product. Available nationwide, a square of Bellaforté Shake (with 100 pieces per square) weighs just 190 pounds. This lower tile weight helps reduce both installation time and landfill load due to decreased construction waste. Just like other DaVinci products, the Bellaforté Shake tiles are 100% recyclable and come with a 50-year limited warranty.
"After we launched Bellaforté Slate roofing tiles several years ago we immediately received requests for a shake version," says Ray Rosewall, CEO and president of DaVinci Roofscapes. "We took our time to make sure we developed and delivered the best possible product to complete the Bellaforté product line.
"The newly designed Bellaforté Shake tiles provide both roofing contractors and homeowners with a competitively priced polymer product with high durability that mimics the look of real wood shake shingles with all the low-maintenance advantages."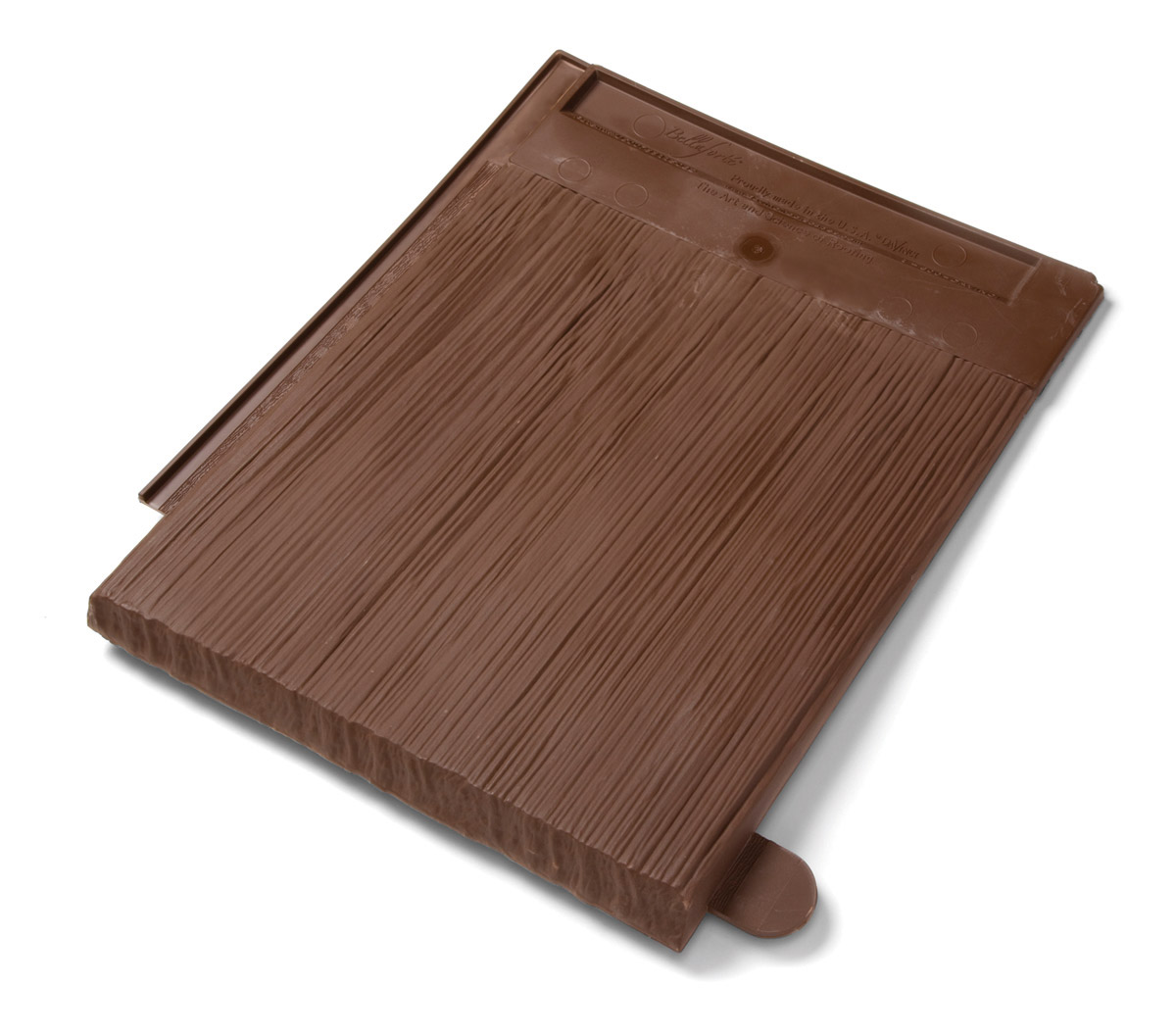 Single tile of Bellaforté Shake from Tuscano blend.
Known as the industry leader in colors for polymer roofing tiles, DaVinci Roofscapes is launching the Bellaforté Shake line with 49 colors and a selection of five color blends, including Abruzzo, Espresso, Tuscano, Verona, and Harbor Gray. Homeowners and contractors can use the DaVinci Color Designer tool for free online at the DaVinci Color Studio to create their own custom color blend of roofing using any of the 49 standard colors.
"Bellaforté means 'strong and beautiful' in Italian, and these new shake tiles live up to that description," says Rosewall. "The Bellaforté Shake tiles utilize our proven proprietary engineered polymer with state-of-the-art UV stabilizers and have completed a battery of third-party tests and certifications. These impressive tiles have the same outstanding features that have made the Bellaforté Slate products so widely accepted and used since their marketplace introduction just three years ago.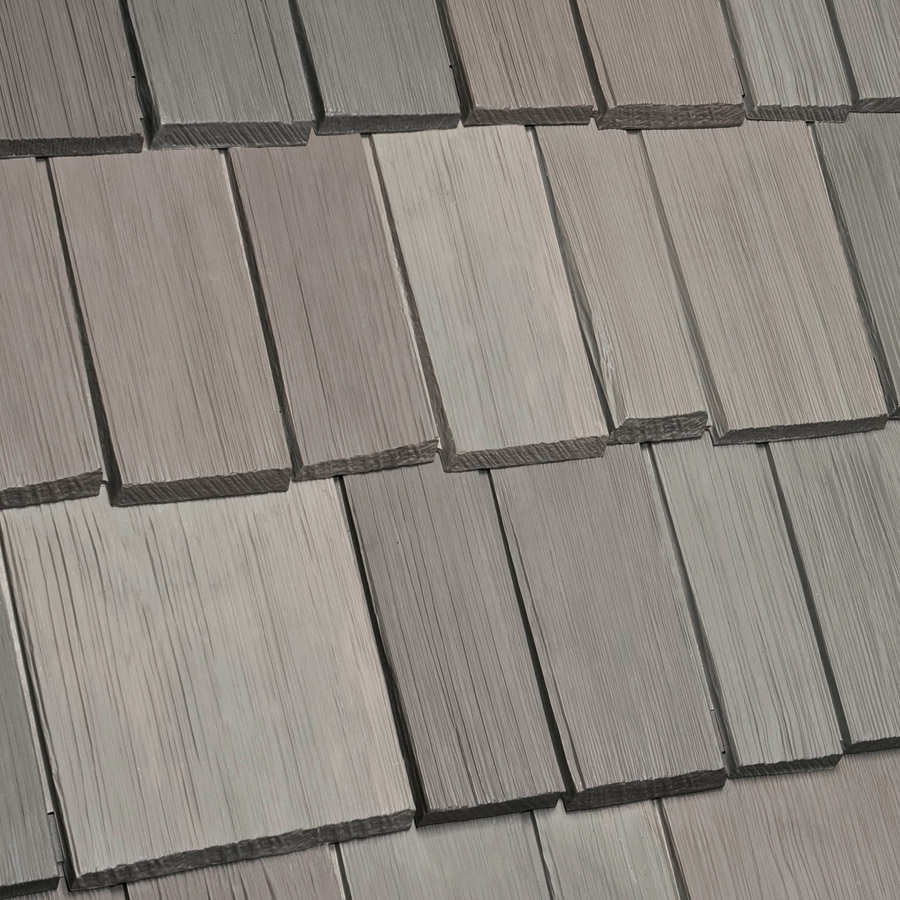 Bellaforté Shake in Verona blend.
"Bellaforté Shake tiles come pre-bundled with staggered profiles to make it simple and fast for installers to replicate a rough-hewn cedar roof. The polymer tiles resist curling, cracking and fading, mold, algae, fungus, and insects under normal conditions," says Rosewall. "Additionally, DaVinci roofing tiles resist water absorption, which eliminates freeze–thaw issues and allows for installation in all weather conditions."
Backed by a 50-year warranty, the patented snap-fit, self-locating Bellaforté Shake roofing tiles include an integrated rain gutter, leading edge tab, and rain dam. The durable tiles have achieved the highest standards for wind, fire, and impact, including the highest ratings for straight line wind testing at 110 mph in the ASTM D3161 test, the TAS-125 certification test for wind uplift resistance in High-Velocity Hurricane Zones, and the TAS-100 certification test for wind-driven rain. Bellaforté Shake tiles are also rated Class A for fire retardance and have a Class 4 impact rating that meets the UL 2218 Impact Test and the ASTM D3462 nail pull through resistance test.
Bellaforté Shake roofing tiles are also available in award-winning DaVinci's EcoBlend® gray colors, which have been rated by the Cool Roof Rating Council as a "cool roof" that reflects and emits the sun's heat back to the sky instead of transferring it to the building below. According to the Cool Roof Rating Council, "coolness" of a roof is measured by two properties, solar reflectance and thermal emittance. Cool roofs can save energy and reduce global warming mitigation, improve homeowner comfort, and help reduce urban heat island effect and smog.

DaVinci Roofscapes has manufactured award-winning polymer slate and shake roofing since 1999. The roofing tiles are virtually maintenance-free and far more cost-effective than the natural product. DaVinci leads the industry in tile thickness, tile width variety, and the greatest selection of subtle earth-toned colors. Company products have a 50-year limited warranty and are 100% recyclable. DaVinci proudly makes its products in the United States and is a member of the National Association of Home Builders, the Cool Roof Rating Council, and the U.S. Green Building Council. For additional information call 1-800-328-4624 or visit www.davinciroofscapes.com.
Website: www.davinciroofscapes.com
Latest from DaVinci Roofscapes