Major Retail Location Uses DaVinci EcoBlend® Roof to Meet LEED Requirements
Although The North Face® retail store in Victor, New York, opened less than five months ago, the structure looks like it's been part of the landscape for a decade or more. The retailer's construction team selected products that complemented the historic setting of the area, so that The North Face store fits its location very naturally.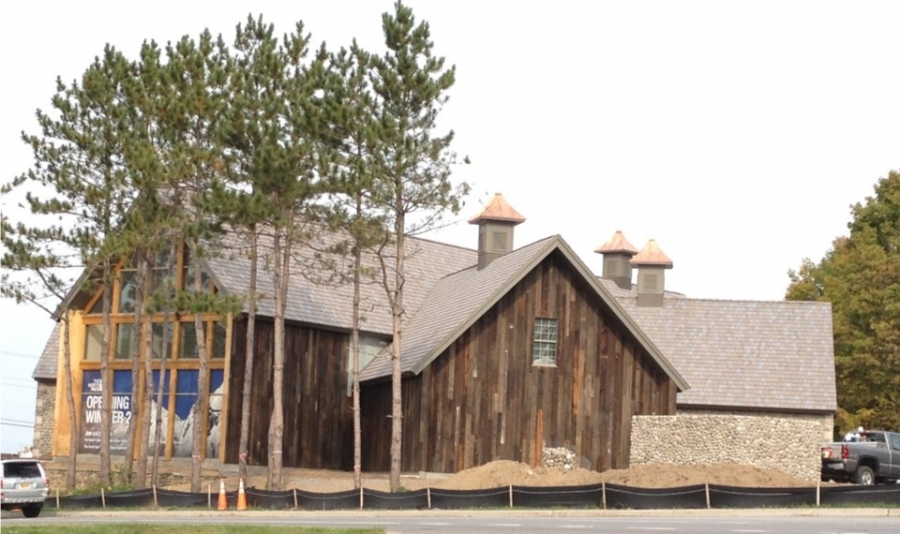 The North Face, which specializes in performance apparel, equipment, and footwear, opened its 7,870 square foot retail facility on a wooded lot in November of 2012. During the construction process, every effort was made to meet historic ordinances and comply with the Leadership in Energy and Environmental Design (LEED) certification process.
To top off the rough-hewn timber and stone siding structure, The North Face team members worked with general contractor Genesee Construction Services and landlord/developer Historic High Point Retail LLC to choose DaVinci EcoBlend® Multi-Width Shake tiles that reflect sunlight and heat away from the building. Recommended by Upstate Roofing & Painting, the polymer roof tiles provide higher emissivity and reflectivity rates, which lead to greater reductions in the cooling load for the structure. This helps increase energy efficiency for the building.
"Natural cedar shakes simply could not meet the LEED requirements for this project," said Dave Pastore, CEO of Upstate Roofing & Painting in Rochester, New York. "Wood cedar shakes can cup and curl due to moisture absorption. They need constant attention and inspection, and they're a high-maintenance product.
"We specifically recommended DaVinci polymer shakes for this project because the company uses a higher number of shingle widths than other manufacturers. Multiple widths add to greater authenticity of the roof. DaVinci also pre-sorts their colors prior to shipping, so we don't have to do this in the field, saving us on installation time."
Upstate Roofing & Painting has installed DaVinci roofing on other projects in the Rochester area in the past. Each time the company meets with strong approval from their clients. "The DaVinci product has an engineered rib structure," said Pastore. "For our clients this translates into a better-performing and easier-to-install roof."
Adjacent to the popular Eastview Mall in Rochester, The North Face store has already become a landmark for area shoppers, who look for the rustic-style building that complements the historic area.
For this project, a custom blend of the polymer shake roofing tiles was created that included an equal percentage of Light Gray, Light Weathered Gray, Medium Weathered Gray, Medium Dark Weathered Gray, and Dark Weathered Gray tiles. The DaVinci EcoBlend products have also earned designation as an ENERGY STAR® Qualified Product.
"There are 128 squares of the DaVinci shake tiles that we installed on the roof for The North Face building over a three-week timeframe in September of 2012," said Rick Gourley, field superintendant for Upstate Roofing & Painting. "Our team has installed the DaVinci polymer tiles on other projects, so we had minimal challenges with this project.
"The finished roof looks gorgeous and we're getting lots of positive comments on it. Most importantly, it's eco-friendly to meet the general contractor's goal of complying with LEED building specifications."
LEED practices encourage and accelerate global adoption of sustainable building and development. By installing DaVinci EcoBlend tiles, Gourley and his team helped reduce the heat island effect, increase water efficient landscaping, and reduce construction waste. DaVinci products have a 50-year limited warranty and can also be recycled.
For more details on the companies involved in this project, visit www.thenorthface.com, www.upstateroofingandpainting.com, www.geneseeconstruction.com, and www.highpointbusinesspark.com.

DaVinci Roofscapes has manufactured award-winning polymer slate and shake roofing since 1999. The roofing tiles are virtually maintenance-free and far more cost-effective than the natural product. DaVinci leads the industry in tile thickness, tile width variety, and the greatest selection of subtle earth-toned colors. Company products have a 50-year limited warranty and are 100% recyclable. DaVinci proudly makes its products in the United States and is a member of the National Association of Home Builders, the Cool Roof Rating Council, and the U.S. Green Building Council. For additional information call 1-800-328-4624 or visit www.davinciroofscapes.com.
Website: www.davinciroofscapes.com
Latest from DaVinci Roofscapes