Make Roofing Color Choices with Confidence
Advice from Color Expert Kate Smith
Standard slate gray or bold terracotta? Solid brown or a blend of three warm brown tones? For some homeowners, the question of what color should cap off their homes is more challenging than the decision of what roofing product to use.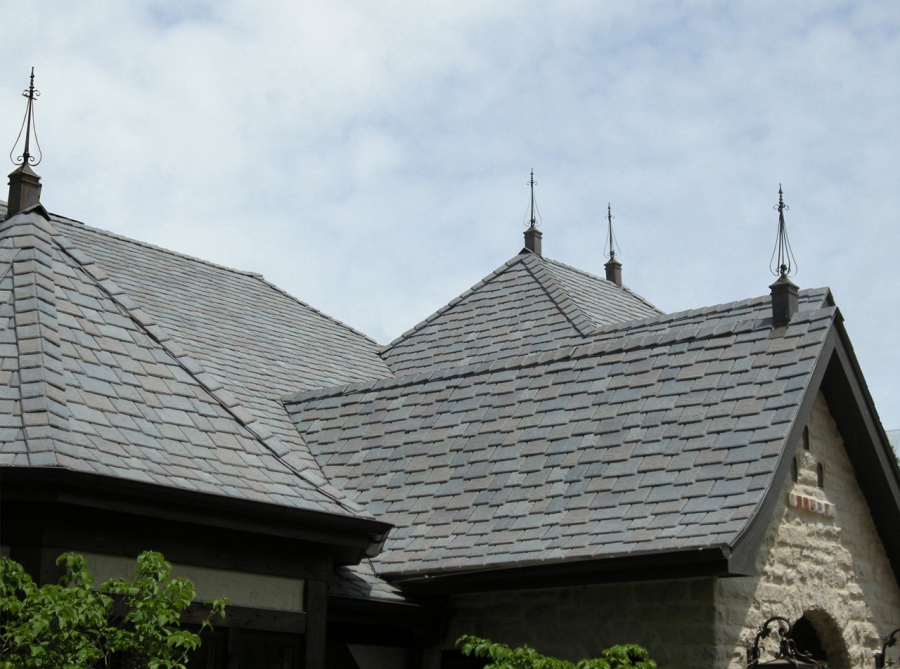 "Our research clearly pointed us toward DaVinci's polymer slate roofing tiles for their durability and resistance to severe weather," says remodeler Tim Wahl of Kansas City, Kansas. "But I was surprised that the decision of what color or blend to select sort of paralyzed me. I was afraid of making the wrong decision and then having to live with my choice for decades."
According to color expert Kate Smith, CMG, Wahl's experience is not unusual. "Selecting exterior building product colors can be daunting for some people specifically because of the long lifespan of those products," says Smith. "A DaVinci roof has a 50-year warranty. That's a long-term color investment. So, while it's fairly easy and inexpensive to repaint the interior of a room, you want to maximize your roofing investment by selecting a color you can live with for many years. Many people need some support and guidance when making those larger color decisions."
Smith, a nationally-known color expert and the owner of Sensational Color, offers these tips for homeowners determining what roofing colors to select.
Tip #1 – Take time and do your homework. Don't rush a decision. Try to envision a home exterior that you will like next year, five years from now, and then 20 years from now.
Tip #2 – Consider your options. While a solid color roof may work for some home styles, a blend of several colors may offer a "softer" look with more accent options. Pre-bundled roofing color blends can be made with two, three, four, or five different color blends that complement each other.
Tip #3 - Investigate the different roofing color options available to you. Use the Color Design tool at www.davinciroofscapes.com to create your own custom color blends from 49 colors or to see the company's standard 28 color blends.
Tip #4 - Request life-sized samples of your favorite color of roofing tiles to hold up against your current roof to see the change that a new color will make for your home.
Tip #5 – Look at the other homes in your neighborhood. Your home should blend in or stand out from other homes, but it should never clash with the rest of the homes in your community. A roofing color can help achieve a harmonious look.
Tip #6 – Get assistance from a professional. Just as selecting the roofing product is a big decision that requires the assistance of a professional, so is the choice of the roof color. Consult a color expert and use the color tools offered by experts and product manufacturers to gain a strong comfort level for your color choice.
After considering his options, Wahl selected the Aberdeen blend from DaVinci Roofscapes. "I felt like the color blend offered me so many more long-term options than a single color," says Wahl. "This blend has rich, warm grays, stone, green, and purples that combine to create a striking roof. I can choose several complementary colors for our home's trim, shutters, and siding, so we can change our palette over the years as the home ages."
Wahl's home renovation was so impressive that it received the Remodel of the Year project award from Kansas City Homes & Gardens magazine.
"One hundred percent of the interior and exterior of this home was renovated, and the results are awesome," says Wahl, president of Develop KC, a company that remodels homes and apartment complexes throughout Kansas City. "The roofline really attracts attention. I'm glad we took the time to consider a color blend because the resulting look is truly outstanding."

DaVinci Roofscapes has manufactured award-winning polymer slate and shake roofing since 1999. The roofing tiles are virtually maintenance-free and far more cost-effective than the natural product. DaVinci leads the industry in tile thickness, tile width variety, and the greatest selection of subtle earth-toned colors. Company products have a 50-year limited warranty and are 100% recyclable. DaVinci proudly makes its products in the United States and is a member of the National Association of Home Builders, the Cool Roof Rating Council, and the U.S. Green Building Council. For additional information call 1-800-328-4624 or visit www.davinciroofscapes.com.
Website: www.davinciroofscapes.com
Latest from DaVinci Roofscapes