The Many "Faces" of Copper
True copper roof accents have many faces. The newly installed gleam of shiny yellow-orange morphs over time into deep brown, then green, and finally a dullish blue-green color. Due to the oxidizing process of copper, this durable metal ages and changes when exposed to the weather. While fun to watch, the changes in copper presents a challenge when selecting a roof color that will look good with every "face" of the copper in the long term.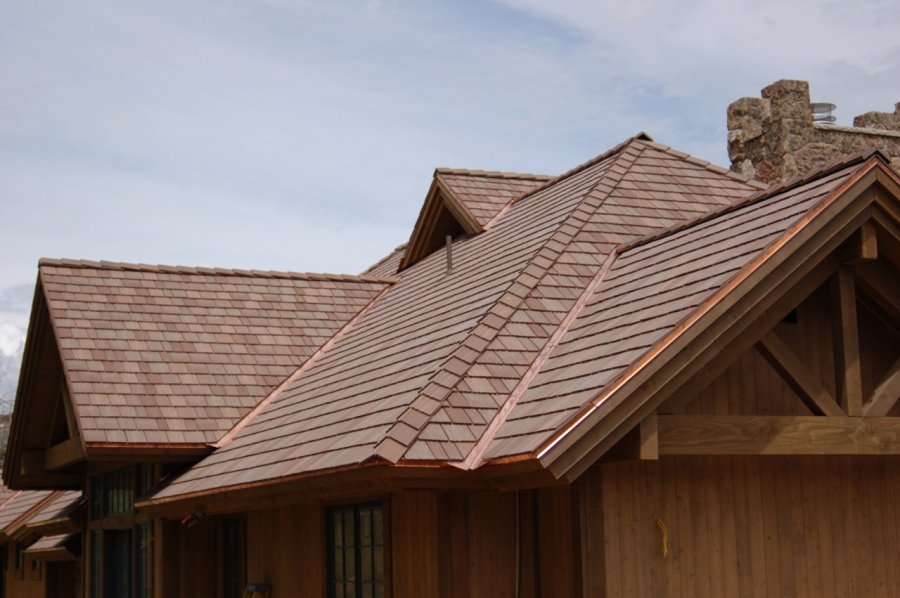 "Ideally you want to select a roof color – or blend of colors – that will complement the copper accents on the roof as it gains its patina from exposure to the sun and rain," says Kate Smith, national color expert with DaVinci Roofscapes®. "My recommendation is to think about what the copper will look like a year after it's been installed and make your color selection based on the semi-final green-gray color that most copper pieces transform into."
Smith advises homeowners matching copper roof accents, gutters, or weathervanes to consider a blend of slate roofing colors such as a Brownstone, which features shades of brown, stone, and tan polymer roofing tiles. "These unique colors contrast with the copper both at the initial stages when it's first installed, and over time, so they present a winning combination," Smith says. "Warm shades of browns can work well long-term with copper finishes that can take many years to fully reach their patina."
Homeowners looking to match copper accents on the home with a shake roof should consider the blends of Autumn, Mountain, or Tahoe DaVinci shakes. Each fire-resistant tile is impact-, rot-, and insect-resistant, making them even more appealing to match with copper gutters, downspouts, and roof accents.
"My advice is to stay away from gray roofing tiles that lean toward the blue color scale and stick with tones of brown," says Smith, owner and president of Sensational Color. "The gray tiles will look harsh next to the copper pieces when they're first installed and then won't provide a good match as the copper ages. Homeowners with copper exterior accents should also stay away from shades of red and orange because they won't look good with the greenish patina down the road."
While real copper pieces will age over time, Smith points out that you can count on polymer roofing tiles to retain their colors. "These durable slate and shake tiles have a 50-year warranty and will look just as beautiful several decades later as they do when installed," says Smith. "That's why it's important to select a roofing color combination you're very comfortable with for your home's exterior.
"There's no stopping the aging process of copper or the many 'faces' of copper over the years. However, the wonderful aspect of copper accents is that these are just as maintenance-free and durable as polymer roofing tiles, so using the two together on a home's exterior means years of beauty combined with no hassles."
A DaVinci Color Design Program is available to homeowners with an online Color Design tool located at www.davinciroofscapes.com.

DaVinci Roofscapes has manufactured award-winning polymer slate and shake roofing since 1999. The roofing tiles are virtually maintenance-free and far more cost-effective than the natural product. DaVinci leads the industry in tile thickness, tile width variety, and the greatest selection of subtle earth-toned colors. Company products have a 50-year limited warranty and are 100% recyclable. DaVinci proudly makes its products in the United States and is a member of the National Association of Home Builders, the Cool Roof Rating Council, and the U.S. Green Building Council. For additional information call 1-800-328-4624 or visit www.davinciroofscapes.com.
Website: www.davinciroofscapes.com
Latest from DaVinci Roofscapes