Modified Bituminous Roofing
Modified bituminous roofing systems are available in two materials which are commonly used today for low-sloped roofing applications: Atactic Polypropylene (APP) and Styrene-Butadiene-Styrene (SBS). The primary purpose for both of these materials is to provide the weatherproofing cover for the roof assembly. Crude bitumen is a hydrocarbon created naturally from petroleum, and modified bitumen is a blend of other organic materials with a polymer additive of either atactic polypropylene or styrene butadiene styrene. Atactic polypropylene is a plastic additive that gives rigidity and tear resistance to the final product, and styrene-butadiene-styrene is a rubber additive that gives more resilient benefits. These blends are then applied to a base material of polyester or fiberglass. Sheet asphalt paving (mastic asphalt concrete) makes up the majority of bituminous products used in the U.S. Even though bitumen is sometimes referred to as tar or tar-like in its consistency, it is not to be confused with tar. Tar is a product manufactured from coal and is not used as a part of this roofing system.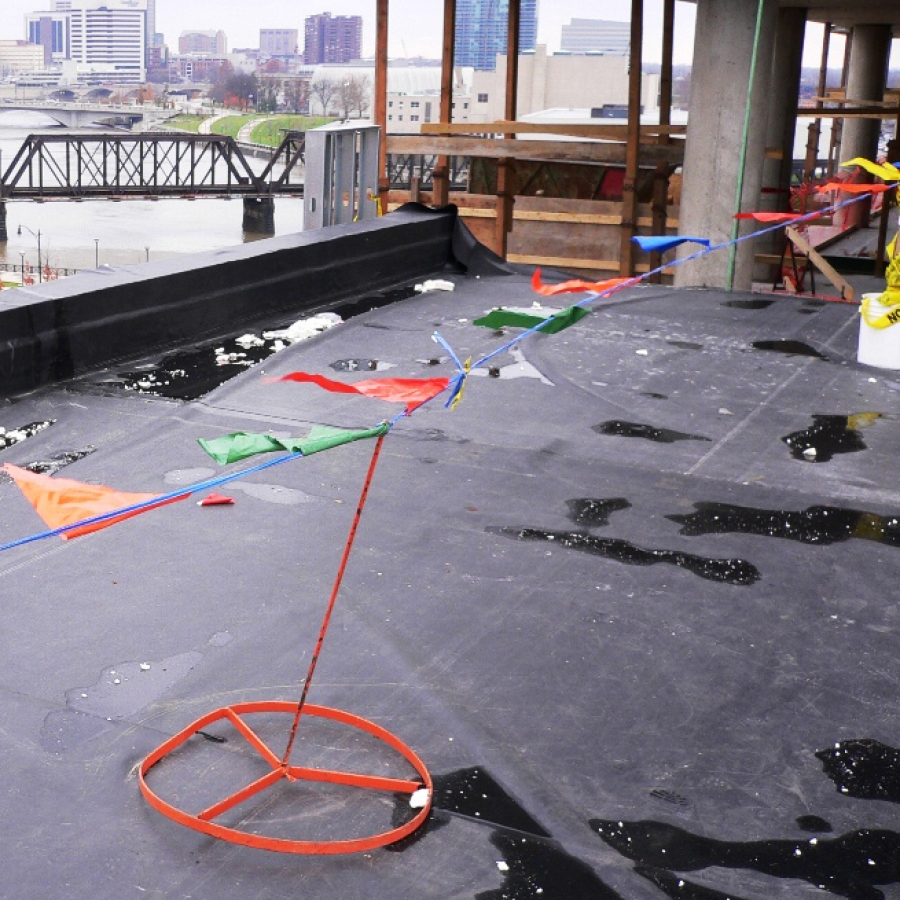 When selecting a roof assembly system, the environment and geographic climate conditions become critical factors to be considered. Material compatibility also needs to be evaluated with each system component. When applying the APP layer to the base sheet(s), it can either be set by using a torch to heat up and melt the modified bitumen or set in a liquid asphalt adhesive. With torch applied modified bitumen membrane systems it is important to incorporate a noncombustible type layer as part of the roofing system. The use of hot asphalt is not recommended with APP systems. There are four types of liquid asphalt adhesive available and each is intended for a specific application, from Type I level to Type IV steep applications. Most SBS modified bituminous sheets can be applied to the base sheets by a torch, hot asphalt of Type III or Type IV, or liquid asphalt adhesive.
SBS or APP systems can include many layers above the structural roofing deck.  The layers of either system usually begin with a slip sheet, then a vapor retarder, followed by layers of rigid board roof insulation, cover boards, bitumen or liquid asphalt adhesive, multiple layers of base sheets, ply sheets, and the top or cap sheet. It is the modified bitumen component that provides the waterproofing in each system, and a surfacing of mineral graduals is meant to protect the waterproofing.  Each system manufacturer will specifically describe all the components necessary to provide a complete and waterproof membrane.
Historically, bitumen has been used as an adhesive, sealant and waterproofing agent in construction for more than 8,000 years. Today it is used in the construction and maintenance of roads, and in all areas where asphalt is used: roofing; damp proofing; dams, reservoir and pool linings; soundproofing; pipe coatings; paints; waterproofing for boats; as a backing for carpet tiles; and in early photographic technology, to name just a few.
Development of modified bituminous materials began throughout Europe in the 1960's, with the first known patent issued in England. In 1967, the first successful blend of atactic polypropylene began production in Bologna, Italy. The modified bitumen, styrene butadiene styrene, was developed in the 1970's and was used as a roofing material by 1972 in the United Kingdom. By the mid 1970's, manufacturers in the U.S. began offering SBS and APP as an alternate roofing system, but their acceptance was slow. Once manufacturing plants for modified bitumen began operation in the U.S. in 1978, the cost of importing the material was no longer a factor. This led to greater use of modified bituminous materials as part of roofing systems in the U.S.

The Buildipedia research and writing staff consists of dozens of experienced professionals from many sectors of the industry, including architects, designers, contractors, and engineers.
Website: buildipedia.com/
Latest from Buildipedia Staff