Air distribution refers to the distribution of air to and from conditioned spaces within a building. An air distribution system includes all sub-components, such as fans, filters, dampers, ductwork, etc. Air distribution systems come in a variety of material types, for example, fiberglass and galvanized metal. In fact, many different kinds of ducts may be found in a single air distribution system.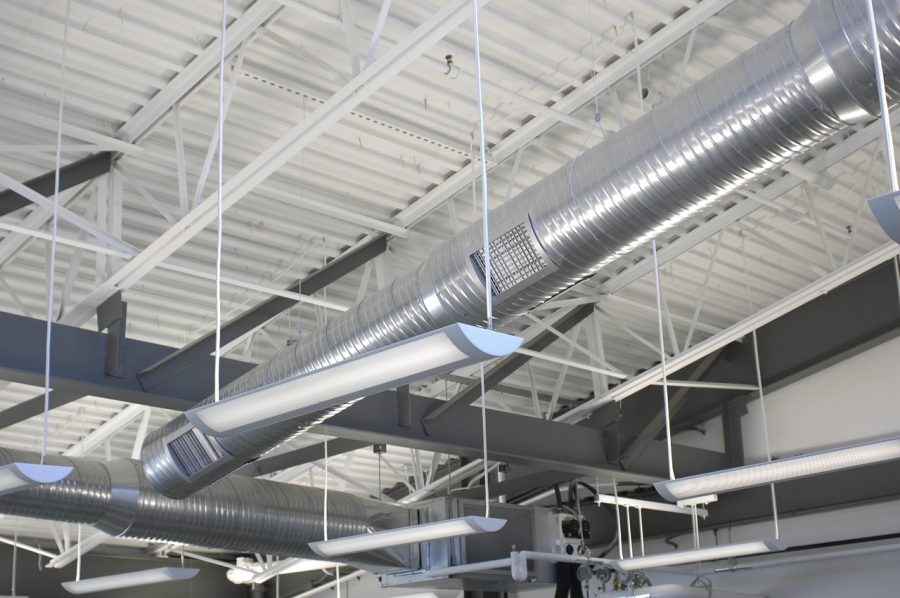 Topic Summary
Air distribution systems can be classified according to their pressure. Static pressure is defined as the pressure which the air in a duct exerts on the outside wall of the ductwork. It is independent of the pressure exerted by the air due to motion along the ductwork in the direction of air flow. This pressure would be called the velocity pressure, and is due to the velocity with which the air is traveling down the ductwork. So, pressure in a duct system will be either static pressure or velocity pressure; we will use static pressure to define the types of air distribution systems.
There are three generally accepted static pressure ranges which are used to classify air distribution systems: low pressure, medium pressure, and high pressure ductwork. Typically, the low pressure range is between 0.25" WC and 2.0" WC; the medium pressure range is between 2.0" WC and 6.0" WC; high pressure is any pressure above medium pressure and can go as high as 10" WC. Return ductwork will have different pressure limits than supply ductwork. Supply and exhaust ductwork will have corresponding positive static pressures, while return ductwork will have negative pressures. Negative pressures will not necessarily be identical to the positive pressures of the same classification. But, velocity pressure and static pressure are related.

The Buildipedia research and writing staff consists of dozens of experienced professionals from many sectors of the industry, including architects, designers, contractors, and engineers.
Website: buildipedia.com/
Latest from Buildipedia Staff