2011 Solar Decathlon: Flexible Living in Florida
FleX House by Team Florida
Although Florida is known for its picturesque, sandy beaches, it is also a heavily populated state, and it's growing. Finding a sustainable model for living in this hot, humid climate is a priority for students of four universities who comprise Team Florida, an entrant in the 2011 Solar Decathlon. Like other Solar Decathlon teams, it is a multi-disciplinary one, and each school brings specialties to the table: University of South Florida brings architecture, engineering, and clean energy research and communications; the University of Florida brings interior design and construction; Florida State University brings engineering and net zero expertise; and the University of Central Florida brings solar energy research.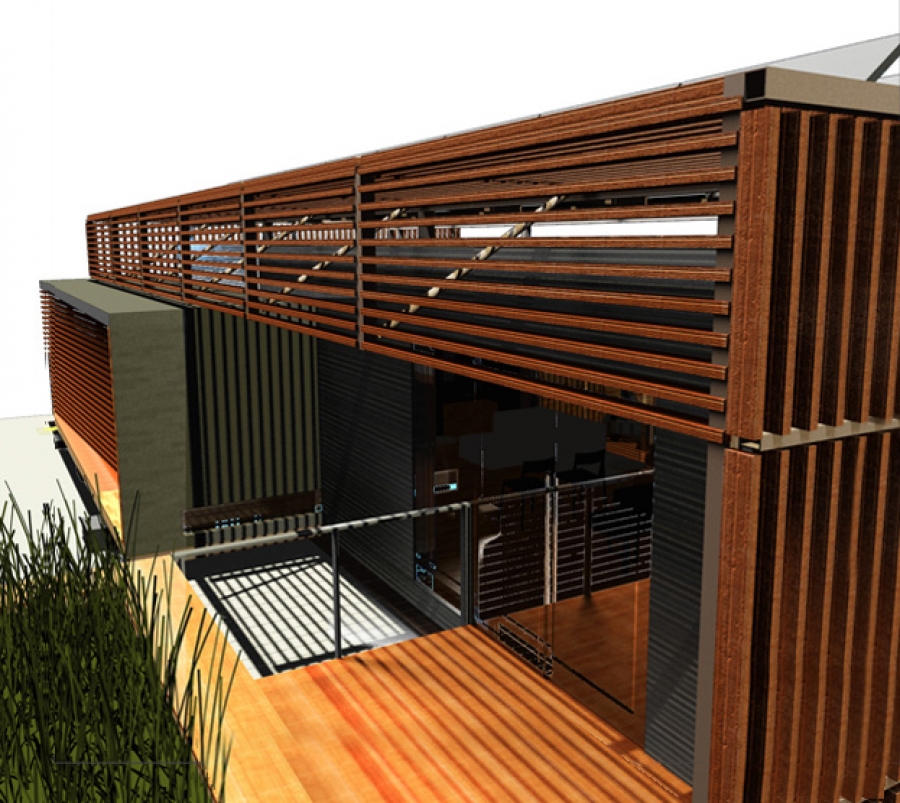 Team Florida's design is titled FleX House, which is short for Florida Zero Energy Prototype and which also describes the house's modular configuration. Two programmatic elements – the bedroom and front entry – slide from the structure to expand or contract the living space, much like track-mounted systems in RVs. The modular design allows for easy transport and also provides a variety of configurations to suit its target demographic: young couples with moderate incomes who reside in Central Florida.
2011 Solar Decathlon: FleX House

The theme of flexibility guided the students' design for the home's modern exterior. It is clad in corrugated metal panels and louvers made from locally grown cypress. Glazing along the north and south facades maximizes daylight, and sliding glass panels enable natural ventilation during mild weather. For the interior, the team chose a light-colored and consistent material palette for floors, walls, and ceilings to tie together the living spaces and amplify the abundant natural light. The kitchen, entry, and bathroom contain water-proof materials suitable for these humid environments. Other factors that guided material selection included durability, recycled content, and embodied energy (or all energy required by the manufacturing process of a given material).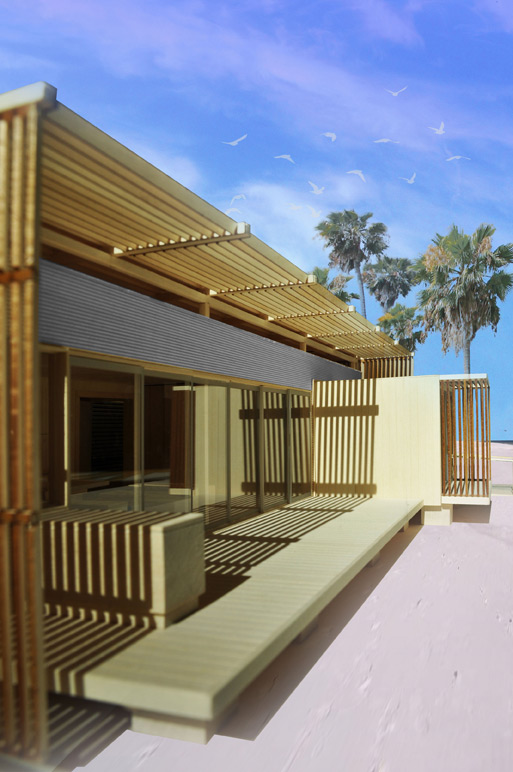 To maximize the home's small footprint, the team designed movable interior partitions to further provide flexibility and allow for a dual-zone HVAC system. The bedroom features a Murphy bed and built-in millwork for storage. In the kitchen, the counter and millwork extend through the glass facade, creating an outdoor kitchen on the deck while blurring interior and exterior living space.
2011 Solar Decathlon: FleX House

The FleX House achieves net zero status through the integration of photovoltaic panels and solar thermal concentrating panels. The students used the Florida State University Off-Grid Zero Emission Building (OGZEB), an independent project created under the direction of Justin Kramer prior to the Solar Decathlon competition, as a testing lab for these technologies. They also used energy simulation software to size the mechanical system and design the electrical and plumbing systems under the direction of project manager Justin Kramer. Stanley Russell is a professor at USF and designed FLeX House with graduate student Mario Rodriguez..
Other energy-efficient features of the design include LED and fluorescent light fixtures and smart appliances. A liquid desiccant waterfall absorbs moisture from the air to control humidity. Whole-building system controls and diagnostic software will help occupants to "understand how much energy they are using so they can be more conscious," according to Jacob Moberg, a graduate student in Chemical Engineering at the University of South Florida. Moberg recently presented the FleX House to the public at the University of South Florida Engineering Expo: "Visitors commented that the house doesn't look green. Everybody has this idea that green design is futuristic, like a spaceship." Although it is very modern, the FleX House makes a convincing argument that green living can be comfortable and, of course, flexible.

Murrye is a freelance writer based in New York City. She holds a Bachelor's degree in Architecture from the University of Arkansas and is a LEED-accredited professional. Her work has been published in Architectural Record, Eco-Structure, and Architectural Lighting, among others. She also serves as a contributing editor for the American Institute of Architects' New York Chapter publication, eOculus.
Website: www.murrye.com
Latest from Murrye Bernard