Pipe Bursting: A Trenchless Technology
Often dubbed a trenchless technology, pipe bursting involves the replacement of an old pipeline with a same or larger diameter pipe that destroys the original pipe as the new one is installed. The pipe bursting tool, which is pulled through the sewer by a winch or rod located at the upstream manhole, forces its way through existing pipe materials by fragmenting the pipe and compressing the broken pieces into the soil as it progresses.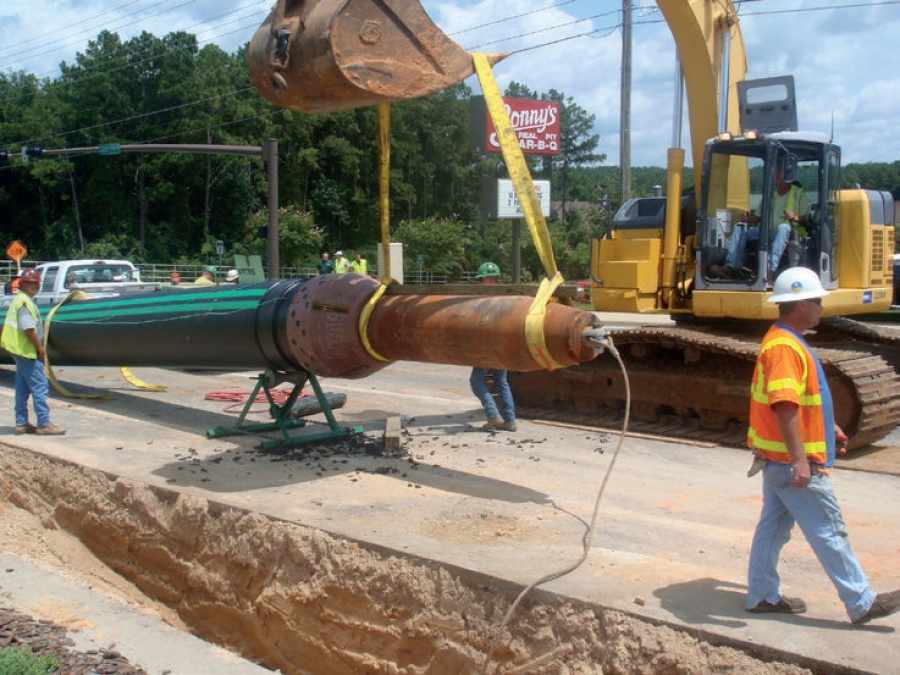 There are several types of bursting methods, including hydraulic, static, pneumatic, and lateral. The main difference between methods is the way the force is generated and transferred to the pipe during the bursting operation. Most methods break the existing pipe as the new pipe is pulled in behind.
Hydraulic Pipe Bursting
Hydraulic bursting makes replacing ductile iron and steel possible, but can be used for a variety of pipe materials. Typically the bursting process is done from manhole to manhole. This method fragments the pipe from the inside by using a bursting head that relies on hydraulic cylinders to expand. As the head expands, it cracks the pipe and then contracts to allow the winch to pull the pipe forward. Hydraulic bursting is mainly used for online replacement of sewers and gravity pipelines ranging in diameter from 6" - 20".
Static Pipe Bursting
Static bursting is used for gas and water pipelines made from ductile iron and steel. This method, which uses a horizontal winch that acts as a high-powered hydraulic jack or a high-tension drum winch, is simple and efficient. The static bursting method can typically be used for pipes ranging in diameter from 4"- 48". Bladed rollers are used to prevent tearing of the host pipe.
Project Profile: Static Pipe Bursting

For the complete job story associated with the images below, read Large Diameter Steel Water Main Pipe Bursting Project - Significant Achievement for Trenchless Technology by TT Technologies, Inc.
The total length of the bursting project was 2,529' (770.8 m). The water main ran under a highly traveled roadway in Colorado Springs, Colorado.
Specially designed bladed rollers contribute to the effectiveness of the static bursting method. The bladed rollers are pulled through the host pipe by a hydraulically powered bursting unit. As they are pulled through, they split the host pipe. An expander attached to the rollers forces the fragmented pipe into the surrounding soil while simultaneously pulling in the new pipe.
Typical launch and exit pits measured 40' long and 12' wide at depths up to 14' (12.2, 3.7, and 4.3 m, respectively). Global Underground crews completed runs of 466', 517', 496', 430', and 620' (142, 157.6, 131, and 189 m).
The 24" (0.6 m) diameter steel pipe represents one of the largest steel pipe bursting projects ever attempted and a significant milestone for static pipe bursting. For the project, Global Underground utilized a Grundoburst 2500G static pipe bursting system from trenchless equipment manufacturer TT Technologies, Aurora, Illinois.
Pneumatic Pipe Bursting
Pneumatic pipe bursting uses a pneumatic bursting head with a properly sized expander. Acting like a jackhammer, the head breaks the old pipe as new pipe is installed in the space left behind, guided by a winch. This method is primarily used for replacing gravity pipes and pressure pipes ranging in size from 4" - 54" in diameter. Millions of feet of pipe are replaced annually with this method. No major surface preparation is required, and a larger pipe (up to 1.5 times the size of the original) can be installed under the right conditions.
Project Profile: Pneumatic Pipe Bursting

For the complete job story associated with the images below, read Big Burst in the Sunshine State - PUCC Takes on a 36-inch Force Main in Tallahassee by TT Technologies, Inc.
Following tropical storm Fay in 2008 the 36-inch fiberglass resin force main, originally installed in 1985, failed in three places after 14-inches of rain fell within a 24-hour period.
Pipe bursting was selected as the principal trenchless replacement method to expedite construction, minimize disruption to the existing roadway, and maximize the internal diameter of the renewed pipe.
Crews welded three larger 3-inch cutting blades to the expander at 10, 12 and 2 o'clock positions.
For the burst, a 24-inch diameter Grundocrack Taurus pneumatic pipe bursting tool with a 20-ton constant tension Grundowinch was used.
Lateral Pipe Bursting
In lateral bursting, a steel cone (mole or bursting head) is pulled through existing pipe, breaking it apart. This method is suitable for multiple bends and relatively small pipe (4" in diameter). Another type of bursting uses an impacting rotary device that grinds the old pipe; this can upsize the pipe without damaging utilities.
Pipe bursting can be used for almost any type of pipe, including clay, asbestos cement, cast-in-place and reinforced concrete, cast iron, steel, ABS styrene, polyethylene, and polyvinyl chloride. Most gas lines are made out of polyethylene. Some of the older residential sewer pipes are made out of 5'-0" lengths of metal. Old sewer pipe is usually replaced with high-density polyethylene (HDPE) pipe.
Vitrified clay and concrete pipe are usually easy to burst. However, if concrete pipe is reinforced, it may be difficult to burst unless the right method is selected. Cast iron pipe requires special lead equipment to protect the winch rope from possible damage. Most plastic pipe must be split longitudinally by using special cutting blades on nose extensions. Steel and ductile iron pipe must be split by blades.
Pipe Bursting Considerations
How much larger the new pipe can be depends on several factors, including soil conditions and original trench width. Because the soil plays such a critical role, the soil type should be identified. Some soil types are easily expanded (original backfill or expandable clay) while others (free-flowing types like sand or densely compacted clay) may require the use of bentonite as a lubricant. Very weak soils cannot support the weight of the pipe bursting equipment and are not suitable for pipe bursting. Other factors that must be considered include depth of the water table, presence of rock, type of original construction, and accessibility. For rocky soil, upsizing is limited.
The burst depth should equal 10 times the upsize diameter. Most pipes can be upsized by 25% (in at least one case, a 24" pipe was upsized to 36"). Pipe bursting is generally not an option if the sewer line is adjacent to other utilities, including potable water lines. Bentonite lubrication is required for larger-diameter pipes in difficult soils.
Pipe bursting requires careful preconstruction planning and design, according to the North American Society for Trenchless Technology (NASTT). Existing utility lines should be evaluated for type of material, size, and repair records. The type and size of the pipe to be installed should be identified. It is also critical to review as-built drawings, as well as closed-circuit TV (CCTV) video and inspection records, to determine the existing pipe's condition.  Quality control involves a variety of tasks, including laboratory testing of materials before bursting, inspection of equipment during bursting, and a final inspection using CCTV.
The International Pipe Bursting Association (IPBA) has developed guidelines for pipe bursting and classifies pipe bursting into three levels of difficulty.
Routine bursting occurs when pipe is 4" - 12" in diameter and less than 12' deep. Burst length is up to 350', and new pipe diameter is the same as the original or 25% larger.
The challenging to moderately difficult bursting occurs when the depth is between 12' and 18' and diameter is 12" - 20". Burst length is 350' - 450' and upsizing ranges from 25-50%.
In the most difficult class, the depth is greater than 18' and the diameter is 20" - 36". Burst length is over 450' and upsizing is 50 - 125%.
The IPBA recommends that HDPE pipe should be assembled and joined at the site using the butt-fusion method to provide a leak-proof joint. Fusion should be performed by certified technicians. The contractor should also be certified as a fully trained user of the pipe bursting system. ASTM International also has developed nine standards covering various aspects of pipe bursting.
The National Association of Sewer Service Companies (NASSCO) has developed specification guidelines on the installation and rehabilitation of pipelines and manholes. NASSCO's Trenchless Assessment Guide for Rehabilitation is available online and covers the following: 20 trenchless and two open-cut methods for the installation of new pipes; six inline replacement methods for replacing existing pipes; 34 trenchless rehabilitation methods for restoring existing water and wastewater pipes as well as laterals; and 18 methods for restoring and/or replacing existing manholes.
Laurel M. Sheppard is an award-winning writer and editor who has authored several hundred articles related to ceramic materials technology and other engineering fields. She has a B.S. in ceramic engineering from Ohio State University and previously held editorial positions with Ceramic Industry, the American Ceramic Society Bulletin, Advanced Materials and Processes, and Materials Engineering. Her writing and editorial achievements have been recognized by the Society for Technical Communication, American Society of Business Press Editors, and Communications Concepts, Inc. She has also authored over a dozen market reports on various materials technologies and has written articles for IEEE's Computer Graphics and Applications, Software Strategies, Native Peoples, SWE Magazine, and other publications.
Latest from Laurel Sheppard