Colorful Pulse™ Doors Complement Various Home Styles
How colorful are you? Can you envision the heartbeat of your home --- the front entry door --- painted in Harvest Gold, Quixotic Plum or Forward Fuschia? If your home design includes a Pulse™ modern-style door, then these are only some of the color options that would easily lend themselves to your home's entryway.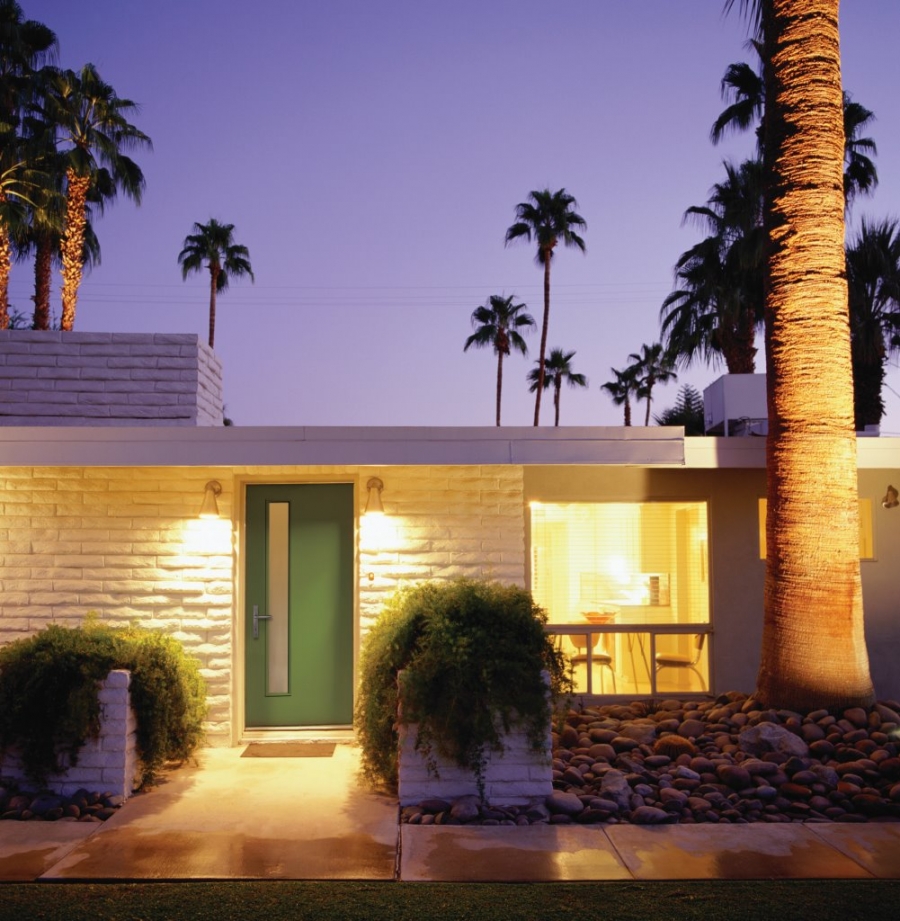 Introduced by Therma-Tru in early 2013, Pulse entry doors cater to homeowners seeking to celebrate their own special sense of style. The contemporary door styles reflect four aesthetic feelings that many homeowners wish to capture in their home entry areas: Eclectically Chic, Mid-Century Modern, Retrospective and Distinctively Modern.
"The design of Pulse doors carries a timeframe range of 1945 up through the early 1980s, making it ideal for accenting with color," says Kate Smith, chief color maven and president of Sensational Color. "The clean lines, crisp angles and glass configurations in these doors serve as a design element for the home. By painting the doors in unique colors to match the home style, people can really make the Pulse door a statement on their home."
Pulsing Color for Doors
For a retro home design borrowed from the 1960s, Smith recommends pop-out colors such as Avocado, Sweet Orange, Sycamore Tan and Harvest Gold. "Inspired by nature with a Madmen vibe, these colors help define a home's entrance," says Smith. "Their color appeal is timeless, just as is the style of the Pulse doors."
Other, more subdued color options from the 1950s and 1960s include pastel choices such as Powder Blue, Warming Peach, Peace Yellow and Pink Shadow. "These colors are as streamlined and space-aged as Jane Jetson, yet as comforting as June Cleaver," says Smith. "The quieter colorful tones work wonderfully with softer, more muted home exterior colors of beige, tan and white."
For homes with a more contemporary and modern flair, Smith recommends front doors painted with an unexpected accent color, such as Lakeshore blue, Hep Green or Daring orange. "These gutsy color choices work well with clean lines and simple shapes against the restrained neutral tones of contemporary homes," says Smith.
From Smith's perspective, a sleek door design like Pulse can be just as effective on a New America-style home as on a contemporary home. "The color for a streamlined door on a New American home could be an updated take on classic colors with Forward Fuschia replacing Barn Red," says Smith. "Another great option would be using the color Secret Garden as an updated alternative to a more traditional Forest Green. Updated colors like these complement today's American architecture while keeping the welcoming attention on the home's front door."
Smith, who recently authored the free ebook, "FRESH Color Schemes for Your Home Exterior" recommends working from the "top down" when adding color to the home. "Start with your roof color, then work down to the siding, windows, door and trim colors for your home," says Smith. "Everything should combine in an eye-pleasing palette that allows the exterior colors of the home to flow naturally, creating curb appeal and lasting value."
Visit www.sensationalcolor.com to download a free copy of Smith's ebook that features color guidance for Ranch, Colonial, Bungalow, Victorian, Spanish Mission, European and New American style homes.
Available in oak-grained fiberglass, smooth (paintable) fiberglass and steel, Pulse doors come in both 6'8" and 8'0" heights. Therma-Tru offers the Pulse door line in four different styles --- Ari, Solei, Echo and Linea. The doors all have four Privacy Glass options (Chord, Chinchilla, Rainglass and Granite) along with Clear Low-E and Internal Blinds. The Linea style is available with these same glass insert options plus decorative glass options of Blackstone®, Crystalline™, Sedona, Salinas®, Element, Maple Park®, Avonlea®, Saratoga™, Texas Star, Arden® and Crystal Diamonds™.

Therma-Tru is the nation's leading manufacturer and most preferred brand of entryway doors. Founded in 1962, Therma-Tru pioneered the fiberglass entry door industry, and today offers a complete portfolio of entry and patio door system solutions, including decorative glass doorlites, sidelites and transoms, and door components. The company also offers low-maintenance Fypon urethane and PVC products. Headquartered in Maumee, Ohio, Therma-Tru is part of Fortune Brands Home & Security. (NYSE: FBHS). For more information, visit www.thermatru.com, www.fypon.com or call (800) 537-8827.