Ray and Dagmar Dolby Regeneration Medicine Building by Rafael Viñoly Architects
Due to the unique constraints of the Ray and Dagmar Dolby Regeneration Medicine Building's narrow site, the University of California, San Francisco (UCSF) expected a vertical building organization, stacking research groups on top of one another. Instead, Rafael Viñoly Architects created a horizontally oriented building that hugs the topography as it descends the north slope of Mount Sutro, fostering collaboration at every opportunity.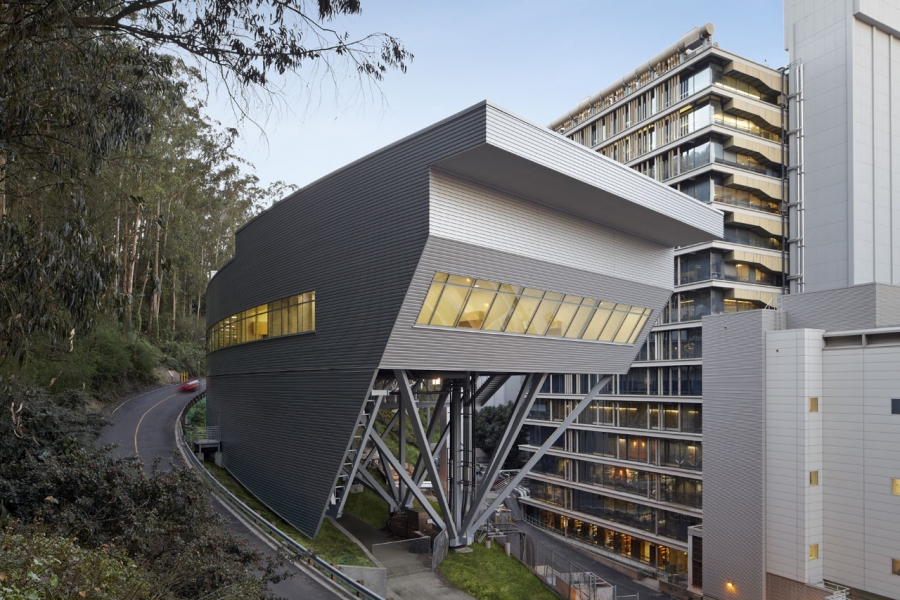 Occupants arrive at the building by means of a steel and glass pedestrian bridge that connects the Regeneration Medicine Building to a pair of 16-story buildings built in the 1960s. Apparent immediately are large steel space trusses and concrete piers that support the 73,000 sq. ft. cantilevered structure. Not only does the Regeneration Medicine Building's structural support system incorporate seismic base isolation to absorb earthquake forces, but the design minimized site excavation, an important sustainability measure that is helping the building in its pursuit of LEED Gold certification.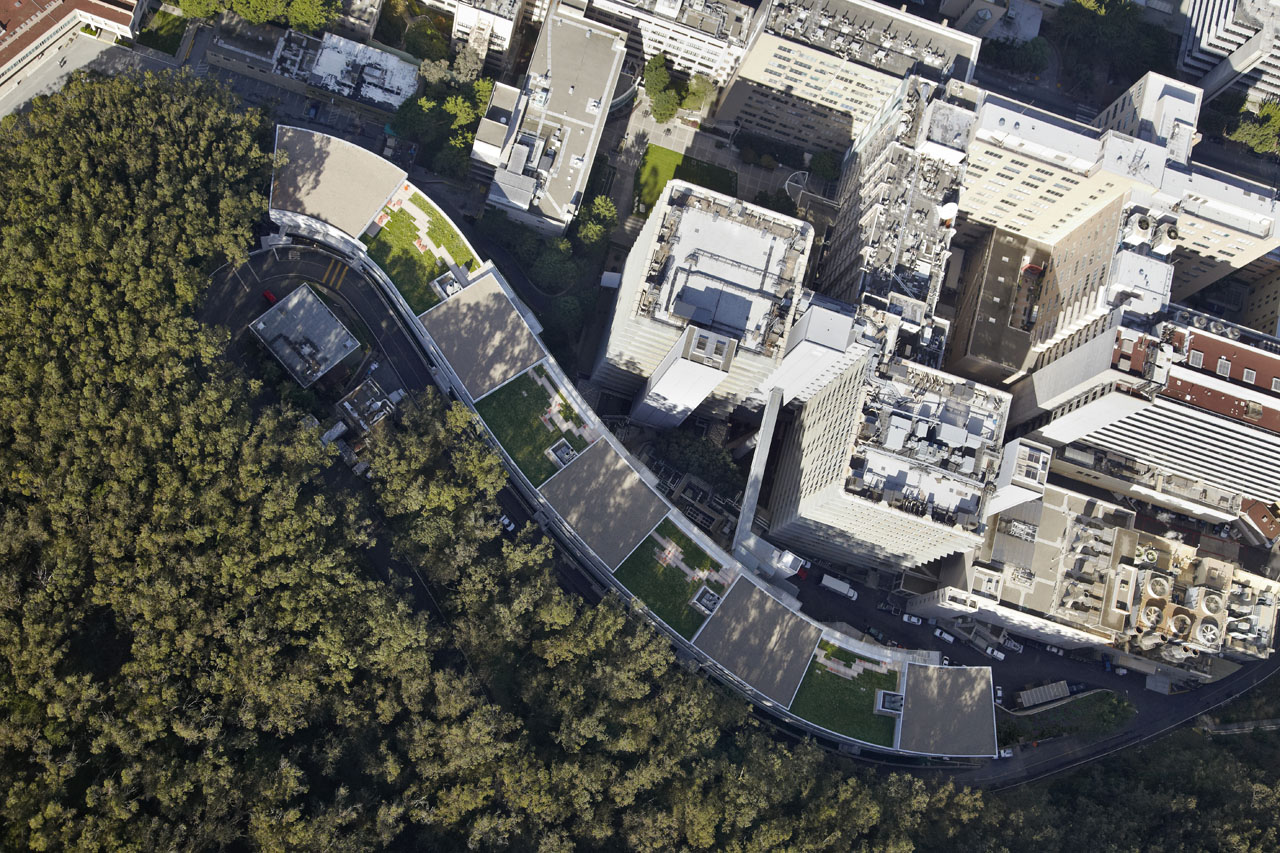 Aerial Images
The 660' long, serpentine Regeneration Medicine Building is broken into four segments, each stepping down a half-story as the building works its way down the wooded slope where it is sited. An office cluster and green roof tops off each segment. The transitions between segments were designed to serve as "hubs of activity." Break areas, conference rooms, and stairs are located at these transitions to increase chance interaction and to promote collaboration. Glazing between the lower labs and upper offices also enhances this, maximizing visual connectivity. Collaboration on the main floor of the lab is further promoted through a highly flexible, custom casework system (which was also designed by Rafael Viñoly Architects) and quick-disconnect utilities, allowing for reconfiguration of the research program.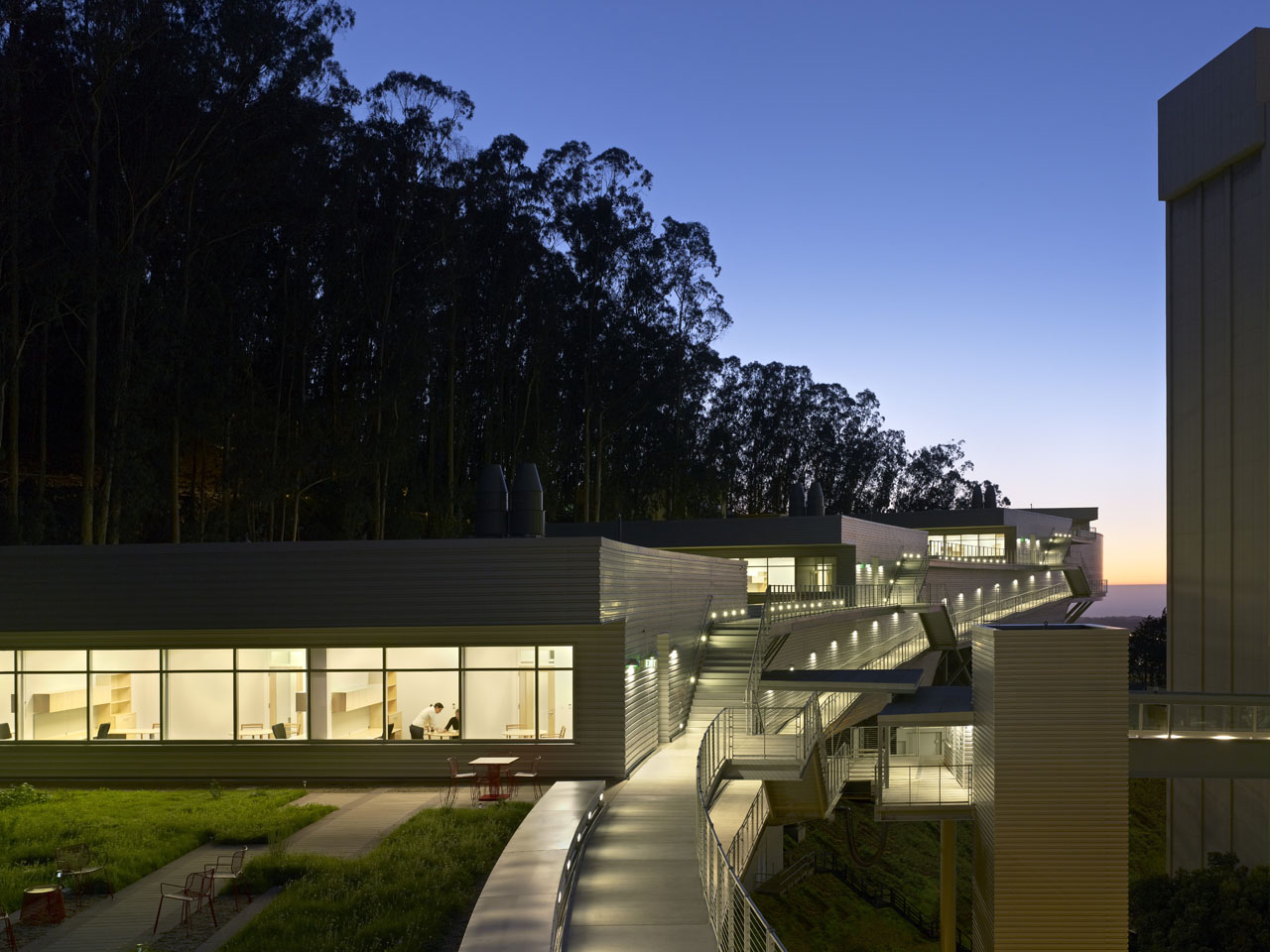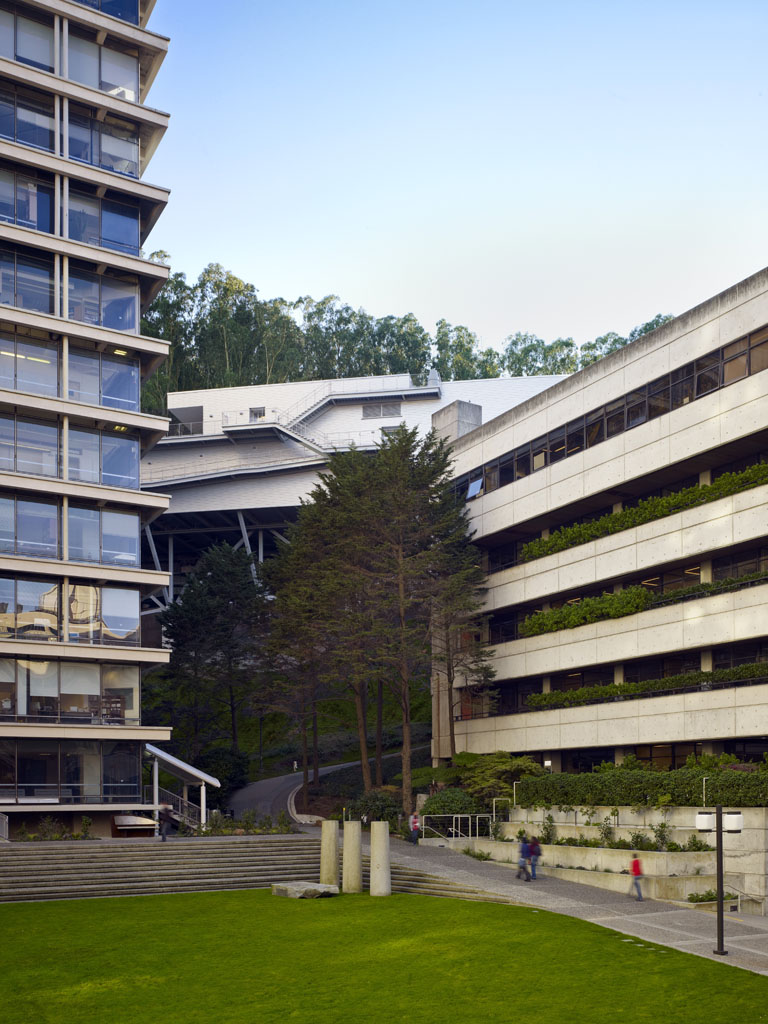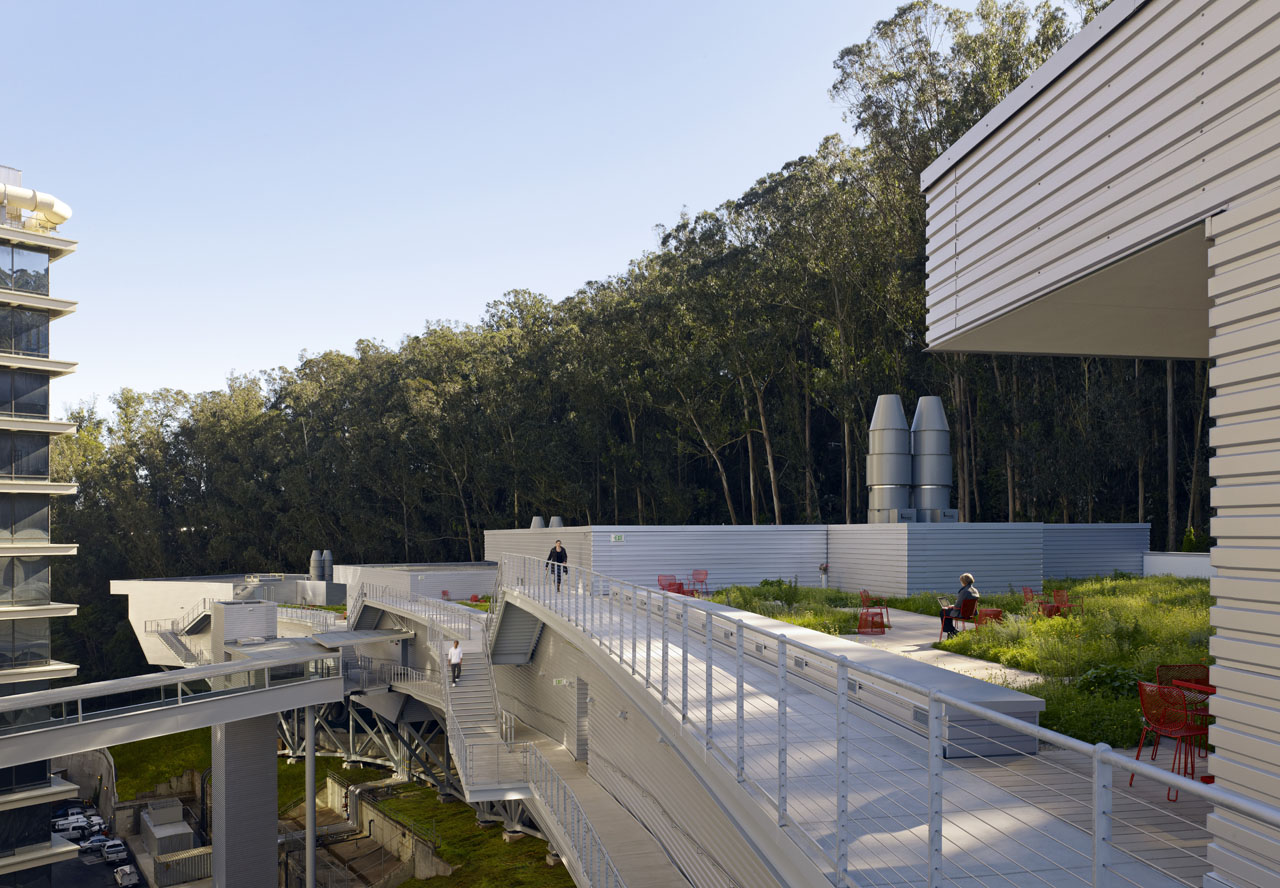 Exterior Images
To take advantage of the temperate climate, all primary horizontal circulation is exterior. Two ramps, one at the lab level and the other at the office and roof terrace level, run parallel along the building. At each transition a set of stairs connects the two ramps, allowing entrance.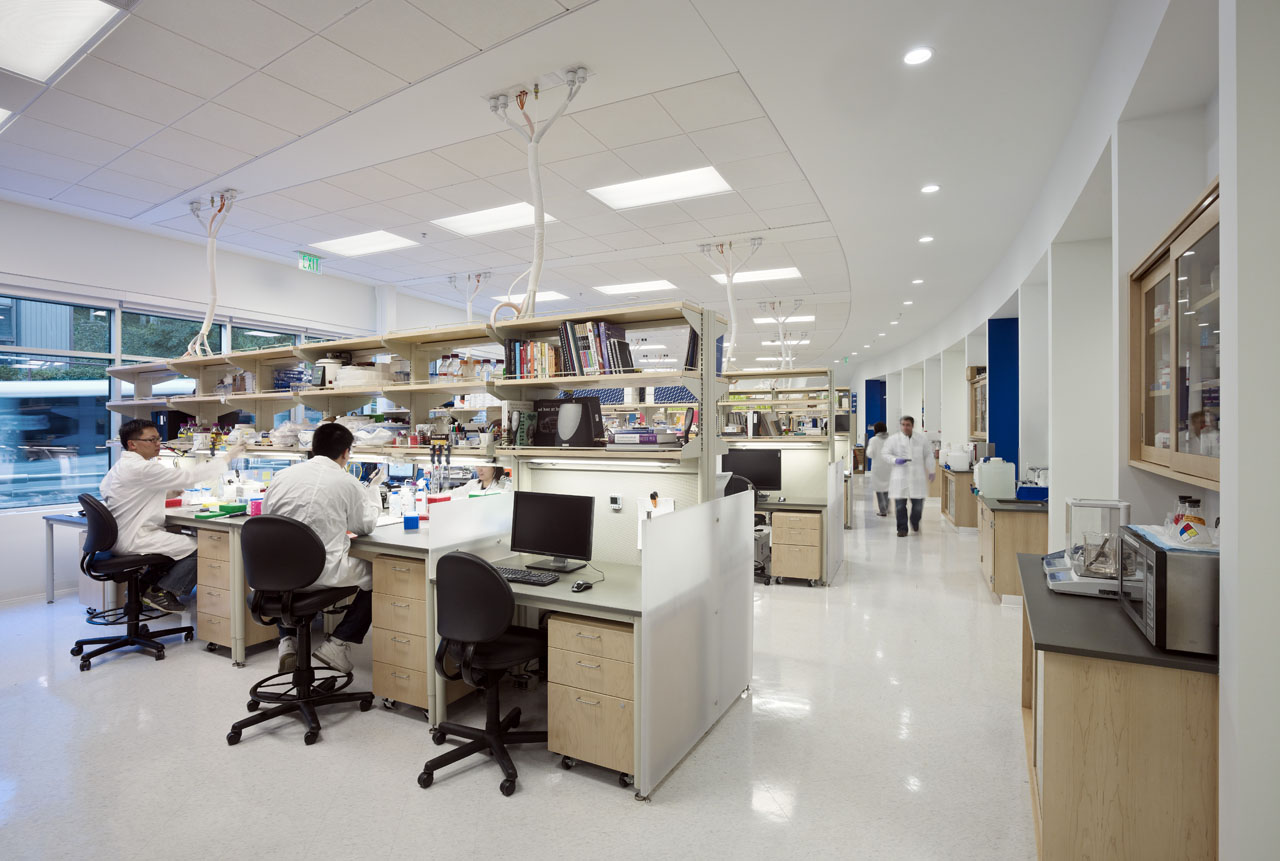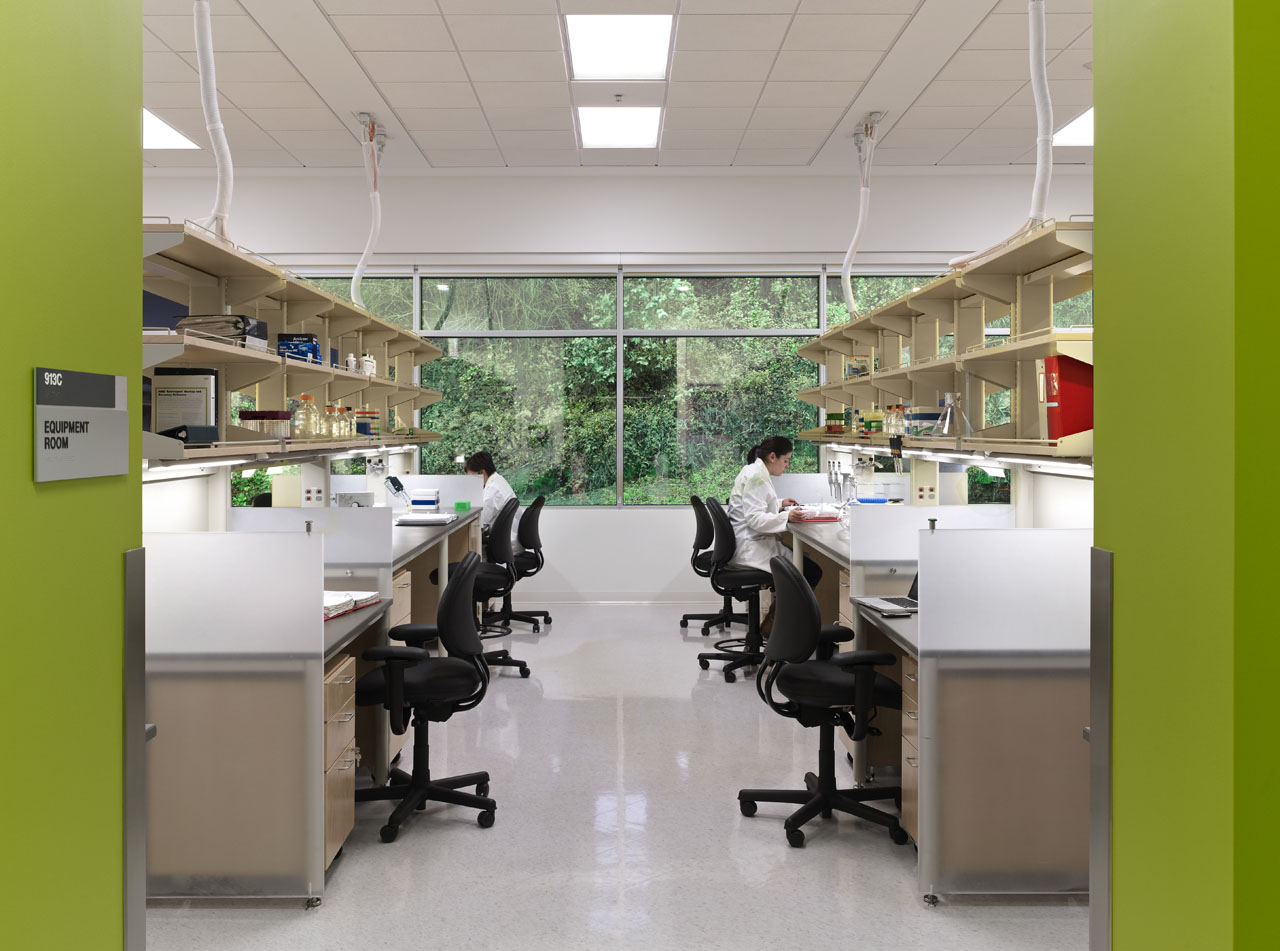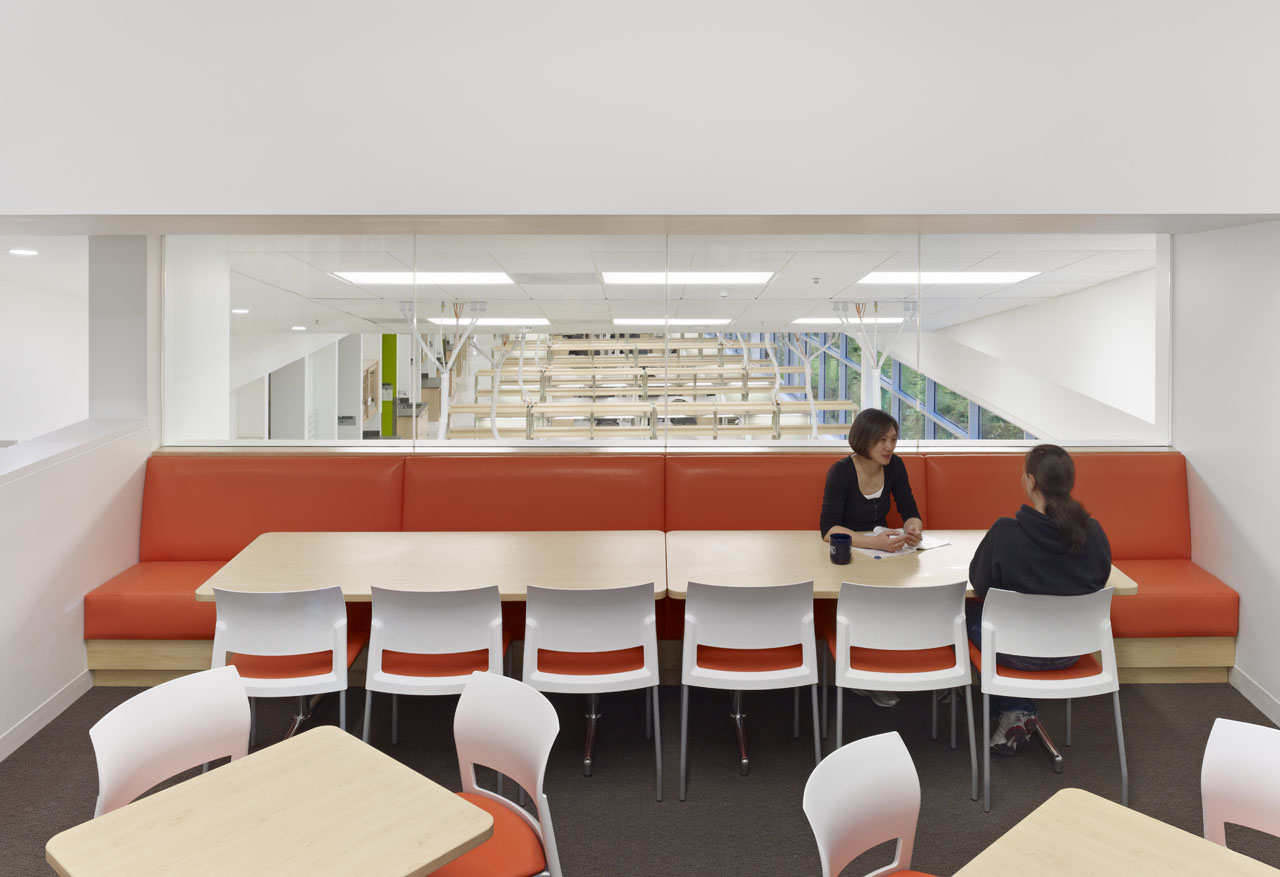 Interior Images
In accordance with university policy, the Regeneration Medicine Building is pursuing LEED (LEED Gold) certification and follows the Labs21 Environmental Performance Criteria and associated checklist compliance. The building's most notable sustainable feature is the multi-terrace split-level green roof. Aside from connecting the dense urban campus to the forested Mount Sutro, key benefits of the green roof include controlling stormwater run-off, mitigating urban heat island effects, reducing sound reflection and transmission, reducing carbon emissions, and providing an outdoor amenity for building occupants and local wildlife. Additional sustainable features include construction waste management, low-VOC building materials and finishes, water-efficient fixtures, and abundant daylighting to reduce energy consumption.

Since becoming Managing Editor, Justin has led the development of Buildipedia's site-wide content plan, fully integrating content across all audience channels and the Knowledgebase. Justin is responsible for the quality and accuracy of all published material, as well as the direction of the editorial department, including long-term strategy and vision. Before joining Buildipedia, Justin worked as an Architectural Project Designer, facilitating the design and construction process of multi-million dollar commercial projects. He also served as liaison to the international architectural staff and as a Construction Project Coordinator for higher education projects. Justin is a graduate of Bowling Green State University.
Latest from Justin Lesch