Dryers remove moisture by blowing hot air over wet, tumbling clothes. The hot, moisture-laden air is exhausted outside the home through a dryer vent duct. According to the Study of Life Expectancy of Home Components, which was prepared in 2007 by the National Association of Home Builders (NAHB), the average life expectancy of a clothes dryer (gas or electric) is 13 years. Dryers are a fairly simple appliance with a long life expectancy as compared to other appliances, but present both personal and property hazards. Timely dryer maintenance will reduce potential problems and ensure it is functioning as excepted.
Importance of Dryer Maintenance
Maintenance Tips

Maintenance Tips: Bathroom Exhaust Fans


Maintenance Tips: Bathtubs and Showers


Maintenance Tips: Bathroom Vanities


Maintenance Tips: Toilets


Maintenance Tips: Washing Machines

In the past, dryers were typically located in our basements. They sat on a concrete floor next to a concrete foundation wall, and had fairly short dryer vent duct runs to the exterior. Today, a utility room could be located just about anywhere in our sprawling homes. Quite often, utility rooms are located in a convenient, centralized location on the main floor, where longer dryer vent duct runs are necessary to reach the exterior, and the dryer is surrounded by combustible building materials. According to data collected between 2002 and 2004 by the National Fire Incident Reporting System (NFIRS), clothes dryers in residential buildings account for 80% of clothes dryer-related fires and cause approximately 12,700 fires, 15 deaths, 300 injuries, and $99 million in property loss on average annually. They have identified the accumulation of lint, a highly flammable material, as the number one cause of dryer-related fires. To be sure that our dryers are efficient and safe, maintenance should be focused on the exhaust system to ensure a problem-free operation.
alt=""
YouTube video on the importance of cleaning your dryer vent.
Dryer Maintenance
Lint buildup in a dryer vent duct occurs over time. While most lint is trapped by the lint screen, some lint passes through the exhaust system and will buildup on the inside walls of the dryer duct. This impedes the passage of air and creates a fire hazard. If you have a gas dryer, carbon monoxide gas is also exhausted through the dryer vent duct. If the dryer vent duct is blocked, carbon monoxide gas has the potential to enter the home. Lint buildup will also slow drying time and cause your dryer to operate inefficiently. It will require more cycles to dry your clothes, costing you more in utilities each month. Knowing this, we should perform maintenance each and every time a dryer is used.
Lint Screen Cleaning
Depending on the model of dryer you have, the lint screen is accessible along the top or inside the bottom edge of the door opening. The dryer lint screen should be cleared of lint after each and every load of clothing. Should any residue buildup occur on the lint screen from improperly rinsed clothes, the screen can be cleaned with a soft bristle brush, soap, and hot water. Allow the lint screen to dry and reposition it in its proper location prior to dryer use. Over time, a lint screen may tear, either due to improper handling or ordinary wear. Torn lint screens will not collect lint properly and should be replaced.
Vent Duct Inspection and Cleaning
Inspect your dryer vent duct to determine the type of material being used. According to the Association of Home Appliance Manufacturers (AHAM), you should not use coil wired duct or white vinyl duct. If you have one of these types of dryer ducts, you should replace it with an Underwriters Laboratories (UL)-listed smooth walled, rigid aluminum or steel duct. Coil wired ducts can be bent, resulting in reduced airflow and an increased likelihood of lint snagging along the interior wall. The older white vinyl ducts are flimsy and flammable; as a result they no longer meet building codes and present a hazard to you and your property.
Once or twice a year you should unplug your dryer from the electrical outlet and disconnect the dryer vent duct from the dryer. Inspect the gas line to ensure it is properly connected and no leakage is present. Once you have disconnected your rigid metal duct from the back of the dryer, use a flashlight and a long flexible rod/wire with a rounded brush to thoroughly clean and remove all lint buildup inside the duct. Inspect the damper on the outside of your home at the exterior vent location, to ensure it properly opens and closes. If it doesn't function as intended, make any necessary repairs. From time to time, birds, rodents, and insects may enter from the outside and nest in dryer ducts. If necessary, install screening to prevent any potential inhabitants from entering.
Using a flashlight and a small, thin brush with a long arm or a thin crevice tool and vacuum, remove any lint that is located inside the lint screen port. While the dryer is moved away from the wall, inspect inside the dryer cabinet and around the dryer for lint that has escaped the exhaust system. Remove any lint or debris that may be found. The duct should then be reattached to the dryer. If portions of the duct are to be fitted together, you should use aluminum tape. Screws should not be used, as lint will snag on the interior threaded portion of the screw. Plug the dryer into the electrical outlet, reposition it in its proper location, and reinspect the gas line to ensure no leakage is present. It is also important to have a qualified appliance repairman clean the interior of the dryer chassis periodically to minimize lint accumulation.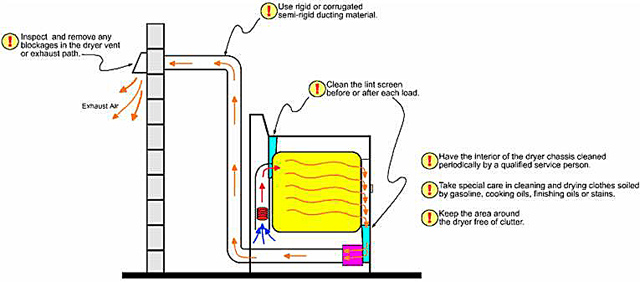 Leveling
Dryer legs that are not leveled will cause the dryer to be unbalanced. When a dryer is operated while it is out of balance, damage can occur to its components. Ensure that the dryer does not move or shake by leveling it. Set a carpenter level on top of the dryer and adjust its feet until the appliance is level. Damage caused by excessive vibration may require repairs by a qualified appliance repairman. Having an appliance repairman available for such types of repairs will help to extend the life expectancy of your dryer and ensure it is functioning as expected.
Cleaning
The surface of a dryer should be kept clean by using a soft cloth or rag, along with hot water, bleach, soap, or a non-abrasive cleaner. Abrasive soaps, stain removers, sponges, etc., can scratch the finished surface and should not be used. While the dryer is in use, it is important to note that a drying cycle should be controlled by operating the dryer's controls, and not by simply opening the door. Opening the door in the middle of a dry cycle may cause damage to the heating element or burn the dryer's fuse, either of which will require repair by a qualified appliance repairman.
Thoroughly read the manufacturer's literature, installation instructions, and care manual prior to use and to assist in troubleshooting problems that may occur. Following these steps will protect you and your property from dryer-related fires and ensure your dryer operates efficiently.
The U.S. Consumer Product Safety Commission (CPSC) works to ensure the safety of consumer products. On their website, the CPSC has listed clothes dryers that have been recalled. To ensure your own safety and the safety of those around you, please be sure your dryer is not one of the ones listed.

The Buildipedia research and writing staff consists of dozens of experienced professionals from many sectors of the industry, including architects, designers, contractors, and engineers.
Website: buildipedia.com/
Latest from Buildipedia Staff