Cold Formed Metal Framing
Cold formed metal framing consists of structural and non-structural elements that are shaped using press braking or roll forming. No heat is used in either formation method. Cold formed metal framing includes structural metal stud framing, slotted channel framing, and cold formed metal roof and floor joist framing, as well as all metal support assemblies. Over the past several decades, the use of cold formed metal framing has increased in the residential and multi-family market. Cold formed metal framing provides designers with as much, if not more, flexibility as wood framing.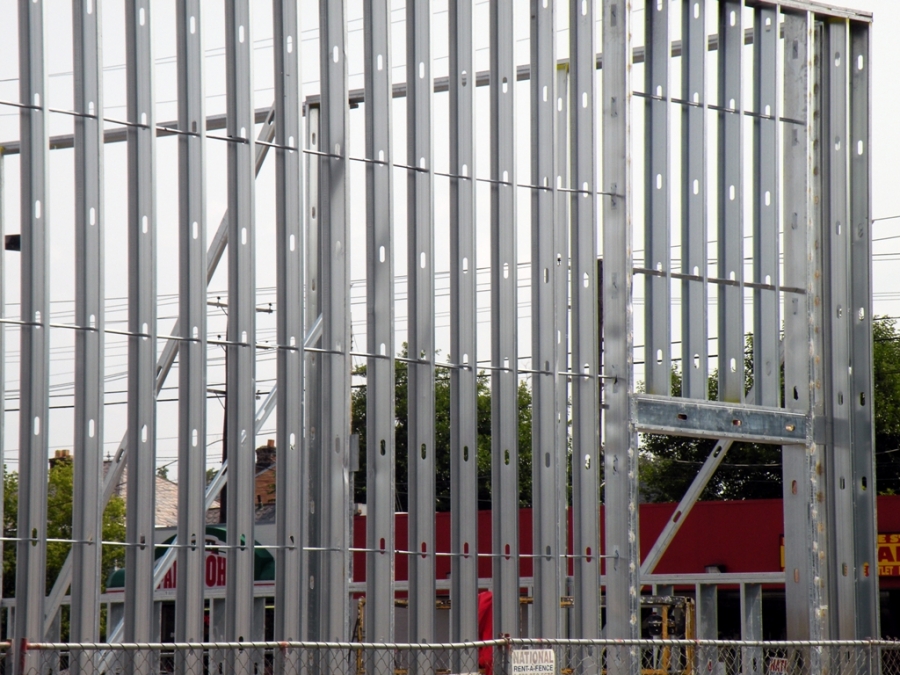 Topic Summary
Cold forming produces a thin, light product that is able to withstand high wind loads. Manufacturing processes and regulations result in components with high dimensional tolerance and uniform quality.
Utilizing cold formed metal framing for a construction project provides key benefits when compared to other framing materials. Construction schedules may be shorter as a result of the ability of cold formed metal to load bear quickly and simply at heights that would require multiple lifts of another material. Metal framing is tight, straight and true, will not split or warp, and is resistant to insects, mold and rot. Cold formed metal framing is non-combustible; it will not burn nor will it contribute to a fire, but if exposed to high temperatures for a period of time, the metal framing will weaken. Building code requirements regarding fire code assemblies are more easily and less expensively achieved using metal framing.
Certain considerations are necessary when framing with cold formed metal. Heavy gauges are more costly than similar wood components and require a different mindset and planning practices. For example, there are three sides to cold metal framing, unlike the 4 sided wood framing. Screw guns, welding, and experience with cold formed metal framing are also necessary aspects of a metal framing project that will add cost. Common attachment methods include mechanical fastening by screw gun or pin fastener, welding of heavy gauges, clips and hangers.
Cold formed metal products represent an advancement in green industry practices as they are required to contain at least 25% recycled material. When properly dismantled, the components of cold formed metal products are 100% recyclable.

The Buildipedia research and writing staff consists of dozens of experienced professionals from many sectors of the industry, including architects, designers, contractors, and engineers.
Website: buildipedia.com/
Latest from Buildipedia Staff