Log construction refers to a building technique in which a structure is built from logs that have not been milled into conventional lumber. Log buildings are formed by horizontally stacking logs and interlocking their ends with notches. The origin of this type of construction is uncertain, but it is believed to date back to Northern Europe during the Bronze Age. When Europeans settled in America during the 17th and 18th centuries, they utilized this knowledge of handcrafted log construction to create shelter. In 19th century American politics, log cabins came to symbolize humble beginnings, since no fewer than seven U.S. Presidents were born in log homes. Throughout history, log construction was used for homes, churches, schools, barns, mills, commercial buildings, and outbuildings. Typically built in rural settings, this rustic architecture style can be built in any climate. Today log construction can be seen in elaborate homes as well as in simple cabins, built from handcrafted or milled logs, with different styles and options.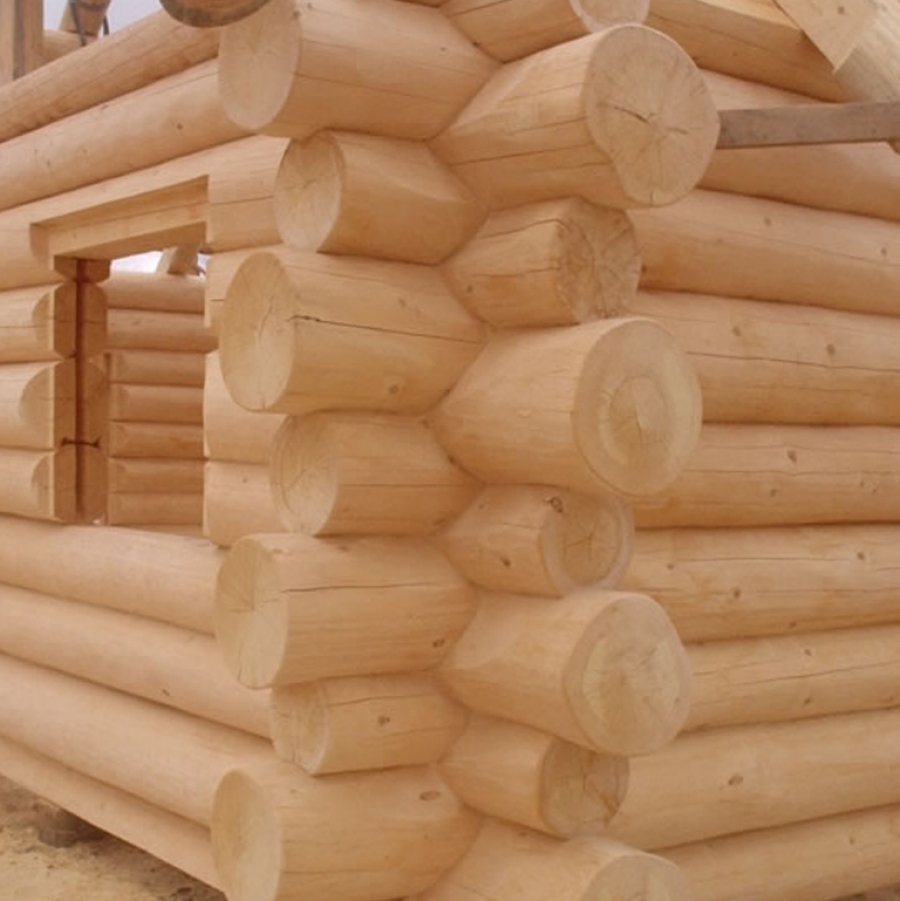 Topic Summary
A log home or cabin is typically built from a wood species that is prevalent in the region where the building is being constructed. The following species are commonly used to build log homes or cabins: White Pine, Cypress, Douglas Fir, Hemlock, Yellow Pine, Red Cedar, White Cedar, Spruce, Oak, Juniper, and Alpine Fir. Logs can range from 8" to 10" in diameter, and their length is determined by the type of logs used.
Two types of logs can be used for the construction of a log home or cabin: handcrafted or milled logs. Handcrafted logs are cut from a forest and bark is removed either by hand, using a draw-knife, or by water peeling. Logs used to build can be green or air-dried and are not uniform in shape or size. They are fit together or stacked on top of one another. Milled logs are uniform in shape and size, and have a profile. The end consumer can choose from a shaped log, full round logs, square logs or coped logs. These logs are cut from a forest, shipped to a mill, de-barked, shaped by a saw mill, lathe or planer, and then cut. These logs can be green, air-dried or kiln-dried.
Moisture is prevalent in all freshly cut forest trees. Green log moisture content varies among species and season in which the logs were cut. Logs used for building must be disease and insect free, with a straight grain and no spiral cracks. They can be used for construction within days or weeks of cutting. Green logs naturally dry out, causing movement and cracking. Air-dried logs are essentially green logs that are stacked in an open air environment, protected from the elements, and left to dry naturally. Logs are stacked with spacers between them to allow for the movement of air around the logs. Air-drying is a process that requires at least one year per inch of thickness to reach a climate moisture content equilibrium. Kiln-dried logs are green logs that are placed in a kiln or large oven to accelerate the drying process. Typically, kiln-dried wood can achieve 18% to 20% moisture content; additional shrinkage can be expected to take place over time in North America, as moisture content equilibrium is around 6% to 12%, depending upon the region. With any log type, as moisture leaves the log, checking will occur. Checks are small, normal cracks that open slowly within the grain.
Two additional log types are referred to in the log construction industry: dry "dead standing" trees and cants. Dry "dead standing" tree logs are a lower grade product, kiln-dried from dead trees. A tree may die for any number of reasons: disease, insects, fire, or natural causes. Disease in trees affects the fibers and structural capabilities of the wood. Insect infestation, if not properly addressed through kiln-drying, will present an insect problem when larvae hatch. Trees affected by fire invite disease and insects. If the bark of the tree doesn't burn off, it acts as a moisture barrier and the natural process of wood decay begins. The grain of dead trees also begins to twist and crack. Cants are a secondary product used in the log construction industry. They are the product of mills that manufacture dimensional timber.  Essentially, the mill forms the square timber into oval shapes, taking off the bare minimum. Similar to dimensional timber used as fence posts, this product will bow, twist and warp. This is due to the fact that when the timbers are cut, the natural growth ring is destroyed. These products are not ideal, and may lead to maintenance and repair issues.
There are several methods of log construction, some which can use either handcrafted or milled logs. The chink-less or Scandinavian full-scribe method utilizes milled or scribed logs, notched at the corners and fit together to minimize chinking. Chinking is a filling used to fill gaps between horizontal rows of logs. The stacked or flat-on-flat method utilizes logs that have been flattened on both the top and the bottom, then stacked with butt-and-pass corners. The tongue and groove method utilizes a milled tongue and groove connection between stacked logs to align and seal the wall from exterior elements. The tight-pinned method utilizes stacked logs, not milled or notched, and vertically fastens them with steel pins. Each of these methods defines a distinct style for a log home or cabin; each has varying corner styles and fastening systems.
Three corner styles are typically used when interlocking logs at ends. Saddle notched corners, when done properly, provide an excellent seal and are viewed as being the most structurally stable. Butt and pass corners are the least stable and provide a location for rain or snow to rest on the flat extended surface, eventually causing wood decay. Dovetail corners are tight interlocking corners that have aesthetic appeal. Other non-traditional corners styles are also available.
Fastening systems will vary between manufacturers and according to the type of log used. The requirements for various types of fasteners are defined in codes and standards for wood construction. Fasteners are important in the construction of log homes or cabins, because they align logs, manage settling, and provide resistance to lateral loads. The different types of fasteners include spikes, lag screws, through bolts, threaded log home screws, drift pins and wood dowels.
The primary material used in log homes or cabins is wood. Similar to traditional framed homes, the wood used for log construction attracts insects such as termites, carpenter ants, carpenter bees and wood-boring beetles. These insects can present a threat when not controlled. The best control is prevention.  Appropriate steps can be taken during design and construction to minimize moisture and prevent insects. These steps should include: designing a barrier that will stop activity or allow activity to be visible; keeping a separation between wood logs and grade; treating wood logs with a wood preservative prior to construction; chemically treating soil or installing bait stations during construction; applying finishes and/or coatings to deter activity; and maintaining a distance between the exterior building edge and any vegetation around the perimeter of the home. Should an infestation occur during the life of the log home or cabin, it is essential to eradicate the insect activity. A professional pest control company should be contacted.
A newly constructed log home or cabin should have a finish applied to improve its appearance and protect the wood. Finishes can be either penetrating oil-based stain or film forming water-based paint. Penetrating products allow the natural wood to show and are easier to maintain. These products may have repellents added to protect wood from water, be a semi-transparent stain protecting wood from UV exposure, or contain preservatives to deter mold growth. Film forming paints are solid color products that conceal the natural wood and require greater effort when re-finishing. Both types of finishes require the proper surface preparation. Attention should be paid to the moisture content of the wood and to the end grain of each log.

The Buildipedia research and writing staff consists of dozens of experienced professionals from many sectors of the industry, including architects, designers, contractors, and engineers.
Website: buildipedia.com/
Latest from Buildipedia Staff