Prefinished paneling is a decorative sheet product that is applied as a wall finish. Used in a variety of interior spaces, it may be installed as a wainscot or as a full height wall covering. During the 1960's and 1970's, embossed paneling was popular. Today's prefinished paneling features more modern and contemporary designs. Paneling is manufactured from different types of engineered woods, to varying levels of quality.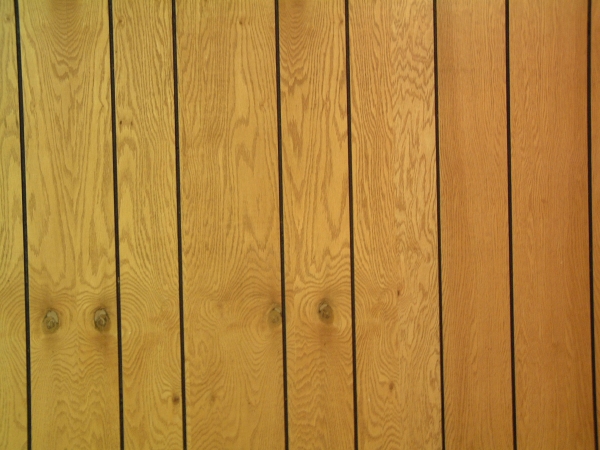 Topic Summary
Manufactured prefinished paneling is a 4x8 sheet product that is available in various thicknesses. The laminated veneer panel can have a particleboard, plywood or hardboard backing. The face grooves of prefinished paneling can have paint applied, be routed, or have pressed grooves. Ordinary vertically grooved paneling is made to appear similar to tongue and groove board paneling, and bead board sheet products have the same appearance as beaded board paneling. Other designs, such as brick, marble, and tile board, mimic common finished building materials.
The quality of sheet paneling is determined by the thickness of the sheet, and by the quality and type of each layer of veneer. Paneling produced with 3 laminations of wood - a backing, a central core, and a face veneer - is the highest quality product, and is produced with either a grained face, which is the most expensive, or a non-grained face. Natural finished panels are best suited for staining; non-grained paneling is offered with many face veneer options, such as embossed, melamine coated, vinyl, paper, and surface printed facing, all offering different appearances. Prefinished panel sheet cost also varies depending on factors such as whether or not the material is treated, and the quality of the backing ply.
While paneling can be treated to reduce moisture absorption and warping, it is best to protect paneling from moisture per the manufacturers instructions for any type of installation.
To maintain paneling, it should be dusted on a regular basis. If it becomes heavily soiled, it can be cleaned with commercially available cleaners, solvents or waxes. It is best to test a cleanser in an inconspicuous location to ensure it doesn't damage the surface.

The Buildipedia research and writing staff consists of dozens of experienced professionals from many sectors of the industry, including architects, designers, contractors, and engineers.
Website: buildipedia.com/
Latest from Buildipedia Staff