Aluminum-Framed Storefronts
Aluminum-framed storefront systems are usually located on lower building floors. Their vertical span is often limited to a single story in height, with the system being installed between floor slabs, although there are systems that may span more than one story. They are often combined with entrance systems.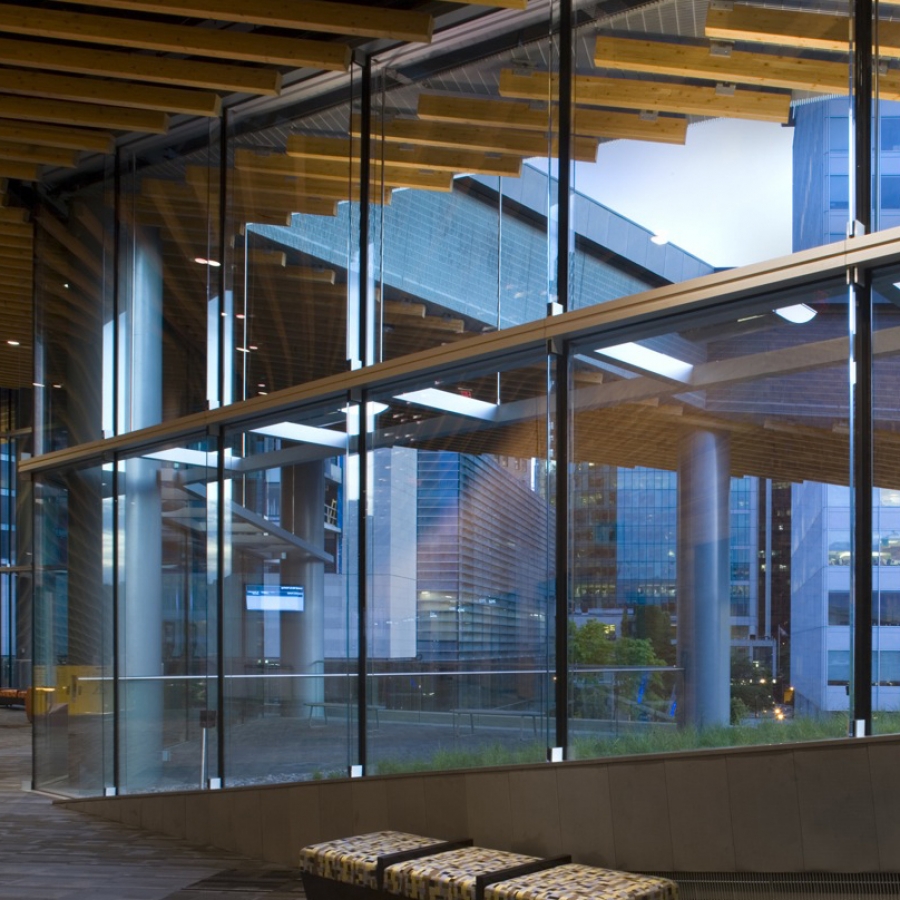 Topic Summary
Compared to curtain wall systems, storefront systems are typically designed to less stringent performance requirements and are composed of lighter-weight, simpler aluminum sections. The most commonly used systems have 2- x 4-inch framing members designed for center glazing with either monolithic or insulating glass.
Storefront framing may also be used for window-wall systems, ribbon-wall or strip-window systems, and punched openings. Operable window units, as well as spandrel and infill panels, may be incorporated into entrance and storefront systems.
Aluminum-framed sections may be non-thermal, thermally improved, thermally broken (thermal-barrier), or structurally glazed systems. Storefront framing systems can be field assembled and glazed.
Typical glazing systems for storefronts include conventional as well as two-sided, structural-sealant-glazed systems, sometimes referred to as butt-glazed. In conventional glazed systems, lites or panels are retained on all sides by continuous gaskets set into the framing members. In two-sided, structural-sealant-glazed systems, structural sealant adheres the glazing units to vertical framing members, and continuous gaskets hold the glass at horizontal members.
Finishes for aluminum framing members have traditionally included clear or color anodized and organic coating systems, such as Kynar-based coatings. Polyester powder paints now meet industry performance standards for durability and are available from some manufacturers. Due to their greater film thickness and abrasion resistance, powdercoat finishes are well suited for high traffic entrances and storefronts.

The Buildipedia research and writing staff consists of dozens of experienced professionals from many sectors of the industry, including architects, designers, contractors, and engineers.
Website: buildipedia.com/
Latest from Buildipedia Staff