Madrid's M-30 Urban Renewal Project: Puentes Cascaras
It's easy to get Spanish blood boiling here in Madrid. Just mention the M-30 to a local, especially one living by the Manzanares River in the Arganzuela district south of the city. Their hostile reaction would be due to the fact that this part of town has been under major construction for what seems like an eternity. Once complete, Madrid's M-30 urban renewal project will include improved roadways, pedestrian pathways, and West 8's Puentes Cascaras, which were inaugurated in September 2010.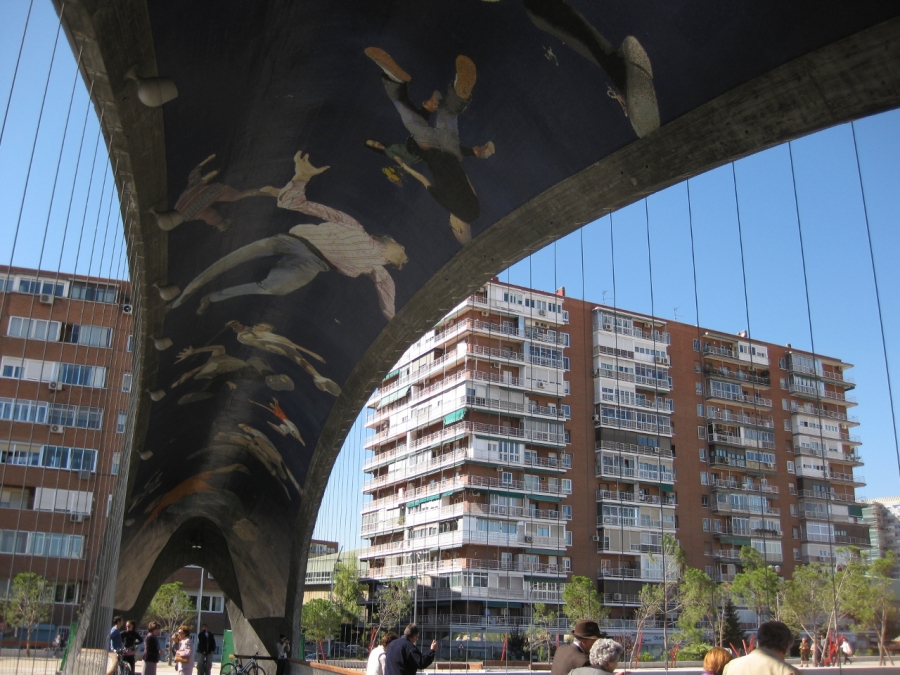 It all began as a solution to Madrid's notorious gridlock, which is particularly infamous in this part of the city. As well as a nightmare for most commuters, the M-30 highway was also an environmental time bomb. As a solution to this problem, Madrid's mayor, the progressive Alberto Ruiz-Gallardón, ambitiously decided to funnel the traffic underground, in what would become Europe's longest roadway tunnel. The "urban renewal project" would bring almost 97 km (60 miles) of new roadway to the area, including a 56-km (35-mile) tunnel. The initial budget was estimated to be a steep €3.7 billion (approximately $5.14 billion).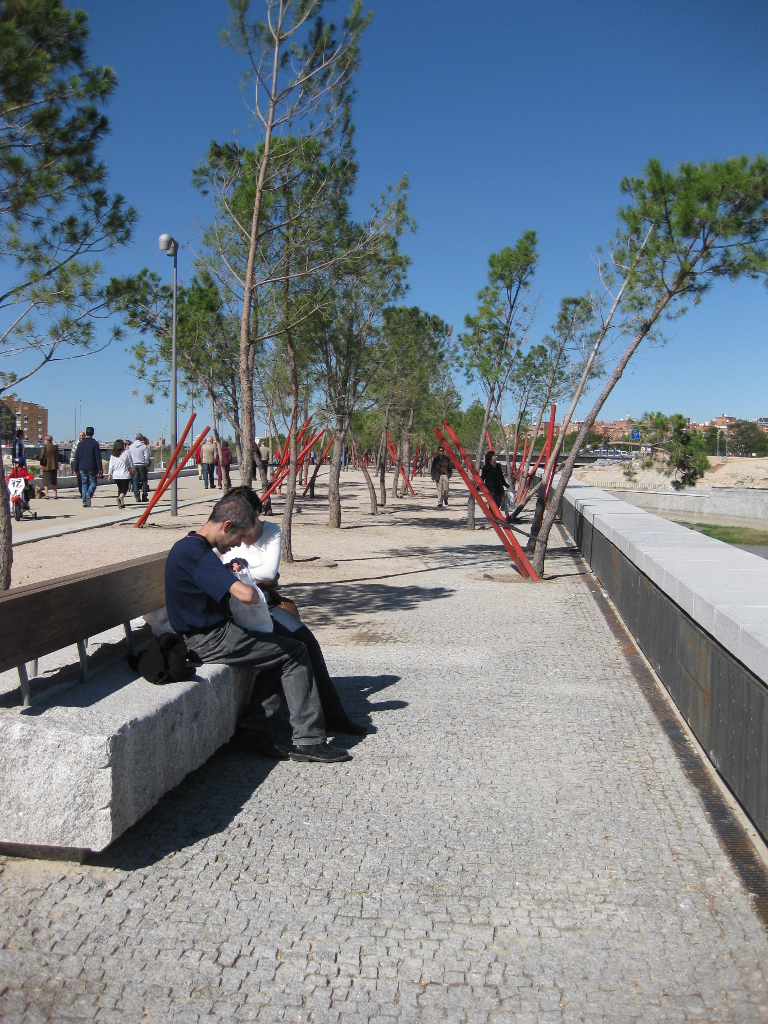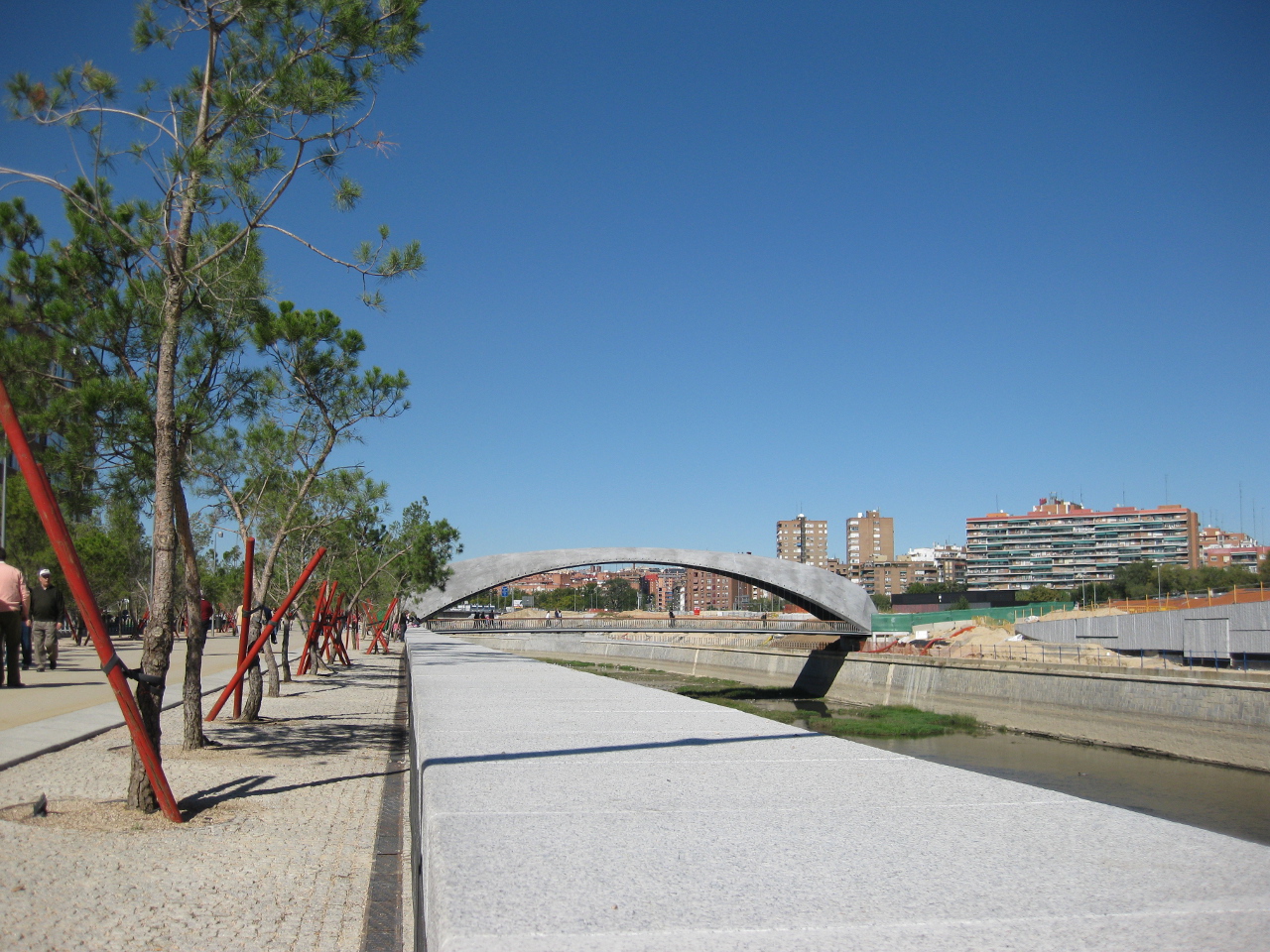 The project began mid-2004, but as the years passed the project soared over budget and fell behind schedule -- all while the neighborhood's protests became louder and louder. Mayor Ruiz-Gallardón pleaded with residents and guaranteed a better quality of life in exchange for their patience. It was a promise that included an "ecological boulevard" with walking spaces, bicycle paths, and even a beach. Yes, that's right, a beach -- something previously unthinkable in landlocked Madrid. If that wasn't enough to quell the tempers of the fiery Spaniards, nothing would be.
After years of construction, the tunnel is finally flowing with traffic. Above ground, the green park areas and some distinct design features are now taking shape. Upon completion, the boulevard area on the banks of the Manzanares River will include 25,000 trees, 42 km (26 miles) of pedestrian paths, 32 km (20 miles) of bike trails, and a beach area where people can soak up the sun amidst sand and water just like their paisanos on the Mediterranean. Although swimming will be prohibited, there will be a pier with rowing boats for rent, 11 new children's playgrounds, and quiet zones for the elderly (Spain's elderly are anything but quiet, but that's another story).
As part of this water wonderland, amid the newly planted trees and walkways, two new bridges, dedicated to the people of this barrio, stand out as the most recent symbol of progress.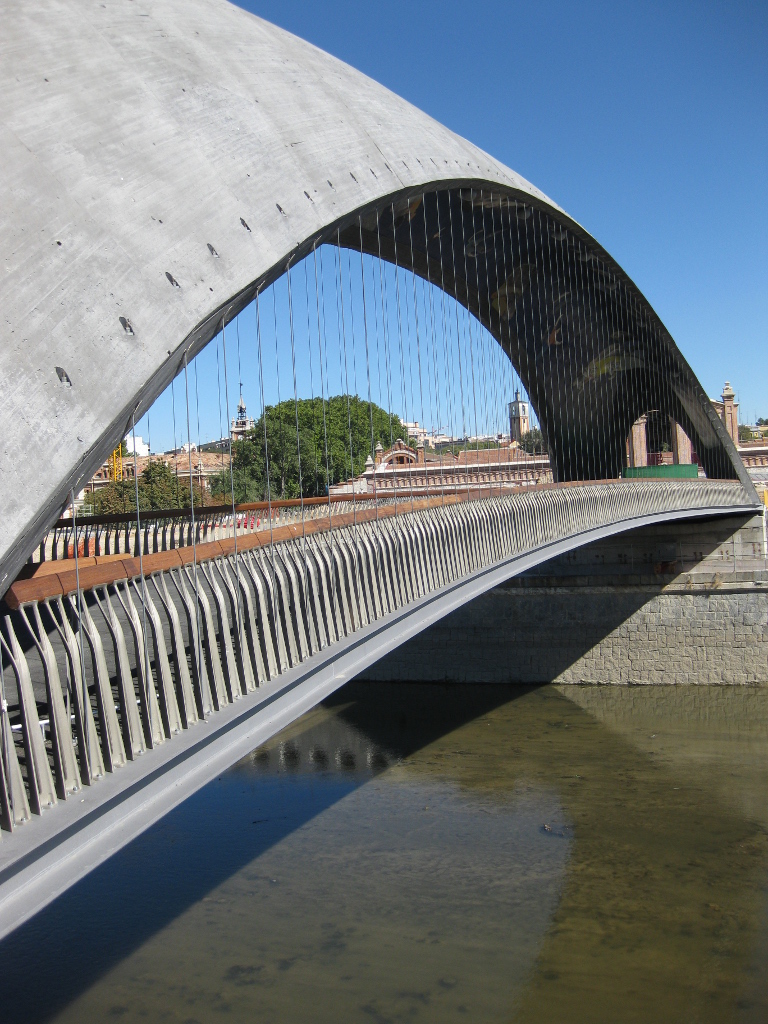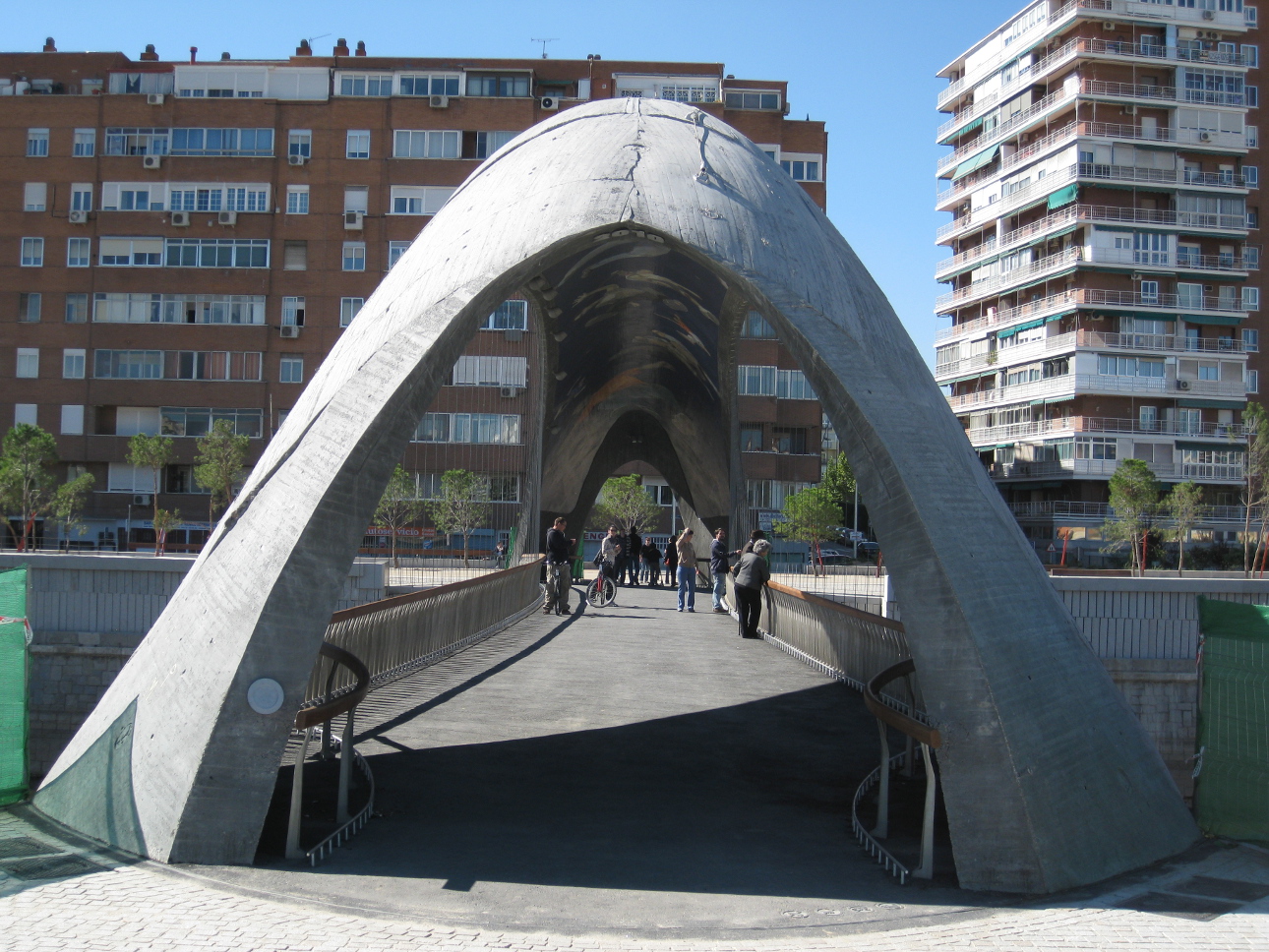 The award-winning urban design and landscape architectural firm West 8, working with MRIO, inaugurated the Puentes Cascaras in September 2010. The two identical pedestrian bridges link the new park areas on either side of the river. The bridges took three years to build and have rough, gray dome exteriors, similar to two upside down canoes. Unlike most bridges, their interior draws the attention inward and upward. On your approach to the bridge's arched entrances, your eye immediately fixates on the multiple figures floating on the ceilings of the bridges. An elderly cane-welding woman, skateboard-gliding youths, and rambunctious children all look down on travelers as they cross the bridges themselves.
In homage to the neighborhood and its people, Spanish artist Daniel Canogar designed the mosaic titled "Constelaciones" (constellations). This mural depicts some of the district's most colorful residents on each side of the river, symbolically connecting not only the two riverbanks, but also their neighbors. It's a nice touch for this community, which has experienced a rough few years and is anxious to get the neighborhood back in one piece. "Constelaciones" is Canogar's first major permanent work and is now the largest photographic mural in Europe.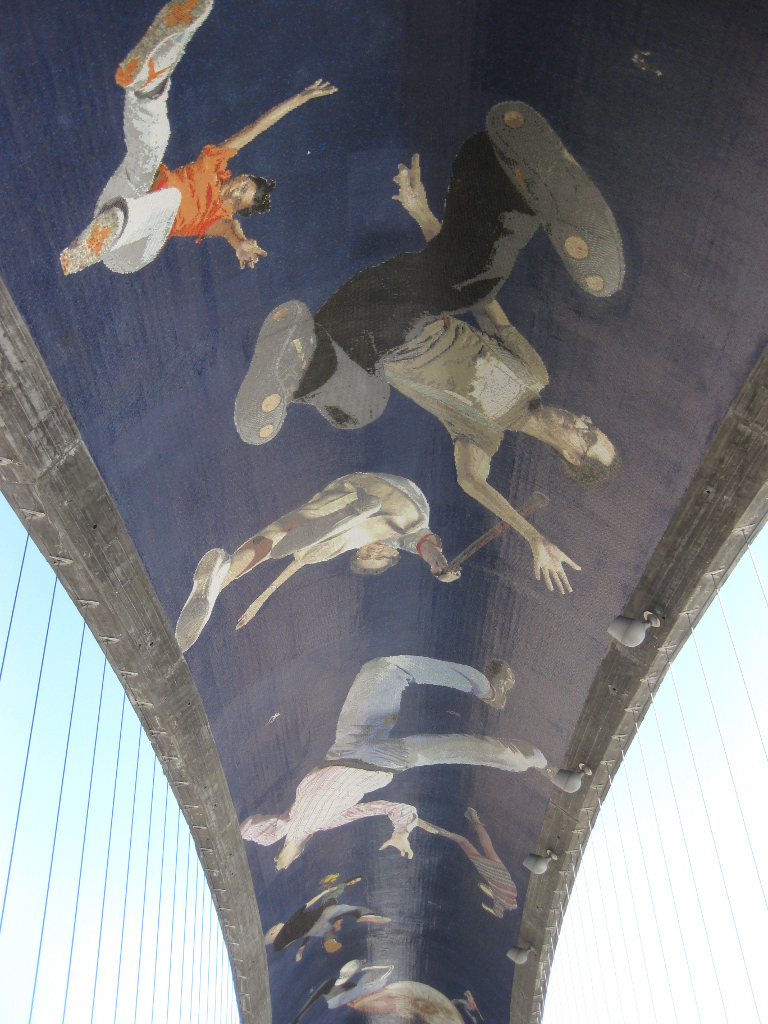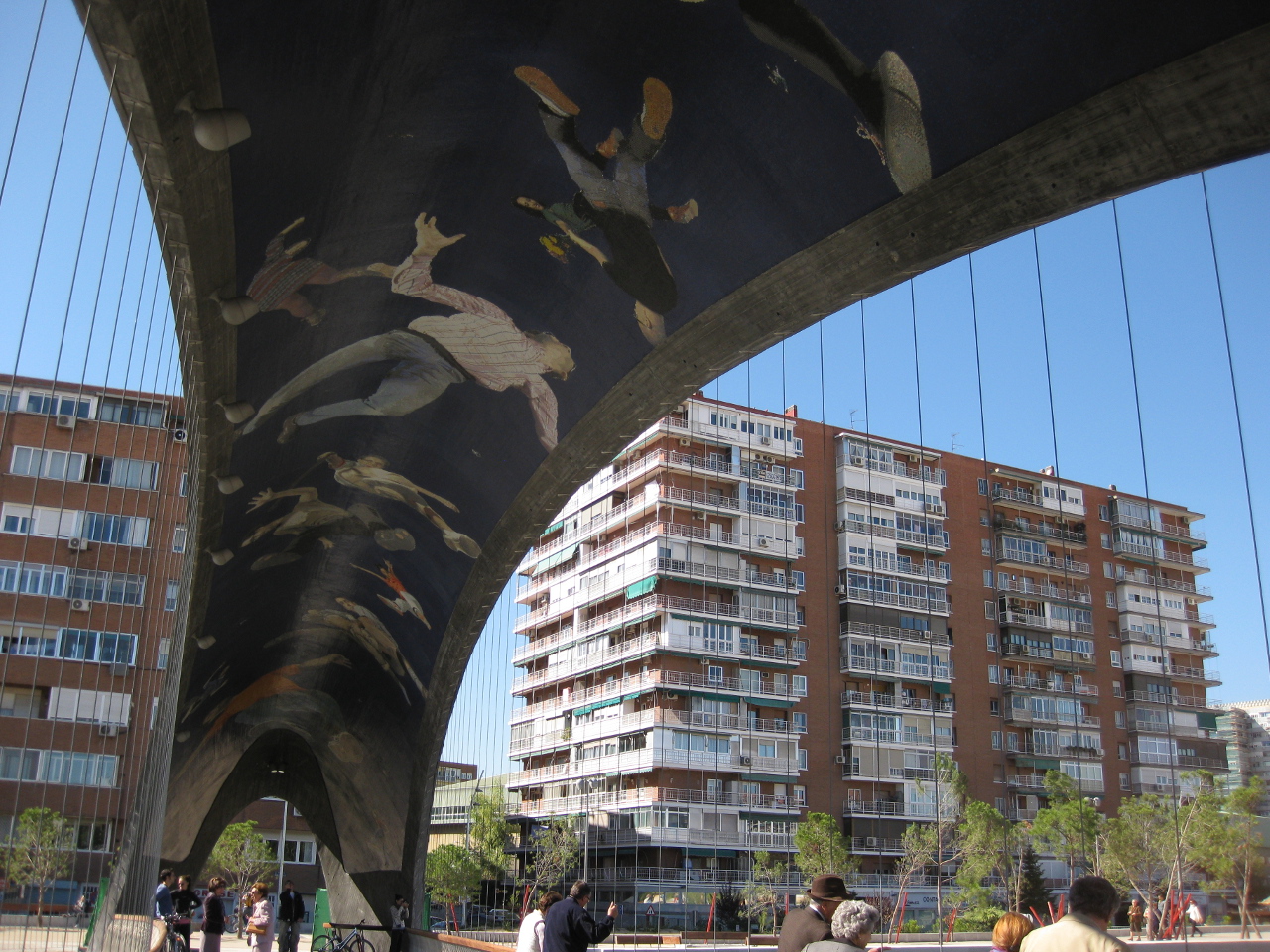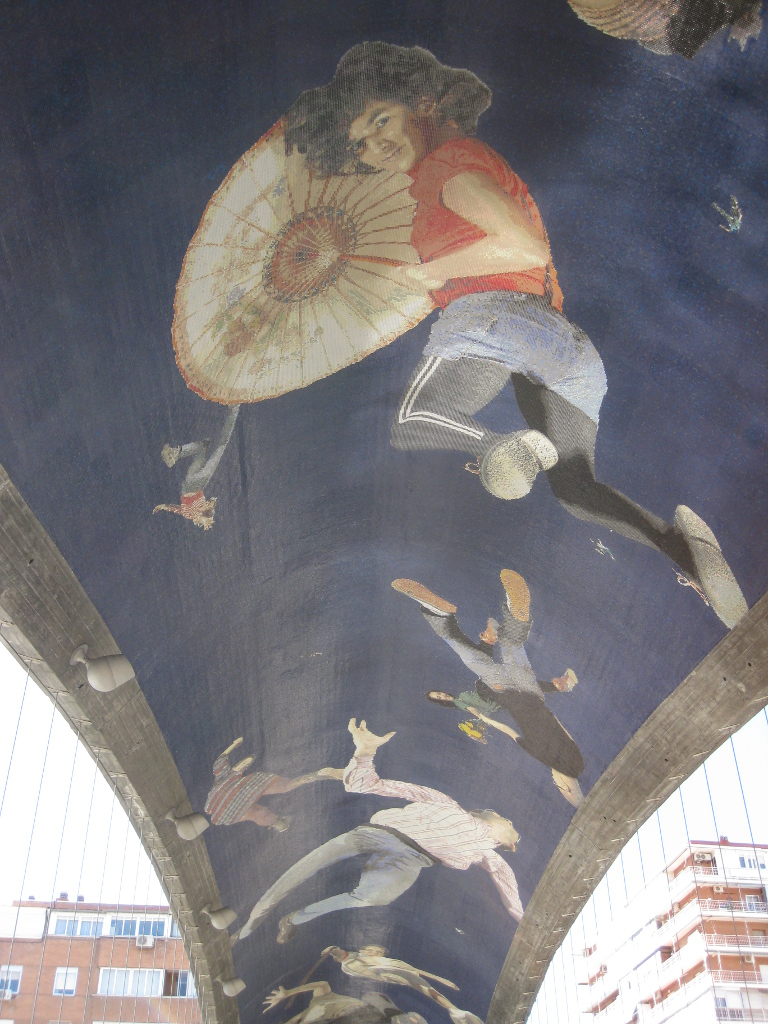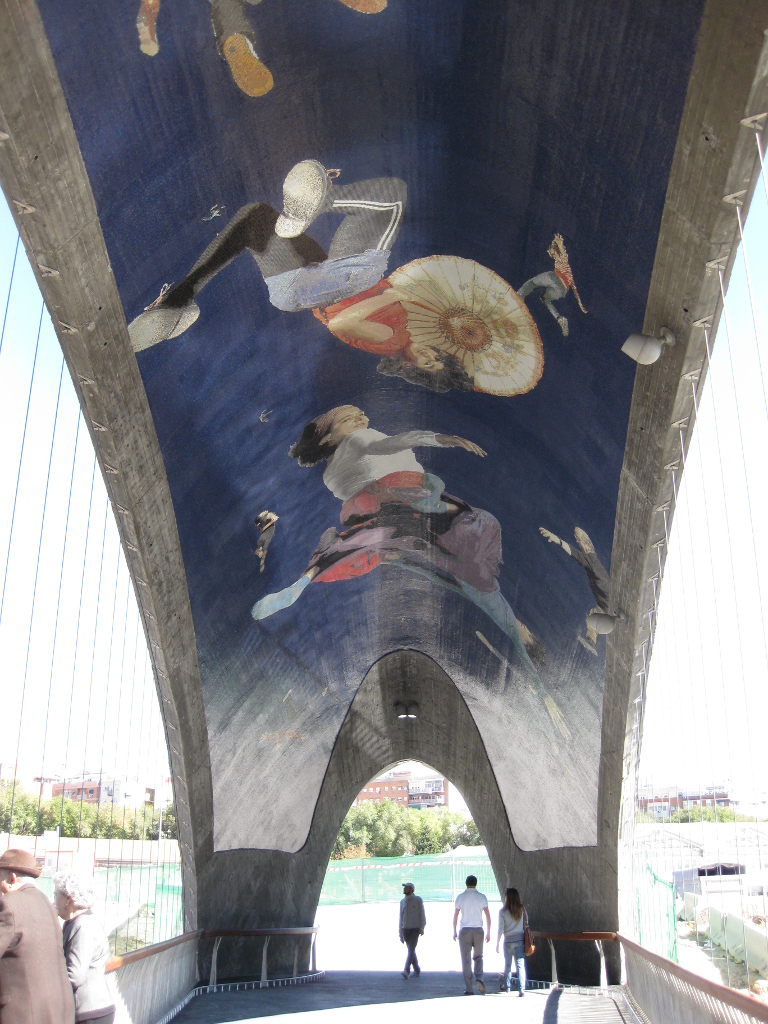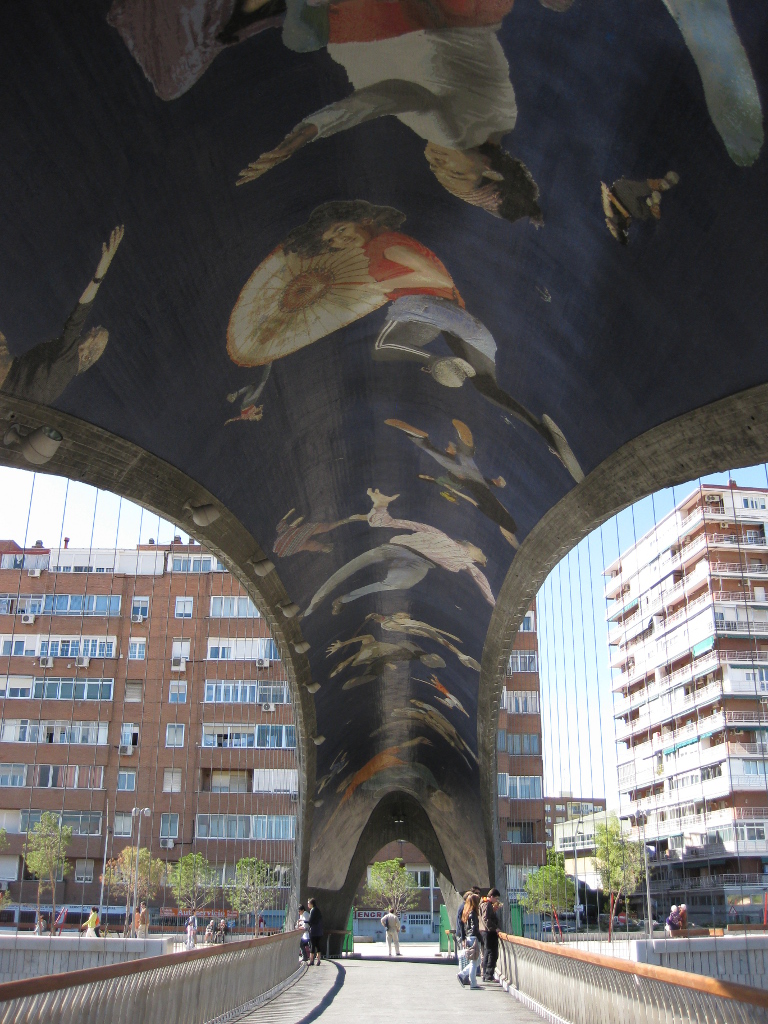 Nicole graduated from Georgia State University with a Post Graduate degree in Spanish to English Translation and a B.A. in Spanish and International Business. Presently living in Madrid, Nicole works as a freelance writer and translator and enjoys traveling around the Iberian peninsula taking photos of Spain's rich blend of historic and modern architecture. Her articles and photos have been published in various trade publications and websites.
Website: www.passtheham.com/
Latest from Nicole Jewell