Architectural Cast-In-Place Concrete Forming
The surface of cast-in-place concrete may be modified to create an aesthetically pleasing color and/or texture, or to simulate tile, stone or brick. This specially finished concrete is referred to as "architectural concrete," and it is usually permanently exposed to view. Architectural Concrete Forming is the primary method of creating architectural concrete. Form liners are typically used and are fastened to the inside of the forms, providing the desired design or texture to the concrete. Architectural concrete forming may be used for structural or non-structural building components. When using this process, special attention should be given to the uniformity of the mix, additives such as color or aggregates, placement, and finishing.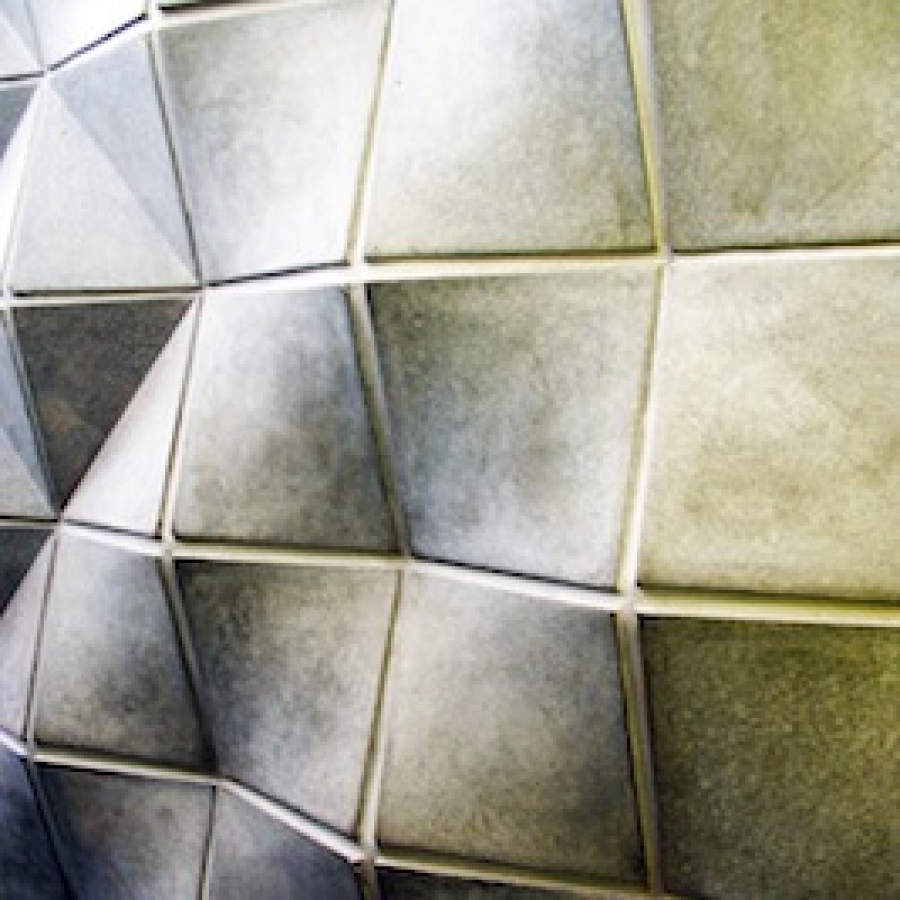 Topic Summary
Methods and Materials
Formwork (which allows concrete to be shaped into slabs, beams, columns, floors, and walls) has traditionally been fabricated from timber, built on-site of either plywood or moisture-resistant particleboard. Presently, pre-fabricated metal or plastic systems offer advantages in consistency, speed of construction, and life-cycle costs. Architectural liners are easily attached to these systems. Stay-in-place formwork can also be used for architectural forming.
Re-usable plastic forming systems are used to build relatively simple concrete structures. The interlocking, modular plastic forms in these systems are lightweight and easily handled. The surfaces of these forms may themselves create an architectural surface.
A variety of plastic form liners are commercially available, providing many different surface finish options (usually simulations of either wood or stone). Patterns such as aged cedar, barn wood, or rough-sawn plank can be produced. Liners that give patterns such as phoenix limestone, round stone, vertical flagstone, or stucco are also available. The liners may be fabricated from polystyrene, ABS, polyurethane, or polyvinyl chloride (PVC).
Design Basics
The planning, design and construction of forming systems are normally the responsibility of the general contractor and sub-contractors. However, architectural forming may require collaboration with the design professionals. Considerations may include: release agents and their effect on the architectural surfaces; the positioning of joints and edges of the liners; the effect of the liners on the required structural thickness of the concrete; form ties and their ability to be hidden after forms are released; the prevention of rust or streaks on the finished concrete surface from ties, trims, or imbedded components; construction and control jointing; and methods of transitioning from one texture or surface to another. All formwork should be designed in accordance with the methods given in ACI C347 to meet the estimated loads, lateral pressures, and stresses as the concrete is poured and as it hardens. The formwork should also be supported by falsework, and by shoring, if necessary, to ensure that it withstands the placement of the concrete and the stresses of vibration during consolidation. Differential settlement, misalignments, or offsets are more obvious with exposed architectural surfaces.
Applications and Installations
Prior to assembly of the forming system components, surfaces should be inspected carefully, particularly where the components are being re-used. The surfaces of the forms and/or form liners must be free of wear or defects.
A wide variety of hardware may be required to install formwork, such as the several types of brackets that are used to connect the forms. Angle clips are used for outside and offset corner applications, while cap clips secure lumber to the top of the form. Form clips are available to fit most form combinations. Flathead and tapered pins and wedges may be required, and a variety of steel ties are included in a system to avoid blowouts during the placement of concrete. Ties can be custom made for use with battered walls and sandwiched insulated walls, and also for walls with irregular wall thicknesses or higher required pull strengths.
Usually, the surfaces of the form liners are sprayed with a release agent prior to installation into the forming system. Release agents allow the forms and hardware to separate more easily from the concrete, creating a surface finish that more closely resembles the finish of the form liner. Release agents also aid in cleaning the forms so that the desired design is not severely altered by a buildup of concrete on the form liner. These chemicals can be selected for use with any form or form liner material. They are easily applied and, if properly selected, do not stain the surface of the concrete. Release agents can be used with various concrete mixes over a range of temperatures. Recently, biodegradable release agents have been developed for use with wood, plastic and metal forming materials. These release agents have been formulated to meet the environmental regulations for both indoor and outdoor use.
A critical step in the construction of formwork is the alignment of the main components, often a time consuming process that may require on-site modifications to the panels, girders, etc. Poor alignment of the formwork can result in leakage of concrete during and after placement. Installation of formwork for large concrete structures may necessarily involve placing components with a crane, thereby complicating the process.
The manufacturers of products for creating architectural concrete are an excellent source of information for both past and current systems. They may have a designated area where a person can view architectural concrete produced with different liners and systems.
Standards and Codes
ICC, International Building Code, Chapter 19
American Concrete Institute: ACI 301 and 303.1

The Buildipedia research and writing staff consists of dozens of experienced professionals from many sectors of the industry, including architects, designers, contractors, and engineers.
Website: buildipedia.com/
Latest from Buildipedia Staff