Asheville Yoga Center Constructed with Superior Walls®
When Elm Construction & Design broke ground for a new state-of-the-art Asheville Yoga Center, they knew the clock was ticking. They won the construction bid based on speeding up the building cycle. To achieve this, they relied on an above ground application of Xi™ precast concrete panels from Superior Walls of North Carolina.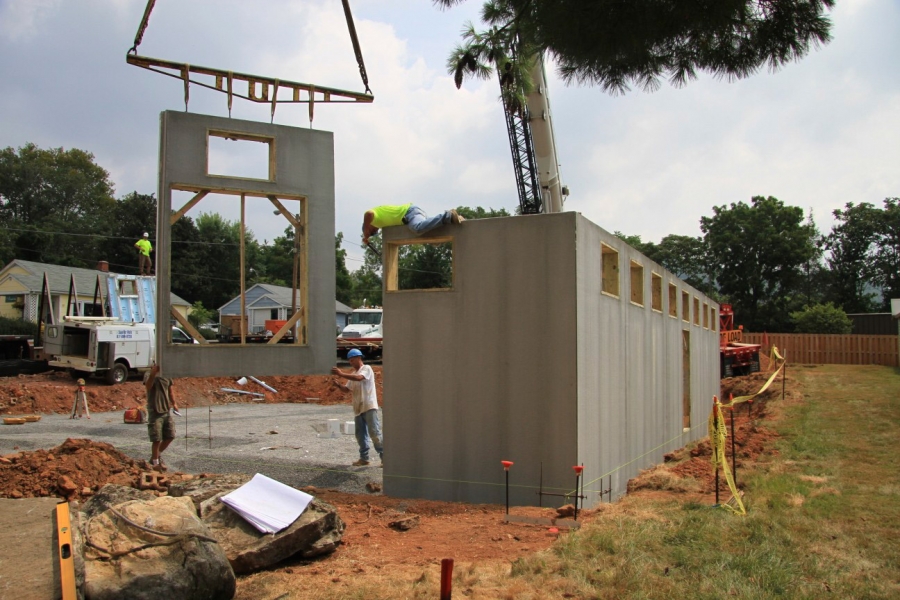 "The AG™ Wall System is a fast, efficient way to construct homes and commercial projects from the ground up," says Trey Greer, owner of Elm Construction & Design in Asheville. "For the Asheville Yoga Center, this is a great application because we can bury part of the wall below grade, construct sidewalks right up against the wall system, and then create the entire building out of the precast wall panels. We're cutting almost a month off a typical construction schedule by using the Superior Walls® products."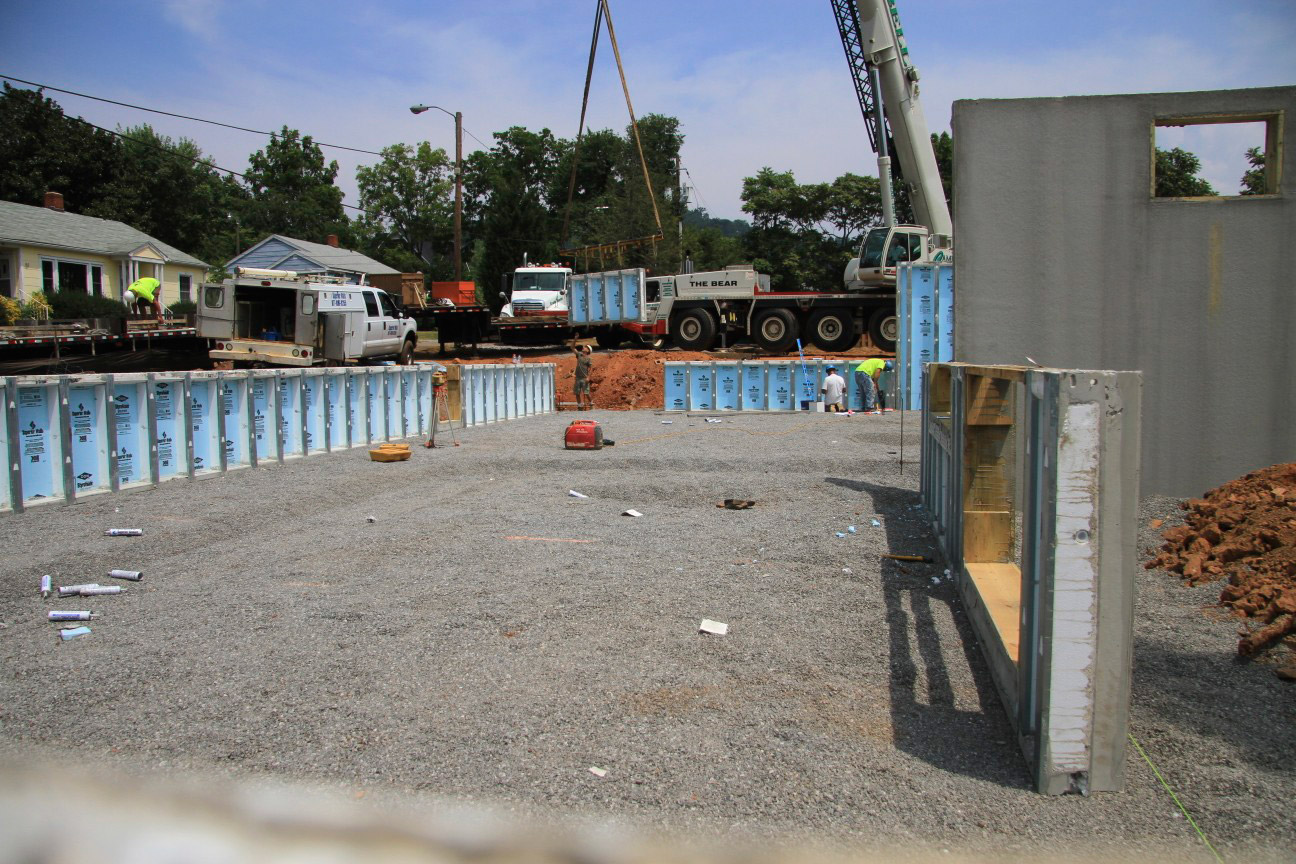 The one-story building will combine with an existing building, adding more bathrooms, changing rooms, and classrooms to the popular Asheville facility.
"We'll be moving from our current space with 1,400-square feet to more than 3,400-square feet combined, which gives us so much more room for our classes and training," says Sunny Keach, who co-owns Asheville Yoga Center with his wife, Stephanie Keach. "Our growth comes from providing a very high level of service and being responsive to market needs. We were on the forefront of yoga's popularity on the East Coast right from the start, and now we've developed an exceptional following based on our yoga teacher training certification and the daily usage of our facility by Asheville area residents.
"We're very pleased to have the ability to expand our facility by having the new building constructed with environmentally-friendly wall panels," says Sunny. "These energy-efficient walls will help lower our long-term energy costs by reducing energy leakage."
Problem/Solution
"This new building sits on a gently sloping lot with the floor level 3' below grade at the back of the building," says Sunny. "We knew we didn't want to build with block, but we wanted a tight and well insulated structure. We also knew we wanted a single plane on the interior walls, which proved a challenge in the detailing with block below grade and stick framing above.
"Superior Walls was the ideal solution to the particular challenges on this building. We had considered them early in the process when Elm Construction & Design recommended them to help sort out water infiltration issues," Sunny explains. "The fact that this impressive product actually helps reduce waste, installs quickly, and eliminates the need for a foundation sold us on the product."
The Xi wall panels used to construct the new Asheville Yoga Center have earned the Green Approved Product designation from the National Association of Home Builders Research Center. Manufactured by Superior Walls of North Carolina, the walls systems can earn up to 13 points on a project toward National Green Building Certification.
The top-of-the-line Xi wall panels feature steel reinforced concrete and 2 1/2" of DOW® Styrofoam™ insulation to create a permanent barrier against sidewall water penetration. The panels are custom-designed and constructed in a factory-controlled setting. Unique features of the Xi wall panels include:
5,000+ psi concrete;

Horizontal steel rebar inside top and bottom beams;

Vertical steel rebar inside each stud;

Steel-reinforced top bond beams, concrete studs, and footer beams;

Access holes for ease in wiring and plumbing;

Galvanized steel stud facing ready for drywall finishing; and

Insulated corners, studs, and bond beams.
The Superior Walls wall panels are resource-efficient, using up to 70% less concrete in a new structure than conventional concrete walls. Stud facings eliminate the need for additional wood framing prior to interior finishing. Using fewer materials helps reduce the carbon footprint of the new building's construction process.
For more information Elm Construction & Design visit www.elmconstruction.com. Additional details on Superior Walls by North Carolina, an authorized dealer of Superior Walls, can be found at www.superiorwallsnc.com. And, details on the new Asheville Yoga Center project are located at www.youryoga.com.

Available nationwide through licensees in a variety of states, Superior Walls foundations have been installed since 1981 when the company introduced the original R-5 Superior Walls precast foundation system. Superior Walls products are the first and only foundation systems to have attained the Green Approved Product designation by the NAHB Research Center, earning builders points on a project toward a National Green Building Certification. The company is a member of the International Code Council and the US Green Building Council. For more information, call 1-800-452-9255 or visit www.superiorwalls.com
Website: www.superiorwalls.com
Latest from Superior Walls