Sizzlin' Cool Activities for Basement Life
While temperatures soar outside, families can discover a cool way to beat the summer heat in climate-controlled basements constructed of pre-cast concrete foundations by Superior Walls.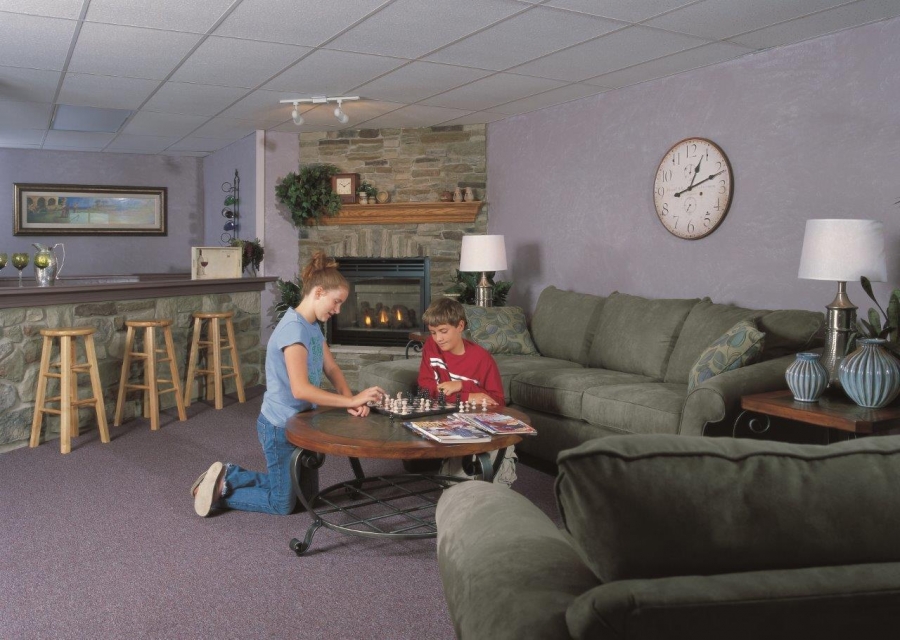 "The energy efficiency of Superior Walls basements really shines through during the hot summer days," says Jim Costello, president of Superior Walls. "Choosing a precast Xi™ or Xi Plus™ concrete foundation can make a tremendous difference in energy savings for a homeowner and provide a comfortable, damp-free basement that's ideal for family activities throughout the year."
Costello recalls homeowners have told him that to "beat the summer heat" they've hunkered down in their comfortable pre-cast concrete basements to work on family hobbies, puzzles and crafts. "One couple told us that they host movie and game nights in their basement for all the kids in the neighborhood," says Costello. "They've set up a ping pong table in the basement, have a dedicated large-screen television viewing area and also offer up board games. This has become the 'summertime cool spot' of activity for the family's teenagers and their friends."
In speaking with builders across the country who have installed Superior Walls basements, Costello has discovered additional "active living" uses for basements, including:
Adult relaxation zone --- including pool table, wet bar, air hockey and comfy seating areas

Wine cellar and tasting area, complete with a bar area and sound system

Woodworker shop area for serious woodworkers

Home spa with gym equipment, massage chairs and an extra bathroom

De-clutter zone for laundry and storage
"There's nothing like the feeling of having extra living space in your home," says Costello. "Whether you designate the space as a 'children zone' to remove clutter and noise from the rest of the house or use the space as a 'hobby room,' livable basements enhance our lives and homes.
"Having basement space that's comfortable and functional makes so much sense for homeowners. By making the right decisions at the time of construction to use pre-cast insulated foundation systems, homeowners are making a long-term investment in their family's happiness and in the resale value of their house."
As opposed to concrete blocks or poured concrete, precast concrete panels by Superior Walls are created in the manufacturing process with DOW® Styrofoam™ or ThermaRigid foam insulation. The resulting wall panels provide a dry, comfortable, damp-resistant and exceptionally energy-efficient foundation for a home.
Superior Walls insulated precast concrete wall systems have earned the Green Approved Product designation by the National Association of Home Builders (NAHB) Research Center. For homeowners, the benefits of Superior Walls foundations systems are substantial. The energy-efficient walls help lower energy costs and reduce energy leakage while providing increased living space in a comfortable setting. Builders also benefit from saved job site time and labor when certified Superior Walls installation crews set the walls in place in less than one day, so that home construction can immediately begin the following day.
Each Superior Walls panel is custom made to the specifications of an individual home, including built-in openings for windows and doors. Pre-engineered access for wiring or small plumbing elements along with smart stud facing for easy drywall installation are included and help speed up the installation process.
For more information visit superiorwalls.com.

Available nationwide through licensees in a variety of states, Superior Walls foundations have been installed since 1981 when the company introduced the original R-5 Superior Walls precast foundation system. Superior Walls products are the first and only foundation systems to have attained the Green Approved Product designation by the NAHB Research Center, earning builders points on a project toward a National Green Building Certification. The company is a member of the International Code Council and the US Green Building Council. For more information, call 1-800-452-9255 or visit www.superiorwalls.com
Website: www.superiorwalls.com
Latest from Superior Walls