Speed is King for Builders
Time is money. And, on the jobsite, saving time equates to saving big bucks for builders. However, no builder wants to sacrifice quality for speed --- which is why foundation systems from Superior Walls have become so popular for home builders.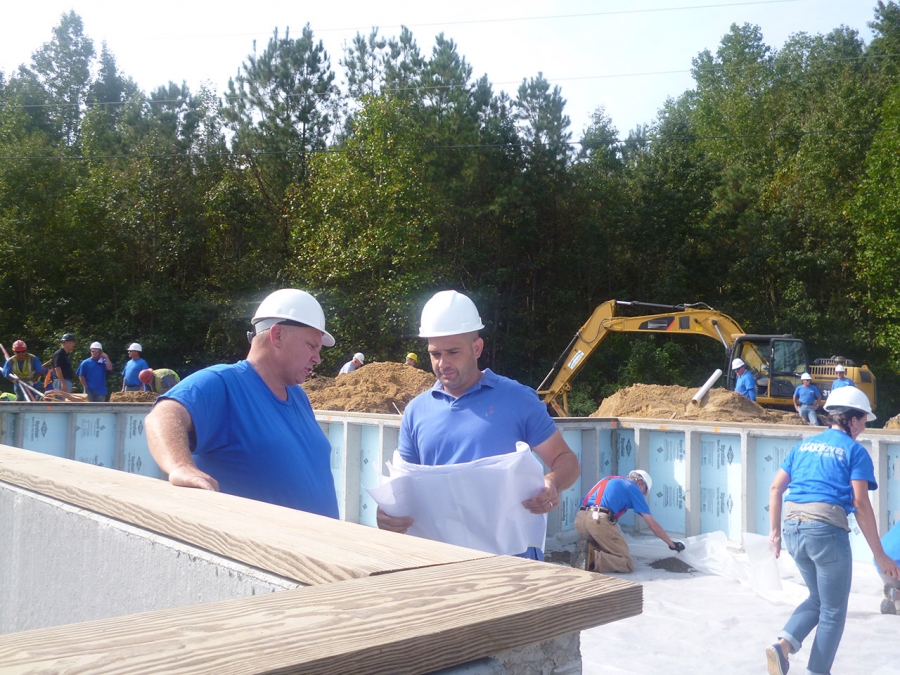 "By using pre-cast concrete foundation systems from Superior Walls we can save about 30 days on construction time," says Fabian Sparrow of Carolina Custom Homes of Burlington in N.C. "The system is created at the Superior Walls facility and then installed by cranes in just one day. The fact that the precast concrete walls come pre-studded and insulated saves us about 5 to 10 percent in costs over traditional block foundation. The result is we get a stronger, smarter foundation for our homes."
In Pennsylvania, EGStoltzfus Homes, LLC has installed more than 2,000 energy-efficient Superior Walls foundations systems. What keeps bringing the builder back to Superior Walls? The company's consistent top-quality product and time-savings offered on the jobsite.
"We truly believe that Superior Walls gives our homebuyers a better foundation for the home structure than other commonly-used foundation systems," says Andy Toms, who serves as Director of Production at EGStoltzfus Homes, LLC in Lancaster, Pa. "And, the fact that the foundations come to the jobsite and can be set in place in a day is extremely beneficial. That saves us time and allows us to deliver our homes on schedule while providing our homeowner with an exceptional value."
Builder Timothy Koontz agrees with Toms and says his biggest pleasure when initially requesting Superior Walls foundations systems was how much time he saved on the jobsite.
"We saved more than a week of time by starting the construction process using these custom-made prefabricated foundation walls," says Koontz, president of Dale Koontz Builder, Inc. out of Quincy, Ill. "The crew from Superior Walls installed the entire foundation in about six hours. That saved time translates to money in our pockets with the extra bonus that we're using a more environmentally-friendly product than we have in the past."
The ultimate proof that "speed is king" came several years ago when the popular ABC-TV show Extreme Makeover: Home Edition chose Superior Walls as a sponsor for several seasons. In homes that had to be constructed from start-to-finish in just seven days, the time-saving aspects of Superior Walls foundations were a lifesaver.
"The impressive Superior Walls products we used as the foundations for our homes perfectly fit with our goals for the show," said David Bohler, director of construction for Extreme Makeover: Home Edition. "In addition to being an exceptionally green, energy-efficient product, the speedy installation process for Superior Walls systems matched up with our time-crunch schedule for the show."
Understanding Superior Walls Products
Superior Walls Xi wall panels feature steel reinforced concrete and 2-1/2-inches of DOW® Styrofoam™ insulation. Unique features of the Xi wall panels include:
5,000+ PSI concrete

Steel-reinforced top bond beams, concrete studs and footer beams

Horizontal steel rebar inside top and bottom beams

Vertical steel rebar inside each stud

Access holes for ease in wiring and plumbing

Galvanized steel stud facing ready for drywall finishing

Insulated corners, studs and bond beams
Installation Advantages
Superior Walls panels are manufactured in a climate-controlled environment and then delivered to new home job sites on special carriers. Cranes are used to carefully lower the custom walls onto a bed of clean, crushed stone, where the panels are installed by specially trained, factory-certified crews.
Fast installation (usually in less than one day) allows builders to begin construction on the home the same day. Superior Walls panels are custom made for each home complete with built-in openings for windows and doors, pre-engineered access for wiring or small plumbing elements and with smart stud facings for easy drywall installation.
Superior Walls products are resource efficient, using up to 70 percent less concrete in a new home than conventional foundations. The energy-efficient walls help lower energy costs and reduce energy leakage while providing increased living space in a comfortable setting. For details visit superiorwalls.com.

Available nationwide through licensees in a variety of states, Superior Walls foundations have been installed since 1981 when the company introduced the original R-5 Superior Walls precast foundation system. Superior Walls products are the first and only foundation systems to have attained the Green Approved Product designation by the NAHB Research Center, earning builders points on a project toward a National Green Building Certification. The company is a member of the International Code Council and the US Green Building Council. For more information, call 1-800-452-9255 or visit www.superiorwalls.com
Website: www.superiorwalls.com
Latest from Superior Walls