Commuter Colleges Transition through Structural Changes
BRB Architects' design for a new campus center at Molloy College is representative of a larger trend in campus planning: the shift from a commuter-only campus to a 24/7 community.
A commuter college is a college in which most students do not live in dormitories but commute from homes nearby. Community colleges are a common type of commuter college, but many private and smaller colleges and universities also fall into this category. In the past, students of commuter colleges have been present on campus only briefly as they attended classes; they would go elsewhere else to eat, lounge, study, and socialize. Now the atmosphere of many commuter colleges mirrors that of a more traditional college or university environment, where students do not just go to college to attend class but may meet with other students on campus for collaborative projects or simply for recreational purposes. As students begin to spend more time on campus and academic and social lives become increasingly integrated, the need for structural changes on many campuses has become more apparent.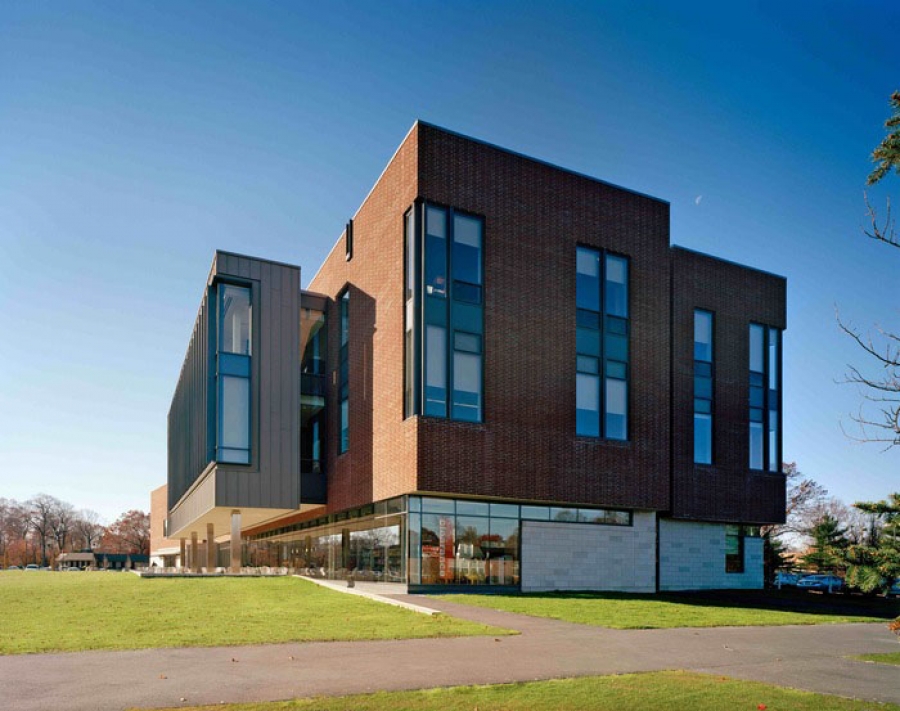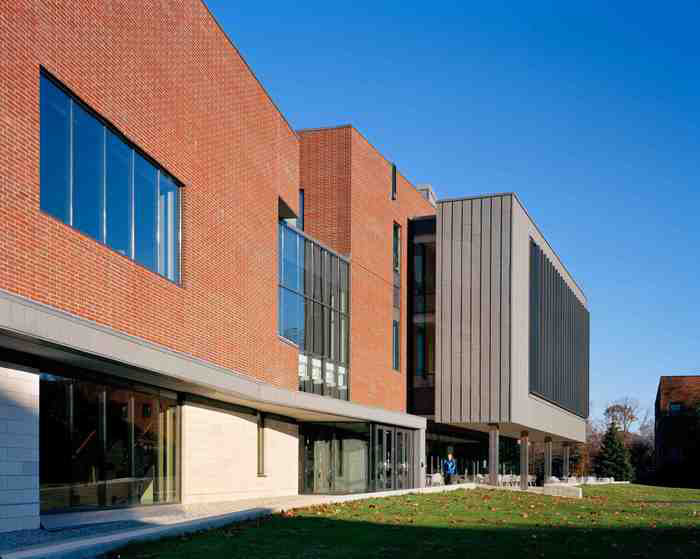 Many commuter colleges across the nation are taking steps to create a welcoming environment that fosters learning, professional development, and social connections. Therefore, current architectural projects not only support the trend of having more students on campus, but they are also helping to shape this trend as well. The number of students enrolled in commuter colleges is steadily rising, according to the Office of Vocational and Adult Education. Of course, all credit cannot be given to structural expansion, although it is definitely a contributing factor. Increases in classroom sizes, the creation of more dormitories, and the development of student centers have fostered increased enrollment, and an added public perception of prestige, for many commuter colleges. In addition to creating a sense of community for students, these trends often lead to new structural and architectural expansion needs.
As part of an effort to transition from a commuter college to a 24-hour learning community, Molloy College, a private college located in Rockville Centre, New York, added a 57,000 sq. ft. campus center – the "Public Square," designed by BRB Architects.
"Molloy was a commuter school," says Mark Maljanian, BRB Architects project designer for the Molloy College project. "The population that they drew was students who lived close enough to commute to the school. There was also very little unprogrammed space for students and very little space outside of the library for students to study on campus," Maljanian says.
A Functional Solution
When BRB Architects set out to design the campus center, functionality and transformation were the main objectives. "We tend to work on a resolving-an-issue basis as opposed to divine inspiration," Maljanian says. The main issue that needed to be resolved was the need for an "outdoor space and indoor space that was still a part of that outdoor space," according to Maljanian. BRB Architects achieved this objective by creating a building around a quadrangular outdoor space, which the school did not yet have.
The new campus center features lounges, study rooms, an art gallery, cafés, a bookstore, private offices, a student club area, music rehearsal rooms, and a 550-seat theater, which are organized in three layers. Open-ended circulation spines separate the three layers, creating a visual connection between the spaces of the center. The majority of the spaces and amenities in the center were new to the school, with the exception of some office space and music practice rooms that were replaced. The school also previously had a theater, but the new theater, which takes up approximately one-third of the center's space, was an improvement for the school. The overall goal was to "upgrade, consolidate, and create better functionality," Maljanian says.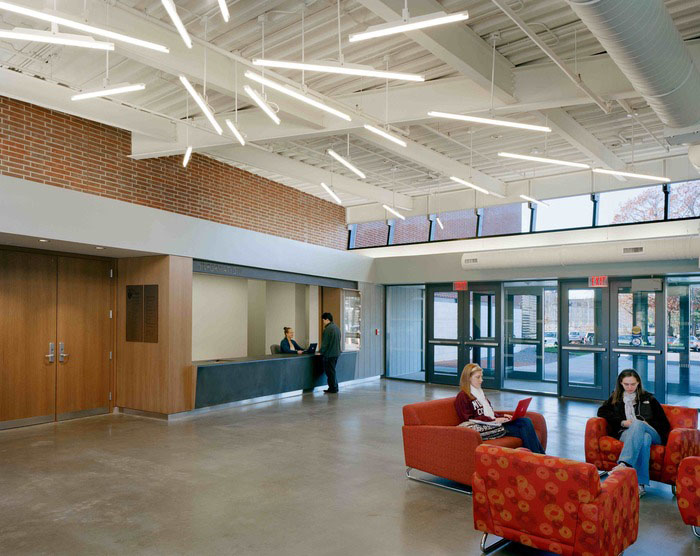 Private and public spaces were strategically placed throughout the center to create a feeling of unity between indoor and outdoor spaces. Private spaces, such as offices, were placed on the west end of the building, and public spaces were placed on the east end, which overlooks the quadrangle. Public spaces feature large windows "so when you're indoors studying you are still a part of what's going on outdoors," Maljanian says. A 156-bed Residence Hall with outdoor space and a study lounge was also added to the campus.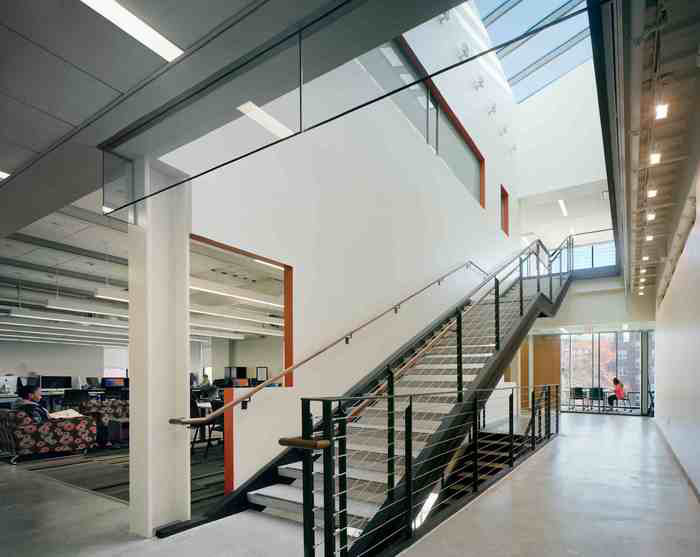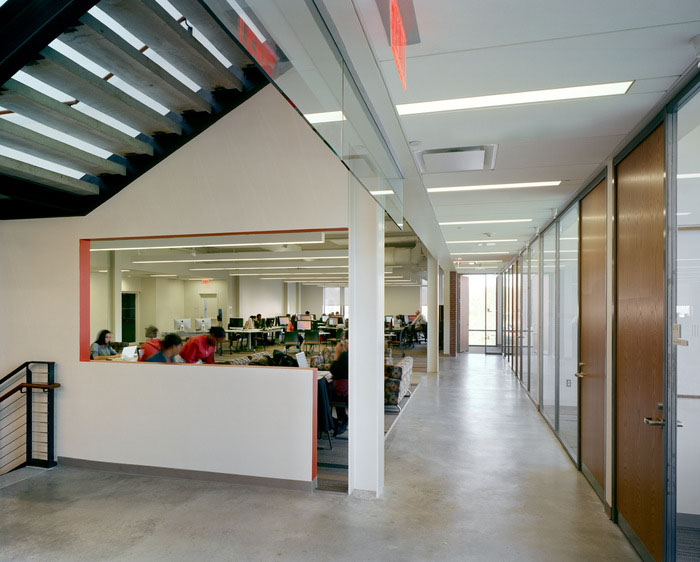 "Now [students] have a place to call their own," Maljanian says. "The combination of the two buildings creates an atmosphere where students hang out until 10 o'clock at night. Students are staying on campus and socializing with other commuters instead of going home – and this is due to the addition of the campus center," Maljanian says.
Sustainability Meets Functionality
BRB Architects conducted an extensive environmental impact analysis during the seven-year process. Additionally, the architectural firm incorporated many sustainable features to reduce the center's energy use. Daylighting was used to minimize the need for artificial lighting. Private offices with large windows and a skylit atrium maximize natural light. Glass and zinc line the east end of the building where study spaces are located and also help with daylighting efforts. An efficient HVAC system with a heat recovery cycle also helps keep the center's energy use low.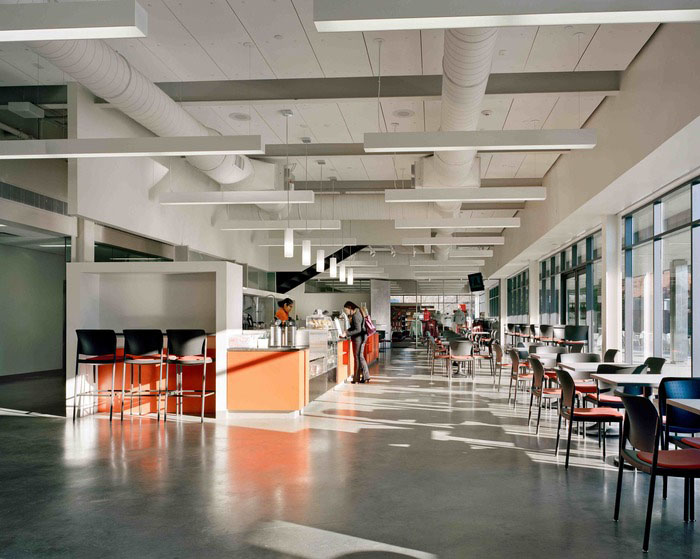 Other sustainable objectives were "minimizing stormwater runoff and heat absorption in parking areas and on roofs; ensuring good air quality; maximizing daylight and views; reducing water and energy usage; constructing with regionally obtained materials and using low-emitting paints, carpeting, and composite wood products; and providing for day-to-day healthy operation and maintenance," according to a BRB Architects press release. LEED certification for the project is pending.
Room for Growth
The campus center was designed to meet the college's current needs, but the building was designed with flexibility in mind to enable use of the space for multiple purposes now and to support future growth. The Information Commons, located in the center section of the building, contains easily movable furniture so the space can support seminars or many other classroom formats. "What they get in that space is a mix," Maljanian says. "Students can work with others in the academic community. It also supports student club activities and contains an art gallery and a 1,500-sq. ft. multipurpose space." The middle section was also built with sheet rock, which can be reconfigured in the future to support either new purposes or expansion.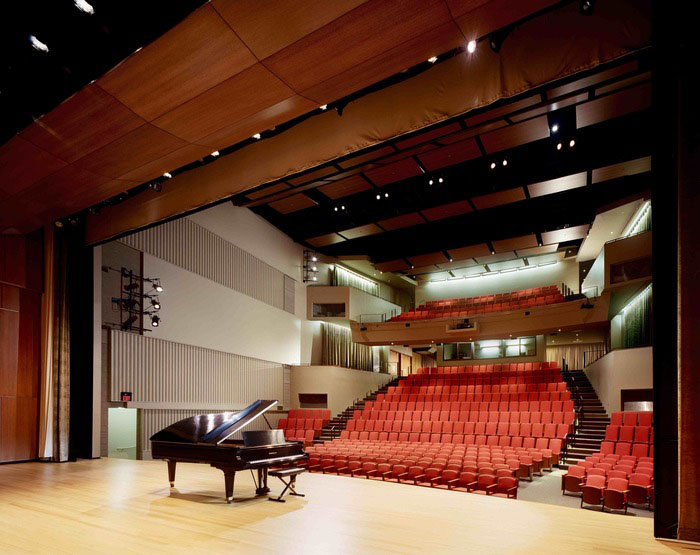 J. Mariah Brown is a technical research writer and the owner of Writings by Design, a comprehensive business writing service company that specializes in business development, promotion, and client outreach. She has worked in a variety of technical and non-technical industries including, but not limited to, Government, Non-Profit, Engineering, Translation and Interpretation, Christian and Women's Publications, and Fashion and Beauty. She is a graduate of the prestigious E.W. Scripps School of Journalism at Ohio University and is currently pursuing a master's degree from Gonzaga University in Communication and Organizational Leadership.
Latest from J. Mariah Brown