The Daily Life of Building Information Modeling (BIM)
AEC professionals have a new technology platform to support the old-fashioned notion of planning ahead. Building Information Modeling (BIM) is bringing a sea change to the industry's workflow by facilitating a previously impossible degree of planning, coordination, and communication.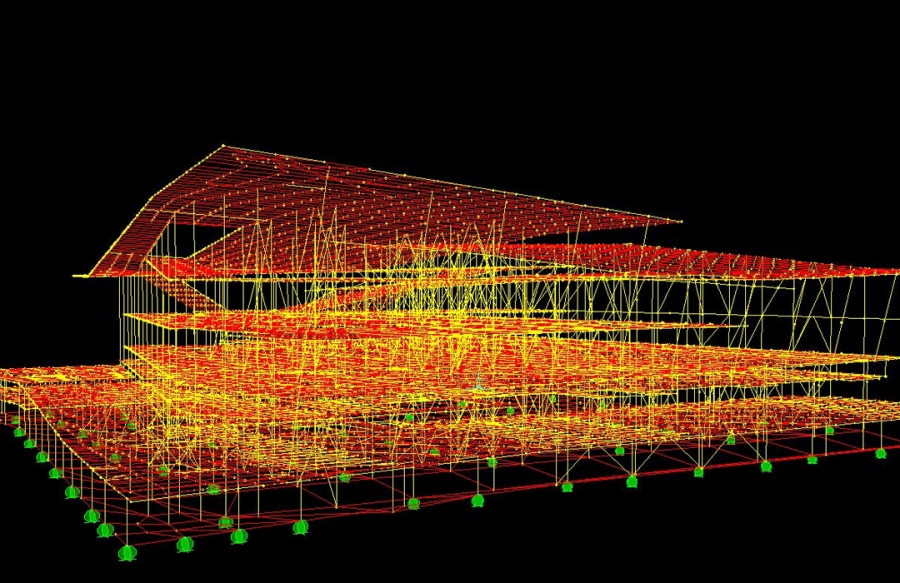 "Building Information Modeling (BIM) is an integrated process for exploring a project's key physical and functional characteristics digitally before it's built, helping to deliver projects faster and more economically, while minimizing environmental impact," says Paul Sullivan, Senior Public Relations Manager at Autodesk, the company that conceptualized and developed BIM. Continues Sullivan, "Coordinated, consistent information is used throughout the process to design innovative projects, better visualize and simulate real-world appearance, performance and cost, and create more accurate documentation." There is a family of products that fit under the BIM umbrella; when used in conjunction, the various softwares help designers create a 3D digital model of a building while also providing 4D information (coordinating schedules and resolving timing issues) and 5D information (incorporating cost estimating). Incremental data input by all team members creates a feedback loop that streamlines project delivery.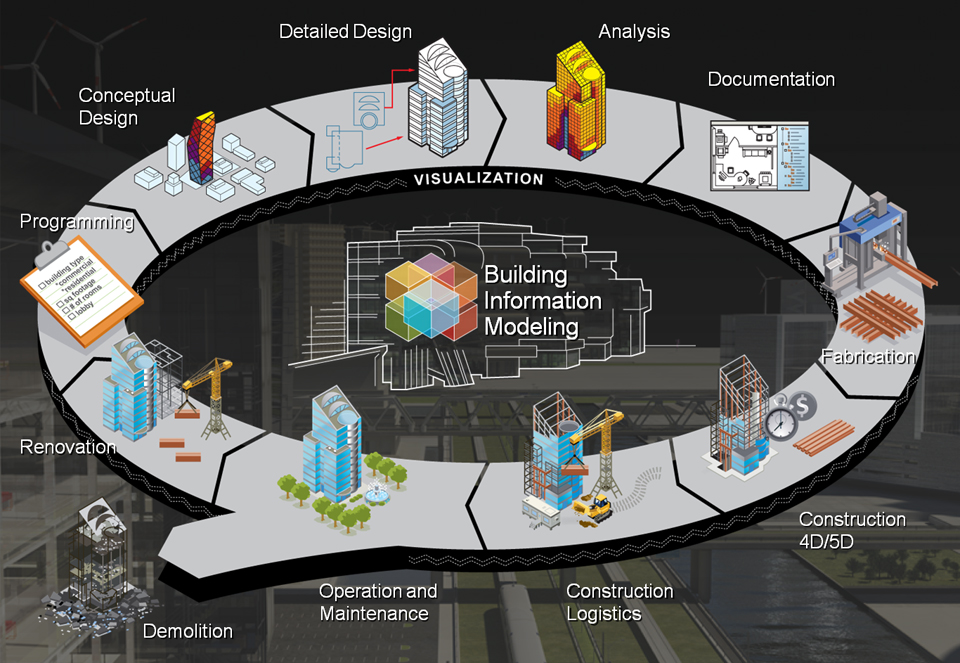 "We can carry information downstream all the way through to the operation and maintenance phases of the building's life-cycle," says Brian Skripac, BIM Technology Manager for DesignGroup in Columbus, Ohio. DesignGroup has been using Autodesk's Revit Architecture software since 2005 and is also this year's winner of the Autodesk BIM Experience Award, which recognizes professionals around the world who are driving industry transformation through BIM. Says Skripac, "With BIM, change once is change everywhere. In the old days of AutoCAD, changes had to be made in multiple places. Now, for example, if a doors location or type is modified in plan that change is propagated throughout all views of the model. Not only is the door updated in plan, section, elevation, and any three dimensional views it is seen in, but items like the door schedule and any attached quantity information will be corrected as well."
A Sea Change in the Process
"We end up with more complete construction documents at a higher level of coordination than ever before. We've seen a decrease in RFI's and change orders, so this eliminates the time spent tracking details. We can spend more time focusing on designing itself." Brian Skripac, BIM Technology Manager for DesignGroup

Integrated Project Delivery (IPD), the newest form of partnership between AEC professionals, is the larger framework for change, although currently most BIM projects are still implemented as part of a design-bid-build workflow. The key benefit to using BIM is that it eliminates many of the inefficiencies associated with the traditional building process. Moving from the design concept through building completion used to function as a relay of information. For example, each successive group of professionals would make modifications to the structure being built; in essence, this nullified all previous documents, and the only authoritative set of final drawings was the as-built set. Now the model continues to grow and incorporate changes, becoming more data-rich as the process goes along.
Another example of eliminated inefficiencies is in scheduling. Navisworks clash detection software is a powerful component of BIM. "It not only aggregates multiple vendors' programs, it also identifies clashes and conflicts so that AEC firms can remedy them before the project is built," explains Sullivan.
How BIM Works
From the earliest schematic stages of a project's design, DesignGroup works in Revit Architecture to construct the building information model. "As the design develops, we've found that communication with our engineering consultants can occur much sooner," explains Skripac. As each project consultant creates their model, sharing it with other team members creates a live model representing the work of all the design disciplines in one location. When a building section is cut, all of the building systems from the structural framing members to the ductwork and fire protection system are visible. "There is no longer a need for us to redraw our consultants information because it is already there. This interdependency brings the team closer and dramatically increases our collaboration and coordination process because it is continually occurring process, not something that is limited to a particular meeting," says Skripac.
Bob Middlebrooks, Industry Programs Manager for Autodesk, describes the process this way: "Early authoring of the design employs Revit, which creates the basic geometry of a building. Later on, dozens of subcontractors are called in to execute portions of the building. Based upon their proposed solutions, the model continues to develop. So, say, a generic window may show up in the model initially. Eventually, a profile based on a specific manufacturer's model number will show up."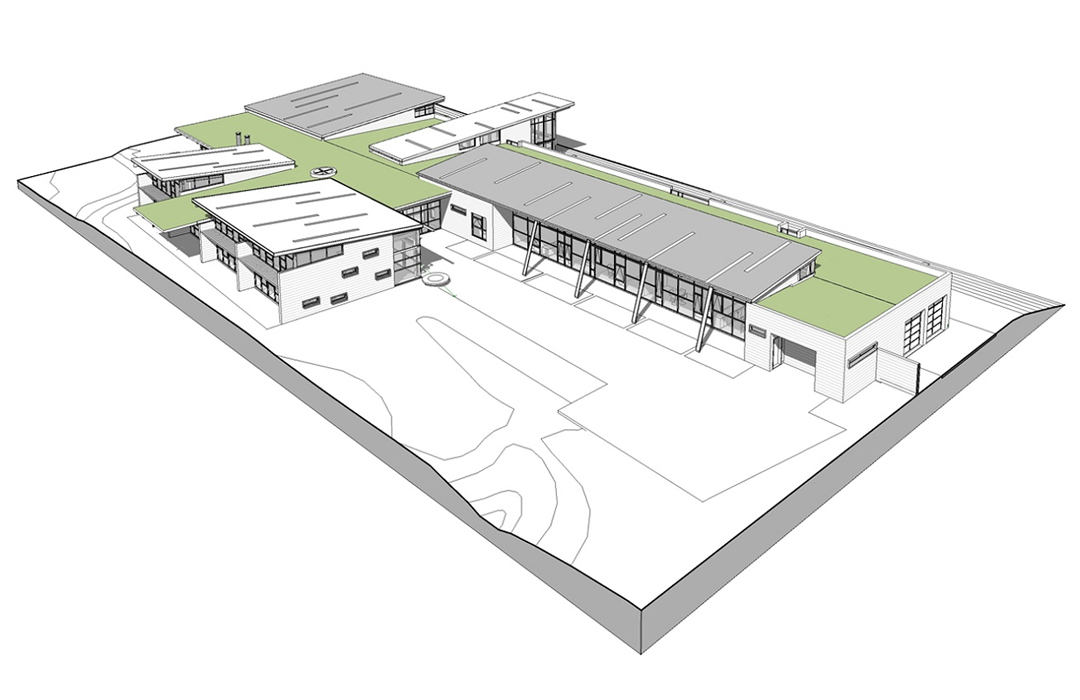 Where Are We in the Adoption Process?
According to the McGraw-Hill SmartMarket Report "The Business Value of BIM," six in 10 of all architects produce BIM models. Architects were the first in the industry to adopt BIM. Also according to the report, half of all contractors now use BIM, four times the number who used it in 2007, and this means that "contractors are gaining ground faster than any other group." This rapid increase in use by professionals other than architects will help to close the loop when it comes to effectively leveraging BIM. Products for mechanical and electrical engineers are the newest to be developed and marketed, according to Middlebrooks, but BIM is also beginning to catch on among engineering professionals.
The payoffs of using BIM are appreciated by the companies who have embraced it. DesignGroup worked with Turner Construction on the Butler Health Systems inpatient tower renovation and expansion in Butler, Pennsylvania. Skripac explains how the BIM data were used by team members: "Everyone would upload a model the day before their weekly coordination meeting, and a utility would run a comparison between trades." That information was then used in the coordination meeting to resolve conflicts.
Having such a refined data set eventually works behind the scenes to improve project flow. "With more design information earlier in the project, BIM allows us to more efficiently meet design deadlines with less work required," says Skripac. "We end up with more complete construction documents at a higher level of coordination than ever before. We've seen a decrease in RFI's and change orders, so this eliminates the time spent tracking details. We can spend more time focusing on designing itself."
More time designing and executing, less time on details… that's a benefit that everyone can appreciate.

Kristin graduated from The Ohio State University in 1988 with a B.S. in architecture and a minor in English literature. Afterward, she moved to Seattle, Washington, and began to work as a freelance design journalist, having regular assignments with Seattle's Daily Journal of Commerce.
After returning to Ohio in 1995, her freelance activities expanded to include writing for trade publications and websites, as well as other forms of electronic media. In 2011, Kristin became the managing editor for Buildipedia.com.
Kristin has been a features writer for Buildipedia.com since January 2010. Some of her articles include:
Latest from Kristin Dispenza