New Bronze Wall-Mount Hardware Offering Greatly Expands Design and Decorating Options
Written by Johnson Hardware
Bronze, a new color in Johnson Hardware's popular Series 2610 Wall-Mount Hardware offering, broadens design and decorating possibilities and makes the hardware compatible with a wider range of architectural styles. It works particularly well as a warming accent in rooms painted in deeper, bolder colors like dark green, burgundy, purple, or brown. The Series 2610FB hardware also is available in aluminum.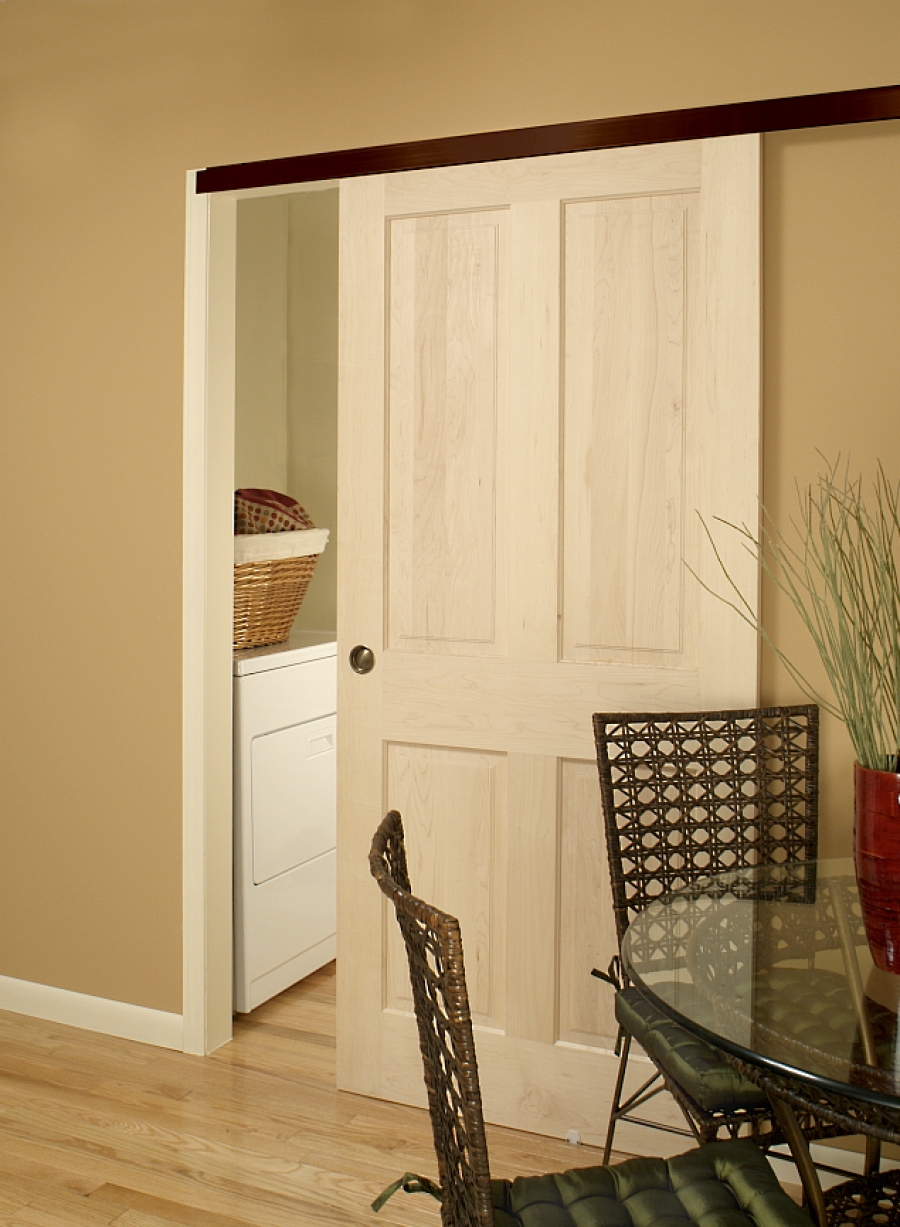 The Series 2610FB has an "outside-mount" track on which one or two doors can be hung. They open and close by sliding along the wall, and, like a pocket door, this saves up to 14 square feet of living space taken by doors that swing open and closed in the conventional way. This is particularly desirable in situations where space is tight – in any room where a conventional swinging door or doors would rob too much space or where a room's layout would encumber the proper functioning of a swinging door. The Series 2610FB hardware also offers an excellent solution in places where installing a pocket door would be impossible – in a brick wall, for instance.
The Series 2610FB hardware set is made for doors up to 1 3/4 inches thick. Its 96-inch track can receive doors from two- to four-feet wide and can be ordered in shorter or longer lengths. It is strong enough to carry doors of any height that weigh up to 200 lbs. each. This allows options such as solid-core doors in Poplar, Red Oak, White Oak, Cherry, Hickory, Ash, Walnut, or Mahogany – doors that make a design statement and create a striking focal point.
The Series 2610FB is an easy-to-install top-hung system, with heavy-duty ball bearing "tricycle" hangers that distribute weight equally. The hangers' machine-turned nylon wheels provide smooth, feather-touch operation, and the door track design makes unwanted wheel jump-offs virtually impossible. The built-in fascia hides the hangers and features an attractive horizontal rib design that can hold paint.
Johnson Hardware is a leading manufacturer of hardware sets used to install a variety of door types, including pocket, bi-fold, multi-fold, sliding, and wall-mount. For more information, please contact the company at 2100 Sterling Ave., Elkhart, IN 46516; 800-837-5664; or on the web at johnsonhardware.com.