Interior Painting: Tips and Techniques
In our last article on DIY painting basics, we discussed setting up an effective workspace and managing the workflow. We're now ready to work, and we'll discuss tips on preparation and finishing your interior painting project. Painting serves two purposes -- to beautify and to protect surfaces. Beautification takes a more prominent role in interior painting than in exterior, where protection is your higher concern. Proper surface preparation is equally important in achieving both purposes. Preparation is the most time-consuming and difficult aspect of any painting job, although it is also the most important. Proper preparation will produce a finish that will look great and last far longer than poor preparation will.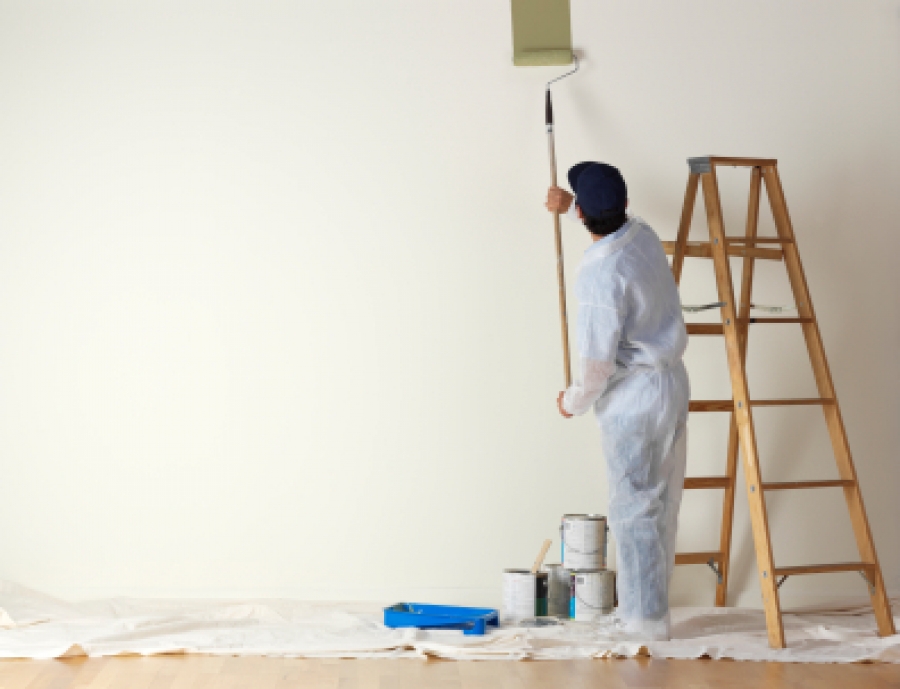 Preparation of Walls and Trim
The primary prep work for interior painting involves getting the wall and ceiling surfaces and trim ready to take the new finish. We'll look at some basic, and often overlooked, steps of surface prep.
Sanding. All trim surfaces must be well sanded. It protects by providing "tooth" to the old surface, which allows the new finish to properly bond, and it beautifies by giving a smooth look and feel to the finished surface. I also like to sand all wall surfaces, which results in smoother walls and makes spackling easier. It's hard to spackle rough surfaces. Give all surfaces a light sanding, with fine paper, between coats of finish.
Wall Repair. I have provided an external link to USG's Gypsum Board Installation and Finish Guide for techniques on working with spackle and wall tools. A tip I will provide ties in with the sanding of the walls. As I'm sanding, I pencil off anything that needs to be repaired, creating a road map to follow when I get to the actual spackling phase. I find this greatly reduces the misses that require attention between coats of finish.
Caulking. Caulk is a versatile product that serves both purposes of painting. Not only does it fill open joints, but also it smoothes out the joints where two surfaces meet. Sometimes, trim/wall and wall/ceiling joints become jagged, which makes cutting a clean line difficult. I routinely run a fine bead of caulk around the whole room to aid in the finish painting, especially when working with high contrast colors. Always work with a wet rag. Caulk can also serve as an adhesive.
Priming. Generally, most interior finishes are self-priming, and will cover areas that require spot priming. However, new drywall and wood should receive a full prime coat. If you're using a sheen finish such as an enamel, use a primer/sealer, which gives enamel holdout (i.e., it doesn't absorb the sheen). All primed surfaces require sanding before finishing. When working with new wood, I prime first; putty the nail holes with lightweight vinyl spackle, overfilling the holes; sand the whole surface smooth; and then caulk. Important Tip: Never caulk any unprimed, bare surface. It will wick the liquid vehicle from the caulk, which will fail.
Preparation creates a lot of dust. It's a good idea to seal doorways and room vents with plastic to control dust flow. Cleanup, like preparation, is a process that continues throughout the job. I'll generally do a rough cleanup when all the bulk prep is done and a more thorough cleanup before applying the second coat of finish. You also will want to have an old paintbrush to use as a duster and dust everything just before applying paint.
Painting the Prepared Surfaces
If our surfaces are properly prepared, our paint will flow better, streak less, and bond more tightly, and our final finished surface will have a much more attractive appearance, while lasting longer. We've finished the harder work. The best general advice I can give is to buy quality paint tools: Don't skimp, as inexpensive tools make work harder while producing inferior results. Saving $4 on a tool that increases labor by one hour is no savings. Also, take your time. Work at a moderate, measured pace.
General Tips When Working with Paint. Set up your "kit." Pour off a quart into a cut pot, an old paint can, or work bucket and use this as your brush paint. This tip applies whether you're cutting in walls or painting a window sash. Never work out of a full gallon. Pour some into your rolling pan. If some time passes before you roll, cover the pan with some plastic to prevent skinning. After pouring, wipe the rim and sides of the can with your brush. When brushing, dip the brush in halfway or less and tap it back and forth inside the can. Don't wipe the brush against the rim, as this defeats the function of the brush. Clean your brush from time to time to keep it fresh. If the paint gets dirty, strain it through a strainer or old nylons to remove the debris.

General Tips When Rolling Paint.

Contrary to what you see on television, you start in one corner and roll to the next. Personally, I cut the whole room at once and then roll, and I've never had a problem. Since paint may spatter, keep your drop cloths tight to the wall and wipe the top of the baseboard as you go. To avoid hitting the ceiling with the roller, choke up on the pole and set your stance so that, even with your arms fully extended, the roller stops just short of the ceiling. Because some colors reflect light differently when rolled rather than when brushed (which is called "hatbanding"), I try to roll as close as I can against verticals, like doorframes, and keep my rolled line uniform across the top and bottom of the wall. You can't beat it, so just adjust and minimize the distraction. Roll at a moderate and measured pace.

General Tips When Painting Trim.

Firstly, compartmentalize the trim as a series of parts that get tied together. For example, when I paint baseboard, I fill in the joint between the top molding and the face, then I cut the top molding to the wall, then I cut the shoe mould to the floor, and then I fill in the face area connecting my two cuts. Then I slide across the floor to the next section, always brushing back into the previous section. When painting doorframes, I don't paint the bottom couple of inches until I do the baseboard. If you go to the floor on doorframes, you pick up carpet fibers and dust, which is redeposited on your frames. When painting shoe molding that is tight to a wood floor, take the paint 1/16" onto the floor. When the base is done, your eye won't be able to determine where one stops and the other starts. A cut line is more forgiving of faults in its location than in its deviations: this rule also applies to lines at the ceiling.
The goal is always to make the work easier and increase the quality of output. These tips and tricks will remove a lot of the chore and headaches from your job.

Joe Sheridan has been actively involved in the painting business, a generational trade in his family, for most of his adult life. He has worked most facets of the business, and currently runs a small paint contracting business, J.A. Sheridan Painting, in the Cape May, NJ/South Jersey area. He is now using his experience to benefit homeowners in their projects, and in their dealings with painting contractors.
Website: www.diypaintingguide.org/
Latest from Joe Sheridan