Stained Glass: Painting The Light
In many historic homes, especially ones that date from the Victorian era, one of the most eye-catching design features is a stained glass window. These classic elements recapture the elegance and luxury of days gone by, but the beauty of stained glass is no longer restricted to older homes. Many manufacturers nationwide offer an extensive range of modern stained glass products to suit the needs of any homeowner.
The term "stained glass" actually refers to glass that has been painted and then fired; traditional works are constructed from pieces of cut glass that are set into lead channeling to form a pattern. Most of what we see today is really art glass, although some artisans still practice traditional methods.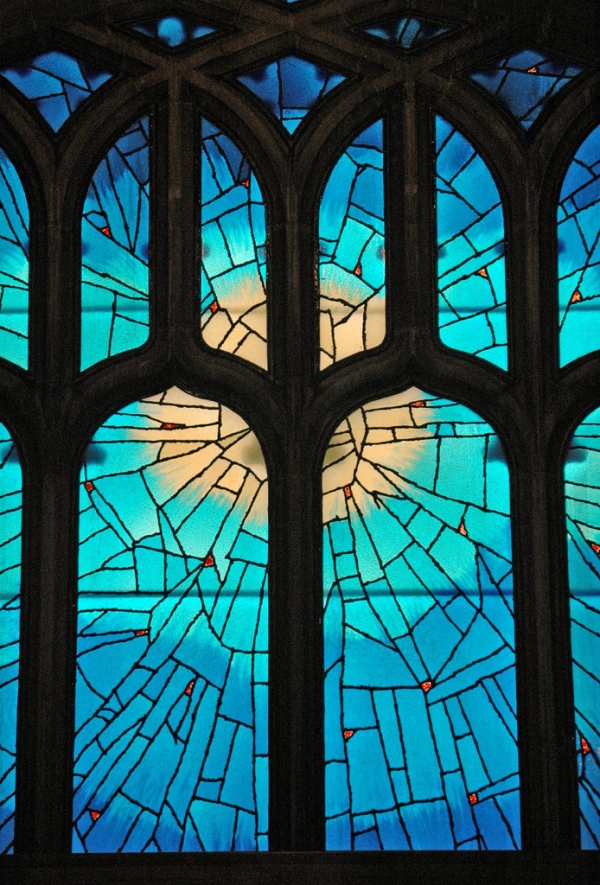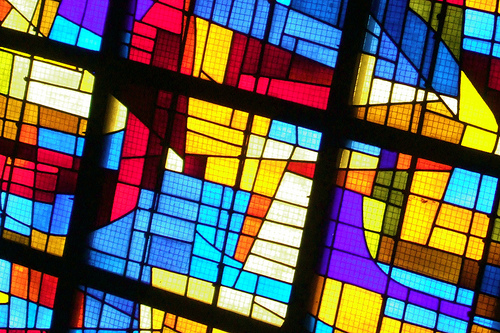 About three decades ago, an updated technique for producing art glass was developed. Termed overlay, it involves bonding optically clear adhesives or beveled 'jewels' to a single pane of glass, then applying lead caming. (A came is a slender lead bar, with or without grooves.) These products are still handmade, and the finished effect is very similar to traditional stained glass. Overlay can be used on modern windows, maintaining thermal efficiency and avoiding the structural complexities involved with installing true leaded glass.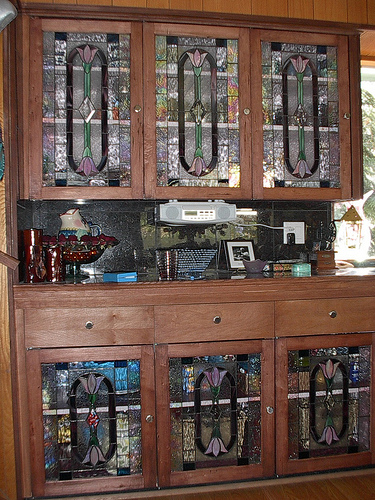 Where can art glass be used? While it is still most commonly used for familiar applications such as door sidelights and bathroom windows -- where the privacy it affords is as important a feature as its beauty -- art glass can be adapted to fit almost any space. Increasingly, it is used in cabinetry doors, as an accent around mirrors, and even in light fixtures. The design as well as the color palette of an art glass piece is easily personalized; most shops will work from drawings, photos or color samples to fashion a product that is uniquely yours. And if you want a really personal touch, look in your area to see if any private studios or educational institutions offer classes in which you can learn to construct your own stained glass window.
alt=""
A video collection of contemporary leaded stained glass windows created by Willet Hauser Architectural Glass, Inc.
alt=""
Segment from John Ratzenberger's Made In America program featuring Franklin Art Glass from Columbus, OH
In determining the value of investing in art glass, don't forget that it may offset other decorating costs. For example, art glass can be used to fill in odd-sized openings that would otherwise require expensive, custom window coverings.
If you like the look of stained glass but don't have a place for a permanent installation, many styles of freestanding elements are available, such as room dividers, fireplace screens, and hanging panels. Most stained glass artisans also make lines of smaller decorative or sculptural objects. Especially popular is stained glass garden art, including benches, garden stakes, and stepping stones.
For additional information about incorporating stained glass into your next project, start at the Stained Glass Association of America website for the latest industry news and a comprehensive Sourcebook for designing, detailing, fabricating and installing stained glass. Or visit StainedGlassville.com for a community devoted to the construction and restoration of stained glass windows and art.
And let us know what you think. Post your thoughts and comments below or share your recent success stories and images with stained glass.

Kristin graduated from The Ohio State University in 1988 with a B.S. in architecture and a minor in English literature. Afterward, she moved to Seattle, Washington, and began to work as a freelance design journalist, having regular assignments with Seattle's Daily Journal of Commerce.
After returning to Ohio in 1995, her freelance activities expanded to include writing for trade publications and websites, as well as other forms of electronic media. In 2011, Kristin became the managing editor for Buildipedia.com.
Kristin has been a features writer for Buildipedia.com since January 2010. Some of her articles include:
Latest from Kristin Dispenza