Installing insulated siding on an older home may be the best way to up its R-value.
My first encounter with insulated siding (or IS as it's known in the trades) came while visiting the Raritan Inn, a bed-and-breakfast in New Jersey that was remodeled by a pioneer in energy-efficient and innovative "green" construction, Bill Asdal. The Raritan Inn serves as a research center and a showpiece of deep-energy remodeling. In 2003, Asdal, in partnership with the Department of Energy (DOE) and the National Association of Homebuilders (NAHB) Research Center, pioneered the first net-zero energy remodeling project in the United States. The structure was clad with insulated siding in an effort to achieve the highest R-values possible within the limits of remodeling an 18th century structure. What I noticed was not the R-value but the aesthetic quality. The siding had a clapboard profile and it lay flat, lacking the usual telling concave cup of most vinyl siding.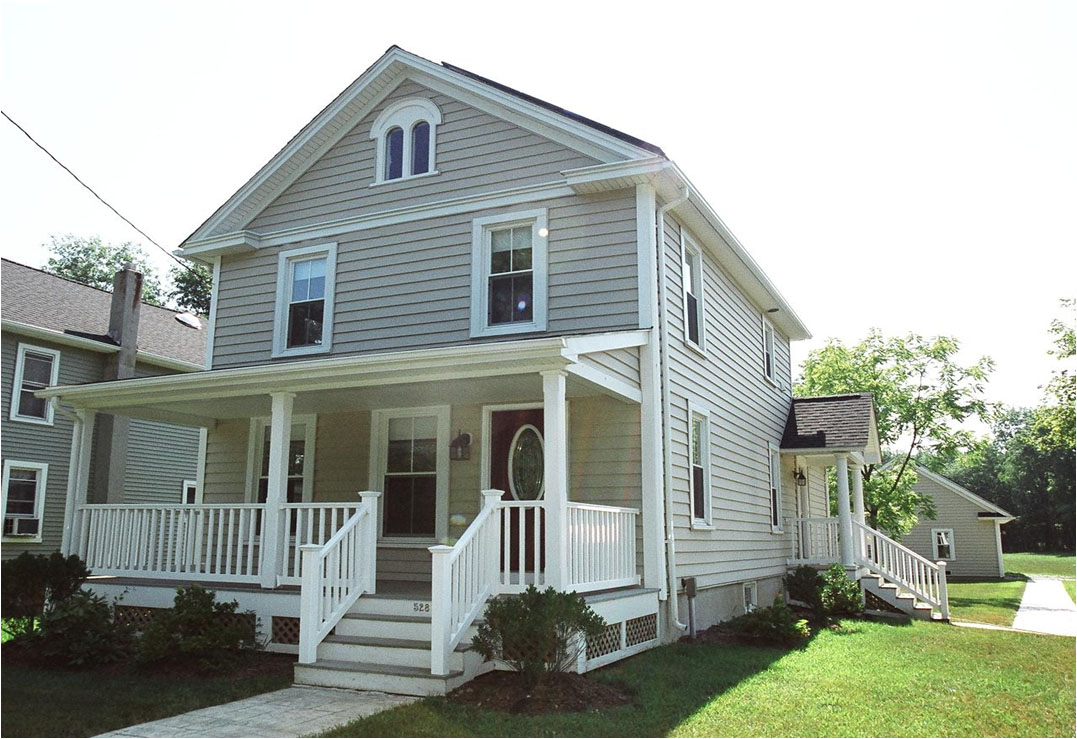 Clad with insulated siding, the innkeeper's house at the Raritan Inn is a 19th century, two-story, 1,500-square-foot home sited among a cluster of rundown structures on a 24-acre Victorian farmstead in Califon, NJ. It became the nation's first rehabbed net-zero energy home after the renovation was completed .
The strongest case for insulated siding may come with its value as a home performance-enhancing material, especially in remodeling, where 2 x 4 walls allow for only so much insulation. To wit, the 2012 International Energy Conservation Code (IECC) addresses how insulated siding can be used as continuous, exterior insulation to provide the required total wall R-value for buildings even in the coldest climate zones. However, the improved aesthetics for vinyl, fiber cement, composite fiber, and aluminum siding deserve notice, too.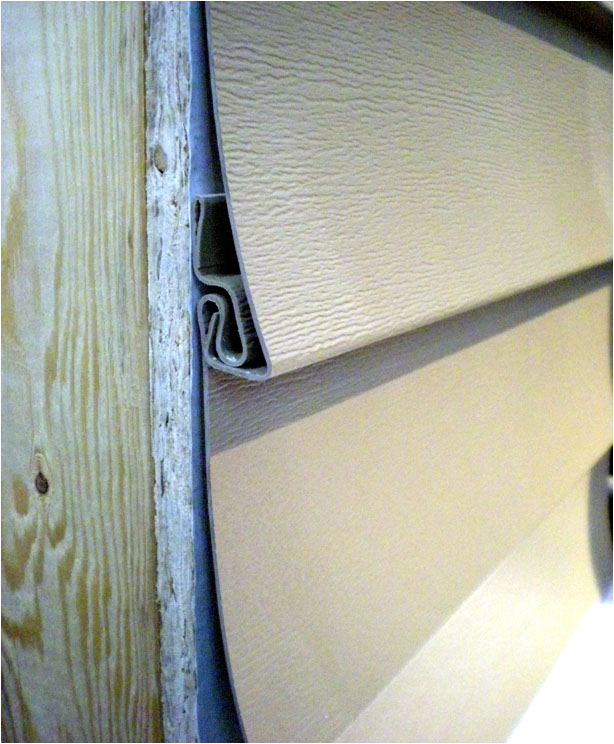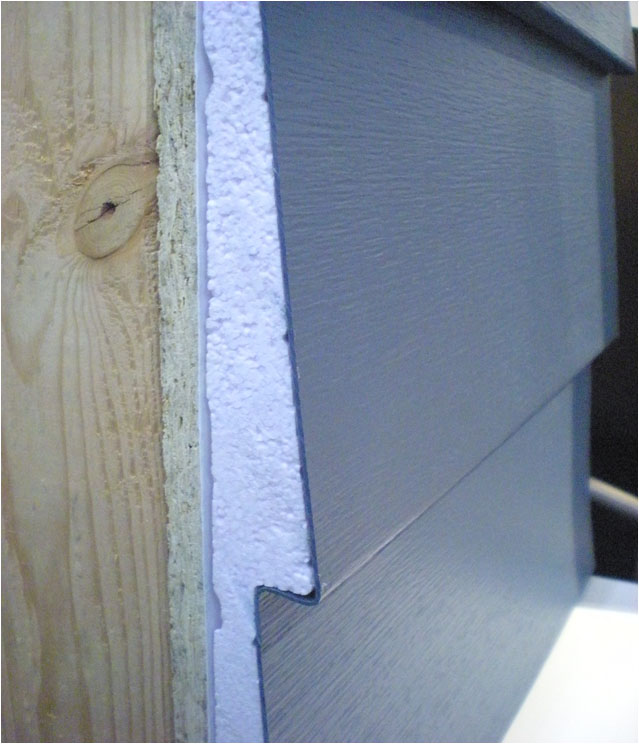 In a side-by-side comparison, it's easy to see the difference in profile between traditional vinyl siding (on the left) and insulated siding (on the right). Insulated siding  lays flat, with no cupping, and has sharper edge lines made possible by the structural foam backing laminated to the vinyl face.
Although now becoming widespread, insulated siding was introduced in 1990, first as a contoured insulating sheathing that was an improvement over fan-folded insulation  (3/16" to 3/8" thick foam sheets, 4' tall and 50' long, fan-folded into 25 4' x 2' sheets) and was used by siding installers to level old sheathing or even existing siding before overlaying with new. The contoured sheathing was introduced as backing that helped to stiffen vinyl and aluminum siding, improving its appearance, reducing the percussive sound that loose siding sometimes makes when wind causes it to flap against the structure, improving impact resistance, and providing insulation.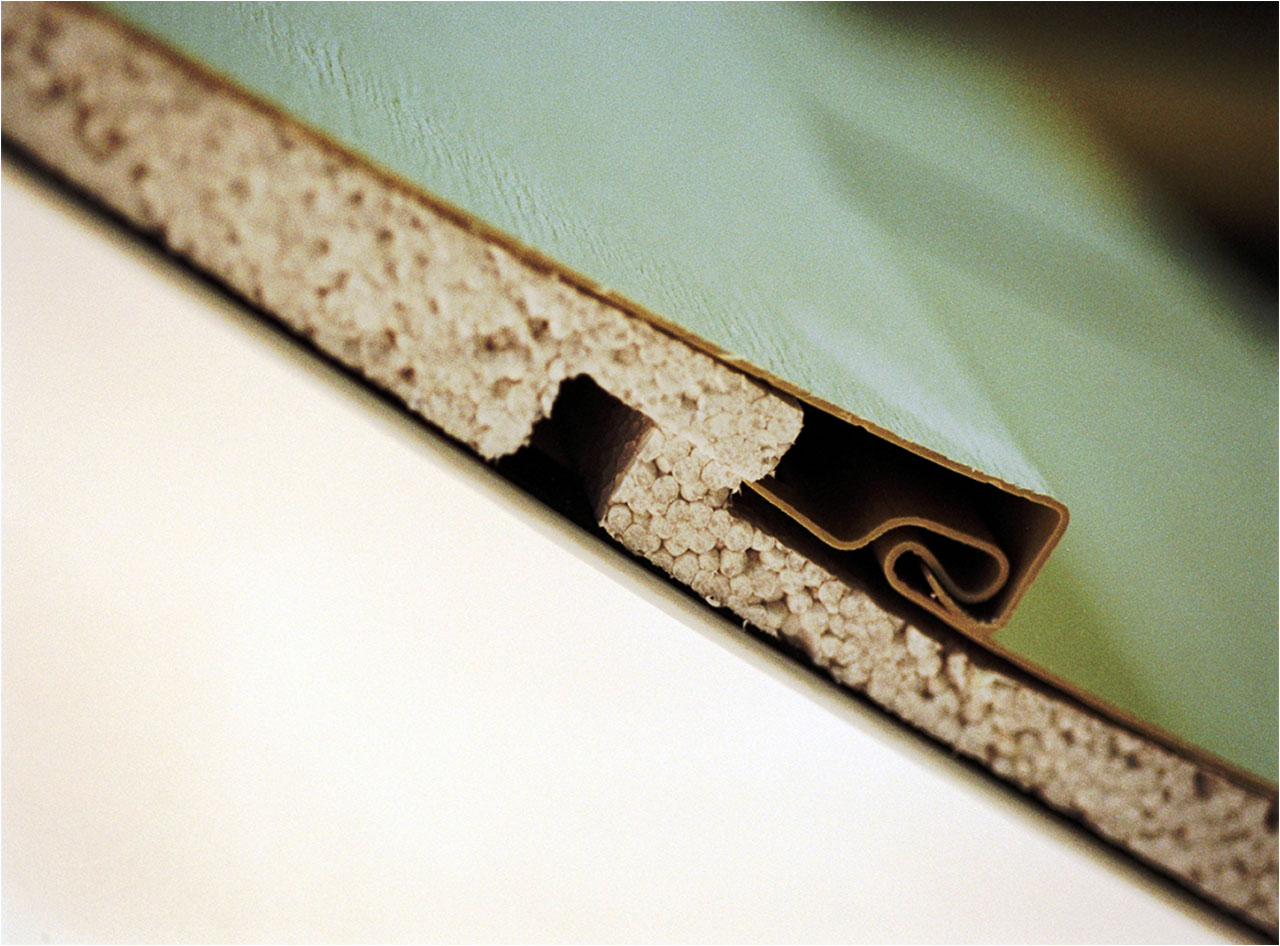 Contoured insulated sheathing is either designed to go under specific products, such as fiber cement clapboards, or as a universal siding underlayment (pictured) that fits a wide variety of products.
Nowadays, contoured insulated sheathing is designed to be installed behind specific vinyl, steel, fiber cement, or composite wood sidings. Universal siding insulation products also exist that are not brand-specific. These are flat, foam sheathing products with ship-lap edges. Another feature available on some products is enhanced moisture management through the addition of drainage channels on the interior face of the product.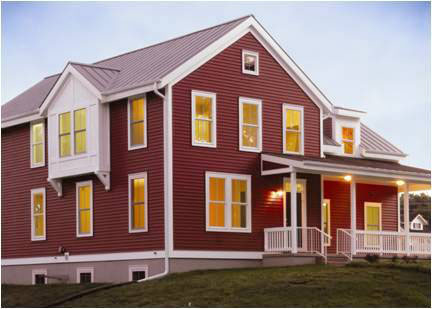 The author's 2007 PATH Concept House, an early LEED for Homes pilot project built in partnership with the Department of Housing and Urban Development, and designed by the new urbanist architectural firm Torti Gallas and Partners, was clad with vinyl siding installed over contoured insulated sheathing. Picture, courtesy Fine Homebuilding, Rob Yagid.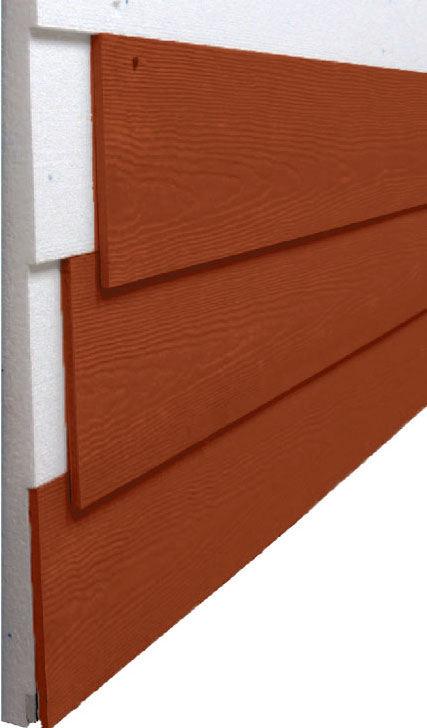 Progressive Foam Technology's Fullback® FC siding insulation for fiber cement siding provides a built-in gauge that makes it easy to line boards and equalize spacing.
Tim Holt, director, product development and innovation at Progressive Foam Technologies, Inc., says the advantage of contoured siding insulation for plank sidings (fiber cement, composite wood, and natural wood sidings), "comes with ease of installation, and better looking installations." Both advantages are made possible by the alignment ridges on the insulation panels that automatically align each panel in the correct position, "eliminating a hassle for installers and providing more consistent reveal dimensions over the entire installation. Installers also claim it helps them level the wall, which improves the finished appearance," said Holt.
Laminated Insulated Siding
Nowadays, you can find vinyl and aluminum siding with a substantial thickness of foam insulation laminated onto to the back of the siding, becoming an integral part of the finished product. Manufacturers employ specific cutting and profile-shaping techniques to marry the foam to the siding, as well as permanently flexible adhesives that allow the two materials to move independently without delamination occurring. Progressive Foam is the only manufacturer of this siding insulation and they use expanded polystyrene and BASF's Neopor®(EPS), which is a graphite-enhanced foam insulation that provides higher R-value per inch than standard EPS.
Questions often arise about the R-value claims made by insulated siding manufacturers because the thickness of the foam insulation laminated to a contoured siding panel varies from top to bottom, and the foam is butted during installation, allowing some air gaps. The R-value claims on any insulation product label must satisfy the  R-value Rule enforced by the Federal Trade Commission (FTC). For insulated siding, ASTM C1363 Standard Test Method for the Thermal Performance of Building Materials and Envelope Assemblies by Means of a Hot Box Apparatus is the current version of the appropriate specified standard for determining the R-value of insulated siding.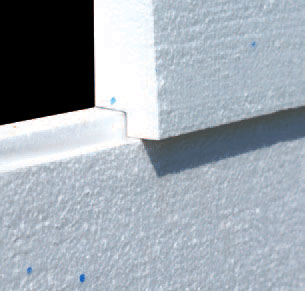 Progressive Foam Technology's contoured insulated sheathing has a ship-lap edge that assures a tight fit. Image courtesy of Progressive Foam Technology, Inc.
In Part 2 of this series, we will discuss technical aspects of insulated siding as well as its installation. For more information immediately, you can download the most recent version of the Vinyl Siding Institute's "Insulated Siding as Home Insulation: Guide for Users and Energy Raters," which includes wall assembly calculations based on the "2012 International Energy Conservation Code." You can also visit Progressive Foam's architectural pages and view a webinar on insulated siding as home insulation.
Better-Looking Siding
By attaching foam material to vinyl, a foam core is created that stabilzes the vinyl, allowing manufacturers to create wider, flatter panels that better replicate the appearance of wood planks. It also allows for the use of darker colors, as the insulating core helps keep the vinyl surface cool. The use of foam as a core material has also allowed the development of great-looking accessories, such as wider corner posts and lineals that can be used with both insulated siding and standard vinyl siding.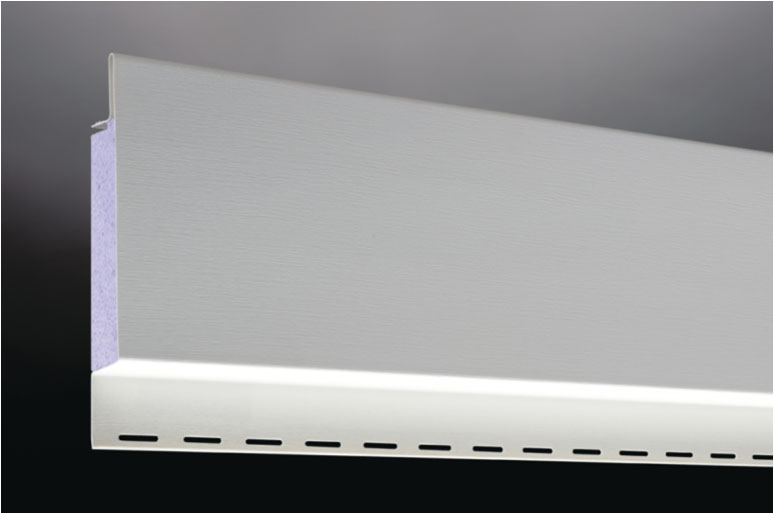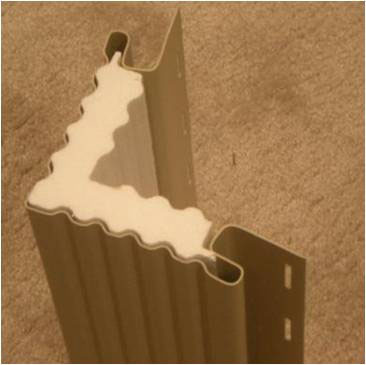 The structure provided by the foam insulation allows manufacturers to create wider corners and lineals that can be used with insulated or traditional siding.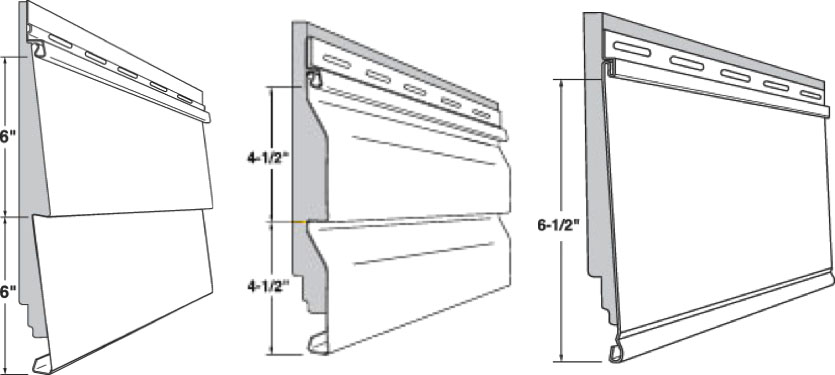 Insulated (backed) siding is one of the most popular product innovations on the market. Illustrations courtesy of the Vinyl Siding Institute.
Increased R-value of exterior walls

Improved impact resistance

The feel of a solid wood plank
Vinyl siding manufacturers offer insulated siding in all of their premium lines and in all profiles, with some wider planks than those possible with traditional (un-backed) siding.

Homebuilder, developer and author Fernando Pagés Ruiz builds in the Midwest and Mountain States and consults internationally on how to build high-quality, affordable and energy-efficient homes. As a builder, his projects have numerous awards including the 2008 "Green Building Single Family House of the Year" and the 2007 "Workforce Housing Award" from the National Association of Home Builders. In 2006, the Department of Housing and Urban Development's PATH project chose him to build America's first PATH Concept Home, a home that is affordable to purchase and to maintain while meeting the criteria of LEED for Homes, ENERGY STAR, MASCO Environments for Living, and the NAHB's Green Building standards. A frequent contributor to Fine Homebuilding and EcoHome magazines, Pagés is also the author of two books published by the Taunton Press: Building an Affordable House: A high-value, low-cost approach to building (2005) and Affordable Remodel: How to get custom results on any budget (2007).
Contact Fernando on facebook or by way of his website buildingaffordable.com.
Latest from Fernando Pages Ruiz