Andre Kikoski Architect Wins AIA Honor Award for the Wright
Careful attention to detail leads to a series of awards for Andre Kikoski Architect's restaurant in the Guggenheim Museum.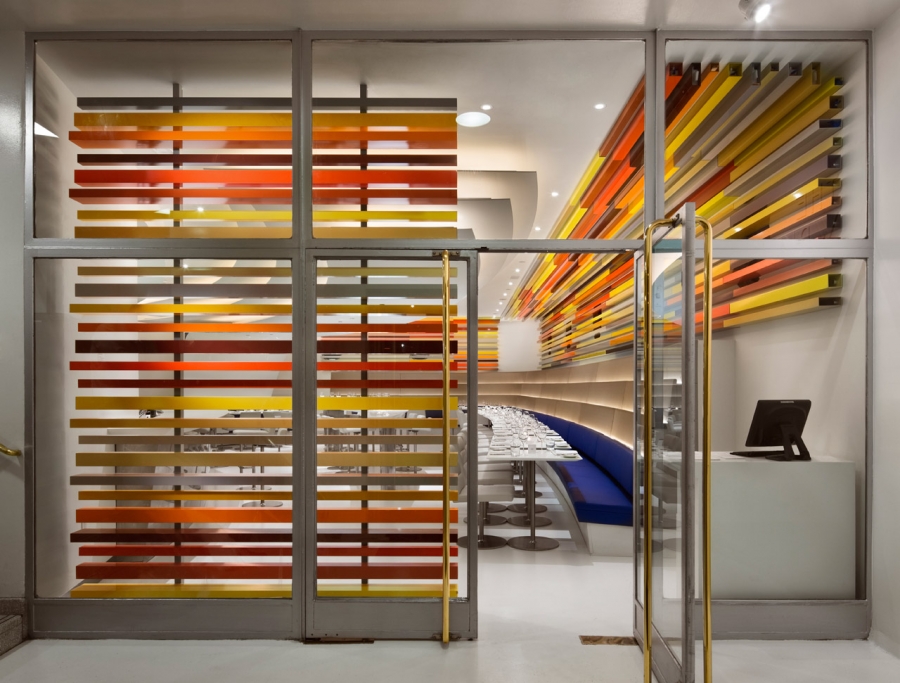 In 2009, the first addition to the interior of Frank Lloyd Wright's iconic Solomon R. Guggenheim Museum in New York celebrated its grand opening. In June, the 1,600 sq. ft. space – a restaurant known as The Wright – earned Andre Kikoski Architect a 2012 AIA Institute Honor Award. It fit into an existing space in the building's back corner that Frank Lloyd Wright had originally envisioned as a restaurant. Although the location was ready-made, Kikoski explains in an "Architect Live" presentation that the team faced a formidable challenge in deciding how to translate the Guggenheim's energy into their own language. The schematic they eventually arrived at utilized a football shape identical to one which Wright had repeated throughout the original floor plan and which he had called "the primitive initial." While Wright took that shape and extruded it vertically, Kikoski's team chose to superimpose it upon the floor plan and rotate it.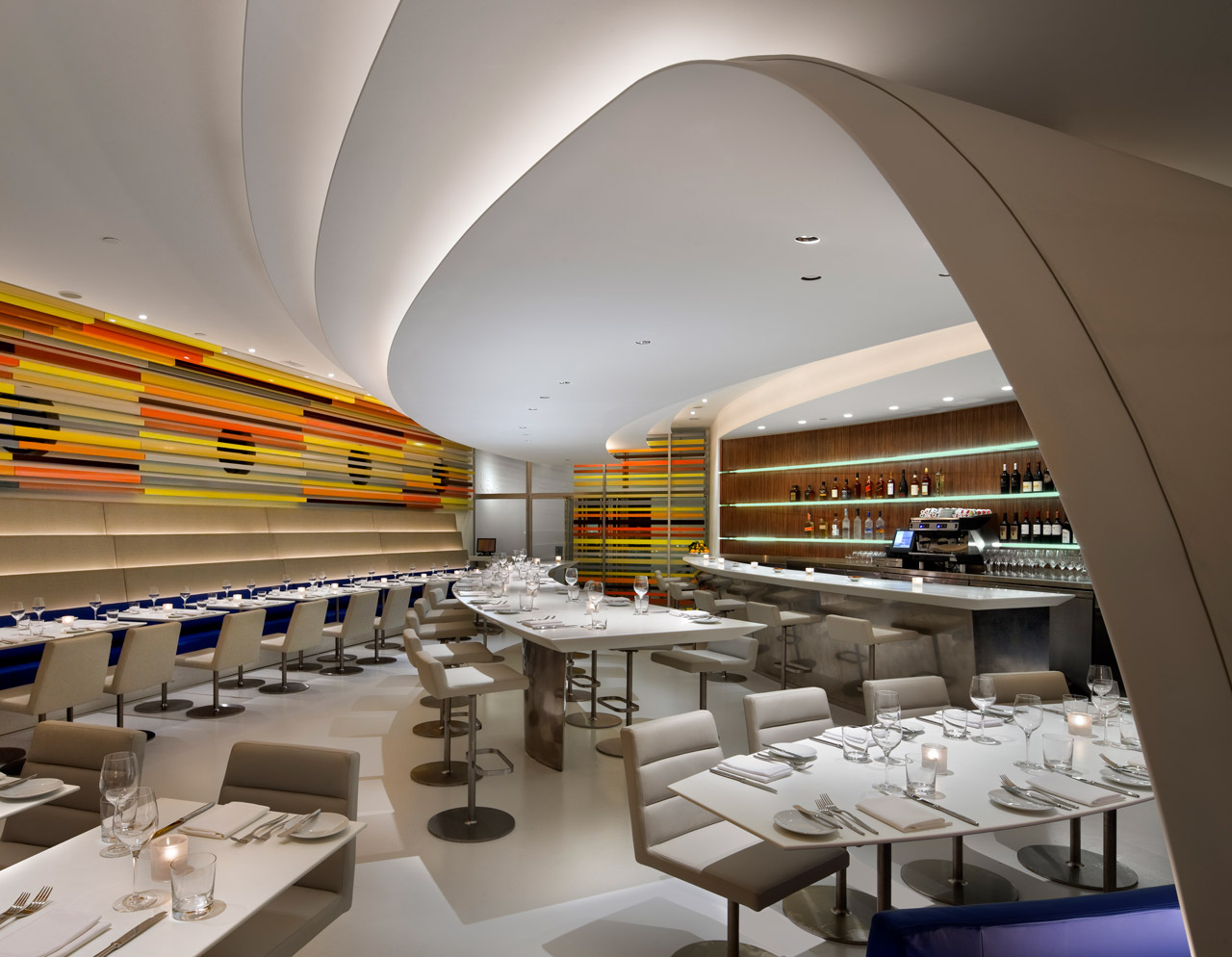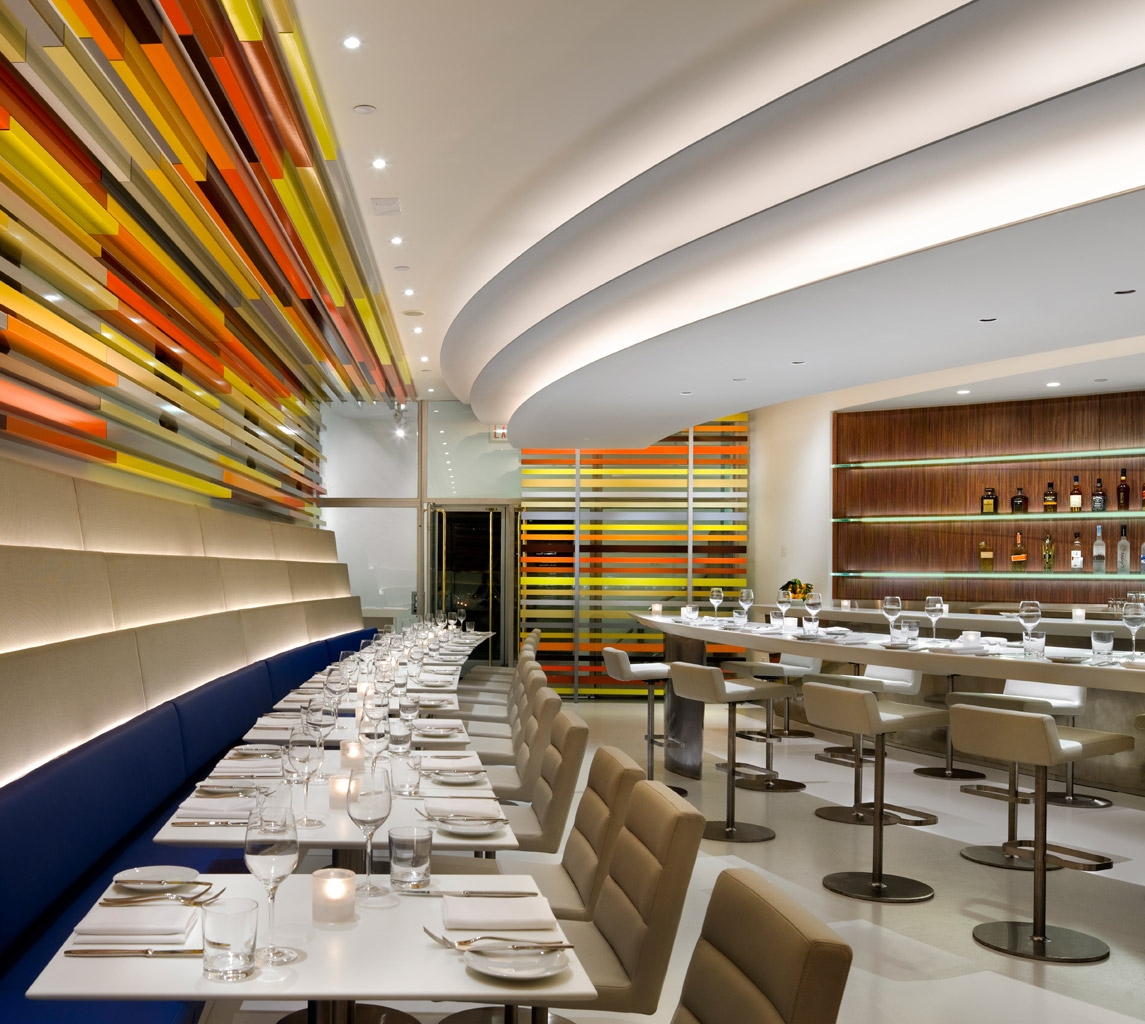 Building upon that initial schematic, the restaurant's sweeping curves were painstakingly formed to complement the original structure. Because building technology has progressed so dramatically since the Guggenheim was built in 1959, Kikoski indicates that they were able to do things using lightweight modern materials that would not have been possible for Wright, designing as he was for concrete. For example, a ceiling canopy of tensioned membrane articulates the curves of the space and was produced off-site in order to adhere to a high level of craftsmanship.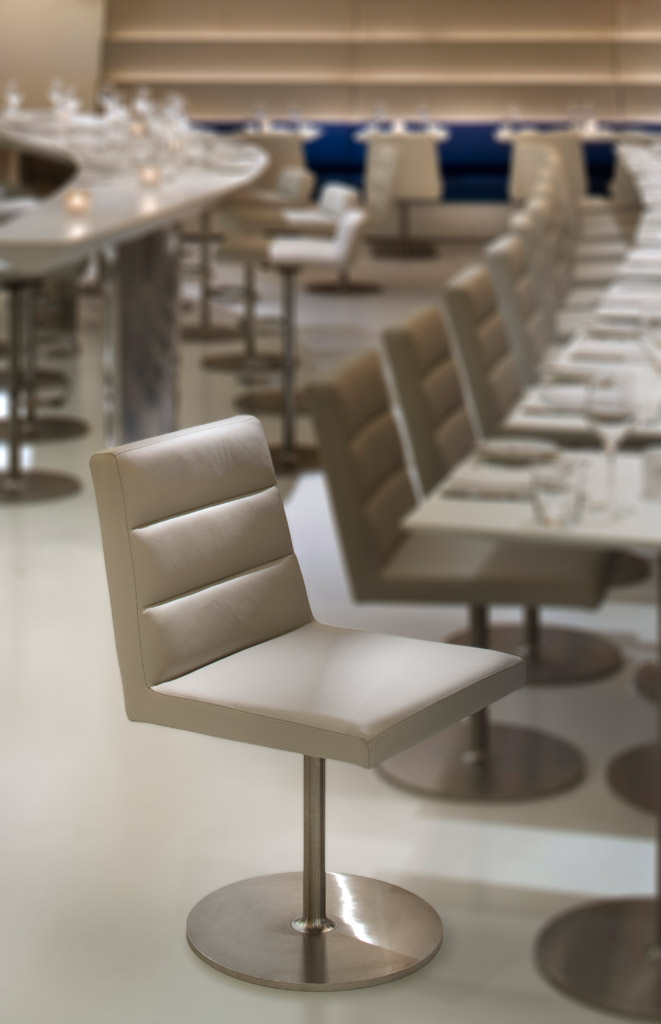 The architects worked closely with British artist Liam Gillick to create a wall- and ceiling-mounted installation of powder-coated aluminum. Its colorful bands enclose the space and provide a scrim behind Wright's original glass entryway. Kikoski notes in his Architect Live presentation that the artist's response to the Guggenheim's dynamism and energy centers around a rectangle of void space in the restaurant's rear corner, which Gillick termed "the bull's eye." In contrast to the undulating curves used by the architects, the bull's eye interrupts the flow of the bars to create a focal point.
Attention to detail in the restaurant's finishes also contributed to the design's overall unity. A banquette covered in blue leather wraps around the space and invites guests to sit. Behind it, backlit panels covered in gray textile ease toward the wall. A bar features custom metalwork and a backdrop of fiber optic lighting sandwiched between strips of walnut. The layering of these elements, along with their textural quality, enhances the space. Also, just as Frank Lloyd Wright used to design the furnishings for his interiors, Andre Kikoski Architects designed the chairs used in The Wright.
One AIA juror noted "with the confined space and ostensibly modest budget, given those challenging constraints, this project is exceptional." Andre Kikoski Architect is known as much for its work in transitional neighborhoods as for its higher-profile projects; to accomplish its magic on a limited budget, the firm relies upon its ability to exploit the aesthetic potential of various materials. For example, the Wyckoff Exchange in the neighborhood of Bushwick, Brooklyn, is fitted with a 100'-long façade of perforated, folding Corten panels that are internally illuminated, making them glow at night.
In addition to the AIA Institute Honor Award, which represents architecture's highest recognition of excellence, The Wright has been named a Jury Award winner by the American Institute of Architects Los Angeles for its annual Restaurant Design Awards. It also won a Best of the Year Award from Interior Design Magazine as well as a Lumen Award for lighting.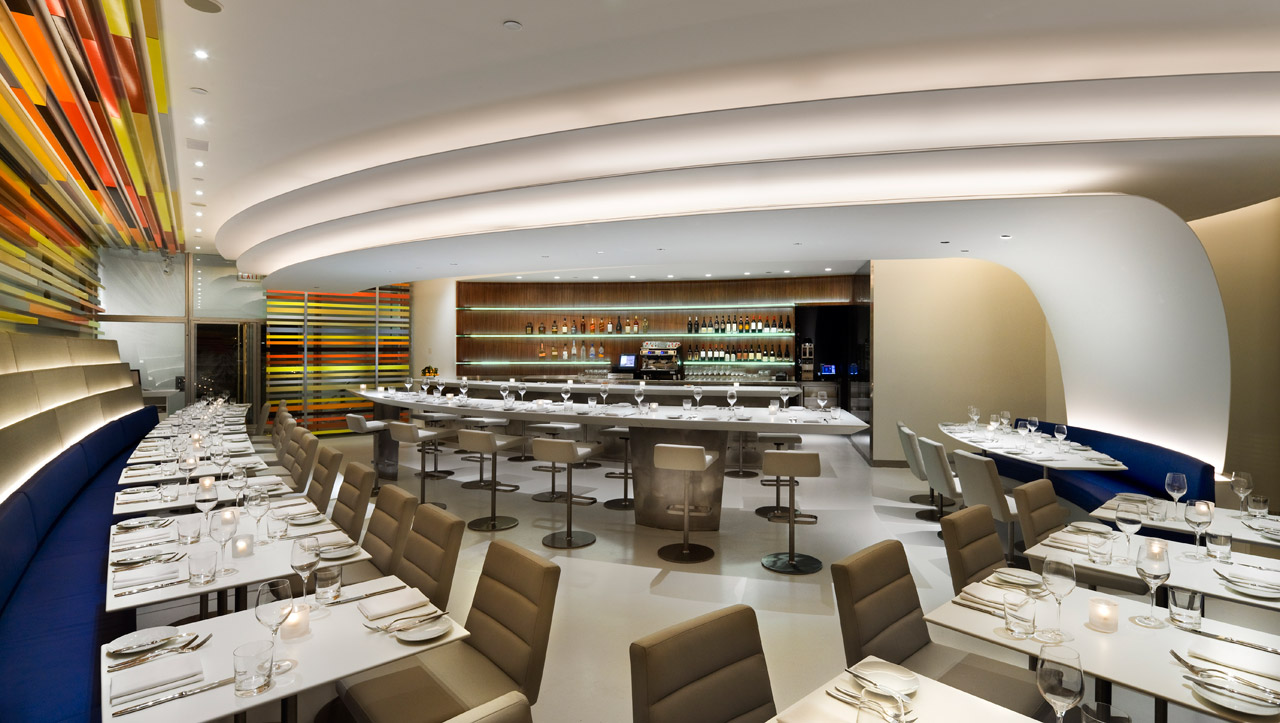 Kristin graduated from The Ohio State University in 1988 with a B.S. in architecture and a minor in English literature. Afterward, she moved to Seattle, Washington, and began to work as a freelance design journalist, having regular assignments with Seattle's Daily Journal of Commerce.
After returning to Ohio in 1995, her freelance activities expanded to include writing for trade publications and websites, as well as other forms of electronic media. In 2011, Kristin became the managing editor for Buildipedia.com.
Kristin has been a features writer for Buildipedia.com since January 2010. Some of her articles include:
Latest from Kristin Dispenza