Double LEED Platinum for GSK's HQ in Philly's Navy Yard
GlaxoSmithKline's new Double HQ in Philly's Navy Yard is awarded double LEED Platinum and emphasizes connectedness, natural light, and feedback from employees.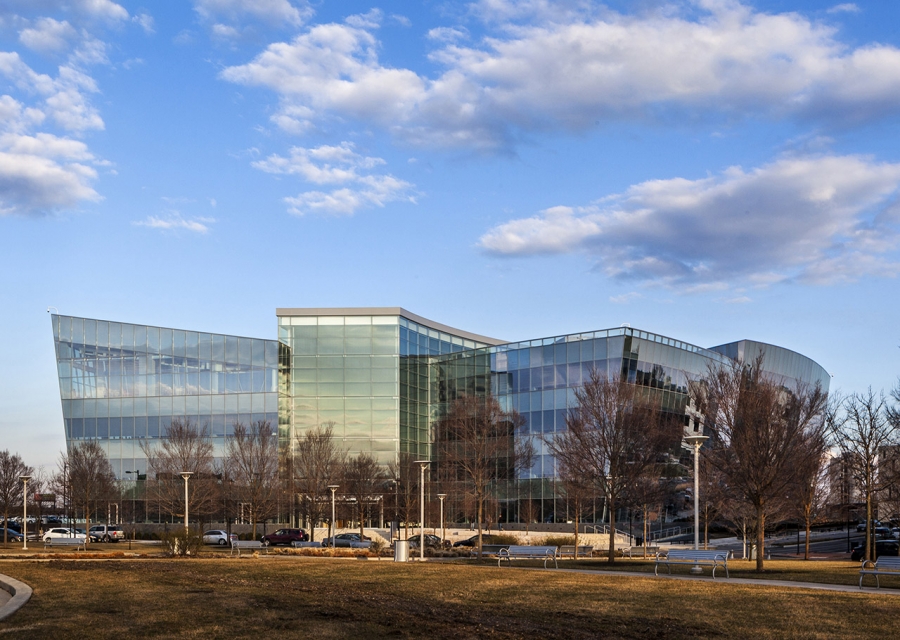 Connectedness is a theme that is being talked about across many disciplines these days. The discussion has been prompted by changes in technology, which have in turn prompted changes throughout society. The built environment, too, is seeing a new emphasis on connectedness, which finds expression in a building's final form as well as in the design process. A recently opened facility in Philadelphia's Navy Yard Corporate Center exemplifies this. The 208,000 square foot building, built by Liberty Property Trust/Synterra in partnership GlaxoSmithKline (GSK), serves as a company headquarters and provides a new kind of work environment for 1,300 GSK employees.
The partnership entails an $80 million investment by Liberty Property Trust/Synterra, and an investment of approximately $70 million by GSK, with GSK signing a 15.5-year lease at the building. The core and shell architect for the project was Robert A.M. Stern; the firm of Francis Cauffman was in charge of strategic facility planning and workplace strategy.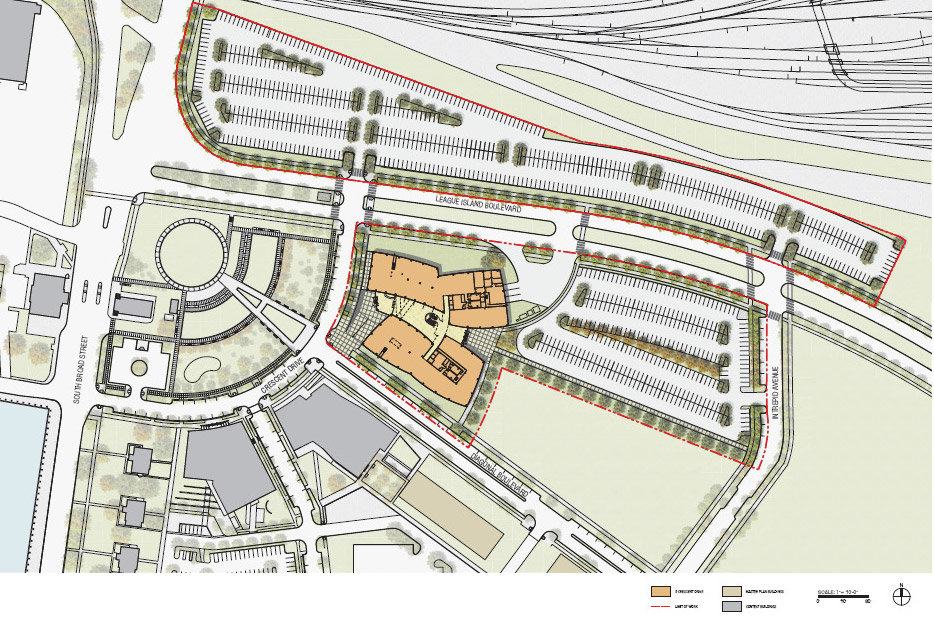 The basic layout of the glass-clad structure resembles a butterfly, said John Campbell, Principal in charge of workplace strategies for Francis Cauffman. Its four-story central atrium acts as the body and the workspace quadrants attach to the atrium much like a butterfly's wings attach to its thorax. The first floor of the building houses amenities such as a cafeteria, help centers that cover everything from IT to Human Resource concerns, and small private rooms immediately inside the entryway that allow visitors to have short meetings with GSK employees without having to go through security checkpoints.
"Everybody has access to natural light," said Campbell. "Natural light, along with a view, inspires people more than anything else." Many of the views within the GSK headquarters are directed toward the atrium, which Campbell said functions similarly to an Italian piazza. "There are eddy-points for congregating."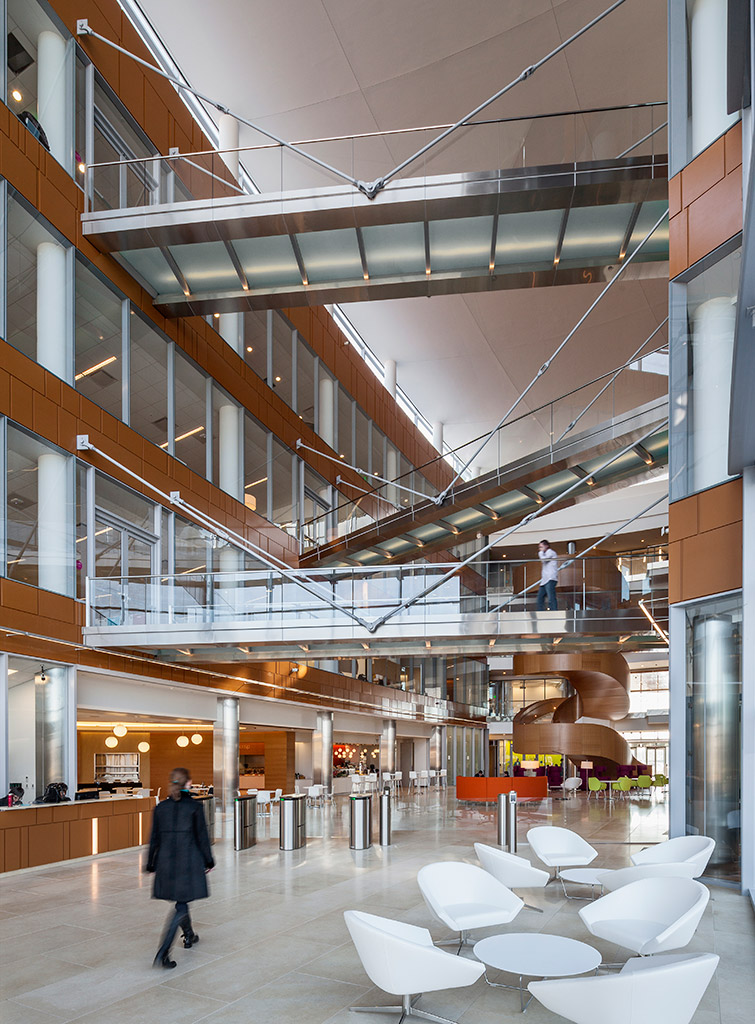 The overall strategy for the workplace layout was part of GSK's SMART Working program. The company sought the increased collaboration that comes with an open work environment and has been progressively altering its workplaces throughout the world for quite some time, steadily improving its collaborative model. The Navy Yard project is the culmination of those efforts. "As a company, we really started looking differently at how to use space about 10 years ago," said Ray Milora, Project Executive with GSK. "The Navy Yard site gave us the opportunity to build from the ground up."
The new GSK interior developed by Francis Cauffman implemented an office-less, activity-based work environment, and employees can transition in and out of different work settings (ranging from quiet rooms to meeting tables to social areas with soft seating) throughout the day. "Before, employees' perception was a cube. Here, they have a home zone, but the whole building is their workspace. It is a results-oriented work environment," said Campbell.
To ensure that the end result met the real-world needs of its employees, before they finalized designs for their new office GSK built three "test" or pilot project areas within its existing space in a corporate office complex. "This is true change management," explained Milora. "We didn't want to just speak to the employees in an auditorium, we wanted to make people part of the change.
"In our old building, we had the typical dropped ceiling and high wall cubicles," Milora said. "We took the cubicles out, painted, and changed the carpet. We prototyped conference rooms and brought in furniture and seating."
And the Winner Is…
Employees at every level of GSK's hierarchy took part in the pilot project. One of the test areas accommodated rotating groups of 20–25 employees, ensuring a large number of participants. The mobility also provided a chance to upgrade employees' IT packages, said Milora, which freed them from hard phones and printers and ushered in a new way of working.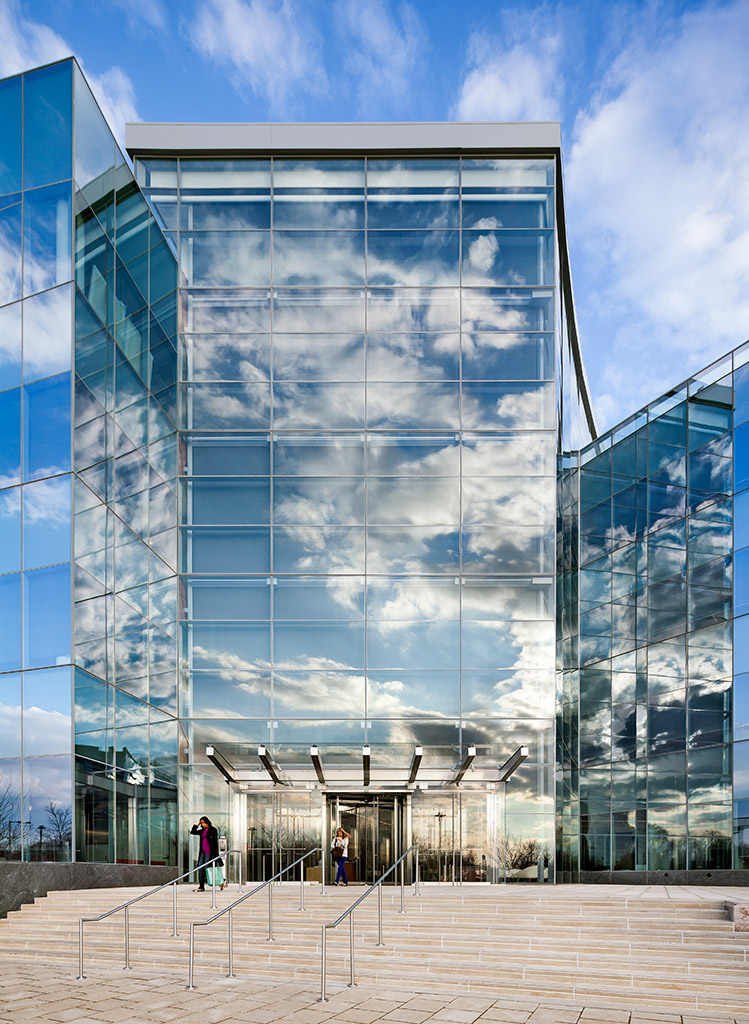 "We literally voted on what products we wanted," said Jennifer Armstrong, U.S. Communications Manager for GSK.
Based on the feedback collected during the pilot phase, said Armstrong, employees overwhelmingly wanted more sit-to-stand workspace.
"There are two types of task seating now," said Milora. "Ninety percent of the seating is sit-to-stand. The remaining 10% are team tables, designed for collaboration with nothing blocking the view. Our old ergonomic standards included 30%–40% adjustable seating; as a result of the pilot we changed our policy to include 100% adjustable seating." Francis Cauffman worked with the furniture manufacturer Haworth to develop the height-adjustable benching system, which accommodates a very wide range of height requirements.
The design team also participated in a pilot effort on the part of the U.S. Green Building Council (USGBC) to develop an ergonomic credit and was recently awarded that credit.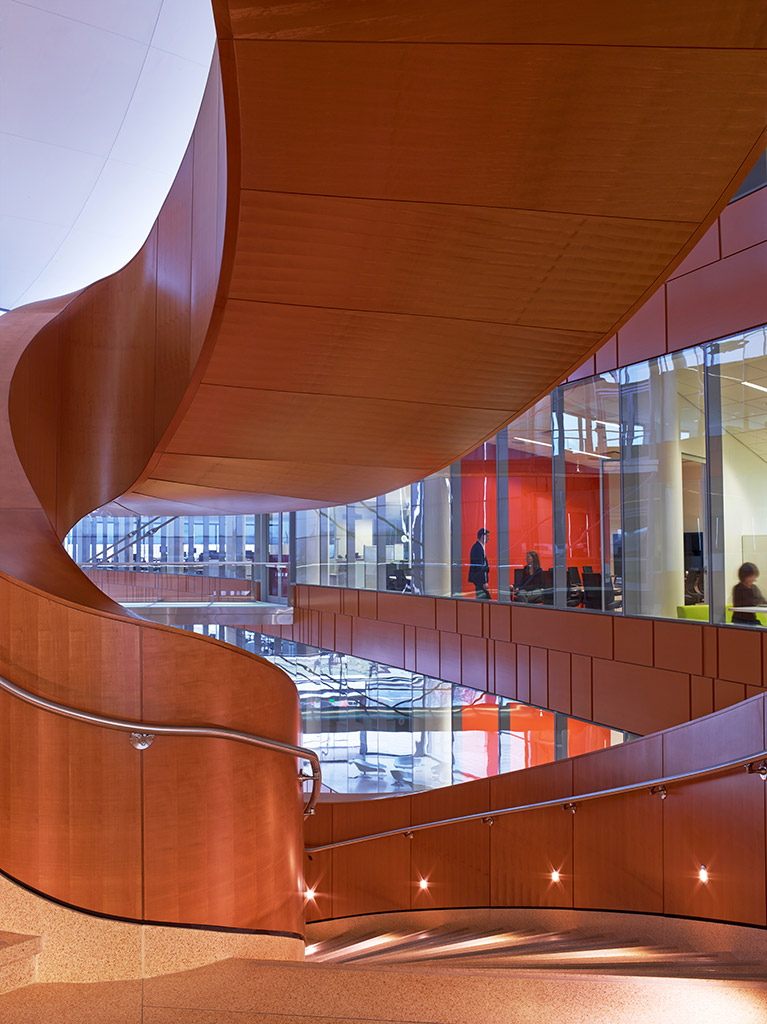 Emphasis on Movement
Beyond the work areas' ergonomic benefits and the fact that they enhance productivity, the layout encourages movement on the part of the employees. A lack of assigned seats and no fixed IT connections encourage employees to get up and walk, said Armstrong.
"In a traditional office environment, people come to you," said Milora. "Here, you go to different environments. The building becomes an asset for working."
The wide-open spaces and glass walls promote visibility. "You can stand in the atrium and see 20% of the building occupants," said Campbell. "The transparency is physical as well as mental. It becomes part of the ethos."
A pedestrian bridge spans the atrium and the building's four floor levels are united by a dramatic central stair. These circulation elements make a strong visual statement and bring workers together for casual interactions. The wood laminate cladding that covers the stairway (and extends across part of the interior wall) was designed by Robert A.M. Stern and was initially perceived by some of the other designers to be heavy, related Campbell. In reality, "the mass makes it feel less delicate." The partial height affords a sense of protection and privacy that promotes stair use.
Every floor has a central social hub. Other spaces that draw employees together and create a sense of community include a coffee shop, fitness center, production studio, health clinic, and company store. A conference center on the fourth floor can accommodate Town Hall meetings, or can be divided into smaller spaces. A rooftop garden also affords employees a pleasant and healthful place to gather.
"There are many impromptu meetings that take place, for example in the stairwell or on the rooftop," confirmed Armstrong.
When more deliberate interactions are needed, finding one another is easy due to the fact that employees have assigned "neighborhoods" and also because different physical locations are laid out in zones, which are clearly designated.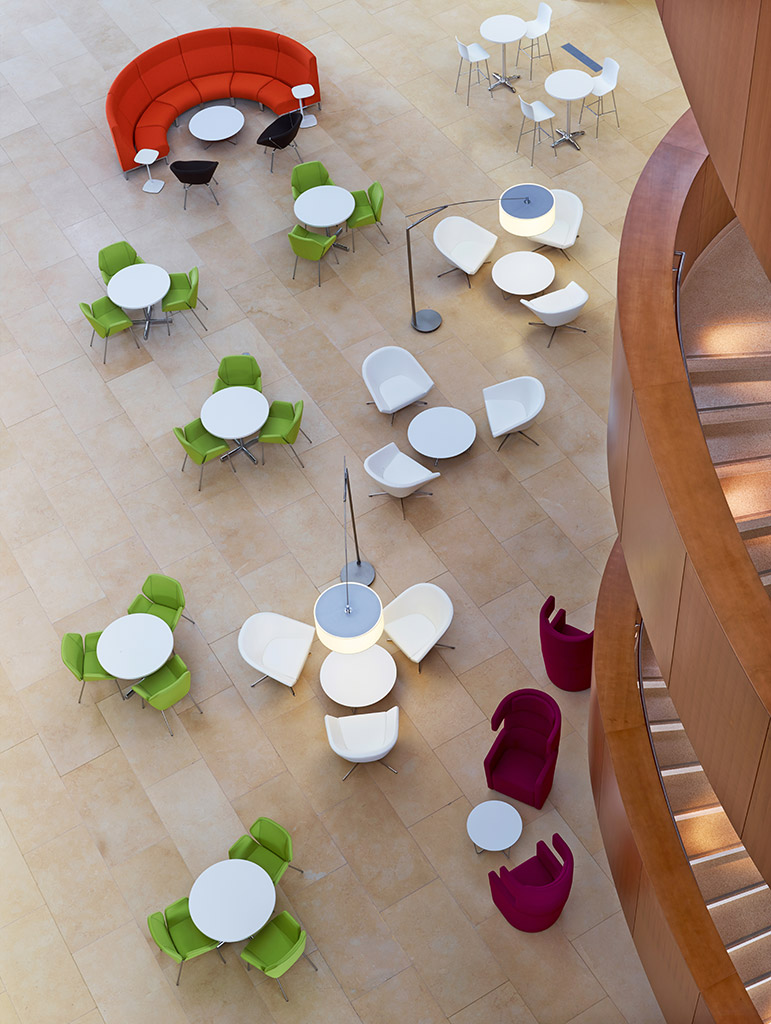 Signage and graphics not only help with navigation but are a strong part of the branding. Pentagram served as Graphics Consultant for the project and designed a graphic that Campbell described as a circular motif that emphasizes "connecting the dots." This signage was created to feature an evolving message and to this end features a space for employees to insert a quote.
Every GSK employee has his or her own favorite space within the new office environment. Milora favors the atrium, with its visibility and soft seating. "Also the rooftop deck," he added. "It enables conversations – even the more difficult ones!" Armstrong loves the amenities, such as the fitness center and a bike share program that allows employees to unlock a bicycle with a smartphone and ride it from point to point around the Navy Yard.
The Navy Yard – which still has a small military presence and showcases several decommissioned ships – is currently a very popular business campus. "Employees who are working in the suburbs want to move to Navy Yard," said Campbell. "They are willing to pay an additional 4% in taxes just to be there." The campus is not only convenient in terms of layout and location: "It is an inspiring place to be."
Campbell enjoys observing the ways in which people are using the new building. "After all, we design for people. We are in the people business. And they really are using the bridge, and getting up and talking." According to Armstrong, "The work environment is fun and productive. I interact with my colleagues throughout the day, and get work accomplished in real time, with few formal meetings, and less email."
The building has been awarded both Core & Shell™ and Commercial Interiors™ LEED® Platinum certification. It is anticipated that the innovative building systems, which include high-performance glass and an astronomical time clock and cloud sensor program that activates automatic shades, will save as much as 30% of energy use when compared to a traditional building.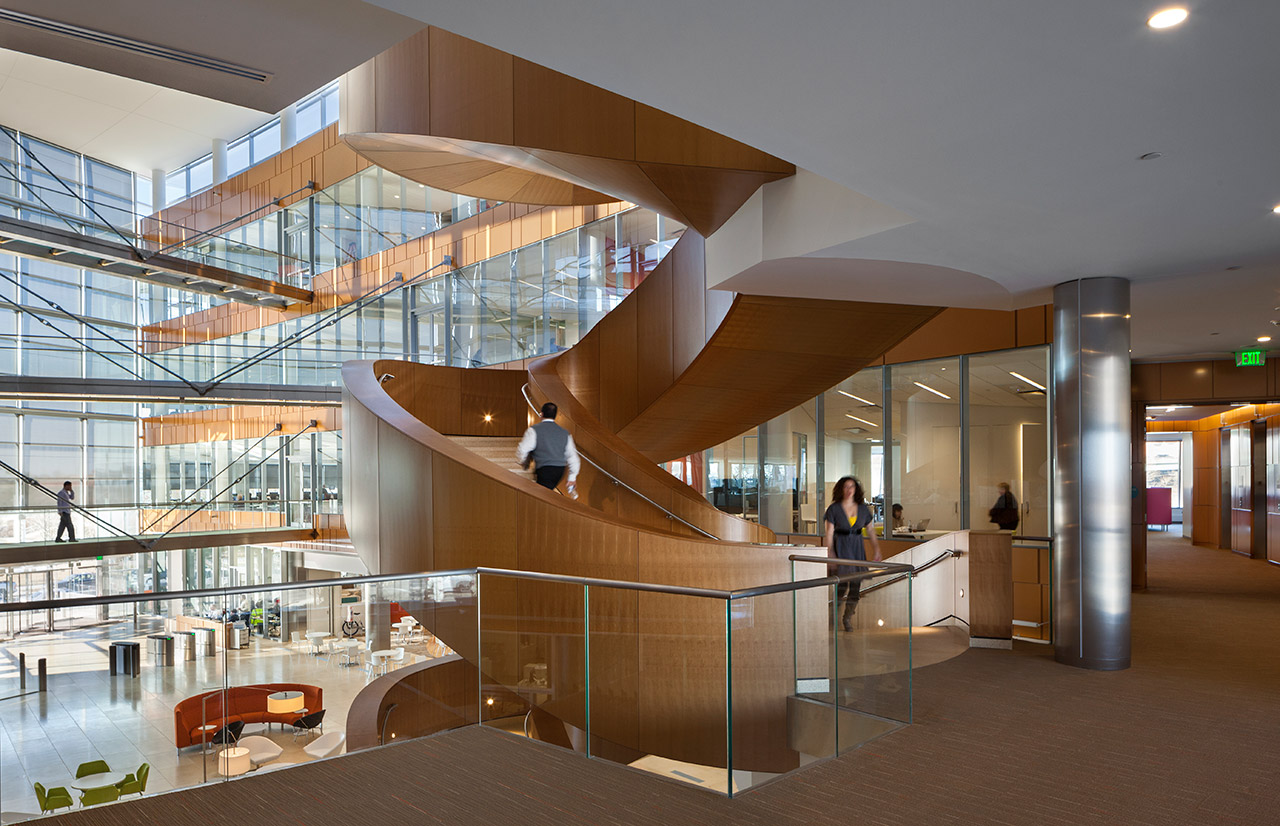 Kristin graduated from The Ohio State University in 1988 with a B.S. in architecture and a minor in English literature. Afterward, she moved to Seattle, Washington, and began to work as a freelance design journalist, having regular assignments with Seattle's Daily Journal of Commerce.
After returning to Ohio in 1995, her freelance activities expanded to include writing for trade publications and websites, as well as other forms of electronic media. In 2011, Kristin became the managing editor for Buildipedia.com.
Kristin has been a features writer for Buildipedia.com since January 2010. Some of her articles include:
Latest from Kristin Dispenza