Case Study: Zaha Hadid Architects' Riverside Museum of Transport and Travel, Part 1
This first in a five-part series on Glasgow's Riverside Museum offers an overview of Zaha Hadid Architects' first major public commission in the United Kingdom. Follow Buildipedia throughout the month of March to read in-depth coverage of the building's various design and engineering systems.
Glasgow, Scotland, was built on the River Clyde. Having access to the Atlantic Ocean facilitated Glasgow's ability to trade and, eventually, fostered the growth of a shipbuilding industry. This aspect of the area's history is commemorated in a Transport and Technology Collection that is now housed in the Riverside Museum of Transport and Travel designed by Zaha Hadid Architects. The £74 million ($120 million) museum opened in June of 2011 and is Hadid's first major public commission to open in the United Kingdom.
Zaha Hadid Architects is renowned for making buildings that engage with, and interpret, their surroundings. For the riverside site in Glasgow, the architects describe their building as "flowing" between the city and the waterfront. A roof form shaped like cresting waves runs the length of the structure; the roof and longitudinal walls are covered in 15,000 m2 (161,459 sq. ft.) of zinc cladding, giving the building a uniform, sculptural appearance. End walls with glazed, transparent facades appear to cut a cross section through the building, emphasizing the wave-like roofline.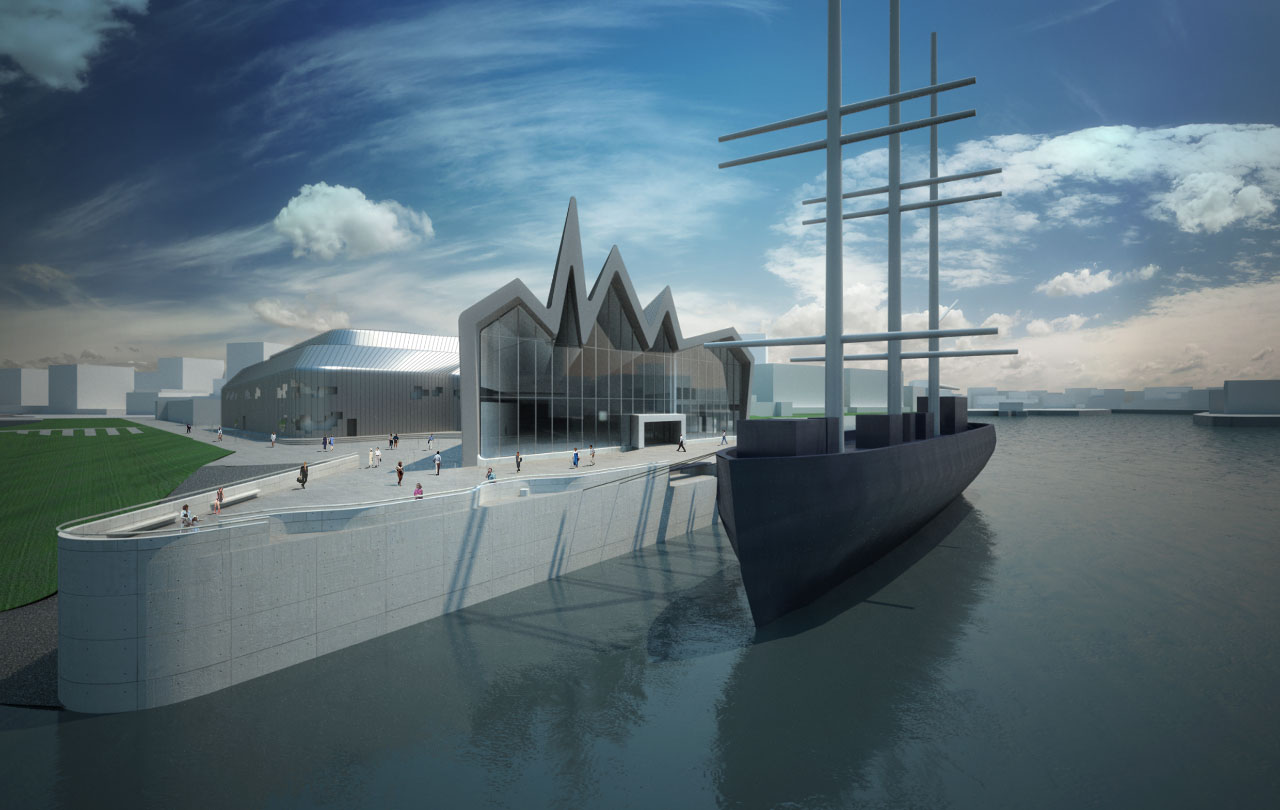 The building's massing serves a double function. Within the urban context, it links the city with the river. On a smaller scale, it sculpts an open, column-free interior exhibition space that is non-axial and meandering. The free-form path limits long, axial views and brings the museum visitor's focus down to the scale of the artifacts on display. At the same time, glimpses through the glass end walls expose views of the city behind the building and the river beyond, thus creating a sense of movement through the city.
The three-story building with a footprint of 7,800 m2 (83,959 sq. ft.) displays over 3,000 objects, including a Wall of Cars, a hanging Bicycle Velodrome, various rail engines, and three re-created period streets. An underground level houses service tunnels.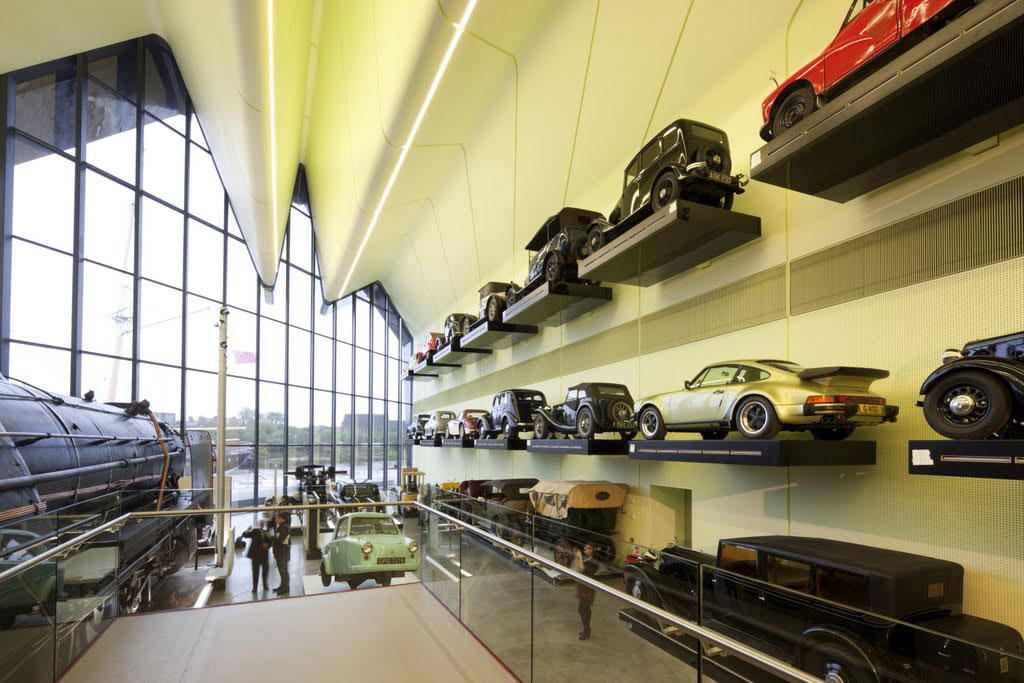 Soaring to a height of 25.7 m (84') at its tallest point, the southern, riverfront façade is characterized by sharp peaks. Here the rhythm of the sectional elevations becomes staccato; roof peaks are so sharply spiked, in fact, that the building begins to lose its association with water imagery and evokes, instead, something akin to sound frequency. From inside this window wall, a café and corporate entertainment area enjoy views of the rivers Kelvin and Clyde. Also framed in this view is the moored "Tall Ship Glenlee," one of only five Clyde-built sailing vessels still afloat. The ship will be on permanent exhibit.
Plenty of outdoor space is incorporated into the museum's design. The café has an outdoor terrace, a sheltered area contiguous to the Education Suite extends the museum's learning space, and north of the museum is an events plaza that can accommodate 8,000 people. Grassy areas provide informal gathering spaces, and shallow pools along the waterfront elevations create a visual transition between the building and the water.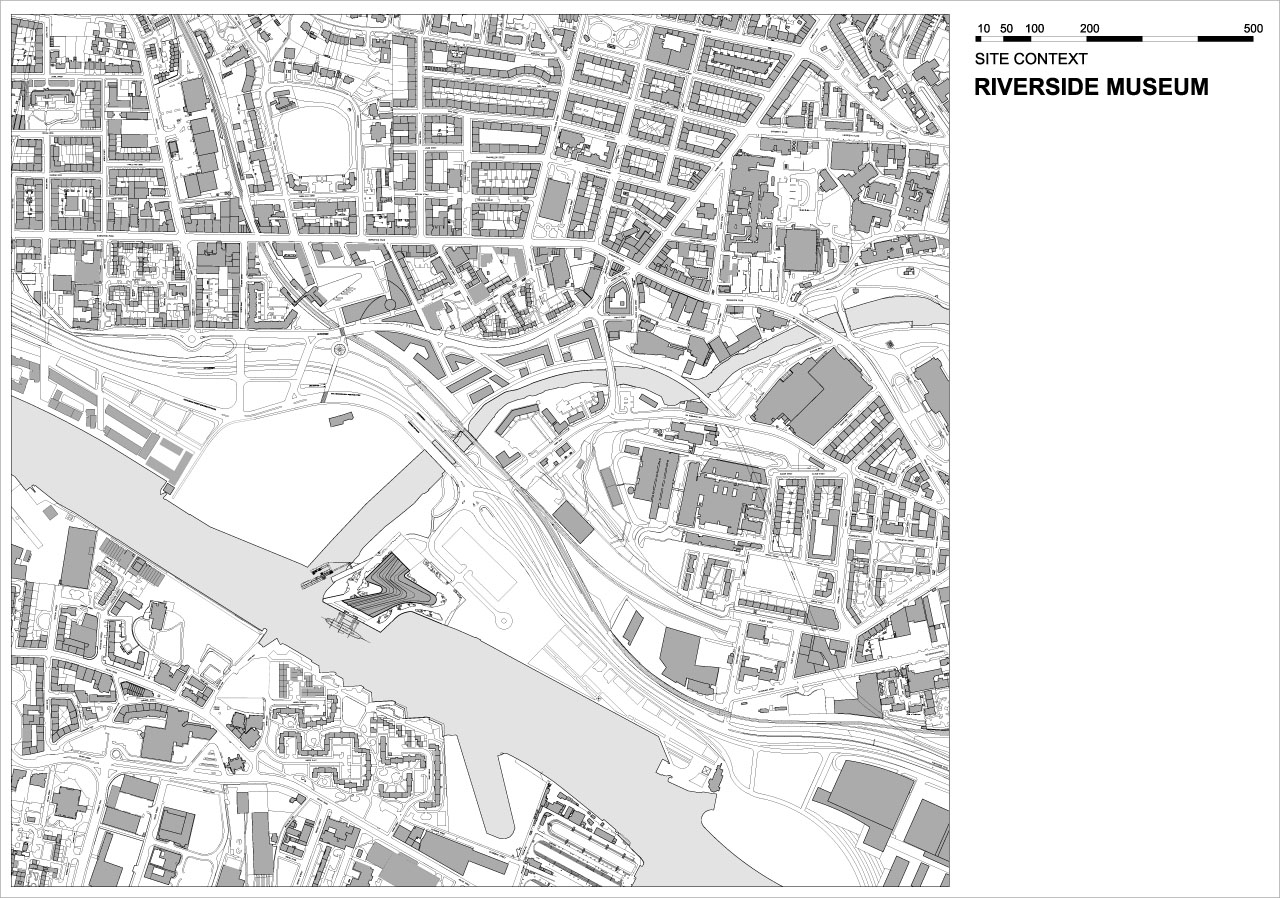 Sited on an area of land known as Pointhouse, the museum is part of a larger, multi-billion-pound Clyde Waterfront regeneration project. While the pre-industrial history of Pointhouse includes its renown as a beautiful natural landscape popular with painters and courting couples, by the end of the 20th century, it was in need of urban renewal. The museum site was donated by Glasgow Harbor to the city, and the promontory at the confluence of the Clyde and Kelvin has afforded an ideal location for this one-of-a-kind museum, which should become an international tourist destination.
Project Construction
| | |
| --- | --- |
| Architectural Design and Contract administration | Zaha Hadid Architects |
| Project Manager | Capita Symonds Ltd |
| Cost Control | Capita Symonds Ltd |
| Structural Engineer | Buro Happold |
| MEP Engineer | Buro Happold |
| Fire Consultant | Buro Happold FEDRA |
| Acoustic Engineer | Buro Happold |
| Landscape Architect | GROSS.MAX |
| Lighting Design | Inverse Lighting Design, DHA Design |
| Exhibition Design | Event Communications |
| Main Contractor | BAM Construction Ltd |
| Steel Contractor | Watson Steel |
| Cladding Contractor | Varla UK |
| Internal Exhibition Ceiling Contractor | Clark & Fenn/ Skanska |
| Cold Cathode Ceiling Lighting | Neolec |
| Exhibition Wall Linings and GRP Handrails | Gillespie UK Ltd |
| Precast Stairs and Entrance Plinths | Evans Concrete Products |
| Glass Facades, Doors, and Windows | Henshaw |
| Sliding Doors to Delivery Bays | Jewers Doors |
| Exhibition Floor | Dunne Group |
| External Works | Land Engineering Ltd |
| Main Fit-Out Contractor | Mivan |
This is the first in Buildipedia's five-part series examining the design and engineering of Glasgow's Riverside Museum of Transport and Travel.

Kristin graduated from The Ohio State University in 1988 with a B.S. in architecture and a minor in English literature. Afterward, she moved to Seattle, Washington, and began to work as a freelance design journalist, having regular assignments with Seattle's Daily Journal of Commerce.
After returning to Ohio in 1995, her freelance activities expanded to include writing for trade publications and websites, as well as other forms of electronic media. In 2011, Kristin became the managing editor for Buildipedia.com.
Kristin has been a features writer for Buildipedia.com since January 2010. Some of her articles include:
Latest from Kristin Dispenza