Effective air sealing comes with workmanship. No matter what brand of housewrap you choose, you will be wasting your money unless you install it carefully. Getting the installation right is not hard, but it requires a basic understanding of how housewrap works. Detailed installation instructions can be found on manufacturers' Web sites and often at the lumberyard or home center where housewrap is purchased.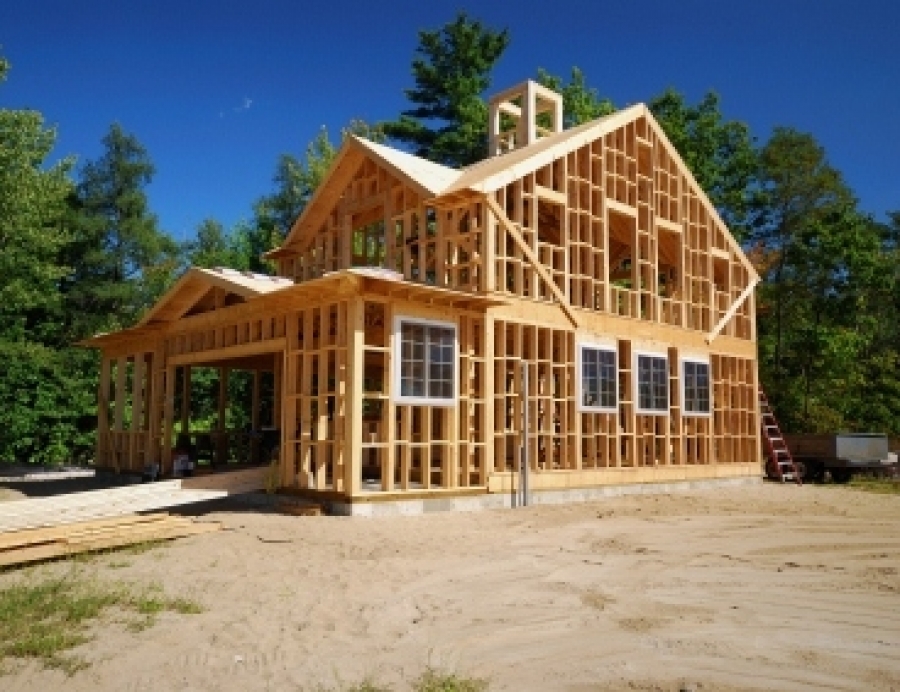 The basic installation premise is to think like a raindrop. Imagine a drop of water hitting the side of your house at the top of the wall. Gravity pulls the drop down along the face of the wall, and as long as all the courses, joints, tears, and penetrations are sealed and lapped in shingle fashion, the drop eventually will reach the ground. The moment that raindrop finds a puncture, a reverse lap, or an unflashed component it will seep behind the housewrap and into the framing.
Start every housewrap installation from the bottom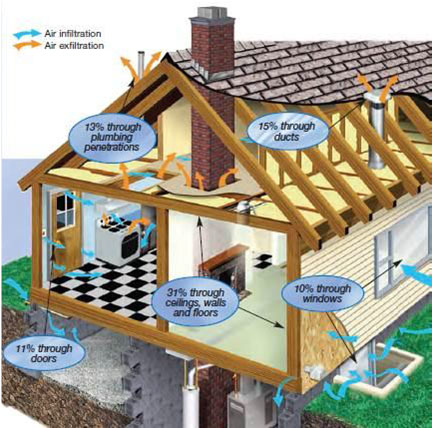 and work your way up, making sure to overlap all horizontal joints at least 6 in. and all vertical joints 12 in. If you apply housewrap to the sheathing before raising the wall, be sure to leave enough material to cover the band joist. Horizontal laps are as important as vertical laps because windblown rain can travel sideways, or even up and over a properly installed lap.
Air Infiltration Diagram Caption: Homes and buildings account for 42 percent of U.S. carbon emissions, and 39 percent of our primary energy, according to the Building Envelope Research Group at Oak Ridge National Laboratory. That's more than either industry or transportation. According to the U.S. Department of Energy (DOE), random air infiltration through gaps and cracks is a leading cause of energy loss in homes, accounting for 25 to 40 percent of the energy loss in most residential structures.
You should always install housewrap with the same care and attention that you would devote to siding. Although no one will see your good work underneath the siding, correctly installed housewrap still pays off in the long run.

Homebuilder, developer and author Fernando Pagés Ruiz builds in the Midwest and Mountain States and consults internationally on how to build high-quality, affordable and energy-efficient homes. As a builder, his projects have numerous awards including the 2008 "Green Building Single Family House of the Year" and the 2007 "Workforce Housing Award" from the National Association of Home Builders. In 2006, the Department of Housing and Urban Development's PATH project chose him to build America's first PATH Concept Home, a home that is affordable to purchase and to maintain while meeting the criteria of LEED for Homes, ENERGY STAR, MASCO Environments for Living, and the NAHB's Green Building standards. A frequent contributor to Fine Homebuilding and EcoHome magazines, Pagés is also the author of two books published by the Taunton Press: Building an Affordable House: A high-value, low-cost approach to building (2005) and Affordable Remodel: How to get custom results on any budget (2007).
Contact Fernando on facebook or by way of his website buildingaffordable.com.
Latest from Fernando Pages Ruiz