Wallpaper is a decorative wall covering used in both residential and commercial spaces. It can be applied full height or used as a wainscot, border or decal. Wallpaper was invented by the Chinese, who applied rice paper to walls as early as 200 B.C. Since that time, several cultures (including the Chinese, Arabs, French, English and Americans) have contributed to the improvement of wallpaper through material developments. Today's wallpaper is a technologically advanced product that is available in a variety of materials, types, styles, and patterns. It is relatively easy to install and is very durable.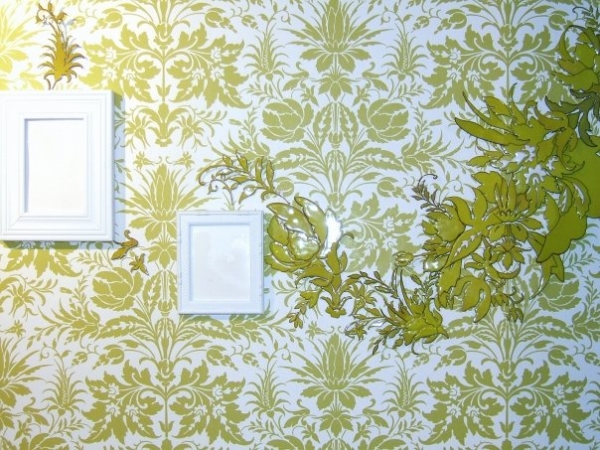 Commercial wallpaper is a manufactured product that meets or surpasses characteristics as defined by Federal Specifications CCC-W408. This specification or guideline defines flammability, tear strength, abrasion resistance, washability, scrubbability, and stain resistance. Residential wallpaper is also a manufactured product; however, it isn't required to meet defined guidelines as commercial wallpaper is.
Types of wallpaper include vinyl coated, coated fabric, string, flocked, embossed, foiled, grass clothed, and vinyl, which is the most popular type of wallpaper. Wallpaper is composed of two layers: a backing and the surface. Backing materials may be paper, latex, acrylic, woven fabric, or non-woven fabric. Different types of backing offer different features which affect the installation of the paper. Non-pasted or dryback wallpaper requires an application of adhesive or paste to the back of the paper, which is then hung on the wall. Other types of wallpaper include pre-pasted and self-adhesive wallpaper. Pre-pasted wallpaper is pre-coated with adhesive during manufacturing. The paste is activated with water or an activator and then the wallpaper is hung. Self-adhesive types of paper don't require water, an activator, or paste. Instead, a protective backing is peeled off of the paper, exposing the adhesive, and the wallpaper is hung. All wallpaper must be installed on a properly prepared wall.
The surface layer of wallpaper provides the decorative elements that make this kind of wall covering attractive and desirable. These decorative elements are achieved through surface, gravure, silk screening, and rotary printing, in addition to the application of materials such as glass, sand, foil, grass, and bamboo. They can be textured, stylized, or patterned, each offering various visual effects. A horizontal pattern tends to make a room appear wider, while a vertical pattern tends to make a ceiling appear higher. Darker colors tend to make a room seem smaller, while lighter colors make it seem larger. Drop match patterns (where there is a vertical distance between matching pattern elements) hide imperfections, and small patterns tend to make a room feel more spacious. Based on the symmetries in the pattern, there are 17 possible groups of patterned wallpaper.
Wallpaper is available in single, double, and triple rolls. A single roll contains approximately 25 square feet; actual useable square footage depends upon the pattern repeat measurement - the greater the distance between repeated elements, the less usable square footage there is on the roll. In comparison to paint, wallpaper costs about four times as much, depending on the type of paper, the material it is made of, and the manufacturer. However, if you plan on keeping the wallpaper for more than 12 years, it will balance out with the cost of painting every four years. When ordering wallpaper, it is important to be sure that the wallpaper rolls purchased are all from the same run, or lot. If they are not, print and color may differ.
See also: Wallpaper Removal

The Buildipedia research and writing staff consists of dozens of experienced professionals from many sectors of the industry, including architects, designers, contractors, and engineers.
Website: buildipedia.com/
Latest from Buildipedia Staff