Living Walls in Advertising
As large corporations face increasing pressure from the public to institute sustainable marketing practices, "green" advertising innovations have finally taken root within marketing budgets.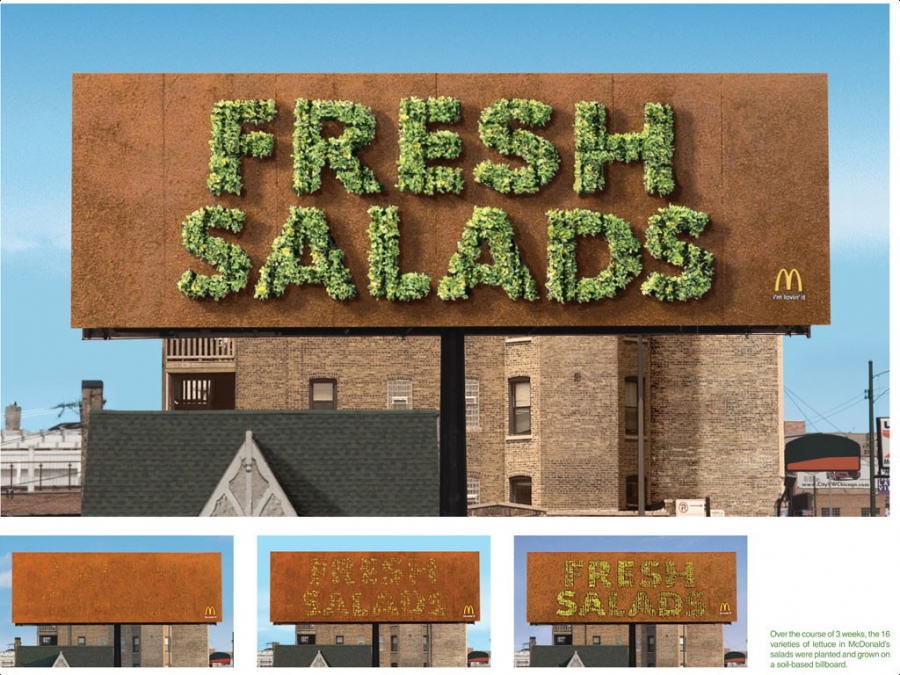 Environmentally conscious forms of media like chalk art and powerwash stenciling are waste-neutral forms of advertising, but the scope and scale of such street-level media installations are somewhat limited in urban settings. For a brand to make a larger statement about its commitment to sustainability, it may find that outdoor advertising, the oldest form of media, is an appealing option. One of the more eye-catching and impactful forms of eco-friendly media is a living billboard.
Most living billboard projects come together through partnerships between advertising agencies, landscape architecture firms, horticulture specialists, and the in-house marketing team representing the brand. Here we'll examine the most spectacular examples of living billboards throughout the past decade.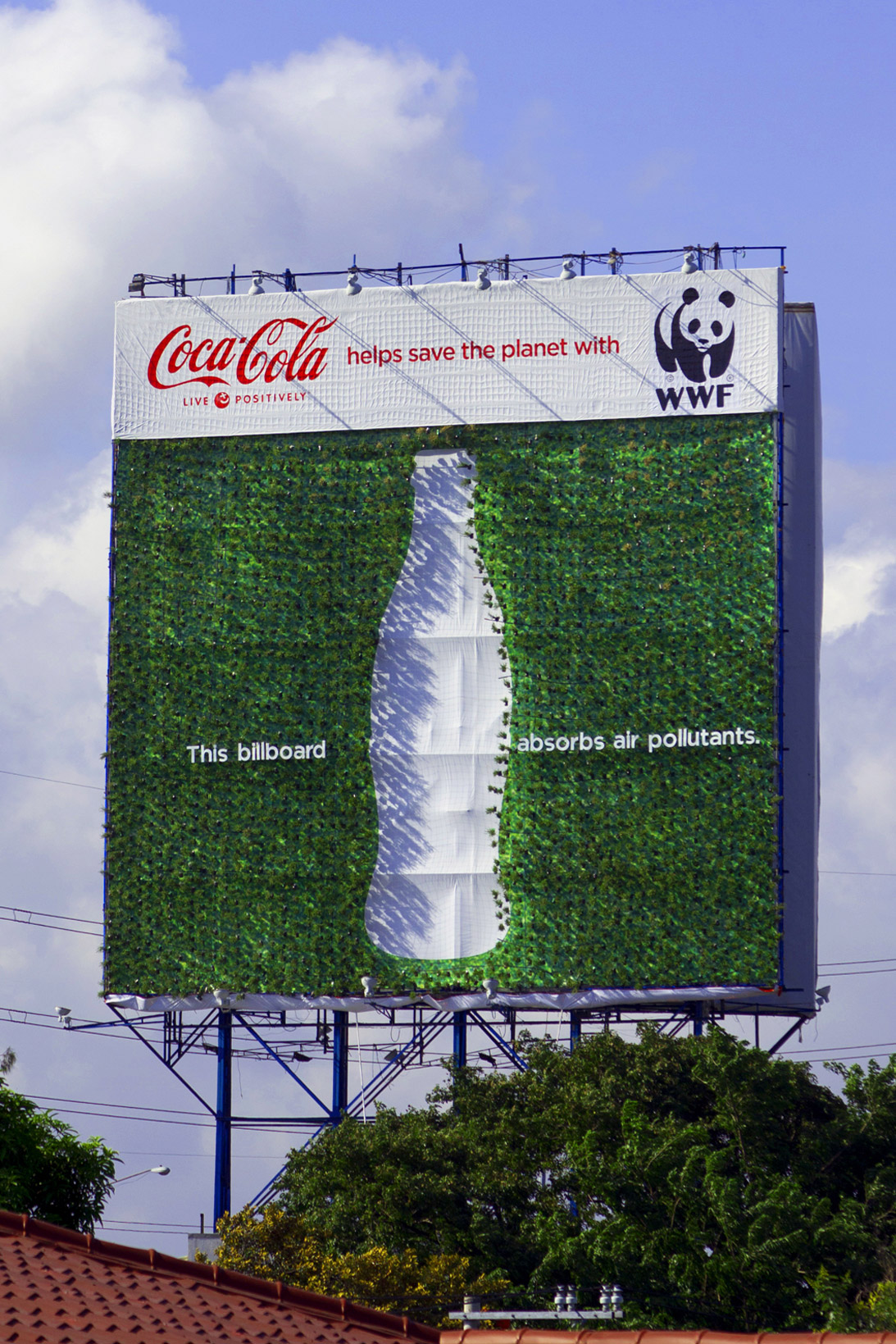 In the summer of 2011, Coca-Cola and World Wide Fund for Nature Philippines partnered to install a 60' x 60' billboard using Fukien tea plants as the primary building material. The carbon dioxide-absorbing plants were vertically planted in recycled Coca-Cola bottles and watered by using a drip irrigation system. The billboard was located on a highly congested road in Manila, and the tea plants – all 3,600 of them – can each potentially absorb approximately 13 pounds of carbon dioxide a year. Think of this process as scrubbing the air of exhaust gases and noxious man-made carbon dioxide.
In 2009, PNC Bank installed a 2,380 square foot living wall on the exterior of its headquarters in Pittsburgh, Pennsylvania. The bespoke wall system, created by Kari Katzander of Mingo Design, was comprised of 602 2' x 2' panels that were anchored directly to the wall, and the design included a variety of regional plants. This installation's green component was intended to support the idea that PNC headquarters were becoming more energy-efficient because of the living wall. The plants cooled the wall, cutting air conditioning and energy costs on that specific side of the building.
In 2007, McDonald's was one of the first major brands to integrate living materials into commercial messaging. McDonald's used a lettuce-adorned billboard located in Wrigleyville (home of the Chicago Cubs baseball team), a neighborhood with heavy foot traffic, to show off its line of fresh salads. With an emphasis on fresh, McDonald's planted lettuce sprouts on the billboard that would eventually grow into ad copy spelling out "Fresh Salads."
The McDonald's method of combining a pre-existing traditional outdoor advertising space with organic material elements seems to be the preferred formula for commercial ads that incorporate a "living" aspect.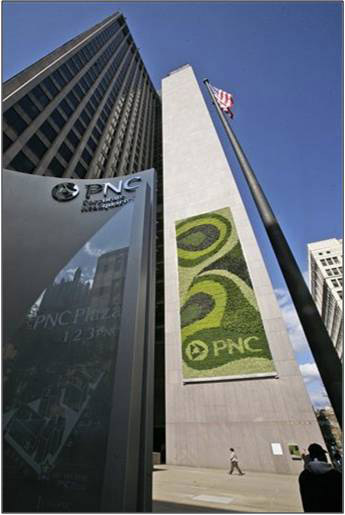 Last year in the United Kingdom, Banrock Station Winery and Natural England collaborated on a billboard made from 800 native British plants. The entire project aimed to be as sustainable as possible, with the billboard itself made from 80% recycled materials. In addition, the plants and soil used in the ad were transferred and put to new uses after the campaign, the print material was made out of 100% biodegradable material that attracted hungry microbes, and even the water pump was repurposed. The ad stressed the vital importance of wildflowers in the ecosystem. Roughly one third of our food is pollinated by bees and butterflies, insects that require nectar and pollen from flowers.
Producing a living wall or billboard requires a brave marketer willing to take a shot on an epic, stand-alone piece of media. The expenses involved in building and maintaining a living billboard may be hard to rationalize when the brand is used to placing multiple traditional billboards for the same cost, but the added value generated by a living piece of advertising shouldn't be overlooked.
Because living walls are such an anomaly in an urban setting, they automatically attract curious eyeballs from both pedestrian and vehicular traffic. As people take photos and share content through social media, the installation gains viral momentum. Blogs and websites that focus on environmentalism, sustainability, advertising, and marketing begin to take notice and publish stories about the media execution. Naturally, positive public relations and organic social media interaction are byproducts of a living wall program.
So, how does one go about putting a living wall together? (The first step would be to contact my agency – CivitasNow – an adaptive media agency specializing in sustainable forms of advertising. We'll gladly outline the process.) Here are a few basics to get the planning stage started.
Just like real estate, location is everything. Sunlight and accessibility are the two main deciding factors when planning the construction of a living wall. South-facing walls tend to work the best for natural sunlight exposure. Also, the wall location will be subject to approval either through a private relationship with a specific building owner or through a media buy with a commercial outdoor advertising company.
When choosing the appropriate design, be mindful of in-season plants and vegetation, and how they respond in your specific growing zone. The placement of plants needs to be in line with growing patterns, which should be taken into consideration while designing the initial concept. For example, tomatoes could potentially be part of a design if they are inverted on the wall to grow downward.
Once the final site location is secure, and the design concept is approved, construction of the frame can begin. Various methods of building the frame exist, but each one uses lightweight materials that can eventually be repurposed into other projects (wood, PVC piping, etc.). Rain has little impact on the structure, because living walls and living billboards typically are watered manually, through a drip irrigation system, or through moisture-retention felt lining.

Jay is the Director of Development at CivitasNow, an adaptive media agency based in Columbus, Ohio. He holds a Bachelor's degree in Communications from the University of Dayton and has worked in the advertising industry for over a decade. He is also a blog writer and content contributor for Advertising Week.
Website: www.civitasnow.com/