Houses for Multigenerational Families
The United States now has the largest proportion of multigeneration families living under one roof since the 1950s – that includes the White House. Here's our breakdown of what this housing trend means.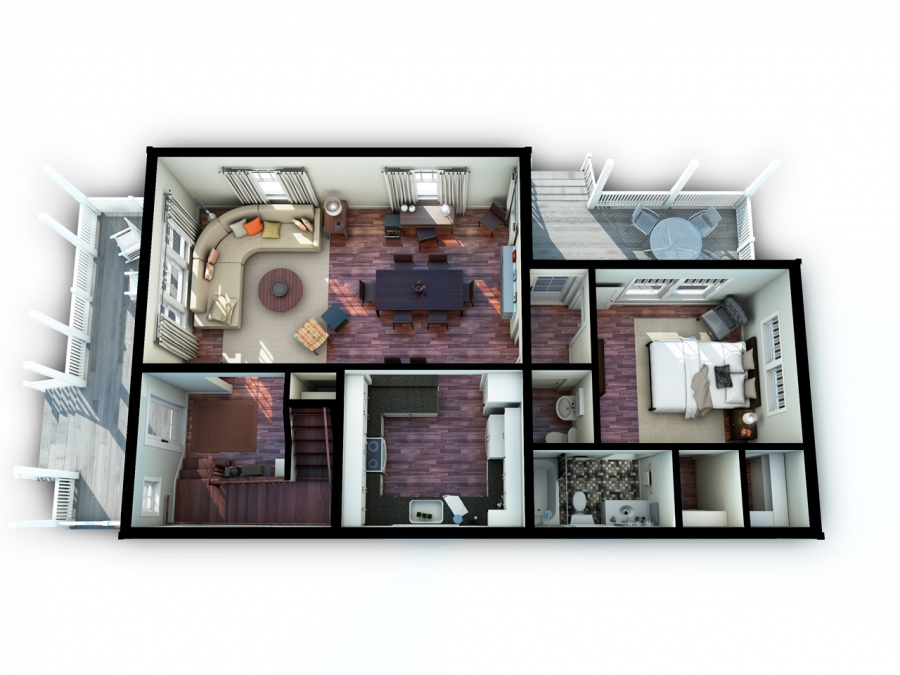 ---
Home Builders Resource Center
Brought to you in partnership with: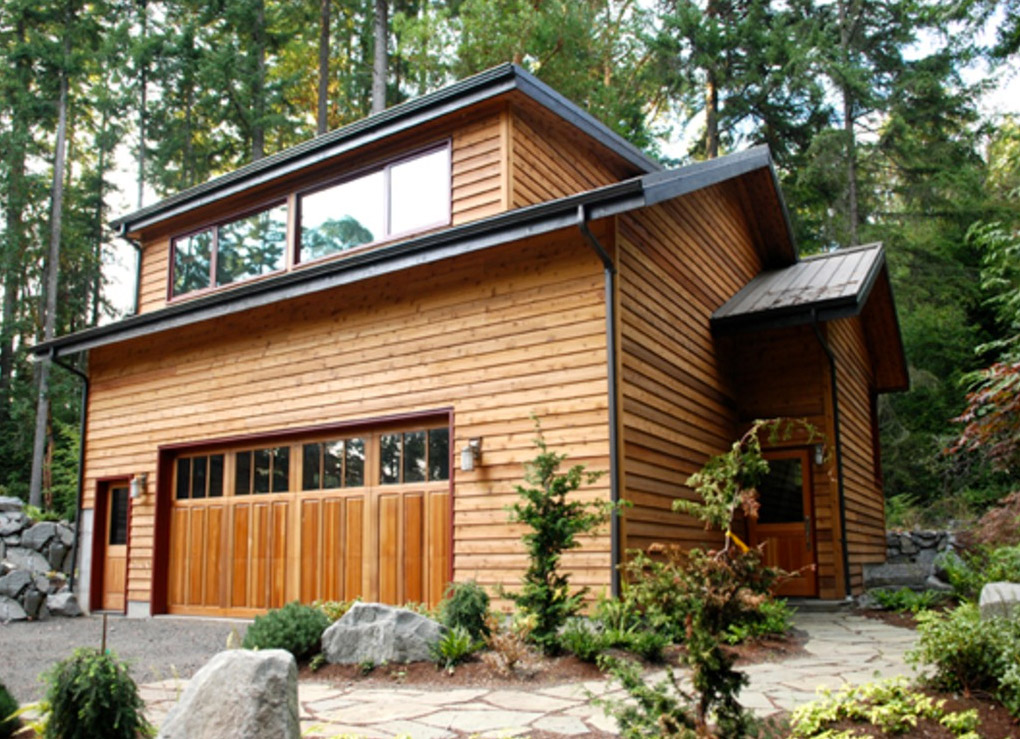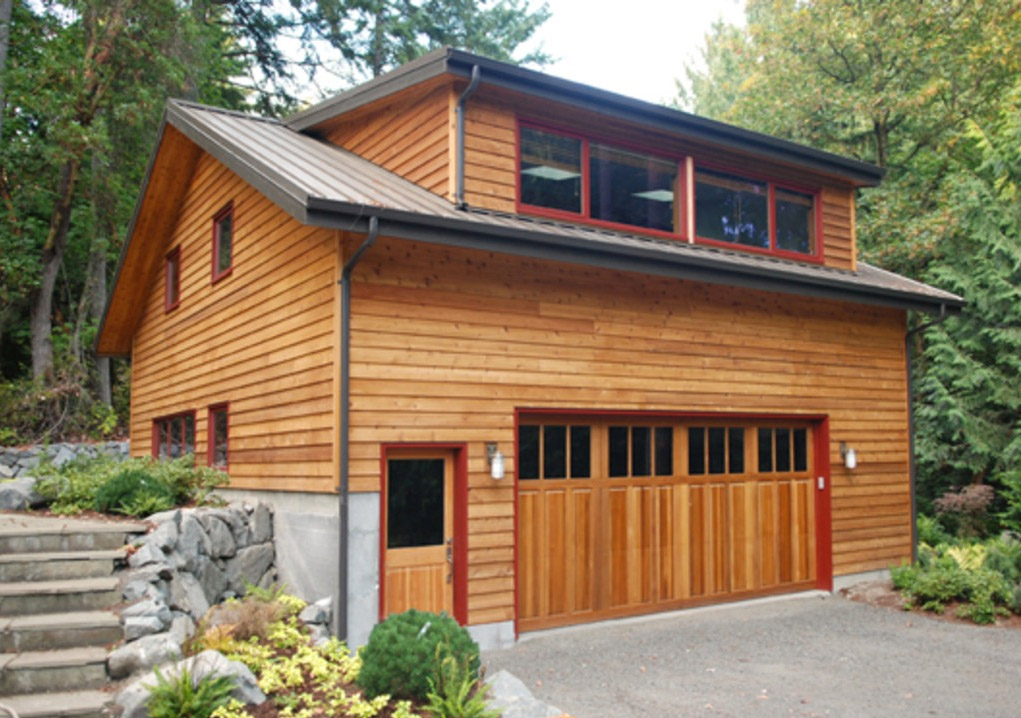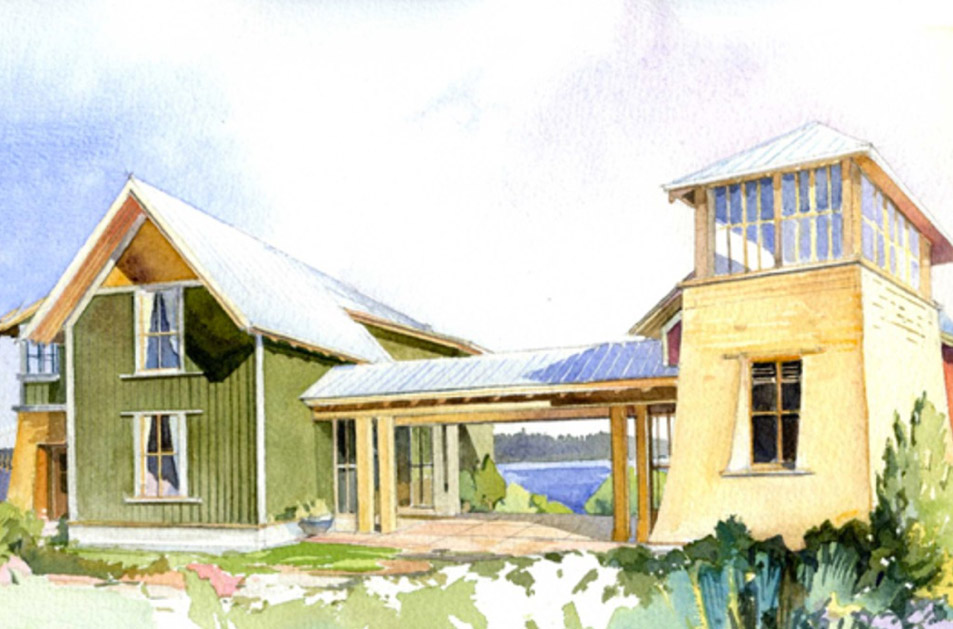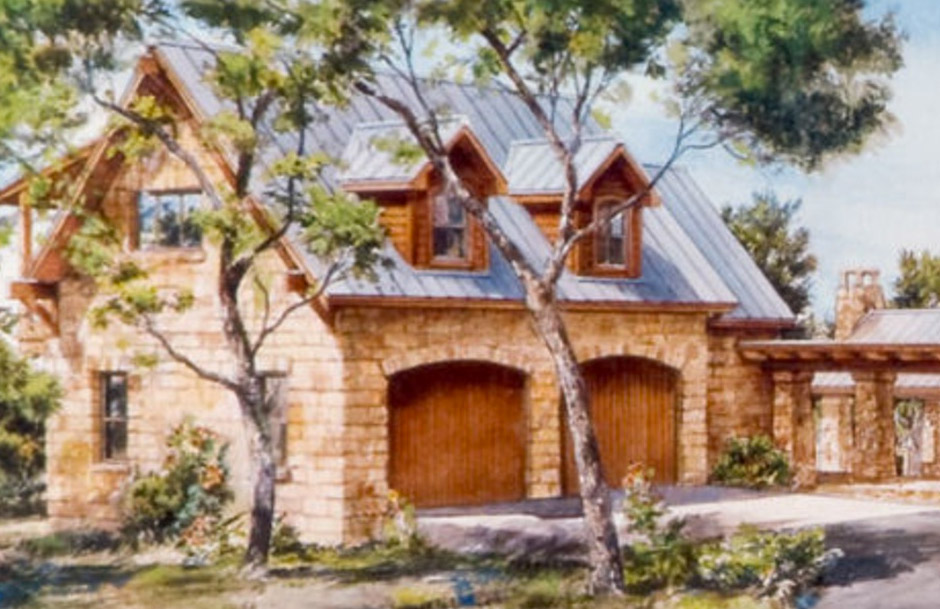 Browse these plans and others at
http://www.houseplans.com
.
---
I remember noticing in the late 1990s that nearly all the homes under construction in new subdivisions seemed huge compared to homes built in preceding decades. Marketed as "Executive Homes," these single-family behemoths nearly spanned the entire width of their lots. Of course they included almost as many bathrooms as bedrooms, multi-car garages, "bonus" rooms, and sprawling backyard decks.
My thought at the time was "Who the heck is going to buy all these houses in 20 years?" For many years real estate values had been climbing steeply and steadily with only a few blips. I figured that home values couldn't continue to rise forever and that the six-figure-income boomers building these estates significantly outnumbered the debt-laden Gen-Xers willing and able to take them off their hands when the boomers were ready to downsize.
House of cards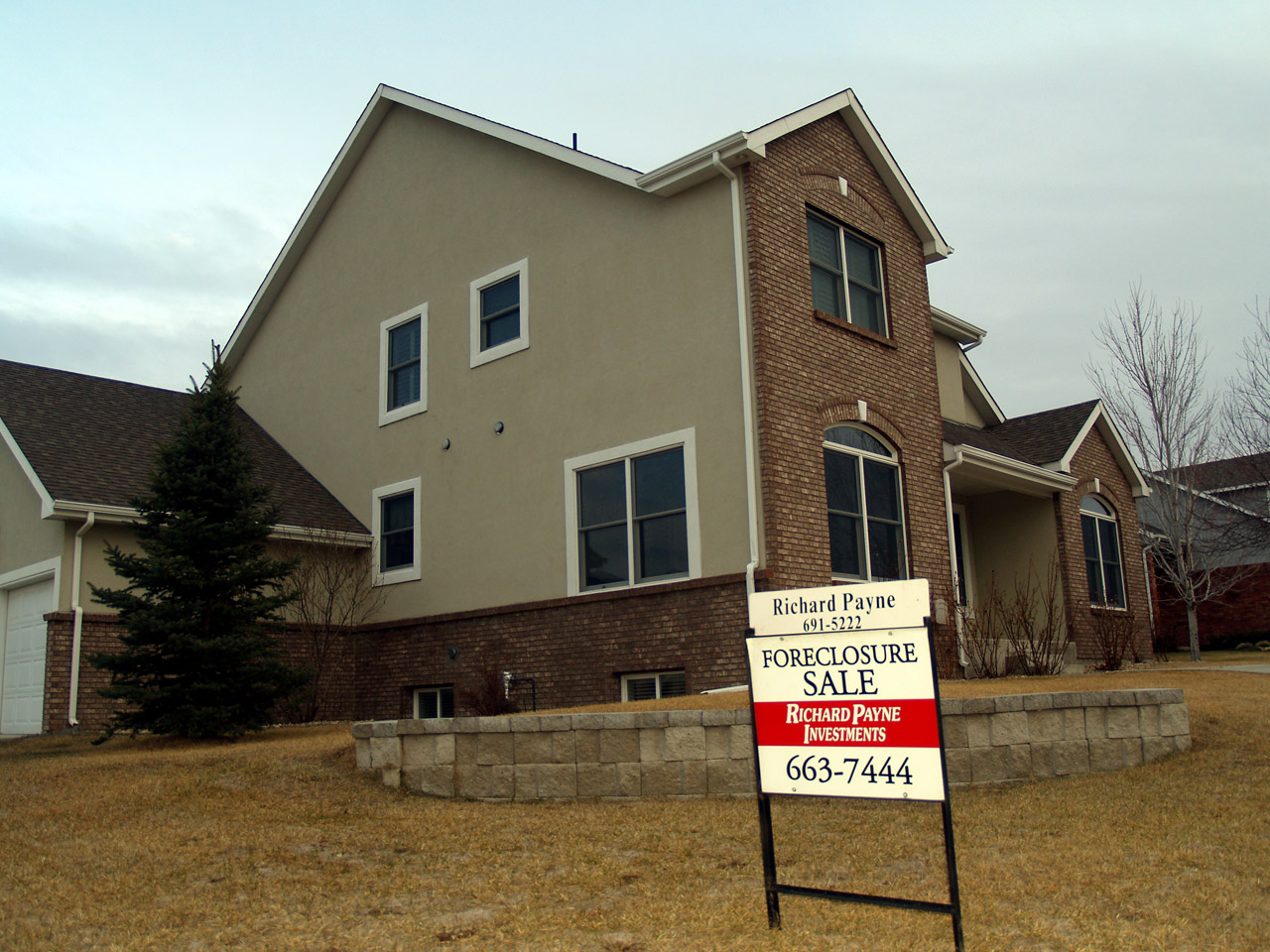 We all know what happened to the housing market in 2008. It didn't play out the way I expected, but the end result was pretty much the same: a mind-boggling number of houses, both occupied and empty, worth considerably less than the mortgage owed. The Canadian market mostly avoided (or postponed) a significant disruption, and even our worst case scenario wouldn't see the damage wreaked in the United States. The U.S. housing market is slowly starting to recover, but it's spotty, with some areas showing strength and others remaining flat.
One trend that's emerging from the housing crisis is the demand for multigenerational homes – houses designed to address family and financial realities, mostly the fallout from the Great Recession. Major U.S. homebuilders are offering a variety of flexible home designs to capture this growth market, which trend is expected to continue for at least the next 20 years. It was once fairly common for U.S. households to have three or more generations living under one roof, and the return to multigenerational living has the following causes:
the "boomer" generation has lost wealth just as it has reached retirement age,

younger generations are marrying later in life,

"boomerang" kids are moving back in with their parents,

low wages and high unemployment are affecting all age groups, and

more immigrants from cultures with multigenerational living traditions are buying homes.
Based on these trends, I can see new investment potential in some of those "Executive Homes" - adapting them as functional and affordable multigenerational homes.
Generation "squeezed"
After reaching an all-time low in the mid-1980s, the number of multigenerational households has been slowly on the rise, with a sharp increase after 2007. Multigenerational households are now being formed for any and all of the reasons listed above, encompassing a wide variety of familial relationships from adult siblings pooling limited financial resources to traditional immigrant households that may span several generations. However, one demographic is the most likely to be found in any multigenerational mix – baby boomers.
Baby boomers who were just nicely settling in to their "empty nest" phase are now at the epicenter of multigenerational living, suddenly squeezed between "boomerang" kids returning home and aging parents needing care. Add to that the fact that boomers may have several siblings, and the odds are higher that one or more could have lost a job or home and need to retrench. With you.
Few of us are likely to shut the door on family members, so we need to think about how to adapt to the new realities confronting us. Figuring out sensible short-, medium-, and long-term arrangements for multigenerational living can be a challenge, but it offers plenty of benefits for all concerned if you plan wisely.
Living in peaceful co-existence
Extended families can sometimes get on each other's nerves, so it pays to give considerable thought to exactly how you might cope with your particular set of circumstances. Everyone's situation is unique but here are a few considerations all multigenerational households should keep in mind:
deciding who is the head of the household,

respecting individual privacy,

maintaining independence,

agreeing on child care and discipline,

defining financial and household responsibilities, and

meeting regularly as a family to clear the air.
For example, just because your adult daughter is back in the house, don't "pull rank" as the parent – redefine the relationship on an "everyone's an adult" basis. We certainly find plenty of benefits in bringing several generations together under one roof, from in-home daycare to strengthened family bonds that bridge the generations. Many articles online have good advice and ideas for families exploring multigenerational living arrangements, so I offer my standard advice: Do your research. One of the key factors that homebuilders are addressing involves designing homes that provide the independence and flexibility that suits today's needs and anticipates future changes.
Flexibility in design
While several U.S. homebuilders are boarding the multigenerational housing train, one that really catches my eye comes from the collaboration of Fernando Pages Ruiz, architect Marianne Cusato, and homebuilding consultant Mark LaLiberté, which is aptly named the New Economy Home.
"The New Economy Home is designed with the flexibility to adapt to the owner's needs in either good times or bad. An adaptable suite is located on the first floor with a private entrance and porch. The suite can function as part of the whole house or break off into a private suite or income-producing apartment. In good times this suite can be used as a family room or guest bedroom. In tighter economic times, this suite can be rented to help offset the mortgage or used by an adult child returning home, an elderly parent, or even one member of a divorcing couple that can't support two households."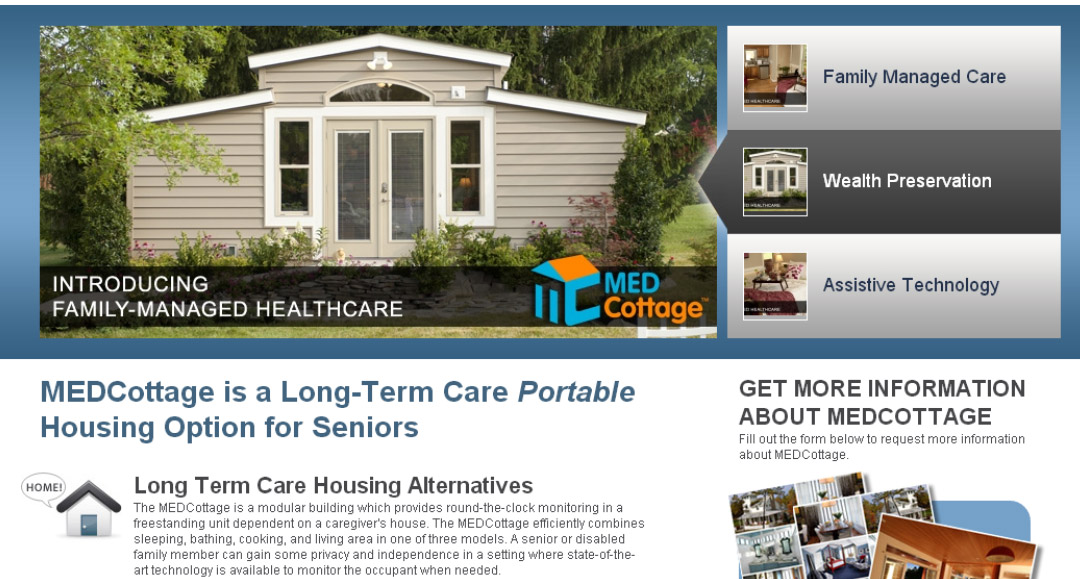 Unless your mother's furniture is already occupying your garage, you probably have a bit of time to make a plan, but don't wait. From personal experience in dealing with an aging parent, I can assure you that the situation can change unexpectedly (and quickly), and solutions can be agonizingly slow to put in place. Proactive planning is a lot less stressful for everyone than crisis management.
An interesting concept aimed squarely at addressing the inevitable strain placed on nursing homes and other care facilities by 78 million aging U.S. baby boomers is the MEDCottage from N2Care, aka the "granny pod." These 300 square foot "medical modular homes" are designed for temporary placement on your property, providing you with an option more affordable than placing a parent in a long-term care facility.
Going the renovation route
Chances are good that you and your parents (or your adult child) may still be living in your own respective homes. Many families in this situation consider renovating one of the homes and selling the other to pay for renovations when consolidating into a single dwelling. If neither home is a good candidate for what you need, you may even decide to sell both existing homes and invest in one that can more easily be adapted to suit your purpose.
Here's how new home designers are walking the fairly thin line that enables them to build separate suites within their homes without running afoul of existing local and state zoning laws:
one electric meter, a single mailing address, and only a convection microwave oven in the suite; and

discreetly located separate outside entrances to the suites.
Some communities may be more than willing to grant variances just to keep the community stable, so don't hesitate to make your case for a variance if you need one.
Whether you need to accommodate an aging parent or boomerang kids, when possible incorporate features in your renovation that offer the most flexibility to you and to potential buyers looking for a multigenerational home when you're ready to sell.
"Granny suites" should be located on the ground floor with a private entrance.

A kitchenette should have a convection microwave, mini fridge, and a bar sink.

Proper soundproofing makes it easier to live under one roof and is a selling point.

Inncorporating universal design features like walk-in baths and wide doors with lever-type handles adds to the home's value.
Benefits for the future
Experts predict that this is a long-term trend and it's easy to understand why. The political debate around immigration reform suggests it's all but inevitable that millions of currently undocumented immigrants and their families will become U.S. citizens over the coming decades, and most, if not all, will come from a long tradition of multiple generations living under one roof. At the same time, millions of baby boomers are on track to overwhelm a costly health care system throughout their senior years. Keeping boomers in their own homes and out of expensive care facilities for as long as possible will be key to weathering the boomer healthcare bubble.
If policymakers can bring themselves together and look beyond the next election, they'd be wise to use tax code reform to create incentives that encourage Americans to invest in renovations for multigenerational housing. It will keep seniors active and healthier longer, provide practical and affordable family housing for a growing immigrant population, and help re-establish an invaluable family connectivity that has atrophied in America for half a century.

Rick Atkinson works from (and on) his century-old farmhouse in New Brunswick, Canada. His professional and freelance career has ranged widely, contributing to an unusual mix of experience: as musician, retail manager, video producer/editor, CAD designer, woodworker, DIYer, beekeeper. He keeps a close eye on global events, particularly energy and climate change, new technologies, and long-term social and economic trends. Currently, Rick freelances in Kitchen & Bath cabinet design and CAD drawings for a custom cabinet shop. After hours, he creates original woodworking projects and plans, and writes about home improvement and design on his blog,StonehavenLife.com.
Latest from Rick Atkinson