Siding Choice Crucial for Contractors Rebuilding Jersey Shore Post-Sandy
Rebuilding after Superstorm Sandy involves updated flood hazard regulations and products specifically designed to withstand severe weather.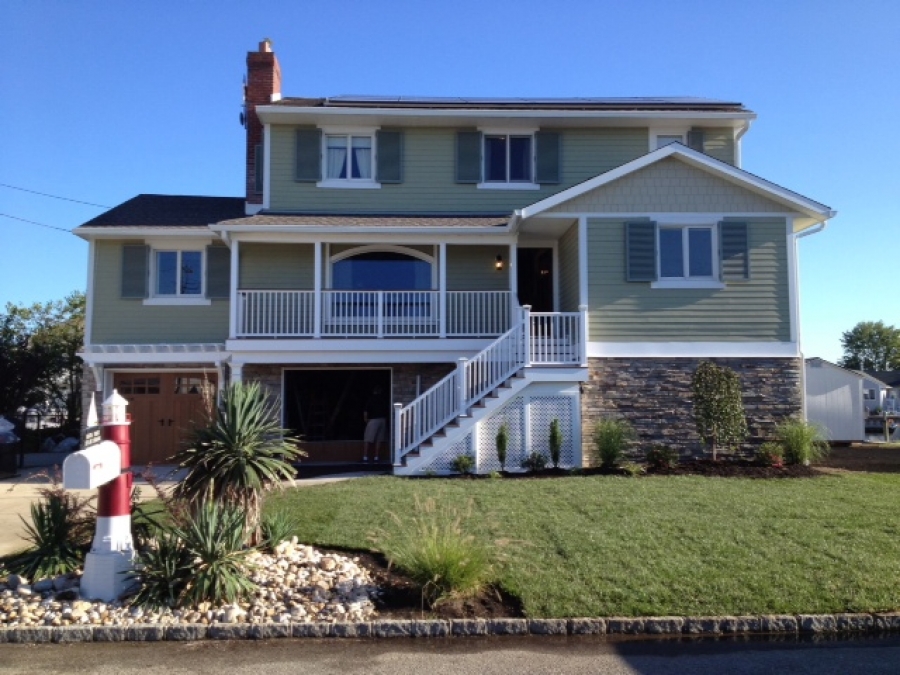 Rebuilding the U.S. Northeast Coast is well underway in wake of the damage caused by Superstorm Sandy, which struck the region in October 2012. As that process continues to take shape, product choice is proving to be crucial for homeowners and remodelers, to protect a home from both everyday conditions and future severe weather.
Viewers of the Emmy Award-winning PBS TV home improvement series "This Old House" can get a close look at that process. A series of eight episodes titled "Jersey Shore Rebuilds" profiles the rebuilding of three homes after they were devastated by the storm. It follows homeowners and contractors as they choose more innovative building designs and durable building materials, including James Hardie fiber cement siding, to better protect their homes.
In episodes that aired Nov. 7, Nov. 14, and Nov. 21, personnel from Legacy Construction & Development, Monmouth Junction, New Jersey, replaced the vinyl siding on the 1950s Colonial-style home of Carlos and Maria Santos with James Hardie HardiePlank lap siding, HardieShingle siding and HardieTrim boards. The siding stands up to both everyday and extreme weather because it resists both fire and water damage, and is the only siding that's "Engineered for Climate." Products designed for use on the U.S. Northeast Coast are specifically formulated to protect against wet, freezing conditions. The siding is also available with James Hardie's exclusive ColorPlus Technology, an advanced coating baked on in the factory that enables a long-lasting, consistent, vibrant finish.
Legacy Construction owner Miguel Carrera, who launched the business six years ago, first met the Santos family in June 2013. The vinyl siding on their Point Pleasant, New Jersey, home was heavily damaged by the storm, Carrera recalled; the first three bottom courses were coming off as a result of flooding, revealing the plywood behind the siding, and many of the siding features were gone because of damage. Carrera introduced the Santos family to James Hardie siding, and (perhaps not surprisingly) their key question was simple: How will it stand up to severe weather?
To answer that question, Carrera took the family to a home in nearby Manasquan, New Jersey, which Legacy Construction had re-sided a few months prior to Superstorm Sandy.
"That home was one block away from the ocean, and when the water came through, the home had about six feet of water," Carrera said. "I explained that James Hardie has products for each region of the United States, and the products for the Northeast Coast are formulated for the weather conditions we face here. The James Hardie siding was intact, so seeing that this house was so close to the ocean, it was a done deal for them. They decided to go with it."
The Santos family also had questions about color, but Carrera relied on the benefits of James Hardie ColorPlus Technology to answer them.
"I explained to them that James Hardie siding has a baked-on finish, and it's a consistent finish throughout the whole product," he said. "It reduces fading and creates long-lasting color that requires less maintenance than wood-based siding products."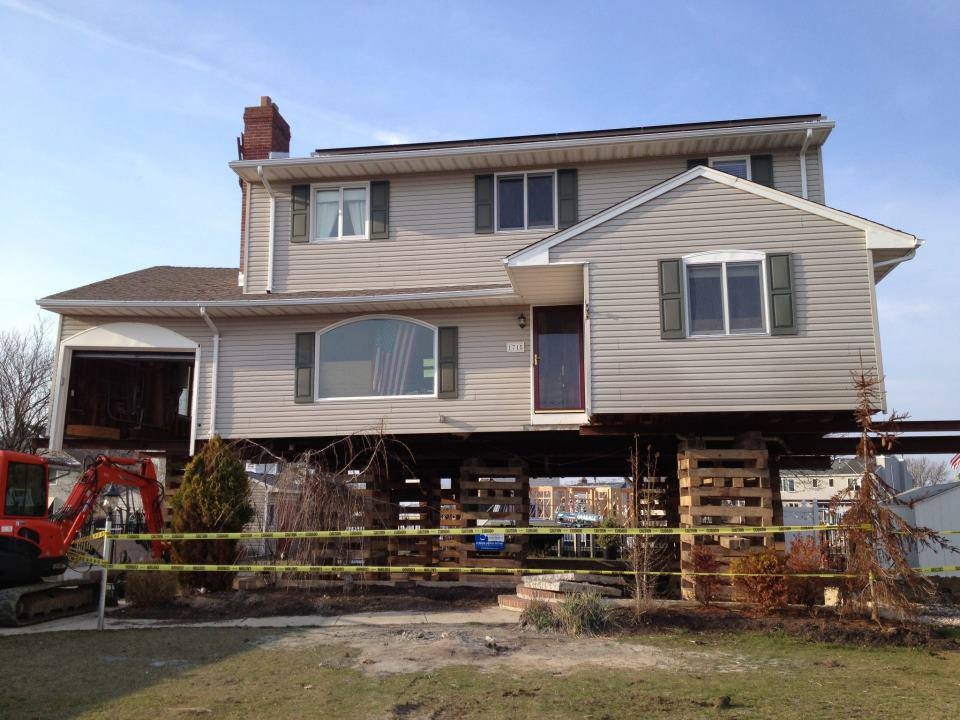 All that was left was the actual re-siding project, which was unconventional for a couple of reasons. First, the home had been raised an amazing 10' by another firm to accommodate the updates to federal regulations concerning home storm protection anticipated for 2014. The home was supported by thick concrete pilings, which created more garage and storage space for the Santos family, along with more siding surface area.
Additionally, workers from several other trades were busy at the home while the re-siding was happening, along with, of course, television camera crews. Nevertheless, the re-siding project was completed in just 25 days, starting Aug. 5 and finishing Aug. 30.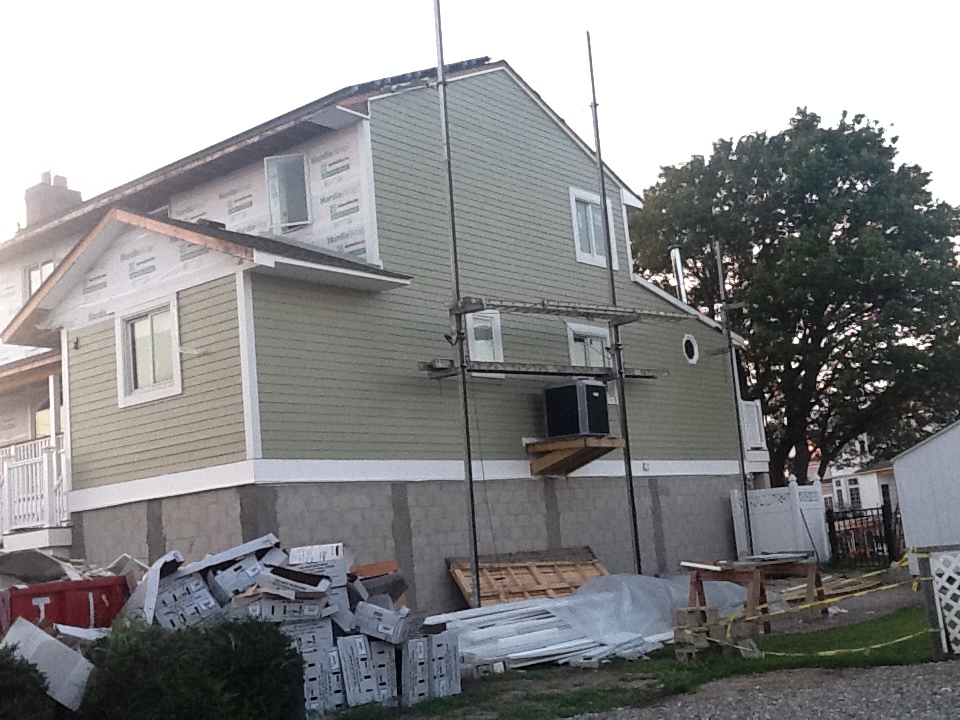 "The home was lifted already, so we had to remove the existing vinyl siding, wrap the home with James Hardie HardieWrap weather barrier, and then install the siding, including the trim, fascia, and areas around the windows. We had a tight deadline because of the television filming, and so many trades working on the house. But it was great – it was something different," Carrera said.
Homeowners like the Santos family are giving much more consideration to product options for their remodeling project given recent bouts with extreme weather nationwide.
"Right now, anybody putting any investment in a property, especially near the shore, are considering James Hardie siding, because there is a lot riding on that investment," he said. "The Santos family wanted to make sure they had a long-lasting product on the walls, they wanted to make sure aesthetically everything would look great, and the biggest problem on the Jersey shore is fading siding colors, so they wanted long-lasting color, which is what ColorPlus Technology brings."
Latest from John Dybsky