Tennessee Homeowners Wins $5,000 Cash Prize in DaVinci Roofscapes® "Shake it Up" Exterior Color Contest
And the winner is … Dennis and Pat Hodkinson, of Paris, Tenn., have won the $5,000 cash grand prize in the nationwide DaVinci Roofscapes® "Shake it Up" Exterior Color Contest. The Hodkinsons were named the contest winner after receiving more public votes than four other finalists out of 757 online votes cast. They can now use the cash prize to help add color to the exterior of their home.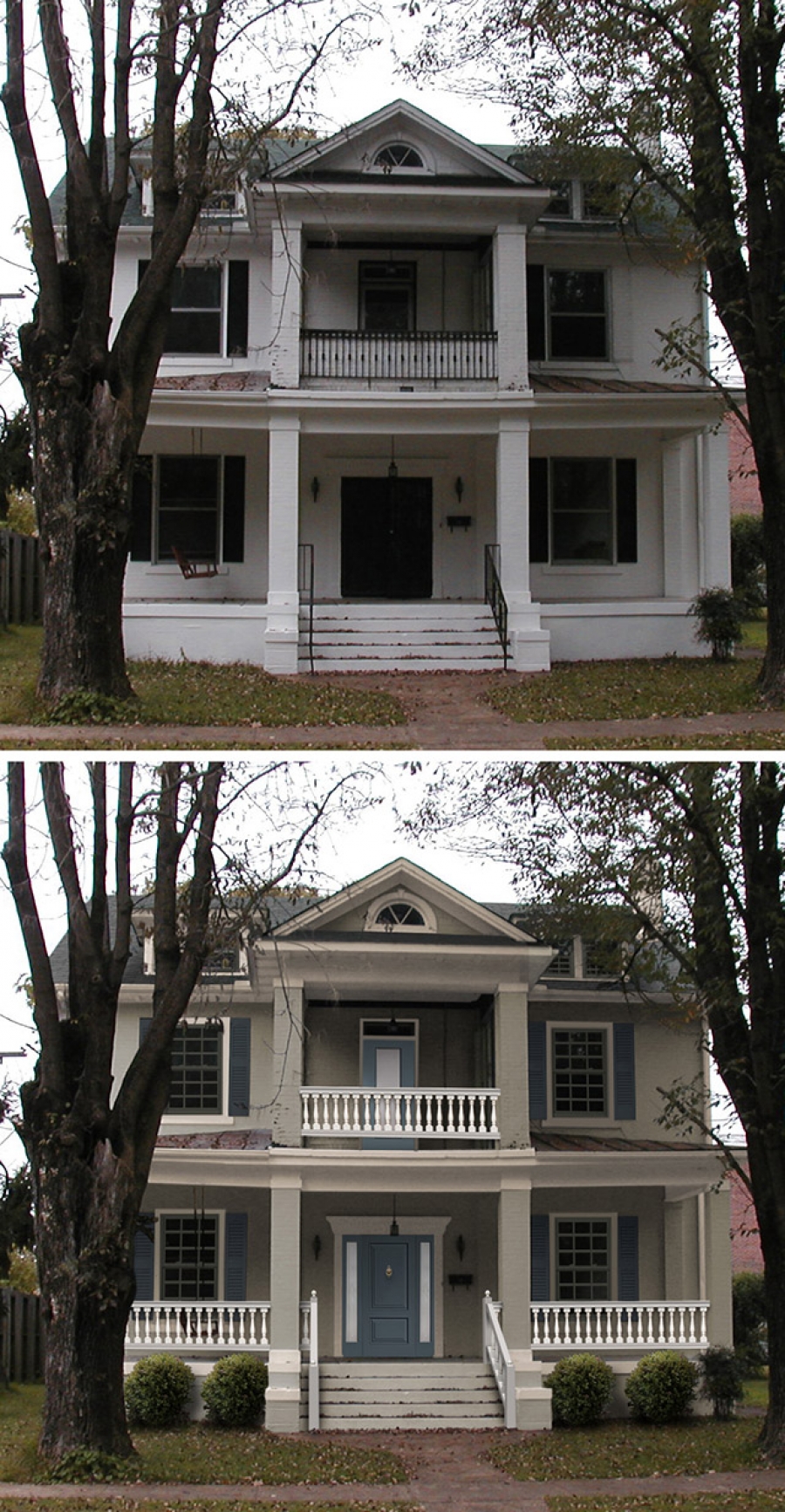 "We're stunned and excited about winning this national contest," says Dennis Hodkinon, who has owned the home for eight years. "The rendering of our house with new and colorful products makes us see the house in an entirely different light. We hope to be able to use the $5,000 to make home improvement changes along with adding some of the suggested colors to our home!"
Hodkinson submitted his contest entry under the title of "Facelift Needed!" He explained how the 100+ year-old home's black-and-white exterior made the house look like an "old maid" rather than one of the "grand old ladies" of the neighborhood.
"The historic charm of this home reached out to captivate the judges," says Wendy Bruch, marketing manager for DaVinci Roofscapes. "The transformation suggestions from national color expert Kate Smith on this house included the addition of a Bellaforté Slate roof from DaVinci in Slate Gray. Then, she recommended Decorum® by Simonton vinyl replacement windows with Bronze exteriors and grids that are enhanced by the addition of Fypon® louvered shutters with center rails painted in a deep Britannia Blue color.
"For the lower entry door, a Therma-Tru® Classic-Craft™ Collection fiberglass door painted in a blue French Beret color was suggested. The door is flanked with both Granite privacy sidelites from Therma-Tru and with Fypon urethane fluted pilasters with plinth blocks. A crosshead over the door adds more 'grandness' to the main entryway. For the upper floor porch area, the same color was added to a Therma-Tru Classic-Craft™ Canvas Collection™ door with Granite privacy doorlight. This top porch area --- and the lower porch --- would also receive a Fypon Classic 12" Balustrade System. The main color on this house is Brandon Beige and the trim is painted Ballet White."
Both Pat and Dennis Hodkinson expressed enthusiasm for the idea of adding balustrade systems to the home's exterior. "We have a home inspection business, so we know quality products when we see them," says Hodkinson. "The ideas presented in the artist rendering will become our 'wish list' of what we'd like to do with our home in the future."
Started in March of this year on the DaVinci Facebook page, homeowners were invited to submit a picture of their home along with a description of why they wanted to "shake up" the exterior by adding color and colorful products. More than 170 contest entries were submitted, with five finalists selected by judges led by Kate Smith of Sensational Color. Professionally-created color renderings and product wish lists were created for the five finalists and then posted for public voting, which ended May 26, 2013.
"All the entrants showed true dedication to shaking up their homes with color," says Kate Smith, president and chief color maven of Sensational Color. "The Hodkinson home in particular was a 'diamond in the rough' and can truly benefit from the color and product recommendations we've made. Like many homes today, this house in particular can be updated and transformed through the use of color on the exterior."
The artist renderings of the finalist's homes showcased a variety of color hues recommended by Smith along with colorful polymer Slate and Shake roofs from contest sponsor, DaVinci Roofscapes. Additional colorful products from the product partners of the contest (including Fypon urethane millwork, Therma-Tru entry doors and Simonton windows) were also specified on the renderings. The combination of the products and color expertise of Smith showcased how each home can be transformed.

Therma-Tru is the nation's leading manufacturer and most preferred brand of entryway doors. Founded in 1962, Therma-Tru pioneered the fiberglass entry door industry, and today offers a complete portfolio of entry and patio door system solutions, including decorative glass doorlites, sidelites and transoms, and door components. The company also offers low-maintenance Fypon urethane and PVC products. Headquartered in Maumee, Ohio, Therma-Tru is part of Fortune Brands Home & Security. (NYSE: FBHS). For more information, visit www.thermatru.com, www.fypon.com or call (800) 537-8827.