Entryway Makeover with Therma-Tru® and Fypon® Products
Subjected to 12 years of harsh New Hampshire weather conditions, the entryway to master carpenter Tim Carter's home was in bad shape. Having installed countless doors during his career, Carter knew exactly what he wanted to create his home's new entry area: an energy-efficient fiberglass door from Therma-Tru surrounded by low-maintenance Fypon® urethane trim.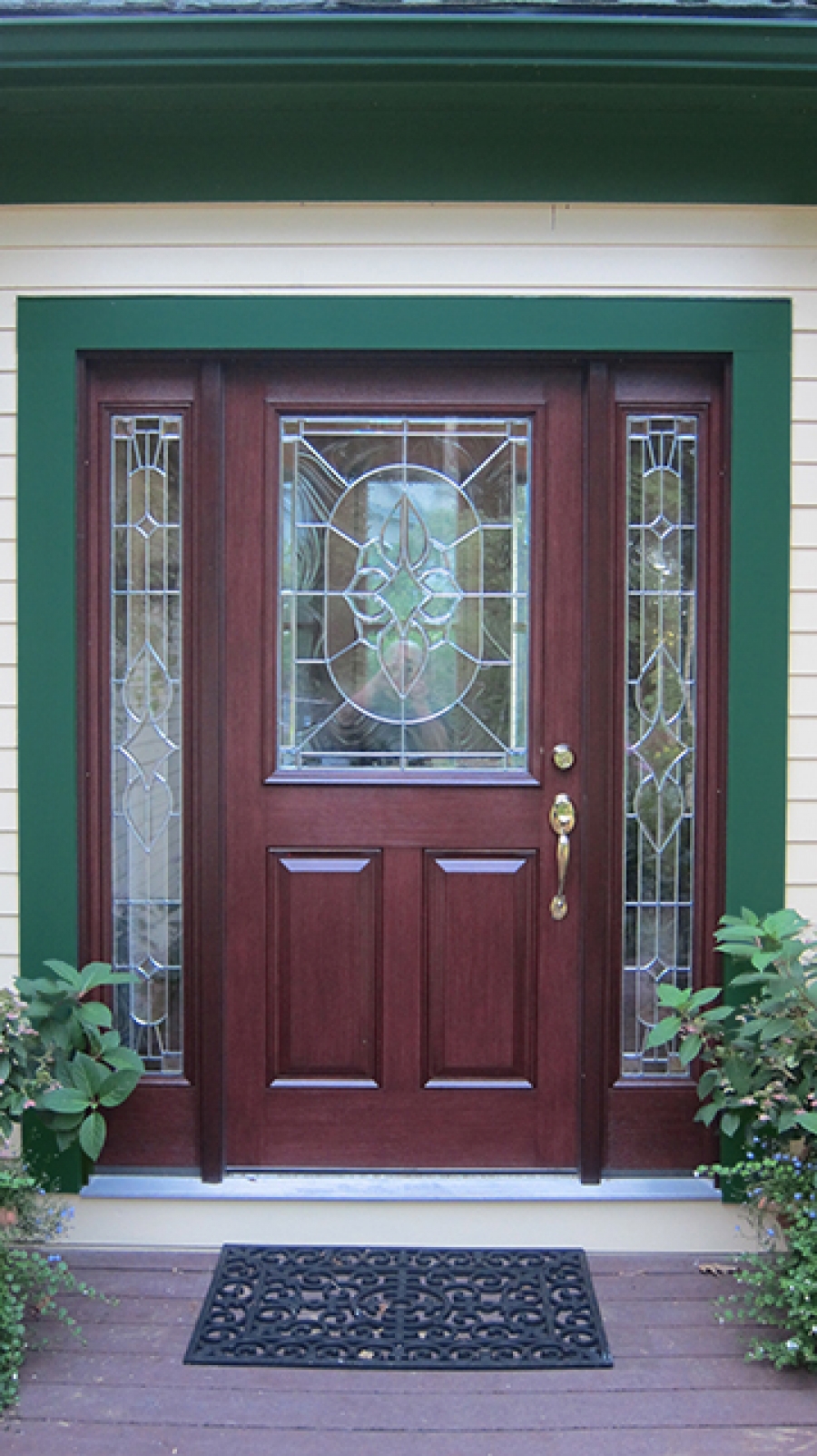 "I absolutely wanted an exterior door that would resist warping or rotting and had great energy efficiency," says Carter, host of AsktheBuilder.com. "Those features, plus the durability, aesthetics, reliability and warranty drew us to the Therma-Tru® Classic-Craft® Mahogany Collection™ door. This door adds value and beauty to our home."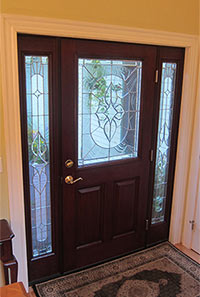 Carter and his wife Kathy selected an entry door with matching sidelites and a doorlite in the Arcadia™ glass design. The decorative glass features gray baroque glass, seeded glass and clear curved bevels accented with brushed nickel caming.
"As each day passes, my wife loves this door more and more," says Carter. "The door faces south so in the afternoon the sunlight casts an abundance of rainbows on our hallway walls from the beveled leaded glass. She's pleased with the look and I'm thrilled to save money on my fuel bills.
"I could actually tell the difference this door made during our frosty days this winter. Our hallway was significantly warmer than when we had our previous old metal door. And, because I followed the installation instructions, I was able to cut down the air infiltration to nearly zero."
Door Selection and Installation
Carter, who provides construction and project advice to homeowners nationwide, considers the door installation a "moderate do-it-yourself" experience. "A homeowner with moderate carpentry skills can achieve the same success I did with this installation," says Carter. "The written instructions provided by Therma-Tru were complete and very easy to follow."
In selecting his entry door and trim, Carter took the advice he offers visitors to his website. "I always tell people to purchase products that are not going to rot or warp, are easy to maintain and come with a strong warranty," says Carter. "You get all that and more with both the Therma-Tru door and the Fypon® urethane trim."
The Classic-Craft Mahogany Collection door selected by Carter features rich, warm tones in authentic Honduran Mahogany, especially suited for European, Victorian and Colonial style homes. Thanks to the proprietary AccuGrain® Technology used to create the Therma-Tru Classic-Craft® line of entry doors, the fiberglass doors capture the deep graining and authentic look of wood, while offering affordability, ease in maintenance and added energy efficiency.
Carter's cost-effective fiberglass door resists splitting, cracking and rotting. It's moisture- and dent-resistant and also resists scratching, deterioration and bowing. The low-maintenance fiberglass door is constructed for enhanced energy efficiency in the home and provides years of service.
Carter reports that the complete installation took less than half a day. "Older Colonial style houses like ours have a few more challenges for installation, but still this was a relatively simple project," says Carter. "If you're working with a house built in the past 30 years, installation is even easier and can be done from start-to-finish in just several hours. The Fypon product also installs quickly and provides a terrific 'finished look' to our entryway."

Therma-Tru is the nation's leading manufacturer and most preferred brand of entryway doors. Founded in 1962, Therma-Tru pioneered the fiberglass entry door industry, and today offers a complete portfolio of entry and patio door system solutions, including decorative glass doorlites, sidelites and transoms, and door components. The company also offers low-maintenance Fypon urethane and PVC products. Headquartered in Maumee, Ohio, Therma-Tru is part of Fortune Brands Home & Security. (NYSE: FBHS). For more information, visit www.thermatru.com, www.fypon.com or call (800) 537-8827.