AccuGrain® Technology Puts Real Wood Beauty into Affordable, Easy-to-Maintain and Energy Efficient Therma-Tru Fiberglass Doors
Homeowners who compare the attributes of fiberglass versus wood entry doors are often surprised to learn the realistic wood-like appearance of Therma-Tru fiberglass doors offer added benefits. Thanks to the proprietary AccuGrain® Technology used to create the Therma-Tru Classic-Craft® line of entry doors, the fiberglass doors capture the deep graining and authentic look of wood, while offering affordability, ease in maintenance and added energy efficiency.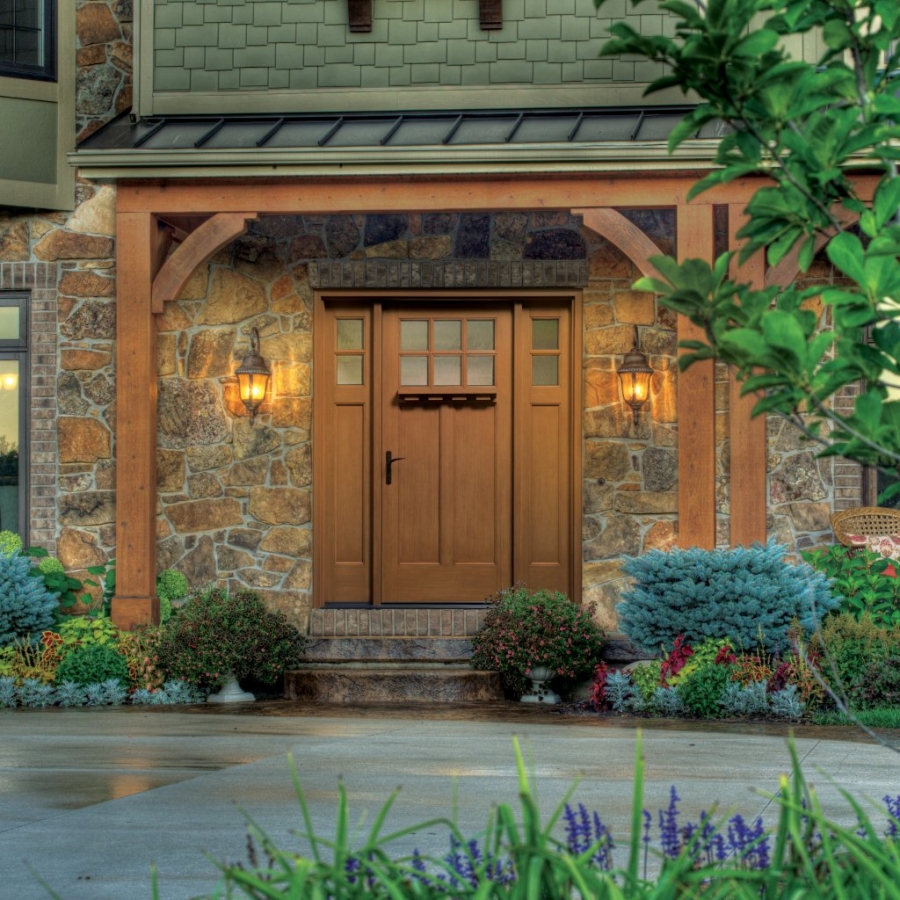 AccuGrain was developed by Therma-Tru engineers in 1994. The door casting process uses multiple dies to produce different graining types to cast the appearance of real wood into a fiberglass door option.
"Our team starts by building a wood door using select pieces of the wood species that have the graining and wood characteristics we want to reproduce, for example oak or mahogany," says Derek Fielding, senior product manager for Therma-Tru Corp. "Then we improve the original wood door using proprietary technology to enhance the natural graining depth on the wood before casting.
"With this graining technology the final product undergoes multiple castings. This process, called random length graining, combined with the multiple dies to produce different graining types, makes our fiberglass doors virtually indistinguishable from real wood doors."
The resulting door comes with the authentic look of wood at a cost-effective price, plus with all the benefits of a fiberglass door. Whereas a real wood door can bow, warp, fade or twist over time, the Therma-Tru fiberglass doors resist splitting, cracking and rotting. They're moisture- and dent-resistant and also resist scratching, deterioration and bowing. The low-maintenance fiberglass door is constructed for enhanced energy efficiency in the home and provides years of service.
"There's more to our door surfaces than just an accurate woodgrain appearance," says Fielding. "We've invested time and attention to add architecturally-correct details to the doors with deep embossments. The Classic-Craft line of doors can be painted or stained to provide homeowners with the entry that best matches the style of their home."
Constructed as a complete system of components, Therma-Tru doors are designed and engineered to work together for lasting performance, security and energy efficiency. Multi-point locking systems that engage a series of locks at several places on the frame, a wide variety of decorative glass options, plus the adjustable security strike plate that withstands three times the force of a standard strike plate, are all key factors in creating Therma-Tru's dependable entry door system.
Homeowners looking for durability in their doors can also rely on the elements of the Tru-Defense® Door System. This system maximizes the seal between the door and the frame to help keep out the damaging effects of wind and rain, while increasing energy efficiency. Within this optional upgrade system, the weatherstripping, corner seal pad, door bottom sweep and profiled sill all work together to provide a door system that can withstand severe weather conditions along with day-to-day family activity.
For a comprehensive chart comparing the features of fiberglass doors to steel and wood doors, visit http://www.thermatru.com/design-innovation/advantage/fiberglass-steel-comparison/.

Therma-Tru is the nation's leading manufacturer and most preferred brand of entryway doors. Founded in 1962, Therma-Tru pioneered the fiberglass entry door industry, and today offers a complete portfolio of entry and patio door system solutions, including decorative glass doorlites, sidelites and transoms, and door components. The company also offers low-maintenance Fypon urethane and PVC products. Headquartered in Maumee, Ohio, Therma-Tru is part of Fortune Brands Home & Security. (NYSE: FBHS). For more information, visit www.thermatru.com, www.fypon.com or call (800) 537-8827.