Therma-Tru Adds Impact-Rated Options in Decorative Glass
Homeowners preparing for the 2013 Hurricane Season now have more choices than ever before for enhancing their entry doors with decorative impact-resistant glass. Therma-Tru, the nation's leading manufacturer and most preferred brand of entry doors, has introduced 13 decorative glass options for doorlites and sidelites that meet code requirements and the harsh demands of extreme weather in coastal areas.*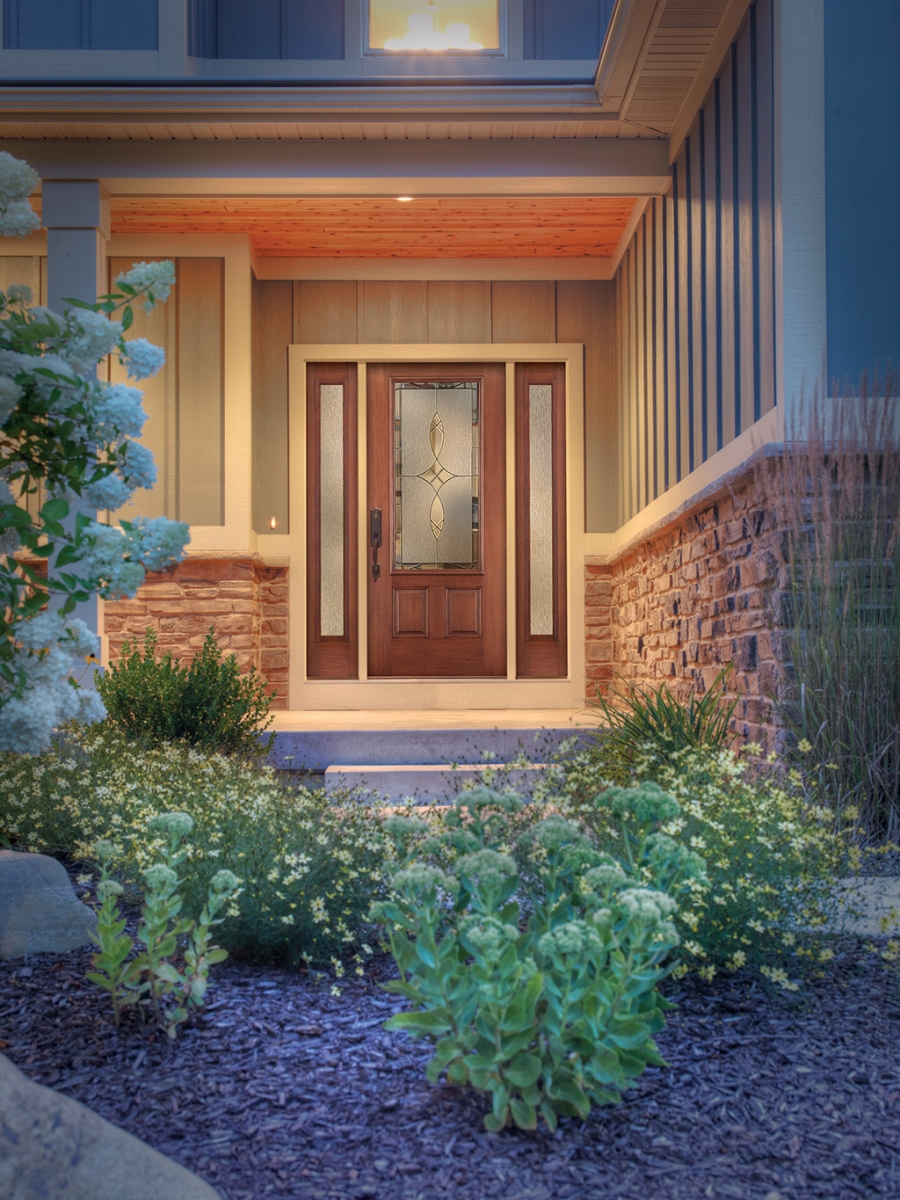 "People do not need to sacrifice curb appeal or design desires for their entry doors just because they live in coastal areas," says Curt Daniel, associate product manager for Therma-Tru Corp. "Our impact-rated glass designs can be paired with hundreds of door styles to complement a variety of homes, all while offering safety and security for homeowners."
Available in full, three-quarters and half doorlites and sidelites, the standard decorative glass options from Therma-Tru that are impact-rated include Keystone™, Blackstone®, Crystalline™, Element, Brookside, Saratoga™, Texas Star, Arden®, Wellesley™, Concorde™, Kensington™, Crystal Diamonds™ and Frosted Images®. Each unit meets ENERGY STAR® qualifications.
The triple-paned impact-rated decorative glass products from Therma-Tru feature a layer of laminated glass nearest to the interior of the home. Available nationwide, the impact-rated glass products are constructed with an aluminum frame for superior durability. The doorlites and sidelites are designed to withstand wind forces up to 195 mph (with a Design Pressure rating of 65) when installed in an approved Therma-Tru impact-rated door.** When installed in a non-impact-rated door, the glass can withstand wind forces up to 167 mph (with a Design Pressure rating of 50).
Therma-Tru® impact-rated decorative glass options are available in the Fiber-Classic® Mahogany Collection™, Fiber-Classic® Oak Collection™, Smooth-Star® fiberglass door lines and in the Profiles™ and Traditions steel door lines. In addition to the new decorative glass options, Therma-Tru also offers impact-rated doorlites and sidelites in Privacy, Clear, Low-E and Turtle Glass.
*Must be installed as part of a Therma-Tru door system in compliance with a Therma-Tru impact-rated product approval. Visit www.thermatru.com for product approvals. Follow weather and news reports in order to assess severe weather situations and obey local authorities' shelter and evacuation orders. No product guarantees safety for persons or property, nor makes any premises hurricane- or impact-proof.
**Impact and structural performance of a single Therma-Tru fiberglass door with multi-point locking system.

Therma-Tru is the nation's leading manufacturer and most preferred brand of entryway doors. Founded in 1962, Therma-Tru pioneered the fiberglass entry door industry, and today offers a complete portfolio of entry and patio door system solutions, including decorative glass doorlites, sidelites and transoms, and door components. The company also offers low-maintenance Fypon urethane and PVC products. Headquartered in Maumee, Ohio, Therma-Tru is part of Fortune Brands Home & Security. (NYSE: FBHS). For more information, visit www.thermatru.com, www.fypon.com or call (800) 537-8827.